The Remote Weekly goes out every Wednesday and brings to you original content, product tips and latest stories around remote working.
12 Best Digital Marketing Certifications That Can Give Your Resume a Major Boost‍
Looking for the best opportunities to upgrade your marketing knowledge? They are right here! Take a look at the best marketing courses and apply for one that matches your career goals.
Digital marketing trends are changing, along with customers' behavior and preferences. The only way to keep pace is by constantly learning, and the digital marketing courses available online are great options to take advantage of. This article has gathered the top ten marketing learning opportunities you should not miss.
Courses Selection Criteria
We were guided by the following factors when shortlisting the courses reviewed in this article.
Reputation. The company you take the course from is one of the first indicators of the quality of the course's content. That's why we have selected only those courses delivered by globally recognized companies from the field of eLearning and digital marketing.
Topics coverage. Digital marketing covers many topics and directions - starting with content creation and ending with customer data analysis. We have included both all-in-one and specific courses to help you choose the right one.
Prior experience and knowledge. Most of the courses we will review require no prior knowledge and experience. However, it would certainly be nice to have a basic understanding of how modern digital marketing works.
Price. Our list includes both free and paid courses so that you can get started for free and then decide whether to invest more in a specific skill or knowledge set.
Certification. The programs we list in this article come with certificates that you can showcase in your CV.
Top 12 Digital Marketing Courses for Your Career Boost
Below are ten digital marketing programs, carefully shortlisted and reviewed so that you can apply for the one that matches your career goals.
IIDE Advanced Digital Marketing Course
IIDE has been recognized with the "Best Digital Marketing Institute" award by the World Education Congress for its contribution to digital marketing education. They are well known for their blended training method that ensures all students learn the right skills with the right techniques.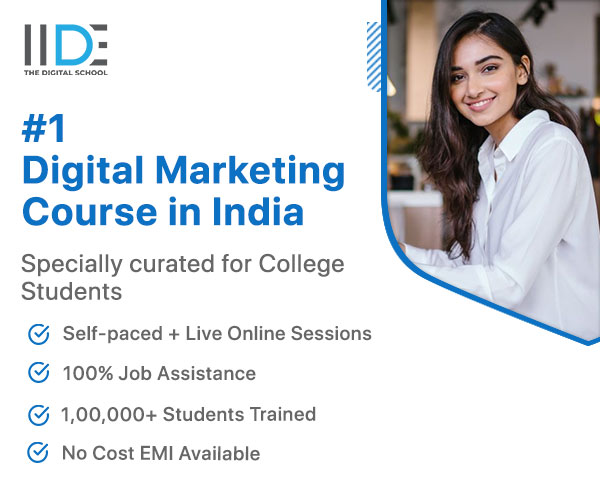 IIDE's Advanced Digital Marketing Course combines high-quality video courses with live training sessions and 1-on-1 mentoring by trainers. It breaks down the syllabus into terms and modules so that each student gets a comprehensive understanding of subjects like SEO, Google Ads, and SMM, along with soft skills.
This course, which costs around $1,360, offers the opportunity to become a digital marketer without any prior experience or knowledge. Upon completion of the course, students receive a globally recognized certification.
SE Ranking Academy
The SEO Basics course from SE Ranking Academy is a relatively new product in the eLearning market. However, this is a marketing training worth starting with since it touches on one of the most important aspects of digital marketing. Yes, you guessed it right - this course focuses on SEO and content marketing, which are the pillars of digital business promotion.
The course consists of 8 modules and lasts for 6 hours. Prepared by SEO experts, it covers all the essential points to give you an idea of how modern SEO works - starting with how search engines work and ending with SEO analytics. The course is suitable for entrepreneurs and anyone wanting to improve the search visibility of a website using SEO. Another course dedicated to content SEO is soon to come.

Email Marketing Masterclass by Mailmodo
Mailmodo's Email marketing certification offers a 90-minutes self-paced learning course with all concepts you need to become an 'Email Marketing Mastermind.'
They claim to be the only course that covers interactive email marketing powered by AMP. If you're someone who's short on time but big on learning, this is for you.
The curriculum covers topics like:
Introduction to email marketing
Understanding email analytics & metrics
Getting email deliverability right
How to segment your email list
The art of writing a good email copy
Fundamentals of email design
Using AMP emails to boost conversions
You will also get access to be a part of an enthusiastic email marketing community and a certificate that you can proudly show off on your social profiles.
Google Digital Marketing Courses
Google issues several digital marketing programs, and most of them come with a certification. For example, you can get started by learning digital marketing basics and then proceed with upgrading your expertise, learning Google PPC. You can also make your interactions with the target audience more meaningful by applying for a Customer Centricity course that focuses on engaging customers and improving retention.
Lastly, learn how to integrate technologies into your marketing workflows so that you can automate routine processes, optimize laborious tasks, and reinvest your time into creative marketing strategies development. These opportunities come as a part of the Digital Channels and Technologies course.
HubSpot Inbound Marketing Course
HubSpot hardly needs an introduction - this is the company that revolutionized digital marketing by switching its focus from outbound to inbound. And right now, you can learn the basics of an inbound approach with the help of their digital marketing course. The HubSpot course is pretty simple, intuitive, and understandable. It consists of 24 videos divided into 7 lessons and lasts slightly more than 3 hours.
The program covers the best practices for generating and nurturing marketing leads with the help of content. The last lessons are devoted to using AI tools for marketing optimization, automatization, and improving the performance of your strategies. The course is free.
Udemy Digital Marketing Course
If you are looking for the best digital marketing course, it is worth considering the program developed by Udemy. The course is paid - it costs nearly $85, but Udemy periodically gives a good discount, for example, now you can get it for $13.99.
The course consists of 12 modules. They include but are not limited to creating digital marketing strategies from scratch, social media marketing best practices, SEO, email marketing, Google Analytics, and much more. After paying for the course, you will get access to 22,5 hours of educational videos along with the articles and downloadable materials.
Hootsuite Academy
For those looking for a recognized digital marketing certification, Hootsuite Academy has prepared several courses to choose from. All the courses are paid - the price starts at $199 and goes up to$999 depending on the course. The programs are largely focused on social media marketing and advertising, so they are a good choice for those eager to gain specific skills in social media promotion.
Each of the courses comes with a free demo and lasts for 4-6 hours on average. To deepen your knowledge step by step, it would be wise to move from program to program, depending on its complexity.
GetResponse Digital Marketing Certification
GetResponse has developed several online digital marketing courses you are welcome to apply for. They take on a holistic and systematic approach to learning - that's why there are several dedicated programs to choose from. Each program is paid and comes with a certification after passing a final exam.
For example, there are email marketing, content marketing, and marketing automation courses. You can also dig deeper into the specifics of inbound sales and the process of conversion rate optimization across landing pages. Each class costs $199 and consists of five modules on average. Each video lecture is prepared by a recognized marketing expert in their field.
Udacity Digital Marketing Course
This is one of the priciest programs on this list - the total cost for the marketing course by Udacity is $1017. However, the price is worth it since this course allows you to become a digital marketer from scratch without any prior skills or knowledge required. By the way, you can also pay as you go, with the total cost divided into three payments.
As for the course, the content covers everything necessary to get an ultimate idea of how modern digital marketing works. You will start learning by understanding marketing fundamentals. Then, you will proceed with content marketing strategy, social media promotion, PPC ads, and analytics. Each of the modules comes with real-life case studies to develop practical skills as well.
Digital Marketing Institute Digital Marketing Strategy Course
Digital Marketing Institute is a globally recognized provider of eLearning services. In the 12 years of the company's existence, they developed the best digital marketing courses created by experts and industry leaders. So, there are a lot of opportunities to choose from, depending on your experience and learning budget.
For example, you can apply for a short Social media marketing course to deepen your knowledge in the field. Or, you can become a Digital Marketing Master, but be ready because it lasts for two years and costs $10,000. Each of the courses comes with a globally recognized certification, and the topics you can study are not limited to digital marketing. You can also learn web design, social selling, and dig deeper into the specifics of eCommerce.
Copyblogger Academy
As the name of this platform suggests, this is the place for content writers and bloggers to boost their writing and marketing skills. However, the course itself is not as traditional as the ones above. For $495 per year, you can subscribe to a Copyblogger Academy to get training pieces, masterclasses, coaching sessions, exercises and join a community of writers who are also on the road to success.
While this is not an all-in-one digital marketing course, it can be an option for those who want to advance their writing skills day after day and stay tuned into the learning process.
Meta Blueprint Certification
This is one more interesting opportunity prepared by Meta. Its essence is that you can master the Facebook ads tools step by step by taking short lessons and then get certified by confirming your skills. It can be an option for those dealing with Facebook exclusively, and it is more suitable for those engaged in media buying and media planning.
Conclusion
Learning digital marketing is one of the best opportunities to become a high-paid specialist in 2022. The courses we have covered above are good options to choose from and add certifications to your resume. But keep in mind that modern digital marketing is not just about theoretical knowledge. It is also about practice, testing, and creativity, so make sure to develop both creative and critical thinking as well.

Join
5,369

remote workers and makers

The Remote Weekly goes out every Wednesday and brings to you original content, product tips and latest stories around remote working.