How to tell if someone blocked you on Discord and how to block someone on Discord?‍
Written by: Hrishikesh Pardeshi, Founder at Flexiple, buildd & Remote Tools.
Last updated: Jul 18, 2023
Discord is a social space that lets you connect with your friends, your team, or other like-minded people. Discord has features similar to other chat platforms, but also allows all the people who share your server to ping you directly.
It could happen, though, that you're annoyed at someone who's texting you and don't want to receive their messages anymore. The other way round is also a possibility, someone could have blocked you.
To make it easy for you to identify these scenarios, we've put together simple points on how to tell if someone blocked you on Discord and also how to block someone on Discord.
---
TABLE OF CONTENTS
---
How to tell if someone blocked you on Discord
You can tell if someone blocked you on Discord through the in-built 'Clyde' bot as well as through message reactions. We have elaborated on both ways below.
Tell if someone blocked you on Discord using Clyde bot
Clyde bot is an official bot that is integrated into Discord by default, and notifies you about any unresponsive actions that you perform. (You can see Clyde on the Discord logo as well).
If you try messaging someone who has blocked you on Discord, the Clyde bot will send you the following message:
Your message could not be delivered because you don't share a server with the recipient or you disabled direct messages on your shared server, the recipient is only accepting direct messages from friends, or you were blocked by the recipient.
The Clyde bot doesn't directly tell you that the reason is that you've been blocked, but gives a number of reasons why the message may not have been delivered. This way of telling that someone has blocked you on Discord isn't the most reliable, as it will also show up if the user has disabled the 'Anyone can message' option.
On Android or iOS, this will show as a simple error message, not specifying that it's from Clyde.
Tell if someone blocked you on Discord using message reactions
A more reliable yet unpopular way of telling if someone has blocked you on Discord is by using message reactions.
In the common server, react to the person's message. Your reaction will appear if the user hasn't blocked you. If they have, though, then the reaction won't appear. You will see a slight vibration in your screen.
On a mobile device, you will get an alert saying 'Reaction blocked' when you try to react to the user's message.
How to block someone on Discord
How to block someone on Discord using PC or Mac
To block someone on Discord on PC or Mac, open up the Discord server, and right-click on the person's name.
A menu will appear when you do so. Here, select 'Block'.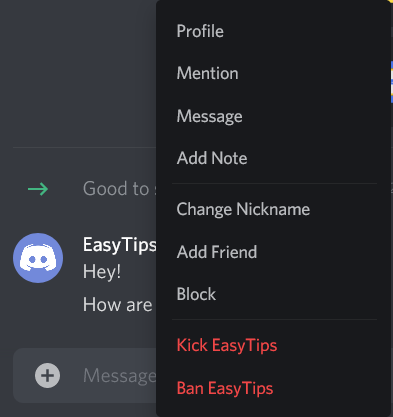 A confirmation message asking if you're sure you want to block them will appear. Confirm this by selecting 'Block' again.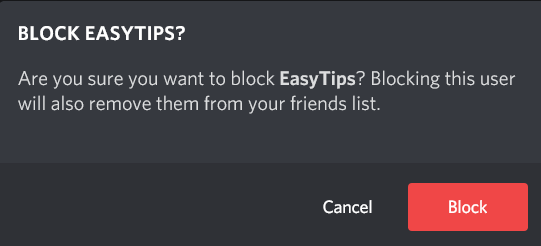 All the messages in your server from this person will disappear on your screen.
How to block someone on Discord using iPhone or Android devices
When using the Discord mobile app, tap the profile picture of the person you wish to block.
A menu will open on doing so. Click on the three dots at the top corner of this menu.
Select 'Block.' You will receive a confirmation alert mentioning that the user has been blocked.
On blocking the person, they will be removed from your friends' list, and all their messages in the server you share with them will be hidden. If you want to view their messages after blocking them, you can do so by selecting the 'Show message' button on your desktop or 'Blocked messages' tab on the mobile app.
The user you've blocked will not be able to ping you or '@' mention your username in shared servers. They will receive the error message as told in the first section if they do try to message you.
However, the person whom you've blocked will be able to see when you are online, as well as read your messages.
Related Articles
---
Trending Articles
---