The Remote Weekly goes out every Wednesday and brings to you original content, product tips and latest stories around remote working.
9 Best Tools For Working Remotely‍
While remote work isn't complicated, it isn't black and white.
Globally, people are attempting to shift to this technology. In addition, businesses are attempting to enter this market to meet the changing needs of their staff members and to accommodate talent from around the world.
Organizations are now more open to change, which benefits workers' safety and positively affects their satisfaction and productivity. However, both factors largely depend on picking and utilizing the appropriate tools for remote workers that are now easily accessible online.
You'll need a unique set of tools to handle the challenges of working remotely. The importance of selecting the appropriate tools for remote workers increases as teams become more agile and demand greater flexibility in their work.
Don't worry! This blog will help you choose the most suitable tools for working remotely for you to be highly efficient and productive.
But first, let's talk about remote work and remote work tools.
What is remote work?
Work from home (WFH), also called remote work or telecommuting, is a flexible work arrangement that enables employees to conduct business away from the corporate headquarters.
This arrangement ensures work-life balance, access to career opportunities, or lower commuting costs for employees who can finish work offsite.
The company will gain from improvements in productivity, higher employee retention rates, and cost savings on physical resources.
Remote work arrangements can be occasional or regular, temporary or permanent, part-time or full-time. Policies governing the use of equipment, home network security, and performance standards are necessary for remote work.
Remote work best practices
While there isn't a single "correct" way to work remotely, there are a few general best practices to set yourself up for success. Many Web Design Companies have adopted and embraced these practices. These comprise:
A clear understanding of expectations is frequently the foundation of a culture of trust. As a virtual project manager, make sure your rules and regulations are crystal clear.

A virtual team still counts as a team. Character development for cooperative, communicative teams that care about each other's success is the responsibility of man

agers in particular. This could involve other practices, like acknowledging the accomplishments of the team and the individuals on it and occasionally getting together in person when possible, like for a corporate retreat or social event or corporate usage of easy accounting software.

Companies with highly effective remote teams invest in the tools that enable their employees to perform their duties. These include mobile and remote desktops, fast broadband, dependable and user-friendly applications, and other business-specific requirements.
What are remote work tools?
Just like a social media manager requires different social media tools to organize AI generated images, publish and communicate with their audience across different platforms. Remote work tools are digital tools that enable remote workers to collaborate, communicate, transact, and complete tasks with their managers and colleagues from wherever they are located.

Good to know: Make sure that you get the most out of tools that you are already using, such as email signature - to ensure a professional representation of the sender, increase credibility, and provide essential contact information for seamless communication.
However, selecting the right tools can be difficult with so many available options. Therefore, we have compiled a comprehensive list of the best remote working tools to help you work more efficiently and effectively.
Top remote work tools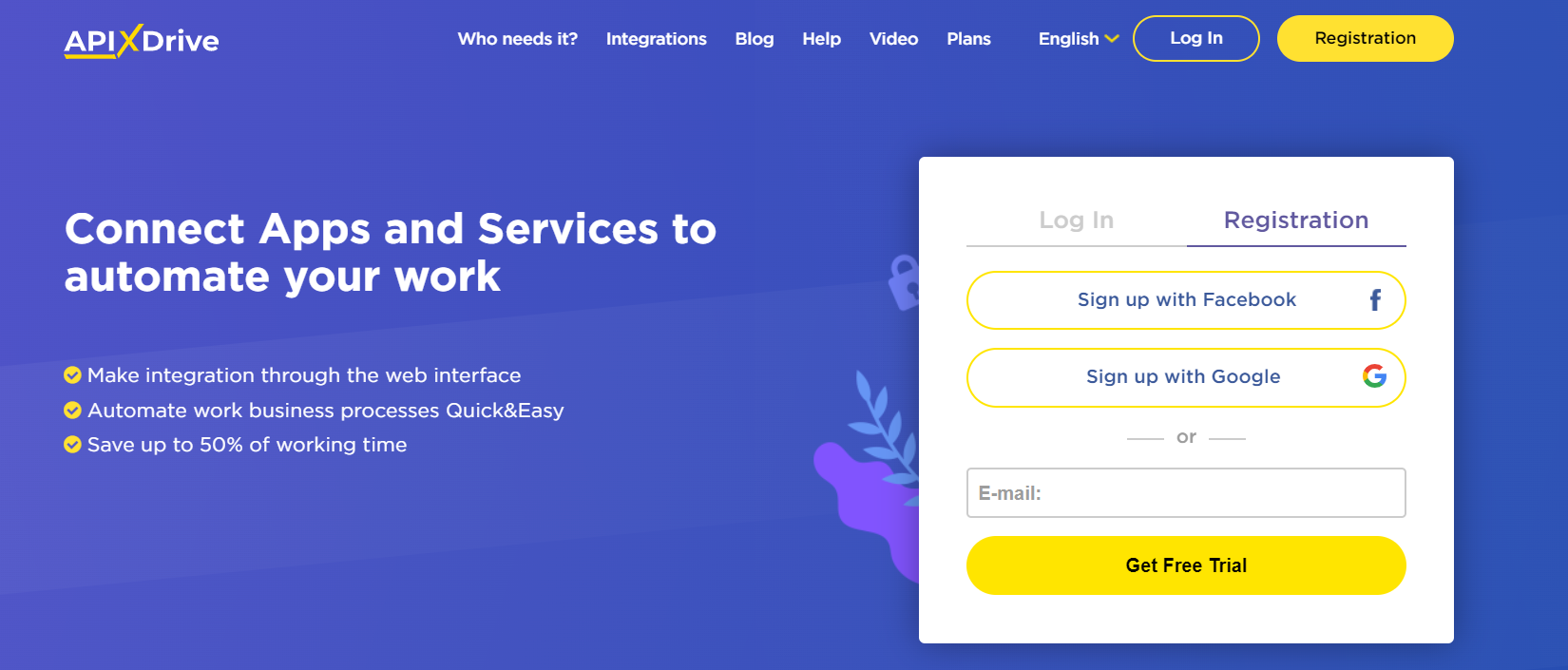 ApiX-Drive is a web-based connector that enables data exchange between various systems and services. Automation between an application and other services can be done without writing any code. These systems can be connected in 5 minutes using ApiX-Drive.
Pros
Connect to other services and systems without writing any code.

Transfer information between systems and services.

Automatically receive tasks from your other apps.

It takes only five minutes to set up.

There are more than 400 available integrations.
Cons
Pricing
ApiX-Drive is based on a subscription business model. Plans come in three different categories: Basic, Premium, and Embedded. The most basic services, which allow for only one connection, can be started for free. However, for Embedded plans, prices can go up to a maximum of $7500.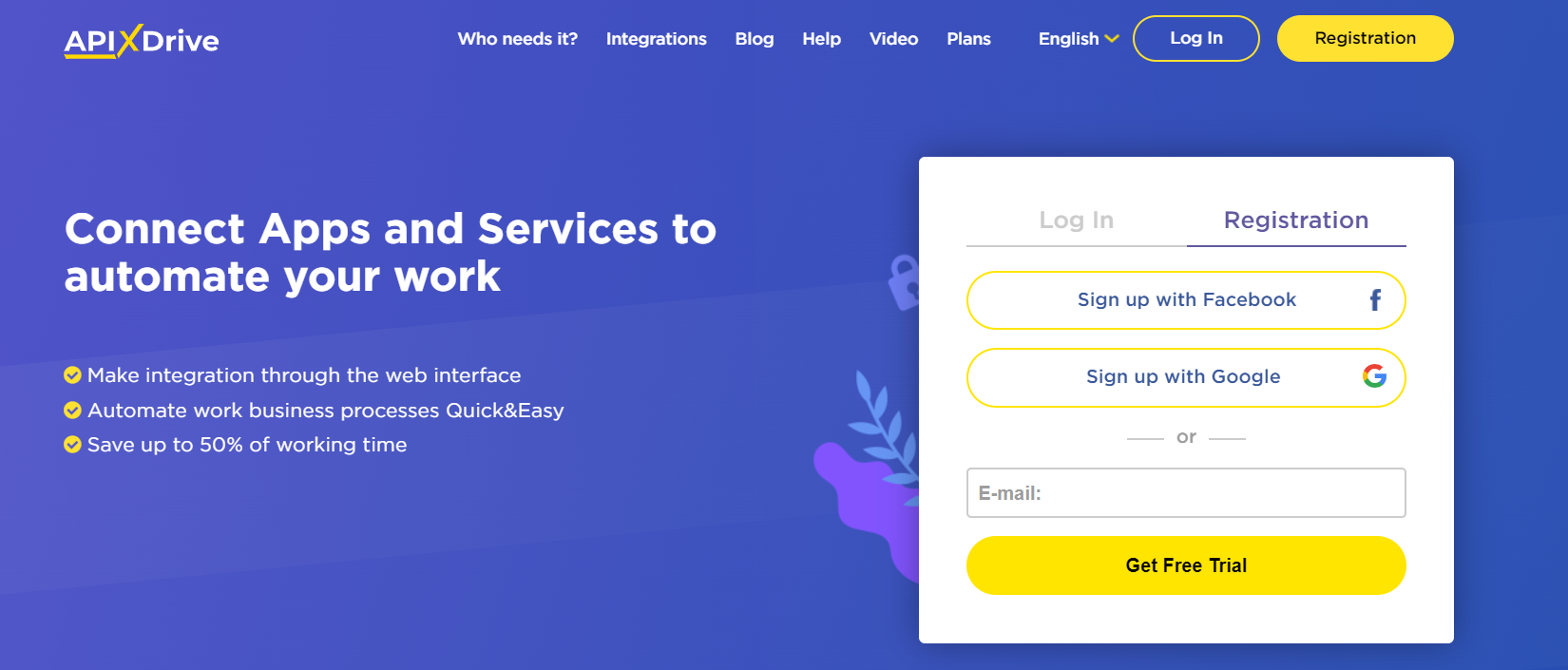 It is a flexible and user-friendly project management tool built on the Kanban system. Additionally, it makes it simple for managers to design cards and lead employees through a flexible, lean process. Trello is well-known for its visual list-making feature, making it easy to follow a project's progress visually.
Pros
The user interface is very simple to use.

Even on free accounts, Butler, Trello's internal automation system, enables some internal automation.

Numerous upgrades and third-party modifications are available.
Cons
You must upgrade to access compelling features.

As projects expand, it becomes complex.

User permissions continue to present issues.
Pricing
You can select a monthly or yearly billing schedule when you upgrade your Workspace to Trello Premium. When billed annually, members receive a discount compared to monthly billing because it is paid in advance. The cheapest monthly plan is $10 for each user.

Chef & Recipe developer at mealfan, said, "Google Workspace, formerly G Suite, provides a robust and elegant collection of office and collaboration apps appropriate for businesses, institutions of higher learning, and other organizations. It is the best cloud-based office suite available and a subscription-based upgrade from the free Google apps available to anyone with a Google account."
Google Workspace is the obvious choice if you're ready to abandon desktop-based apps and conduct all of your business online.
Pros
It has some very effective office tools.

It is compatible with every browser.

It has enhanced collaboration and revision-tracking capabilities.

It is suitable for corporate user management.
Cons
It is not as powerful as similar desktop applications.

Offline editing necessitates the use of Chrome and advanced planning.
Pricing
The Business Starter edition is $6 per user per month and includes 100 video meetings (no recordings) and 30GB of storage space per user. The Business Standard version doubles the cost to $12 per user per month, allows hosting video meetings with up to 150 participants (and the option to record them), and increases storage to 2TB per user.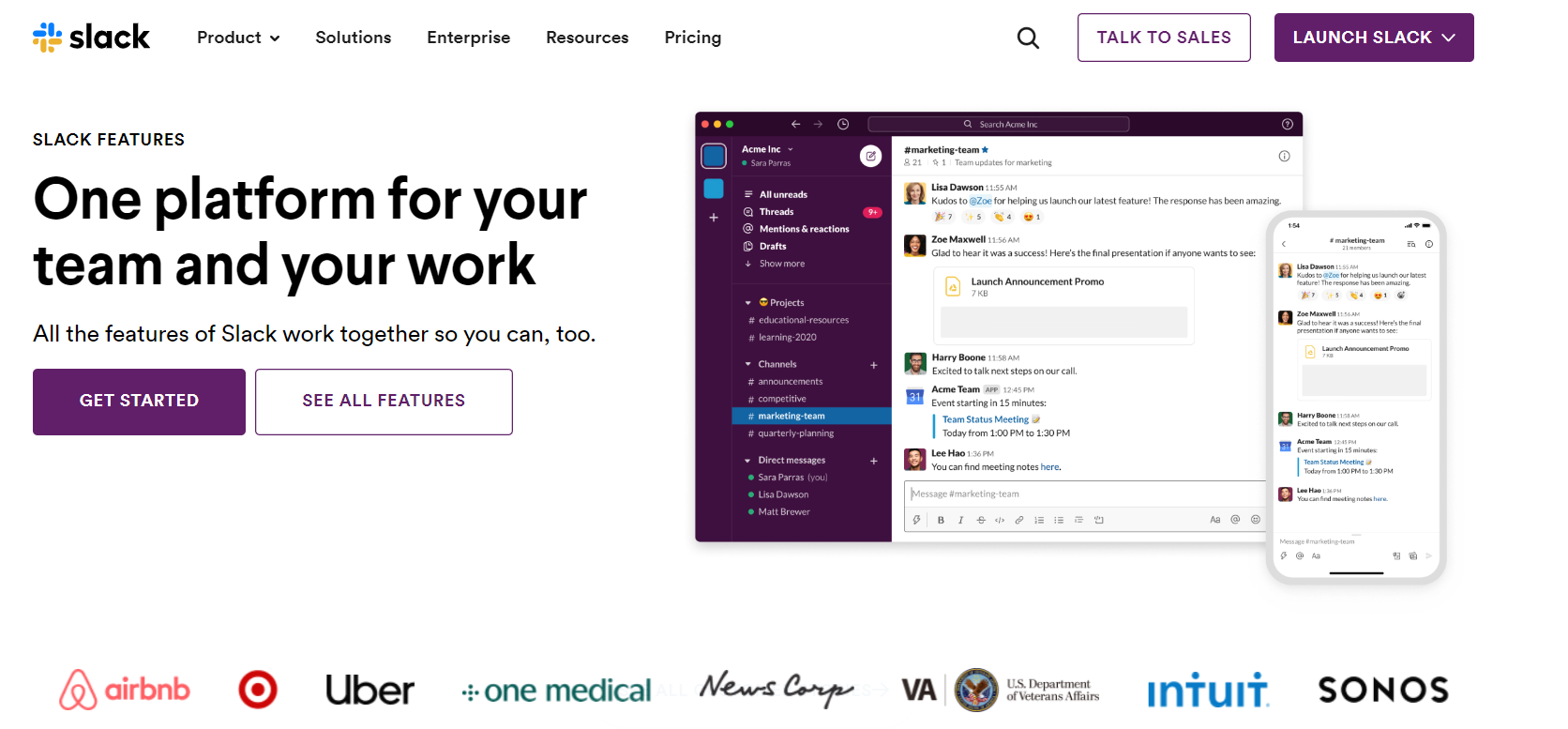 The robust team messaging app Slack has many features and customization options. Teams can use it to set up individual workspaces and channels, track documents, track messages, and quickly find older messages. Its extensive use is a result of its tight integration with third-party tools.
Pros
It enables immediate team communication.

Using Slack is enjoyable and straightforward. You can become an admin after ten minutes.

You can look at a message or the channels you use most frequently.

Slack allows trusted third-party integrations and password security.

Ideas and images can be easily uploaded, and you can select whether to share them with a single employee or a team.
Cons
The software is costly when compared to other trustworthy collaborative tools. Even if you use the free version, you will eventually understand its limitations, making it expensive for a large company.

Using the free plan, you can only integrate ten outside services.

You can only call one person at a time while using a free plan; you cannot call a group.
Pricing
Alex Contes, Co-Founder & SaaS Expert of ReviewGrower, said, "Small teams and organizations can use the free option, which has all the features and integrations they might require. Larger teams may find the standard version useful because it has fewer limitations than the free version. If that's not what you're after, Slack Plus (or Pro) has everything the standard version does and more. It costs $7.25 per month per active user, billed annually."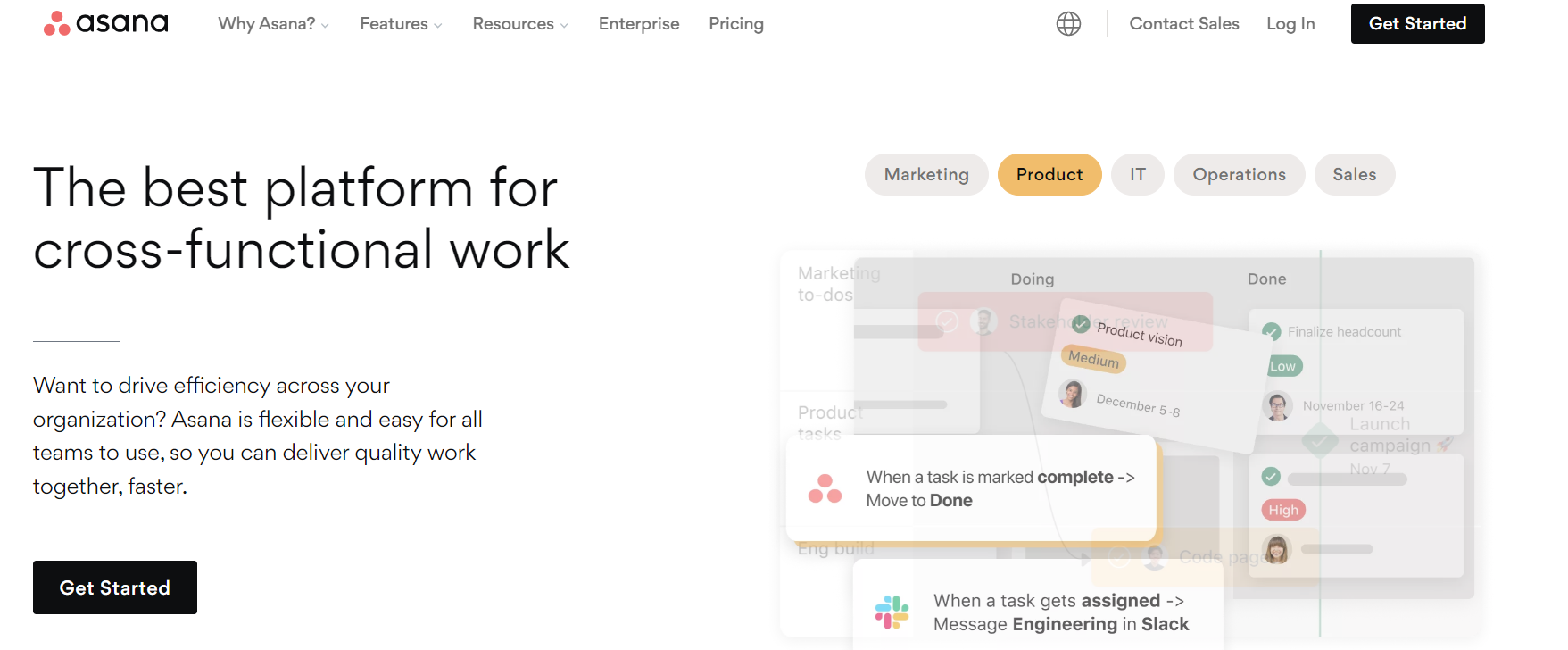 Using Asana, you can divide projects into more manageable parts, tasks, and subtasks. In addition, you can choose the assignee, due date, task description, and label for each task. Asana was initially designed as a list-based project management tool, but it has since evolved, enabling you to create project boards, calendars, and even data collection forms.
Pros
The user experience with Asana's user interface is excellent.

Asana connects to numerous other project management software programs.

Users of Asana can invite others to their virtual workspace. Additionally, it notifies collaborators of any modifications made to program tasks.

Asana has a well-organized and effective task management system.
Cons
Time-tracking tools are absent.

It can be challenging to master for those entirely new to project management.

Asana has far too many task-related features.
Pricing
For teams of up to 15 people, Asana is available in the free version. Asana Premium costs $10.99 per user monthly, billed annually, and $13.49 per user if billed monthly. It also has a Business plan that costs $24.99 per user monthly, billed annually, and $30.49 if billed monthly.

Time Doctor is a time-tracking app for remote teams. It aids in tracking how each individual manages their time, holding them accountable for their working hours. Even better productivity can be achieved by avoiding distractions with alerting and other features. It has a Chrome app, a mobile version, and desktop software.
Mike Krupin, the CEO of a remote-friendly company trendHERO, asserts that tools like Time Doctor allow you to better understand what team members are doing during work hours. They also enable you to locate and stop time-wasting activities and bottlenecks.
Pros
It is straightforward to use.

It offers detailed reports on productivity.
Cons
Time Doctor causes computer slowdowns.

The app occasionally crashes.

Data synchronization between desktop and mobile devices has problems.
Pricing
To meet different time-tracking needs, Time Doctor offers three pricing tiers. For one user, the Basic plan begins at $7 per month. The Standard plan's starting price for one user is $10 monthly. Lastly, the Premium plan is $20 monthly for a single user.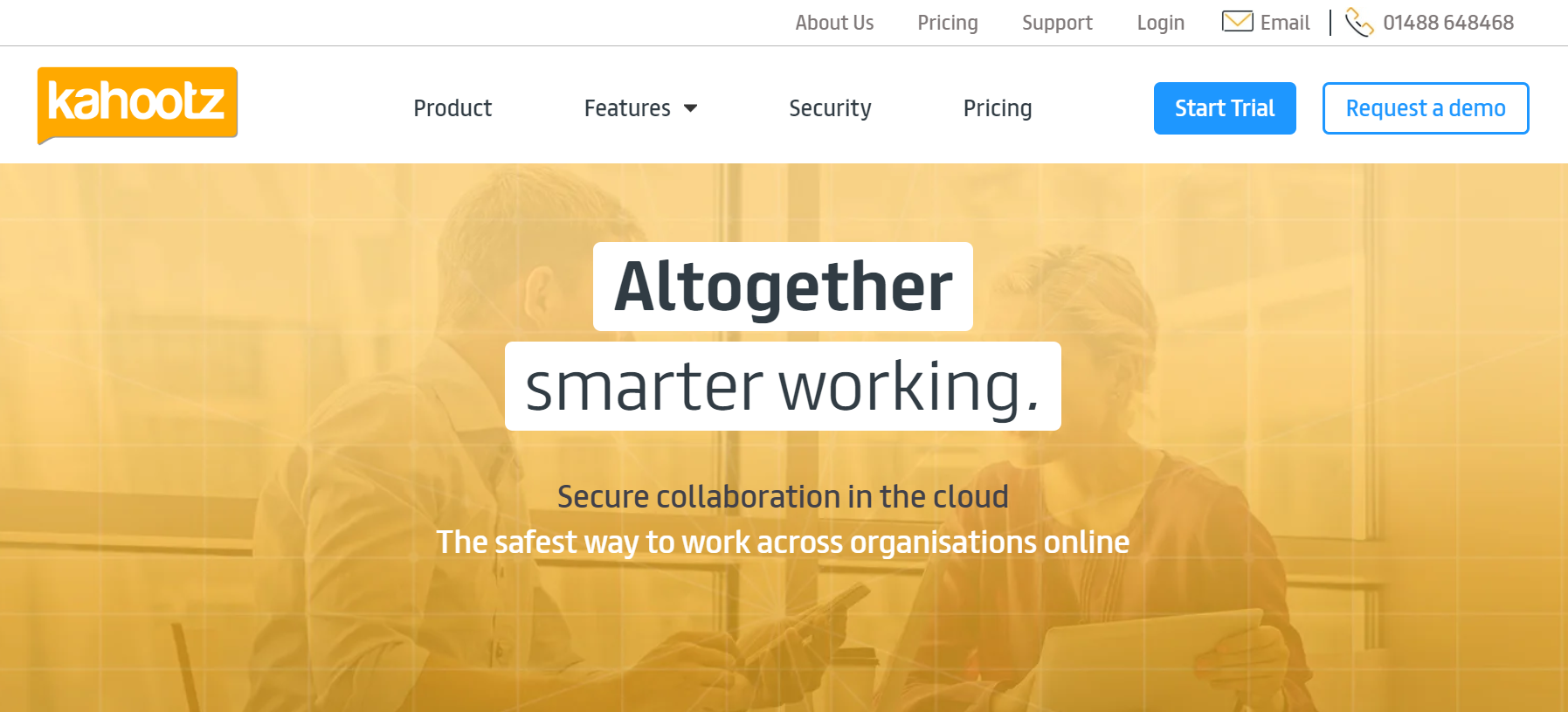 Kahootz emerges as an acclaimed cloud collaboration hub and workflow management software, meticulously crafted to streamline and automate processes for teams spanning diverse sizes and industries. It stands as a paramount choice for experiencing potent attributes within a unified nexus, empowering both team leaders and members to exert superior command over their workflow continuum.'
Within this adaptable software solution lies an array of features, including Secure File Sharing, Document Collaboration, Task Management, Shared Calendars, Dashboards, Online Surveys, Customizable Databases, and an extensive gamut more, systematically unraveling intricate tasks and vigilantly overseeing the evolution of your projects at every phase.
Furthermore, Kahootz's transparent pricing frameworks solidify its reputation as one of the most budget-conscious workflow management resolutions, tailor-made for burgeoning small-scale teams. The impediment of extravagant 'per-user' pricing models is alleviated, allowing for effortless team expansion.
Highlighted Attributes
Secure File Sharing

Document Collaboration

Task Management

Shared Calendars

Dashboards

Online Surveys

Customizable Databases

Accredited Security

End-to-End Encryption
Pricing
Kahootz extends a commencement plan commencing at £5.5 per user per month, coupled with Enterprise-tier blueprints initiating at £10.5 per user per month. Every scheme encompasses a complimentary 30-day trial period.
Accessible Through: Web Browser Version
Bonus Tool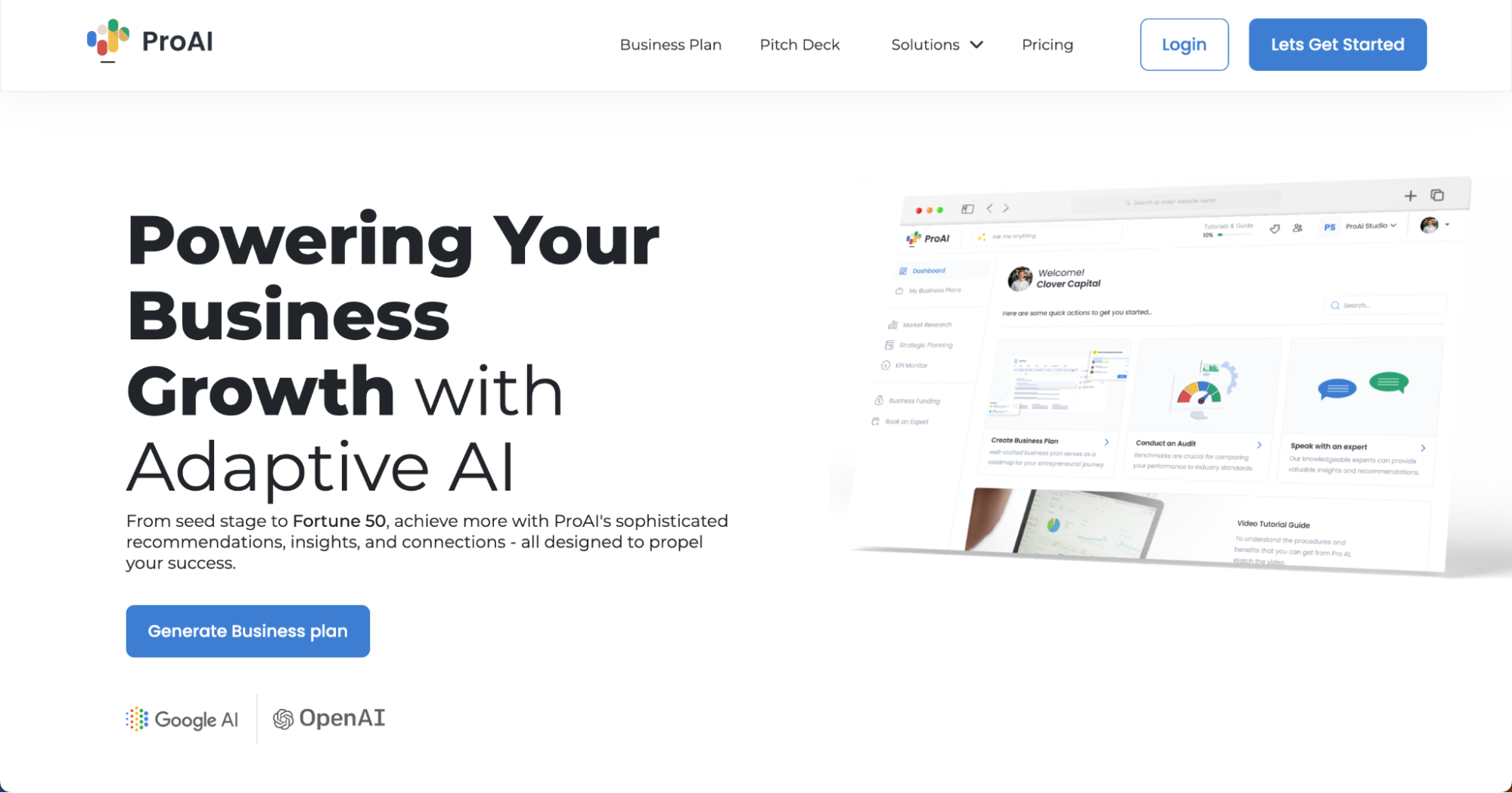 ProAI is an advanced artificial intelligence technology service provider, crafted to guide both companies and business consultants through all stages of development and growth. The platform offers a comprehensive suite of AI-powered tools that deliver strategic insights and action plans customized to unique needs.
Pros
It provides AI-powered business planning, strategy, and research.

The platform continues to learn about a business over time.

ProAI accesses proprietary data sources and research methodologies.

It delivers customized insights for each company.
Cons
It may be too advanced for very simple business needs.

The subscription pricing can be expensive for smaller companies.
Pricing
ProAI offers customized pricing based on modules needed and the number of users. Contact sales for a personalized quote.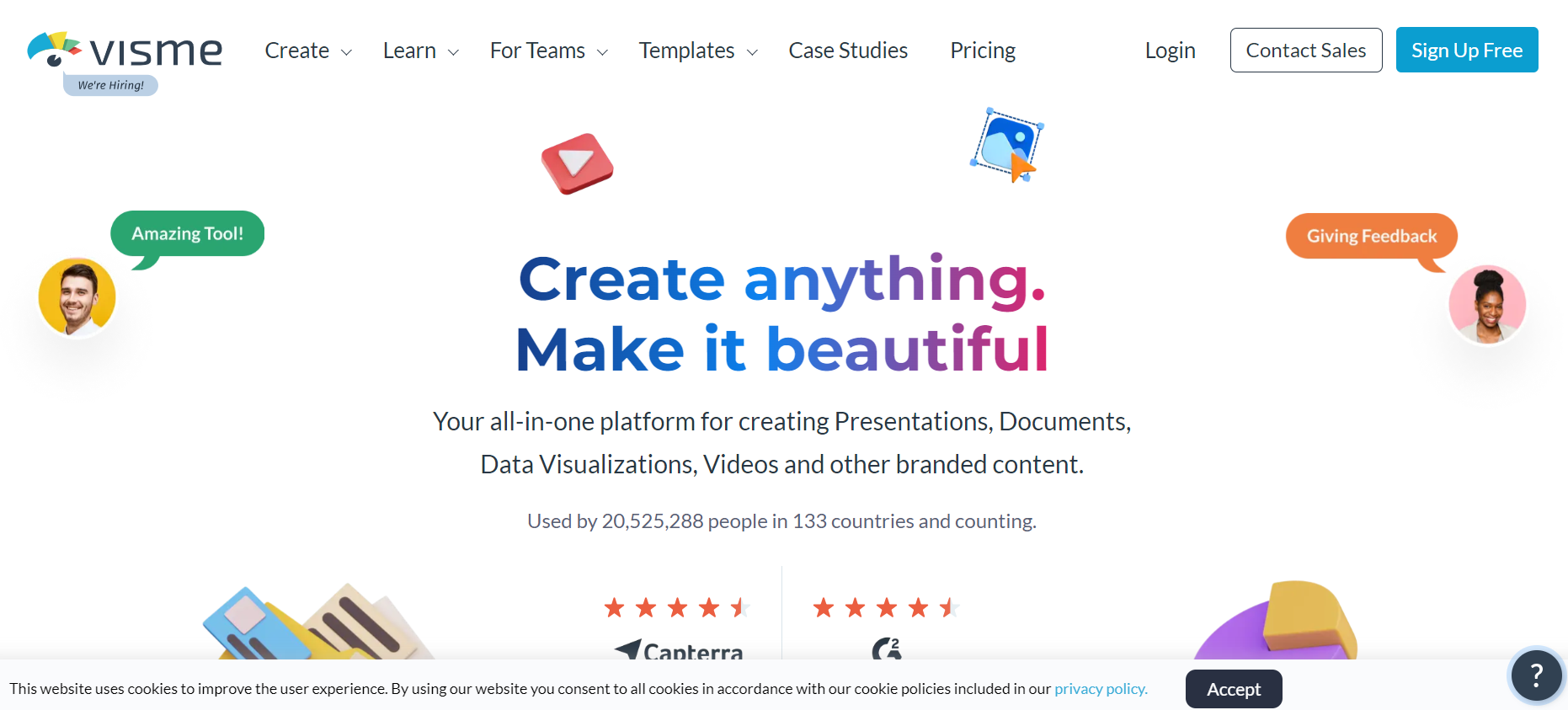 Visme is a graphic creator tool that enables users to design graphics, images, and visual content without the need for professional design expertise. Visme offers a wide range of pre-designed templates, customizable elements, and an intuitive interface that allows users to create visually appealing graphics for various purposes, such as social media posts, presentations, marketing materials, and more.
Pros
Time and Cost saving: Using ready-made templates you can create any design in minutes, share it, and download it.

Clear navigation: Visme has a clear interface so you will not get lost creating your design.

Integration: Use Visme with the apps you know and love: Google Analytics, Jotforms, Slack, Monday, Unsplash, Dropbox, and others.
Cons
Not sure, everything looks good.
Pricing
Basic: Free
Starter: $12,25
Pro: $24,75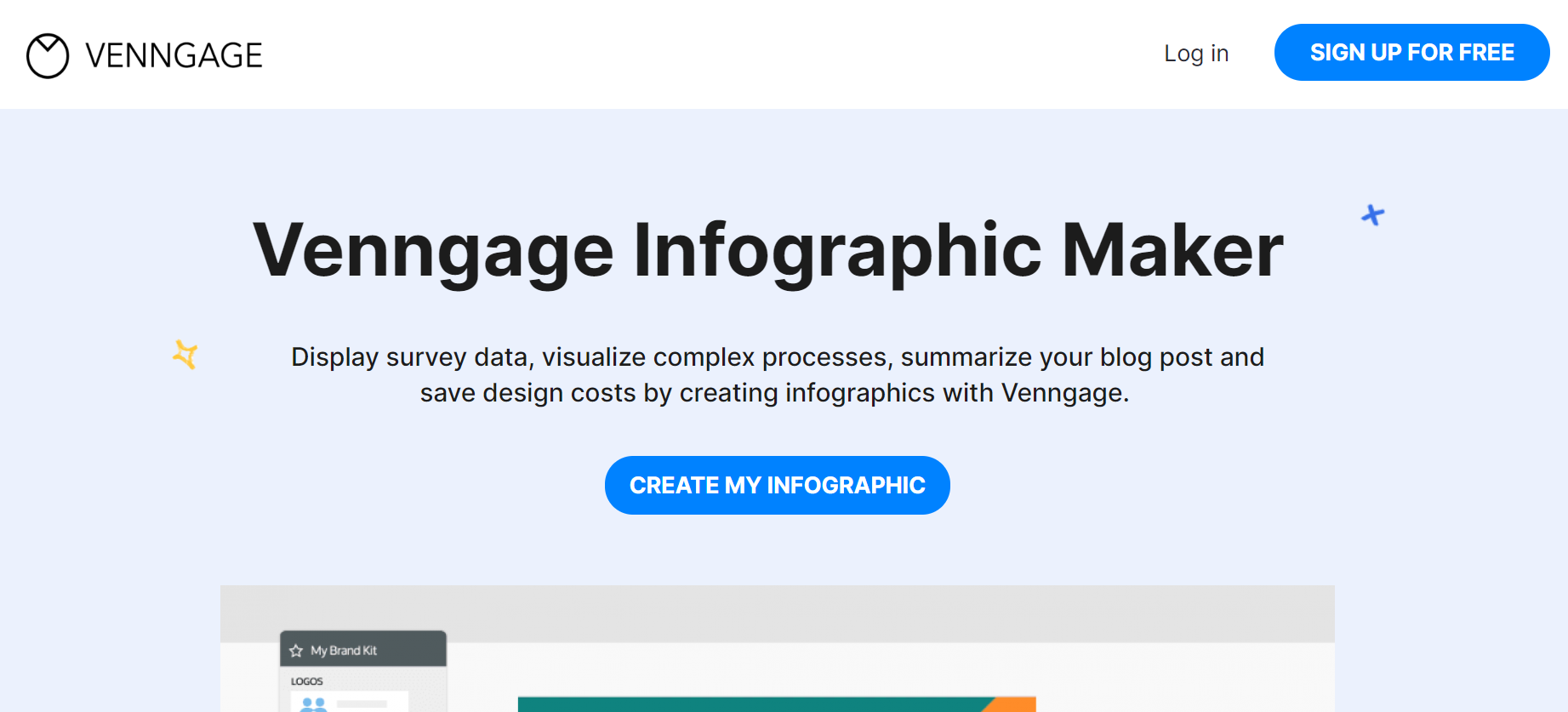 Venngage serves as a comprehensive design tool enabling you to craft a diverse range of visuals, including infographics, posters, banners, mind maps, social media graphs, reports, and more. This platform also offers effortless real-time collaboration and communication functionalities, encompassing a rich graphics library and an extensive collection of adaptable templates tailored for various marketing, business communication, and collaboration demands. The best part? You don't need any design expertise to get started.
Pros
Real-time Collaboration: Multiple team members can contribute and provide instant feedback.

Professional Look: Templates ensure polished visuals for reports and presentations.

Versatile: Suitable for various communication needs, from marketing to performance reviews.

User-friendly: anyone can create great designs with Venngage's smart editor features.
Cons
Some features are not available for free accounts.
Pricing
Venngage has a free plan. Pro plans start from $10.
Better Proposals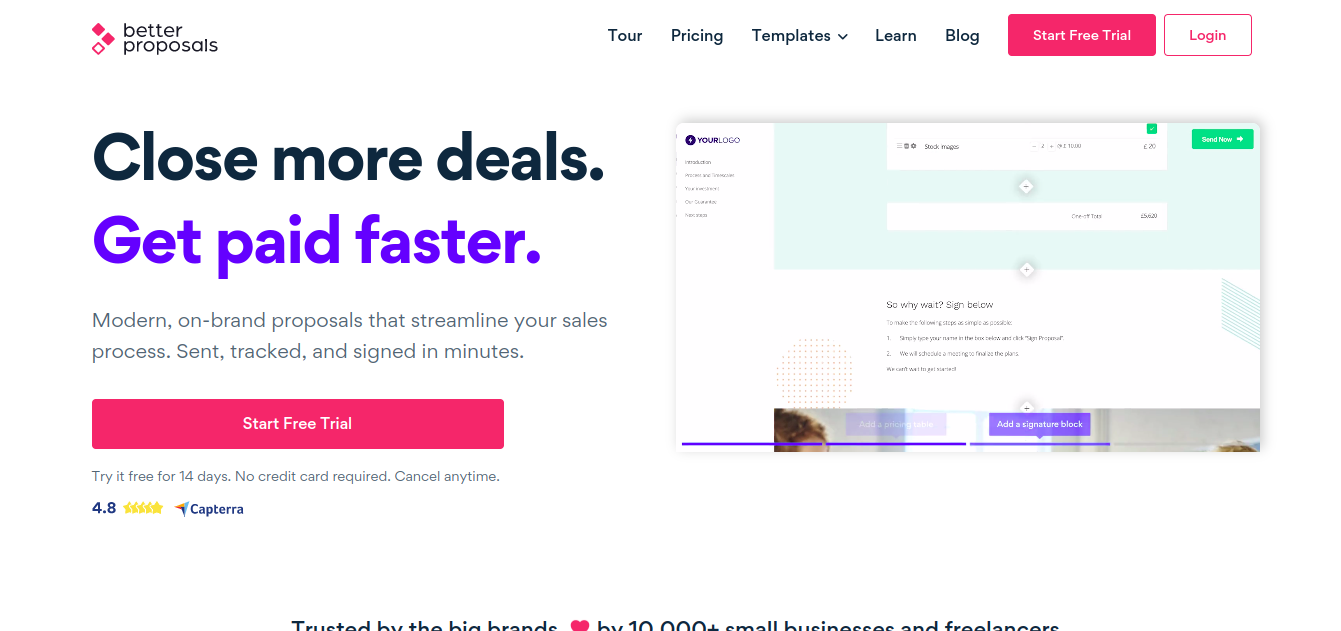 Better Proposals is an efficient proposal management solution enabling users to pick and customize their proposals' cover page and internal documentation. With its creative Marketplace, users can select from a wide range of pre-made templates and designs or create their unique proposal design from scratch.
Unlike other proposal management solutions, better Proposals offers helpful features such as analytics, notifications, digital signatures, and AI-assisted proposals. It is also one of the top choices for the Value for Dollar category due to its low barrier to entry cost-wise, making it ideal for small businesses.
Better Proposals has many integrations, including Active Campaign, Agile CRM, Base, Capsule, Close, Freshsales, Highrise, Hubspot CRM, and many others. It also offers Zapier bundled-in for users subscribed to their Premium or Enterprise Plan, which opens up 1500+ more options.
Price
Starting from $27/month for the Basic plan.
Key Features
Proposal creation and management

Analytics, digital signatures, and notifications

AI-assisted proposals

Wide range of integrations, including Zapier
Final Thoughts
Hank Williams, Founder of autowiringpro, said, "Trying to put a framework in place for your remote workers can be a little intimidating at first. But now that you have experienced just the tip of the iceberg, it is up to you to experiment with these tools, learn more about them, and choose which set of tools is best for your work. "
The best part, though?
You can utilize virtual assistance to win over remote work. Companies like Wishup offer virtual assistants with knowledge of over 200 skills and 70+ no-code tools. Hire a virtual assistant to make your remote work more efficient.
Author Bio
Divyesh Bhatasana is a Founder & CEO of Jeenam Infotech LLP who has a passion for helping customers as a Link Building Consultant. You can connect with him on Linkedin.
Join
5,369

remote workers and makers

The Remote Weekly goes out every Wednesday and brings to you original content, product tips and latest stories around remote working.