The Remote Weekly goes out every Wednesday and brings to you original content, product tips and latest stories around remote working.
7 Email Personalization Techniques That Work‍
Do you think that your business could possibly benefit from an easy-to-use marketing channel with an average ROI of 3,800%?
Yes, we're talking about email marketing, which remains one of the most responsive channels to capture attention, nurture interest, and successfully sell online.
Obviously, the ROI figure mentioned above may not apply to all niches and industries. However, personalized email marketing combined with segmentation can significantly increase the effectiveness of your email marketing campaigns by as much as 760%.
This article discusses seven proven and tested email personalization techniques that you can take inspiration from and implement for your own business.
Before we discuss the actual email marketing personalization tactics, let's take a look at some of the top reasons why we are doing this.
Why is Email Personalization Important?
Emails that are tailored resonate better with subscribers because they feel more relevant, tailored, and personal. Here's how that can help your business:
Increases customer engagement;

Boosts open and click-through rates;

Improves customer experience;

Drives conversions and sales;

Enhances customer retention;

Improves perception towards your brand;

Promotes customer loyalty and customer lifetime value (CLTV);

Increases profits & returns on investment (ROI);

Boosts deliverability to the inbox because of better engagement.
Last but not least, email personalization, when done right, can strengthen the relationship your brand enjoys with both potential prospects and existing customers over time.
7 Proven Email Personalization Techniques You Must Use
Here are some of our most recommended tactics to make your subscribers feel like you are writing to them and them alone.
Personalized Subject Lines
Given how every business and brand is aggressively doling out email campaign after email campaign, you need a way to get noticed inside the recipient's crowded inbox.
Personalizing the subject line with information personal to the recipient (for example, their first names) can be a great way to grab attention, and boost opens for your email campaigns.
Look at the example below:

Image Source: Sender.net
A simple mention of the reader's first name in the subject line and, once again, someplace in the email headline or body is good enough to make your reader feel special. Overdo it, and you will start coming across as creepy.
One more example:
Subject line: "John, We've Got Your Next Adventure Destination!"
Explanation: In this case, the subject line addresses John by name and hints at personalized travel recommendations based on his preferences or past interactions. It is sure to spark John's curiosity and makes him want to explore what the email has to offer.
A personalized subject line grants your emails better chances of getting noticed and opened, leading to higher engagement and conversion opportunities.
Implement Segmentation
You should never send the same email to everyone on your email list. Instead, segment your email list into smaller groups of contacts based on common characteristics such as age, gender, or even past buying behavior.
By sending relevant and highly targeted emails to these groups, you increase their likelihood of engaging and converting.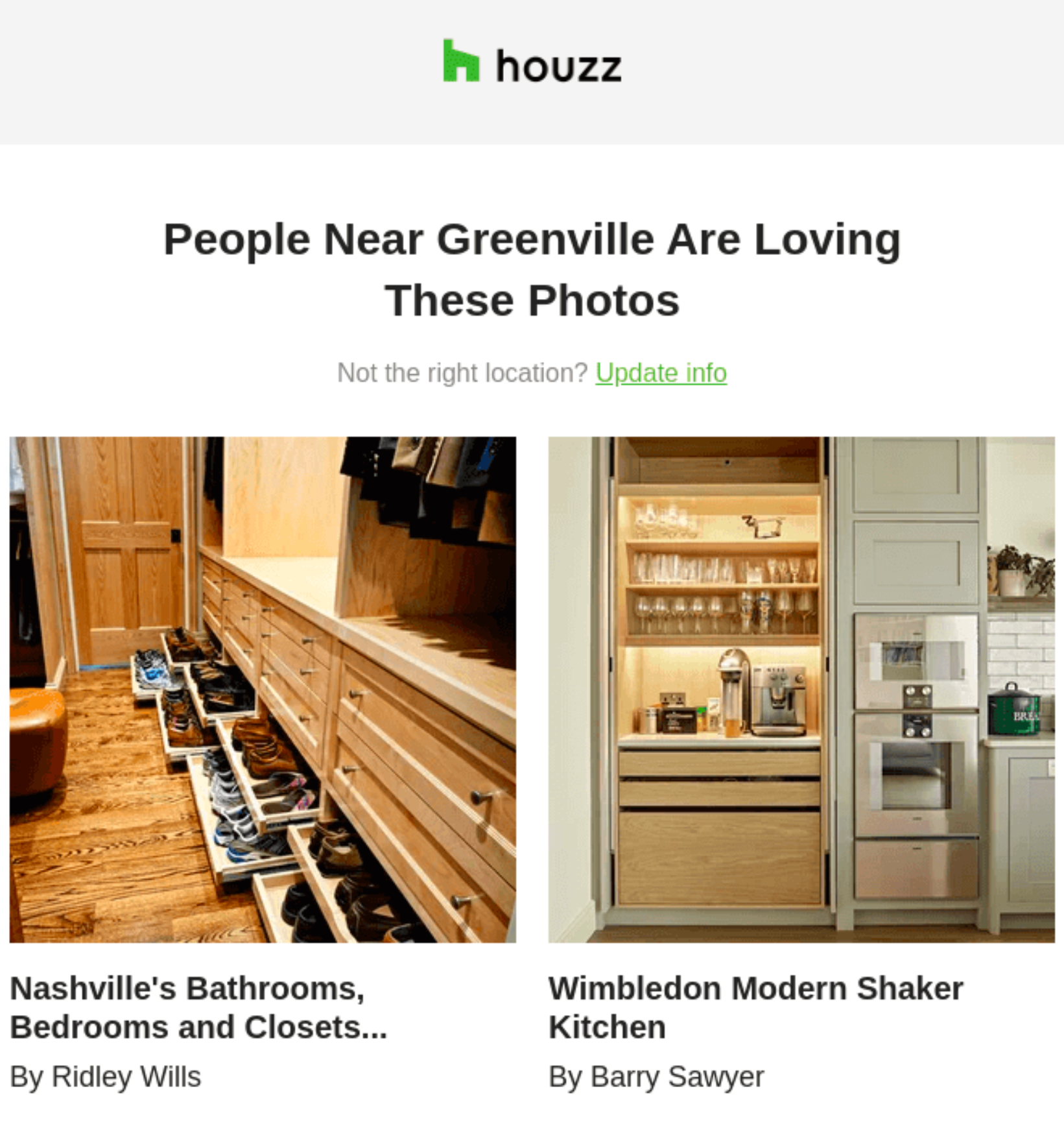 Image Source: Houzz
Let's say you have an online clothing store. You can segment your email list based on gender. You can send tailored email promotions to men about men's clothing and women about women's clothing. In this way, each group receives content that is relevant to them, thereby improving responses and sales outcomes.
Personalized Call-to-Action (CTA)
A personalized call-to-action (CTA) is a button or hyperlinked text often customized to be relevant to the email subscriber reading your email.
For instance:
Generic CTA: "Click here to buy now"

Personalized CTA: "Your future will thank you, Jeff. Enrol in this mentorship program at 40% OFF now".
Personalization using known data such as first names is common knowledge. But it can also be added by contextualizing the action they are about to take, as shown above.
Imagine you run an online clothing store. By including a personalized CTA button in your email that says, "Shop Your Style, [Recipient's Name]," you can increase the chances of possible purchases.
Creating an engaging and personalized CTA can significantly increase click-through rates by creating an atmosphere of personal attention and therefore increasing the chances that recipients will act.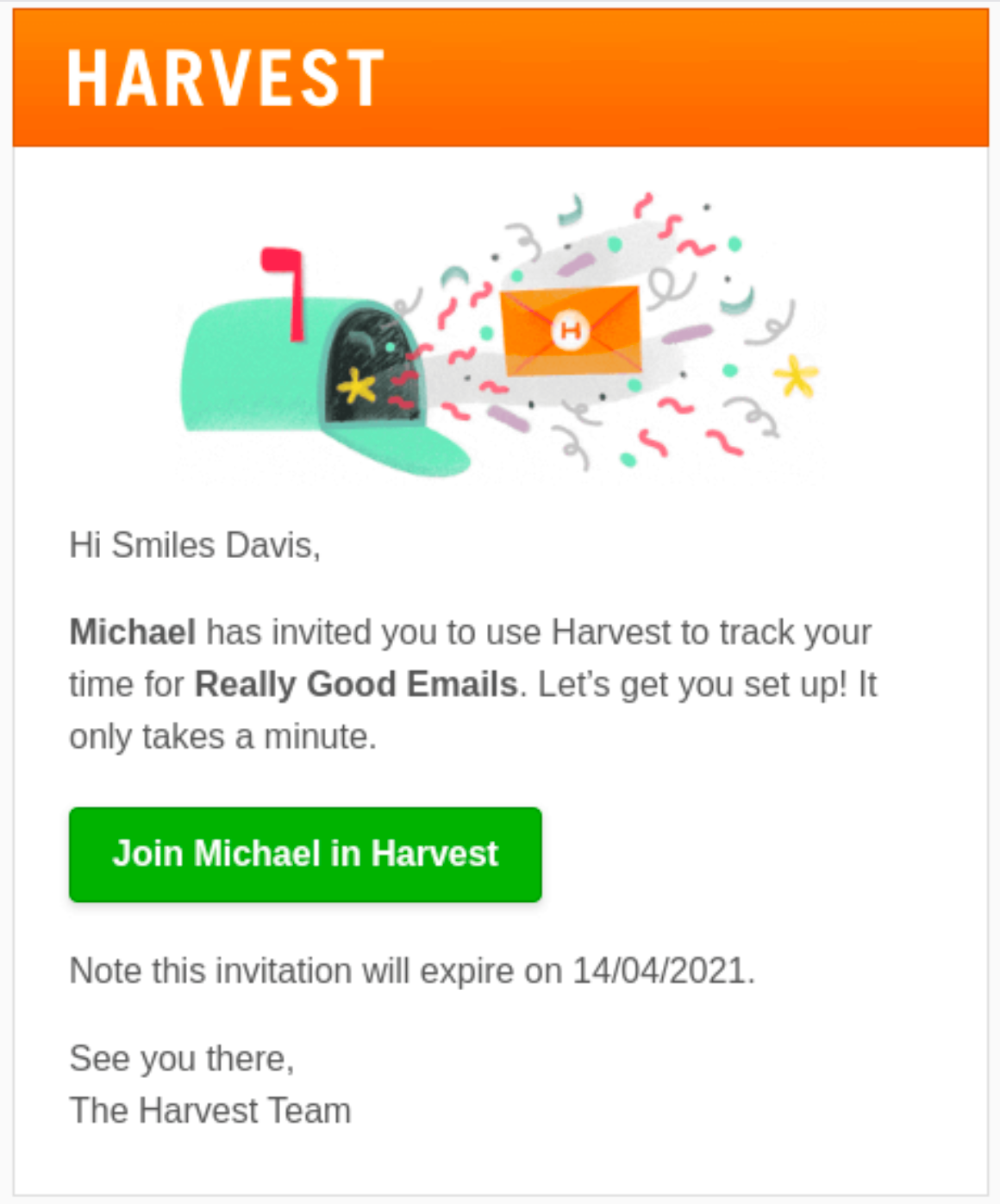 Image Source: Harvest
Birthday or Anniversary Emails
Sending automated anniversary, milestone, or birthday emails can foster a sense of personal connection and exponentially increase the chances that the recipient clicks and converts.
Regardless of the email marketing platform you use, there will be an option for you to solicit and collect customer data using custom fields on your forms.
Say, for instance, you run an online e-commerce store. When prospects sign up to your email list, you can capture their birthdate using custom data fields. On their birthday, send them a personalized email wishing them well and with a special discount or a free gift, and watch the sales come roaring in.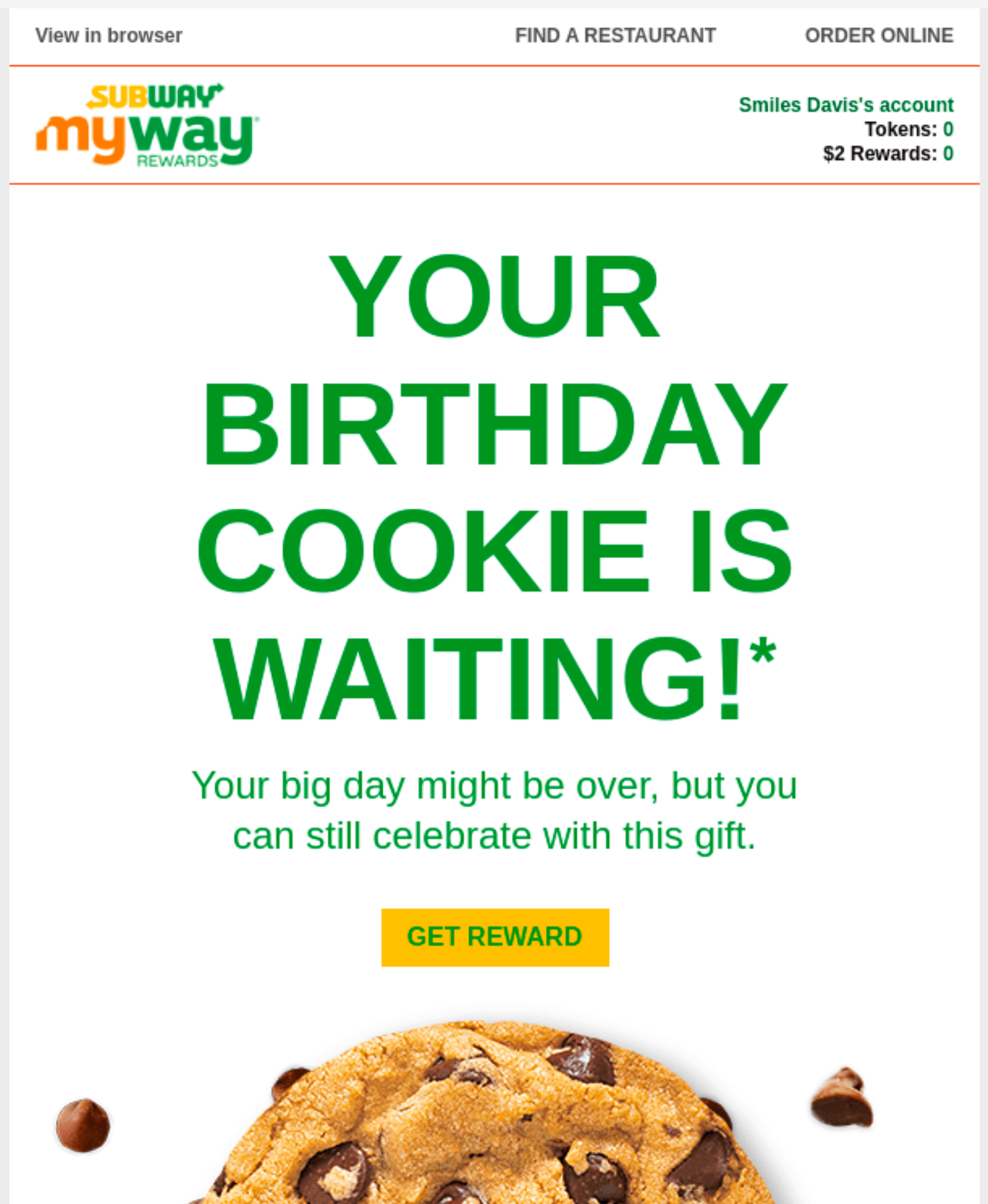 Image Source: Subway
Send Cart Abandonment Emails
Particularly popular with e-commerce stores, a cart abandonment email is a message sent to store visitors who added items to their online shopping carts but left without completing the transaction.
Your email will be an automated message that serves as a reminder to gently nudge them toward completing the purchase action. If it aligns with your brand, you can even offer a special discount as an incentive should they choose to transact.
The goal is simple, show your visitor what they left behind, encourage them to buy it, and most importantly, give them a reason (e.g., limited stocks or an exclusive discount) to do it immediately.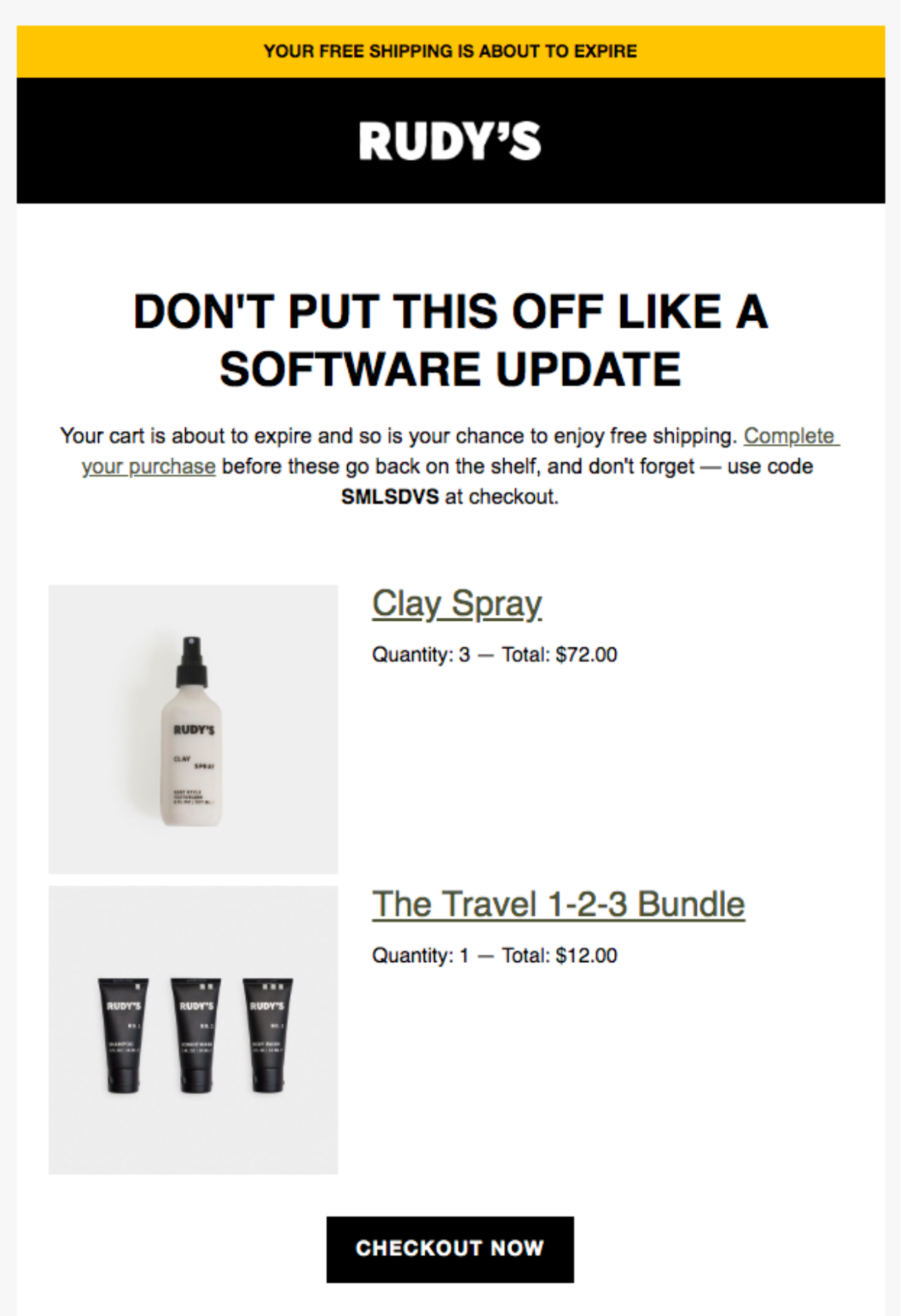 Image Source: Rudy's Barbershop
Cart abandonment emails are usually a sequence of 1-3 emails sent one after another at predefined time intervals till the product has been bagged by the customer. You can also improve conversion performance by including SMSes in the sequence.
Cart abandonment emails are worth their weight in gold since they essentially bring in lost revenue.
Buying Behavior Personalization
Personalized communication based on the known buying behavior and purchase habits of your customers can greatly boost the sales performance of your current campaigns.
These could be emails recommending similar or complementary products or even popular choices among customers with similar buying habits. You could also send them to upsell emails that suggest upgrades to their current purchase or cross-sell emails that recommend relevant products from your partners.
If your business is in the FMCG (Fast Moving Consumer Goods) or consumables sector, you can identify products that are bought on a recurring basis and then send out automated replenishment reminders when it's time for the customers to restock.
For instance, someone purchases running shoes from your online store. You can then personalize emails by recommending related products such as running wear, accessories, or even supplements. Understanding their buying behavior helps you offer highly relevant and targeted communication, which then converts.
Image Source: Goodreads
Tailored Content
Sending relevant and customized content to your subscribers is a vastly underrated way to build trust and credibility in your brand's relationship with prospects.
The reason is simple. Whenever you receive communication that is tailored to your interests, it grabs your attention because it feels like the email was written with just you in mind. Such type of email provides unmatched value and makes it more likely that you will engage with it and click through.
Let's assume you subscribe to a fitness newsletter. Now, instead of getting blasted with generic fitness tips, what if you receive tailored emails that provide workout routines and nutrition advice based on your personal fitness goals, body type, or current fitness levels? Such type of content is much more likely to keep you engaged with the brand running the newsletter.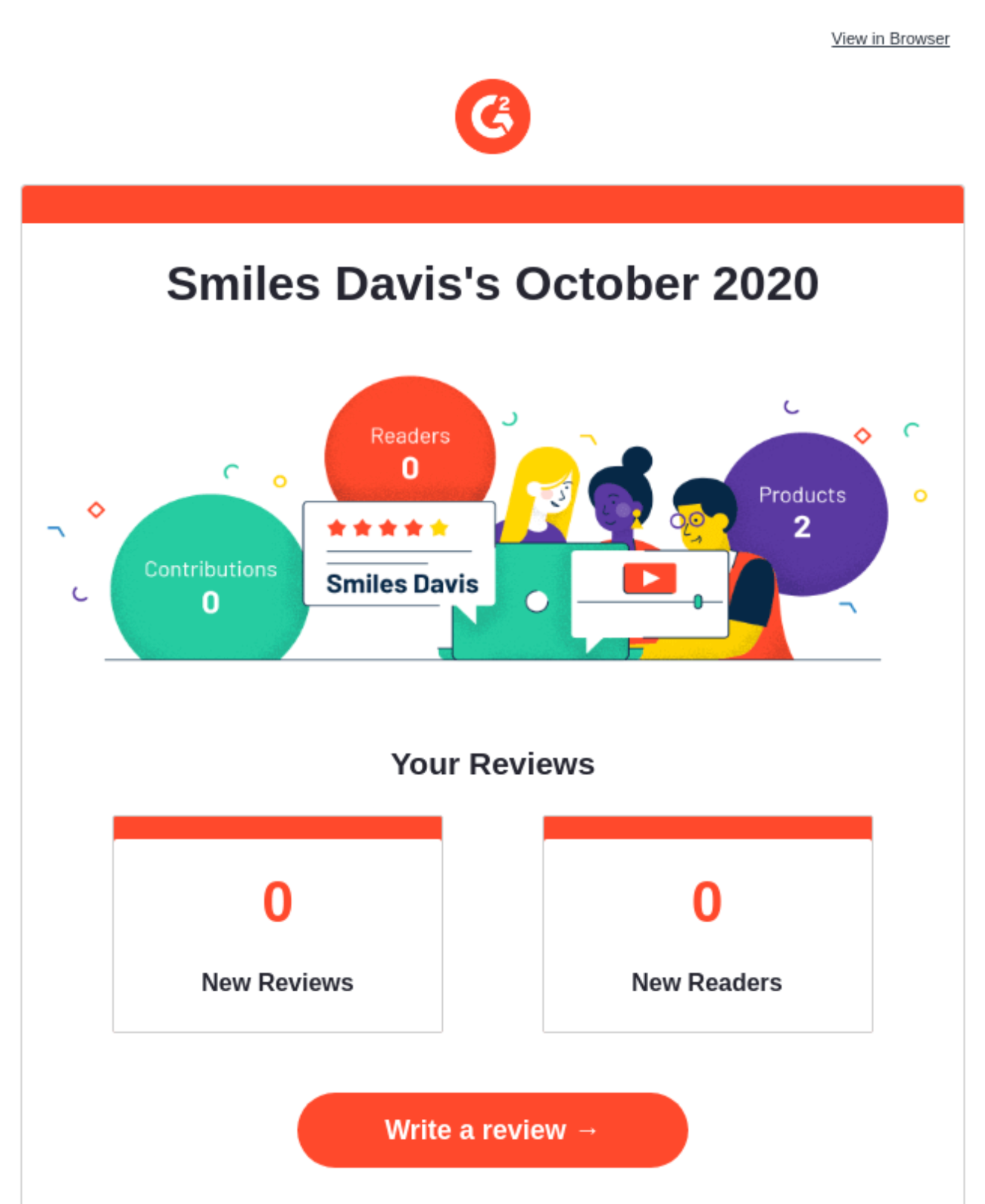 Image Source: G2
Conclusion
Email personalization goes far beyond simply addressing recipients by their first names. While personalizing with names is still an acceptable tactic, a robust email marketing strategy will go much deeper by contextualizing the recipient's entire buying journey and their interactions with your brand online.
It's about understanding your prospects' preferences, behaviors, and needs at various touchpoints throughout their buying journey.
Regardless of the email marketing software in use by your marketing team, using a data-driven approach ensures that your email campaigns always say the right things, from relevant recommendations and exclusive offers to targeted messaging that resonates with your audience's specific needs.
Leveraging the personalization strategies and tactics described above will help create seamless and cohesive customer experiences through personalized emails that result in higher engagement, increased brand affinity and trust, and a larger possibility of conversions.
Join
5,369

remote workers and makers

The Remote Weekly goes out every Wednesday and brings to you original content, product tips and latest stories around remote working.