The Remote Weekly goes out every Wednesday and brings to you original content, product tips and latest stories around remote working.
How Small Businesses Can Leverage Instagram to Reach Their Customers?‍
Read and know how various small businesses can reach their potential customers by leveraging Instagram
Instagram is one of the most widely used social networking platforms in the world today. With an audience of two billion active users, Instagram has also become a preferred platform for advertising and marketing for businesses.
Regardless of how large or small the business is, everyone today leverages Instagram to reach out to the target audience and build a solid brand image. Instagram helps businesses establish a sense of trust and forge lasting relationships with customers. Because of the flexible features it offers, Instagram helps you craft tailored content for the audience.
In this blog, we will understand how businesses can leverage Instagram to reach out to their target audience and build a strong brand image through social media opportunities.
9 Effective Ways to Leverage Instagram for Business
1. Add an Interesting Bio
The first thing the followers come across when they visit any Instagram page is its bio. Write an engaging bio that describes your business and its goals to attract the desired target audience. It is ideal to share the website link to drive the visitors to your business website.
Lachlan de Crespigny, Co-Founder and Co-CEO of Revelo says "Although writing a bio may seem to be an easy task, you should approach it with a strategy. It should be a mix of professionalism and creativity." Here are some tips to help you craft an interesting bio.
Include the brand name in the Instagram handle. If possible, add the keywords. For example, if you are a scrunchie store, you can add the same to the name.
Write a description of the business. You can talk about the services you offer, company goals and vision, and much more.
Share the right contact information, such as contact number, email address, location, etc.
Add the website link or use the Linkin.bio tool to generate a custom URL containing links to products, services, blog posts, and more.
For example, check out the Instagram page of Later, a social media scheduling tool. Pay attention to how they have used the keyword 'social media marketing' in the profile name. Secondly, check how informative the description is. Lastly, they have included a linkin.bio link giving access to their blog, account signup page, Tiktok feed, and more.
(Source)
2. Tag Locations in the Posts
Tommy Pederson, Founder & Content Specialist of Vekhayn says "Did you know that Instagram compiles all the posts tagged at one location in one place? This tagging feature helps you reach out to a wider audience and creates awareness about the brand." That is why tagging location in your posts is essential for business growth.
For example, Bang Bang Pie & Biscuits, a cafe based in Chicago is leveraging geotagging to reach out to more customers. Check out the screenshot below.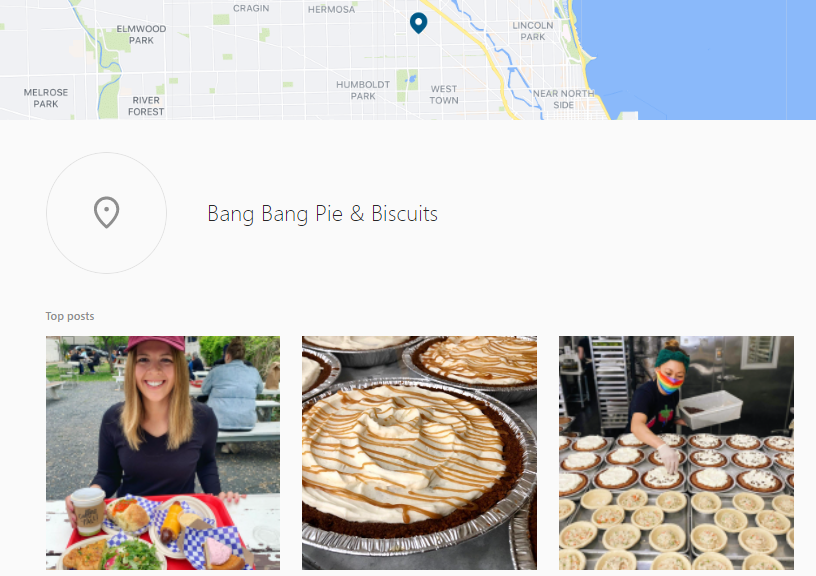 (Source)
3. Use the Right Hashtags
Abdul Saboor, Full Stack Developer at The Stock Dork says "Hashtags make it easier for the audience to find desired content on social media platforms." It provides an excellent framework for increasing the scope of your posts to make them more discoverable. Start using hashtags related to your industry. You can also create hashtags for your business and build the brand image.
HelloFresh is a meal kit delivery service providing pre-portioned ingredients for delicious recipes. Check out how they are using the brand hashtag #HelloFresh for the posts.
(Source)
In addition to the brand hashtag, they have also created a hashtag exclusively for the customers - #HelloFreshPics
(Source)
You can create an Instagram wall using the content collected through hashtags and display it across digital displays or digital signages at events.
4. Use Highlights
Dennis Grossman, Founder of Grossman Law Offices says "Highlights make it easier for brands to prolong the life of their Instagram stories and feature them on the page." You can leverage this feature to showcase information about your company culture, products, services, customer testimonials, and other content.
Check out the official Instagram page of The Face Shop for India. Check out how they have created multiple highlights giving the visitors a peek into their journey, behind-the-scenes, customer reviews, blogger collaborations, and much more.
(Source)
5. Create Guides
Josh Tyler, CEO & Founder of Go2Tutors says "Guides can be compared to website blogs - a place to compile similar posts into a piece of featured content." Guides are compiled in the form of an article giving it the feel of a blog. In addition to textual content, you can use photos from the posts on the page.
Further, you can edit the caption to make it more engaging and interesting for the audience.
For example, The Honest Company is a wellness brand that deals in safe baby and beauty products. It was founded by the actress Jessica Alba in the year 2012. Check out this guide about stocking stuffer ideas.
(Source)
6. Create Reels
Even though Instagram Reels are quite popular, there are still many people who don't know how long Instagram Reels should be and how to use them. Liam Webster, Managing Director of Identify Digital says "Reels are short 15-30 second videos that brands can leverage to promote their products and services and strengthen the brand image. This excellent feature of Instagram is endowed with some amazing tools, such as music, audio, AR effects, filters, speed, and a lot more.
Here are some different ways brands can leverage reels to widen their reach and build a strong image.
Create inspirational reels to motivate the audience to take a charge of their lives
Showcase products or services and how they can simplify the lives of the audience
Share tips, tricks, techniques, how-to videos, and more to educate the audience
Leverage user-generated content (UGC) to show your audience that you love and value them
Create and share behind-the-scene reels to let the audience know what happens at your workplace or manufacturing unit
Share answers to the frequently asked questions about the brand
Check out the kind of reels beauty brand, MAC Cosmetics has shared on their Instagram page. It is a healthy mix of new launches, product swatches, as well as UGC.
(Source)
7. Host a Giveaway
Nicholas Evangelist, V.P. Operations of Orthodox Auto Company says "Giveaways and contests are some of the best ways to grow an Instagram account organically." Free goodies are something that everyone loves. Host a giveaway for the audience while setting some simple rules for participation.
Ask the audience to follow your comment
Engage in the post with likes and comments
Share the giveaway post with friends
Save the post to the collections
For instance, Cirque Colors is a non-toxic nail polish brand based out of New York. Check out this giveaway on its Instagram page.
(Source)
Further, you can collaborate with other businesses and grow your reach drastically. It is no doubt that you will receive a humungous response to the giveaway.
For instance, Zouk, an online fashion store selling cruelty-free handbags collaborated with The Tribe Concepts, India's first plant-based skin and hair care brand for an exclusive giveaway on Instagram. The giveaway rules were simple and the winners would receive exciting products from both the brands.
(Source)
8. Build a Community
Edward Mellett, Founder & Director of WikiJob says" Creating a connection with the followers is one thing every brand, no matter big or small, must focus on." According to a study by The Community Roundtable, building community online ensures greater customer loyalty, promotes branding and awareness, and reduces support costs.
Building a community is a slow and lengthy process. Here are some tips brands can follow to build and grow their communities.
Try to create an emotional connection with your followers.
Listen to your audience and try to address their pain points.
Respond to their messages as well as comments on your posts.
Share user-generated content on your page and tag the respective users.
Go live and connect with your followers once in a while
Organize giveaways and contests to reward your community
9. Track the Analytics
Measuring the progress of the campaign performance is essential to understand whether or not you are putting in the right effort. Instagram analytics provides smart insights into the performance of your content. You can also use some of the best Instagram analytics tools to gain accurate statistics so that you can track the post engagement (likes, comments, shares, and saves) as well as hashtag performance without much effort.
These insights will also help you learn which strategy works excellently for your brand. Thus, you can modify or update plans according to these insights and attract more followers.
Wrapping Up
Leveraging Instagram for marketing and promotions will guarantee you success and the brand recognition it deserves. Set your goals, make a content plan by following the strategies mentioned in this blog, and try to establish a connection with your followers. Happy Instagramming!
Author Bio:
Kruti Shah is a content writer and marketer at The Marketing Drama. She loves to write about insights on current trends in Technology, Business and Marketing. In her free time, she loves baking and watching Netflix. You can connect with her on Linkedin.
Join
5,369

remote workers and makers

The Remote Weekly goes out every Wednesday and brings to you original content, product tips and latest stories around remote working.