The Remote Weekly goes out every Wednesday and brings to you original content, product tips and latest stories around remote working.
Using Modular Email Design To Build Customizable And Reusable Email Templates‍
In a world where people have shorter attention spans than ever, capturing and maintaining your audience's attention can feel like a delicate balancing act. Email marketing is particularly transparent in this case. Crafting emails that not only successfully land in people's inboxes but also motivate them to take action is a skill that involves creativity, dedicated brainstorming, and effective execution.
But what to do if email campaigns are on strict deadlines and you usually spend your marketing time not brainstorming but on routine work? This is when modular email design steps in.
Understanding Modular Email Design
Modular email design is an exciting and fresh approach that pushes the boundaries of traditional email design methods. It differs from static templates because it emphasizes creating a set of content modules that can be easily switched and reused. As a result, you have many prebuilt email elements, such as headers, product cards, CTA buttons, and more, that can easily be rearranged and combined to create visually appealing and customizable emails to suit specific goals and target audiences.
Benefits of Modular Email Design
Brand Consistency Across Your Emails
Research has shown that keeping a consistent brand image can have a significant impact on sales, with potential increases of up to 20%. Design that aligns with your core values and communication is key to building strong brand awareness.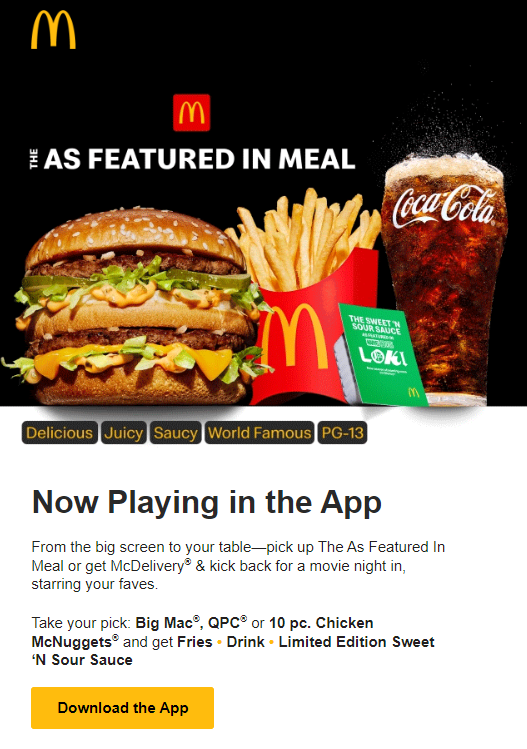 (Source: Brand-consistent email from McDonald's)
Efficient Email Design Process
Once you have created a library of modules for different purposes, you can easily integrate them into multiple email campaigns without starting from scratch. You can craft an email in just 30 minutes, which significantly improves from the previous time of a couple of hours.
Effortless Design and Content Tweaks
Need to fix a date or update a product's availability? The modular system, for example, the one that Stripo has, makes it easier with synchronized modules that let you edit and update all templates at once — changes to a synchronized module in one template automatically apply to others where the module is used. This feature is a real time-saver.
No Technical Expertise Required
Even if you're far from being a programmer, you can create visually appealing and functional emails using modules. If you decide to hire a coder for unique email designs, you only need to do it once.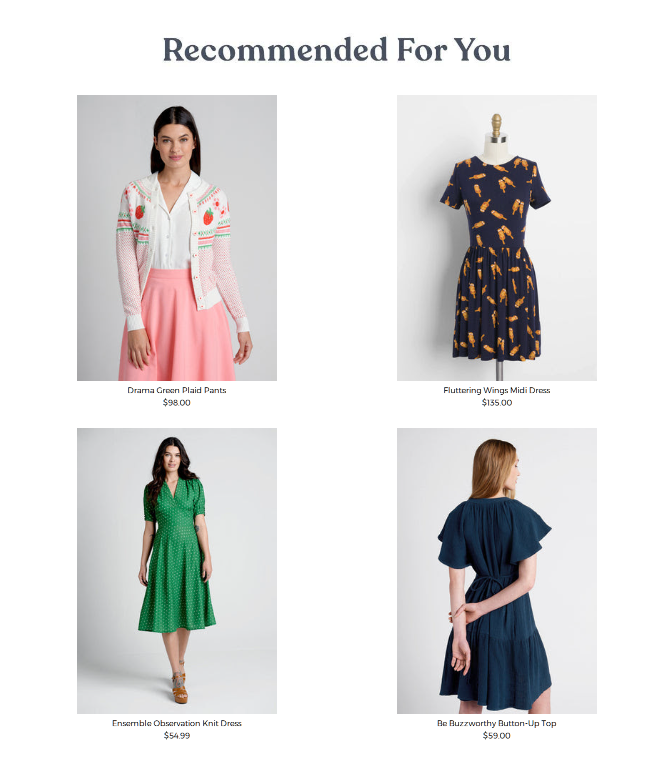 (Source: Email with product cards from ModCloth)
Implementing Modular Design
To utilize the modular system correctly, you need also to take care of a few other crucial components:
Creating a Library of Modules
Develop a repository of content modules that cover a spectrum of communication needs. From headers and footers to product cards and banners, each module should be versatile and easily adaptable.
Structuring Templates with a Drag-and-Drop Editor
Building email templates with a drag-and-drop editor is as easy as putting together a puzzle. Just choose the modules you want from your library and arrange them in your preferred order.
Testing Responsiveness and Compatibility
It's important to be certain that your carefully written email looks good on all devices and email platforms before it reaches the recipients' inboxes. Use the preview function to see how your email will look on different screen sizes.
Advice on how to make the modular implementation go smoothly:
Start with just one modular campaign to get to know the features and possibilities of the modular platform. As you feel more confident, you can start working on more complicated projects.

Set up a set of rules for how your modules should look, including what colors and fonts to use. The more consistent your modules are, the stronger your brand personality and user experience will be.

Analyze open rates, click-through rates, and conversions to find out which mixes of modules work best. Use what you've learned to improve your future efforts.
Facing Challenges and Avoiding Pitfalls
Modular email design gives you a lot of room to be creative and save time, but it also has certain drawbacks. To make sure that the process goes smoothly, it is important to think about and deal with these problems ahead of time.
Chaos: Keeping track of your growing library of modules can become difficult as it expands. Make a system with labels and descriptions that sort modules by what they are used for.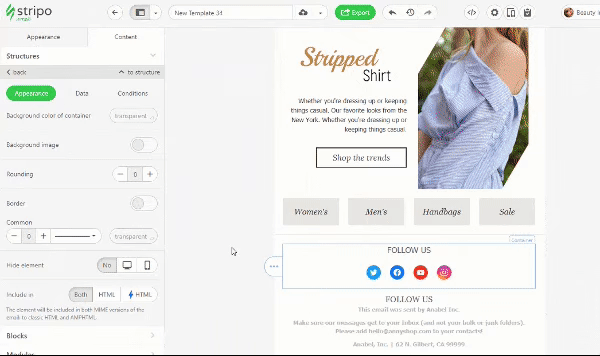 (Source: Stripo)
Mishaps in compatibility: Email clients process HTML and CSS differently, which can cause differences in how modules look. Simplify your modules to make them more compatible.

Time-consuming update: Create a master module file to set up version control. When updates are needed, change the master module to ensure it is the same everywhere it is used.
Trendsetting in Email Template Design
AI-Generated Content for Modules
Email content creation is on the verge of a revolution thanks to artificial intelligence. Just think about AI algorithms that create module content by analyzing how users behave, their preferences, and their past interactions. This will make content production more efficient while still prioritizing personalization.
Interactive Elements
Emails are no longer just plain messages; they become interactive experiences. Accordions, carousels, and embedded forms are elements that enable recipients to interact with the email directly from the inbox. It makes subscribers' engagement deeper and enhances their overall experience.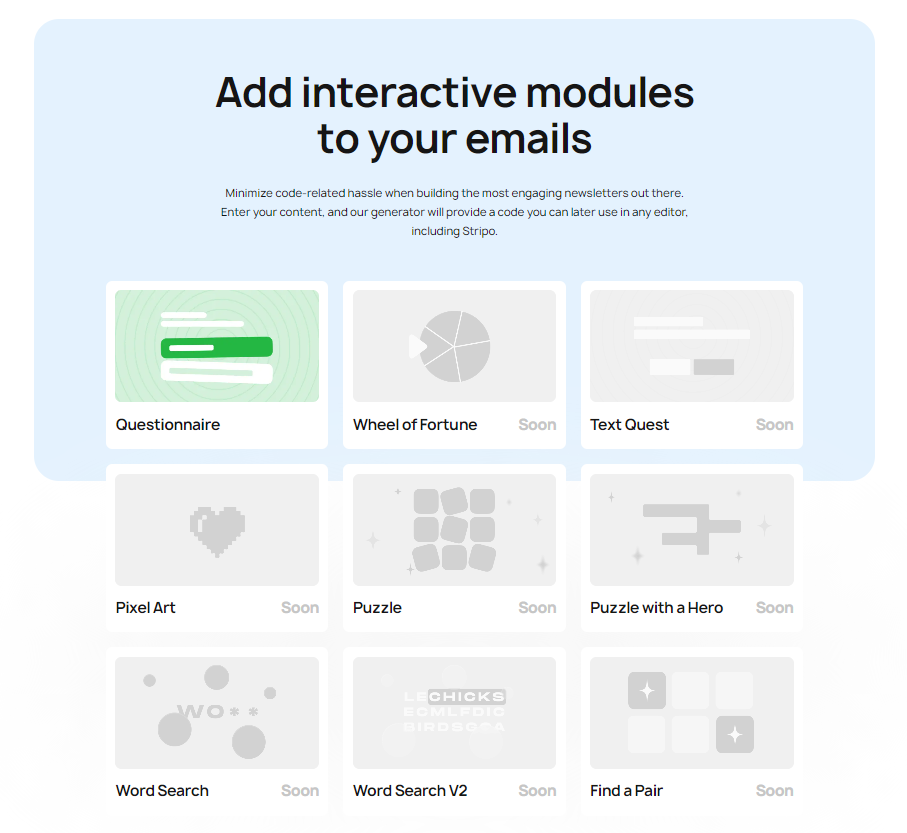 (Source: Stripo interactive modules generator)
Modules+
With the introduction of Modules+, email marketers can now work on the design separately from the data. This feature is helpful for marketers and developers because it saves them a lot of time. They can easily make changes to the design of multiple modules without worrying about losing any data. Coders and developers would typically set up this functionality only once.
In order to support email marketers and help them become more independent, it would be beneficial for email-building platforms to focus on automating the task of incorporating data into emails.
Conclusion
Marketers can overcome the challenges of creating interesting and consistent email content by embracing the flexibility and reusability of content modules. Embrace the incredible potential of modular email design and take your email marketing to the next level.
Join
5,369

remote workers and makers

The Remote Weekly goes out every Wednesday and brings to you original content, product tips and latest stories around remote working.