The Remote Weekly goes out every Wednesday and brings to you original content, product tips and latest stories around remote working.
5 SEO Campaigns to Inspire Your Marketing Goals‍
If you're a B2B marketer, you probably have used search engine optimization (SEO) to create brand awareness online at one time or another. SEO campaigns are among the most effective demand generation strategies for B2B companies. They allow companies to meet their marketing goals by driving organic traffic to their websites and social media pages.
But, did you know that more than 70% of the people who search for your products or services online don't move past the first page of the search results?
This means your company may be losing valuable leads and revenue for not ranking highly on search engine results. SEO can help you turn things around.
What are SEO Campaigns?
SEO campaigns are intentional, well planned efforts aimed at optimizing your web pages to improve their ranking on search engines. A typical SEO campaign involves multiple components like website audits, on-page optimization, keyword research, and link building.
Your company needs SEO for several reasons:
1. Boost Brand Visibility: People need to find your business fast and with ease in order to buy. SEO ensures that your website ranks high on online search results so prospects discover your brand fast.
2. Positive Visitor Experience: SEO strategies help your company to fix issues like slow loading speeds and poor navigation, giving visitors a pleasant browsing experience.
3. Reduced Bounce Rate: Slow page loading, misleading tags or meta descriptions, poor content, and bad links push visitors away. SEO campaign strategies identify and fix these issues so visitors spend more time on your web pages.
4. Increased Conversions and Revenue: With quality, highly optimized content, you can attract prospects, nurture them into leads then convert them to paying customers.
5 SEO Campaigns to Power Your Marketing Goals
Here are five SEO tactics B2B marketers can implement to meet their company's marketing goals:
1. Local SEO Campaigns
Local SEO may sound like a tactic for B2C businesses - but it isn't. Search engines like Google consider a business's physical address in the search location, the presence of a Google Business Profile, and the proximity of users to the business in SEO rankings. This makes local SEO a necessity, and not an option for any business.
Local SEO Campaigns Statistics from FinanceOnline
If your company operates from multiple locations, a local SEO strategy can boost its visibility among audiences in specific geographic locations. You can use it to position your company as an authority in the products/services it offers.
You can audit your company's web presence to boost demand generation efforts. The audit enables you to identify local SEO actions like:
Researching topical, intent-driven keywords
Inclusion of local keywords
Reviewing external and internal links
Reviewing landing pages
Creating local Google business profiles
2. Technical SEO Campaigns
Another campaign your company can implement is technical SEO. This campaign focuses on website performance. The aim is to ensure search engines interpret, qualify and index your web page correctly for improved search rankings.
Technical SEO supports demand generation by giving search engines what they need to establish your site is secure, reputable, and worthy of ranking high on results pages. If you decide to implement technical SEO in your company, here's what your focus should be:
Making your website mobile-friendly to make it more accessible
Enhancing page loading speeds for better user experience
Removing redundant or duplicate content to improve content quality
Bolstering SSL certificate and HTML codes to improve website security
Conduct content audit to remove or fix broken links
Improving site structure for seamless navigation
3. White-Hat SEO Campaigns
If you've been taking steps to improve your company's ranking on search engine results pages (SERPs), you've been implementing white-hat SEO. This campaign involves addressing the key factors that search engines use to determine search results. Ensure your website is aligned to the following factors to rank high on SERPs:
Webpage Relevance to Queries
Settings and Context
Content Quality
Meaning of Search Queries
Web Page Usability
You can address these factors by:
Focusing on giving your visitors a positive browsing experience.
Investing in a good keyword research tool
Crafting and implementing a solid content plan
4. Off-Site SEO Campaigns
Also known as off-page SEO, these campaigns refer to any efforts you apply outside your website to boost its SERP ranking. Reputable sites rank better on search engines. They offer expertise, carry more authority and are more trustworthy (E-A-T).
Off-site SEO involves applying the following tactics:
1. Content Marketing: Publishing quality content off-site to attract media attention, get backlinks and demonstrate expertise, authority and trustworthiness.
2. Publishing Reviews: Asking customers for reviews, responding to those reviews and refusing to pay people to write reviews to build trust.
3. Backlinking: Getting sites with higher authority to link back to your website.
5. Content SEO
Another campaign your company can implement to meet its SEO marketing goals is content SEO. This campaign involves developing content that improves how your web rank on search engines. Typical content SEO involves conducting activities like:
1. Researching Keywords and Phrases: This activity is very similar to what you would when implementing a white-hat SEO campaign. You can research for keywords by following the steps below:
- Clarify your company's mission
- Develop a list of the keywords or phrases you wish to be found for
- Identify search intent
- Develop landing pages that utilize those keywords
2. Developing and Publishing Quality Content: Publishing valuable content for your audience features highly on 2023 demand generation trends. Demand generation content allows you to prospects who have not interacted with your products or services before, and don't even know they need them. The goal is to create awareness about your offerings as an alternative to what they're already using.
Publish informative, well optimized articles to keep your target audience hooked. Do this by:
- Creating original content
- Focusing on your audience
- Adopting user-centered content design
- Optimizing content for search engines
3. Creating a Functional Site Structure: Use the pyramid model to design your site structure where your homepage is at the top. Some p tips for improving site structure include:
- Identifying your core content and ranking it well
- Linking your articles to the core content
- Conducting a content audit and removing duplicate content
- Updating or removing outdated content
- Using tags to enable search engines to group your content - don't overdo
Screenshot of Adobe XD SEO Campaign from NPDigital
Adobe XD, a collaborative design platform, is a great example of how companies can use content campaigns to achieve their marketing goals. The company used content SEO to build an online community by creating informative content. Its SEO campaign led to increased organic traffic and better ranking on SERPs as shown below.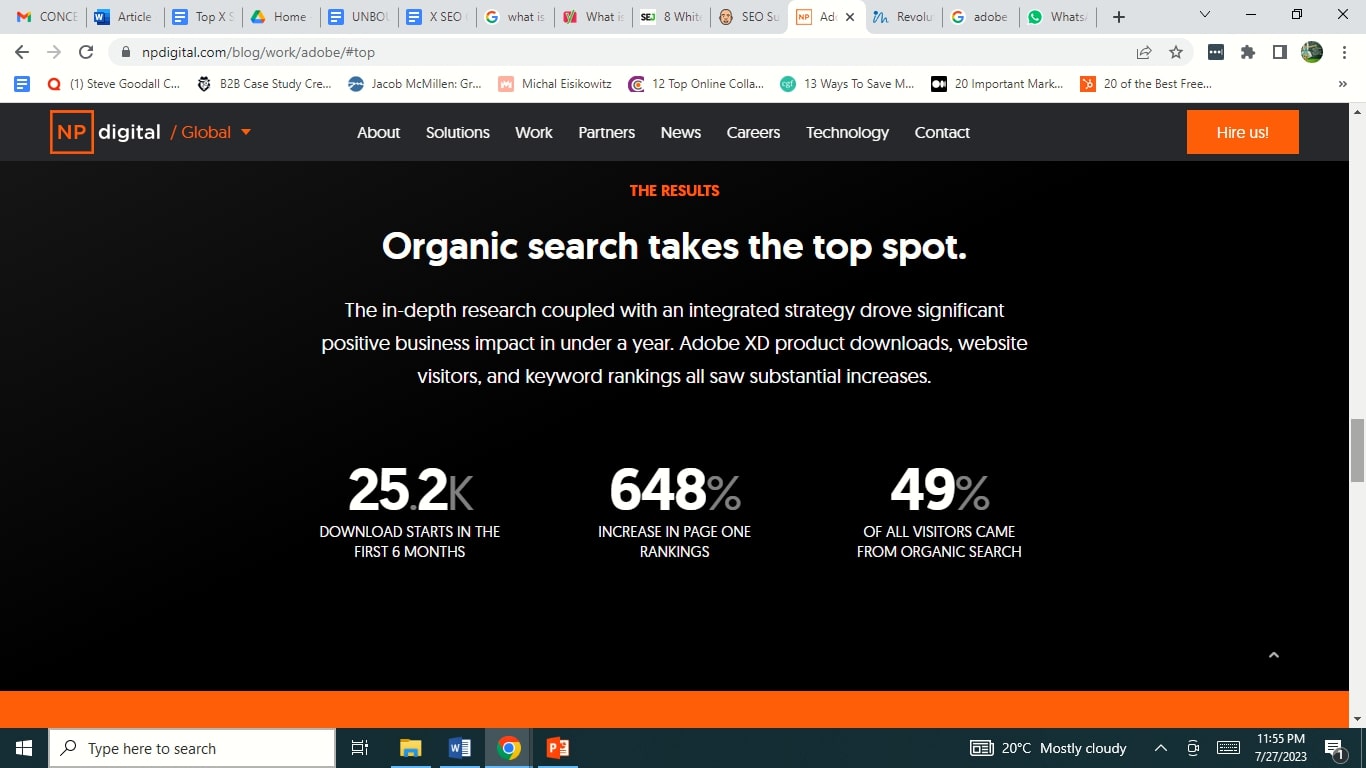 Screenshot of Adobe XD SEO Campaign Results from NPDigital
Conclusion
SEO can help B2B marketers to generate the demand they need in order to meet their marketing goals. But the campaigns are not the same. While they may sound easy and straightforward, you need to determine which campaign will give you the results you desire. Review each of the 5 SEO campaigns discussed above.
Author Bio: (Mayuri Bhoyar)
Mayuri Bhoyar is an expert SEO link builder with vast experience in generating Tier 1 backlinks. She views link-building as a relationship-building game, fueling organic growth. As a B2B SaaS marketing master, she empowers brands with top-tier SEO and content marketing strategies to boost leads. You can connect with her on LinkedIn.
Join
5,369

remote workers and makers

The Remote Weekly goes out every Wednesday and brings to you original content, product tips and latest stories around remote working.