The Remote Weekly goes out every Wednesday and brings to you original content, product tips and latest stories around remote working.
5 Technologies That Your Ecommerce Business Needs in 2023‍
The growth in ecommerce websites (and mobile apps) has changed how people shop. The modern buyer need not spend part of the day roaming the city's top shops. Instead, they can order products (even if they aren't available in their city), and they'll be at their doorstep in a few days.
Morgan Stanley predicts that almost a third of all retail sales in the US will be online by 2026, a rise from 23% in 2022. Online retail sales grew from $4.2 trillion in 2020 to $5.7 trillion in 2022. This growth was due to the Covid-19 outbreak.
Many smaller online stores need help to stand out from big players like Amazon and AliExpress. This calls for a level-pegging factor to help small ecommerce businesses take on the bigger players. That's where technology helps.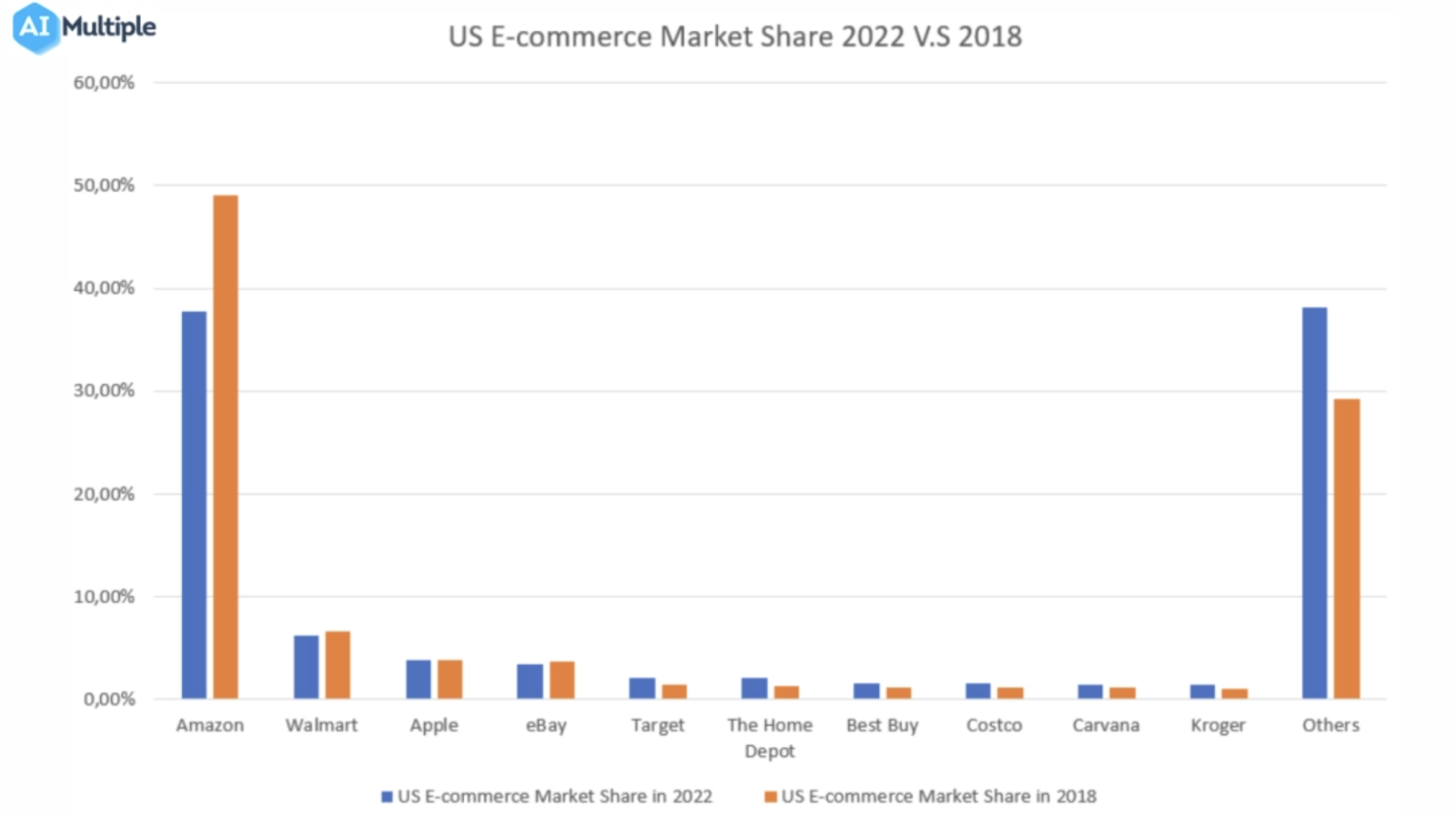 Source: US ecommerce market share growth for Amazon and others
Small and medium-sized enterprises (SMEs) in the online retail space need to count on digital transformation through sensible investments - specifically, ecommerce technologies.
In this piece, we will explore five ecommerce technologies that can define the future of ecommerce while reducing expenses, driving positive customer experience, and subsequently increasing profit.
Let's begin!
#1. Automate billing through recurring subscription
The busy lifestyle makes people forget to buy their staple and daily essentials. Therefore, subscription models on ecommerce stores are becoming increasingly popular across industries, from media and entertainment to groceries and personal care.
Such a recurring revenue model gives businesses predictable income and deepens customer relationships. However, managing such subscription models can be complex, necessitating robust subscription management software.
Subscription billing management software automates the recurring payment process, managing customer subscriptions, invoices, and payment reminders.
Its capabilities include:
Managing recurring billing cycles.

Reminding users of renewals.

Adjusting subscription levels.

Handling promotions and discounts.

Securely processing payments.
For instance, Amazon offers a shampoo subscription to customers with an opportunity to save 5% on every order.

Screengrab from Amazon.com
An ecommerce owner can unlock potential growth by not worrying about manually processing the recurring transaction. And instead, using billing software automates the process and retrieves credit card information from their billing system, automating subscription billing and management tasks.
This will also take care of setting up and managing recurring billing cycles, sending reminders for renewals, upgrading or downgrading subscription levels, managing promotional offers and discounts, and processing payments securely.
#2. Augmented Reality (AR) and Virtual Reality (VR)
Fortune Business Insights predicted a $3.42 billion worldwide market for virtual fitting rooms in 2021. Moreover, projections put it at $4.03 billion in 2022 and $14.87 billion by 2029. It shows how AR and VR technologies transform the ecommerce landscape by providing immersive and interactive shopping experiences.
As we speak AR and VR simultaneously, let's quickly understand how they operate differently (even in the ecommerce space).
AR: Allows consumers to visualize how products might fit in their environment. For example, they are trying out furniture in your living room virtually.
VR: It provides a completely immersive shopping experience, where users can walk around in a virtual store and interact with products as if they were physically present. Think of it as shopping in a mall but from the comfort of users' homes.
AR and VR work in tandem to bridge the gap between online shopping and the tangible in-store experience, a dichotomy that has traditionally been a challenge in ecommerce.
With AR, customers can virtually try on products like clothes, eyewear, or makeup or see how furniture looks in their homes before buying. This can drastically reduce return rates and increase customer satisfaction.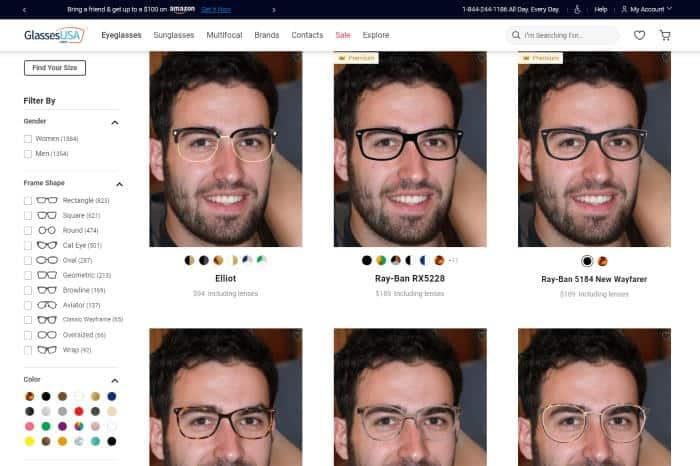 Source: Customer puts on different glasses and checks them online
On the other hand, VR helps create virtual stores where customers can navigate through the aisles and pick products as if they were in a physical store.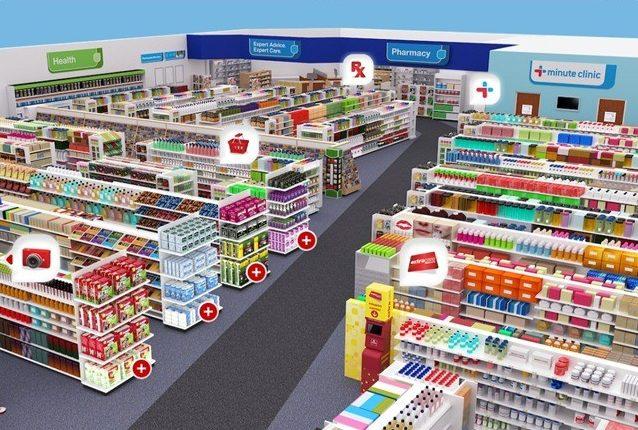 Source: VR shopping experience
Leveraging such technologies is a must for any forward-looking ecommerce company. It can also create engaging marketing campaigns around such technology and leverage interactive product demonstrations for an immersive shopping experience to attract (and retain) customers.
Such an approach bridges the gap between online shopping and the tangible in-store experience, a dichotomy that has traditionally been a challenge in ecommerce.
#3. Voice commerce
The value of voice-assistant transactions in e-commerce is predicted to reach almost 20 billion dollars globally by 2023, a fourfold increase from 2021. This shows the penetration of voice commerce in the ecommerce industry is setting a trend that no ecommerce businesses can afford to ignore.
Part of the reason behind such growth is smart speakers. At a CAGR (compound annual growth rate) of 7.1%, the worldwide market for smart speakers is expected to expand from $6.6 billion in 2022 to $7.07 billion in 2023.
Voice commerce leverages the power of smart speakers and voice assistants such as Amazon's Alexa, Google's Assistant, and Apple's Siri to facilitate shopping transactions. This innovative technology has streamlined the shopping experience, simplifying tasks to issuing voice commands.
Smart speakers facilitate everything from streaming music to setting reminders and making purchases. The convenience of hands-free, visually-free interaction with ecommerce platforms provides an unparalleled shopping experience for consumers.
However, leveraging this technology requires ecommerce businesses to ensure their platforms are optimized for voice search. It includes adopting natural language processing and focusing on long-tail keywords that mirror everyday speech.
#4. Visual search
Data Bridge Market Research analyzes that the global visual search market will rise at a CAGR of 17.50% for 2021-2028, reaching $32,984.022 million by the end of the forecast year.
Visual search is an emerging trend in ecommerce that blends search engines' efficiency with the power of images. Forward-looking ecommerce businesses can implement visual search tools, allowing customers to upload images and find similar or related products.
Source: Visual search example
Visual search is a game-changer for ecommerce businesses dealing with fashion, home decor, and electronics, where visuals play a crucial role. Here, instead of typing in text-based queries, users can now upload an image of a product they are interested in, and the visual search tool will identify similar items within the store's inventory.
Visual search can recognize colors, shapes, sizes, and even specific brands or styles within an image. This level of accuracy significantly simplifies the product discovery process, particularly for users who may need a more technical vocabulary to describe the product they're looking for.
Therefore, ecommerce businesses must ensure a vast and detailed image database for the AI as a reference. It includes high-quality images of all products from multiple angles. Also, the AI technology powering the visual search tool must be robust and accurate enough to deliver precise results.
#5. Personalization through AI and machine learning
Lastly, no ecommerce business can do away with personalization in 2023. An increasingly competitive ecommerce industry demands personalization that can increase retailers' conversion rate by 45%. It also helps improve conversions, customer loyalty, and profitability in marketing, recommendations, and website experiences.
At the backbone of personalization are AI and machine learning. AI algorithms analyze customer data to deliver tailored product recommendations, promotions, and content that align with the customer's preferences and purchase history. Machine learning enables businesses to anticipate customer needs based on previous data, improving the overall shopping experience.
For example, an ecommerce business can greet a returning with a personalized message and provide product recommendations based on their past shopping behavior.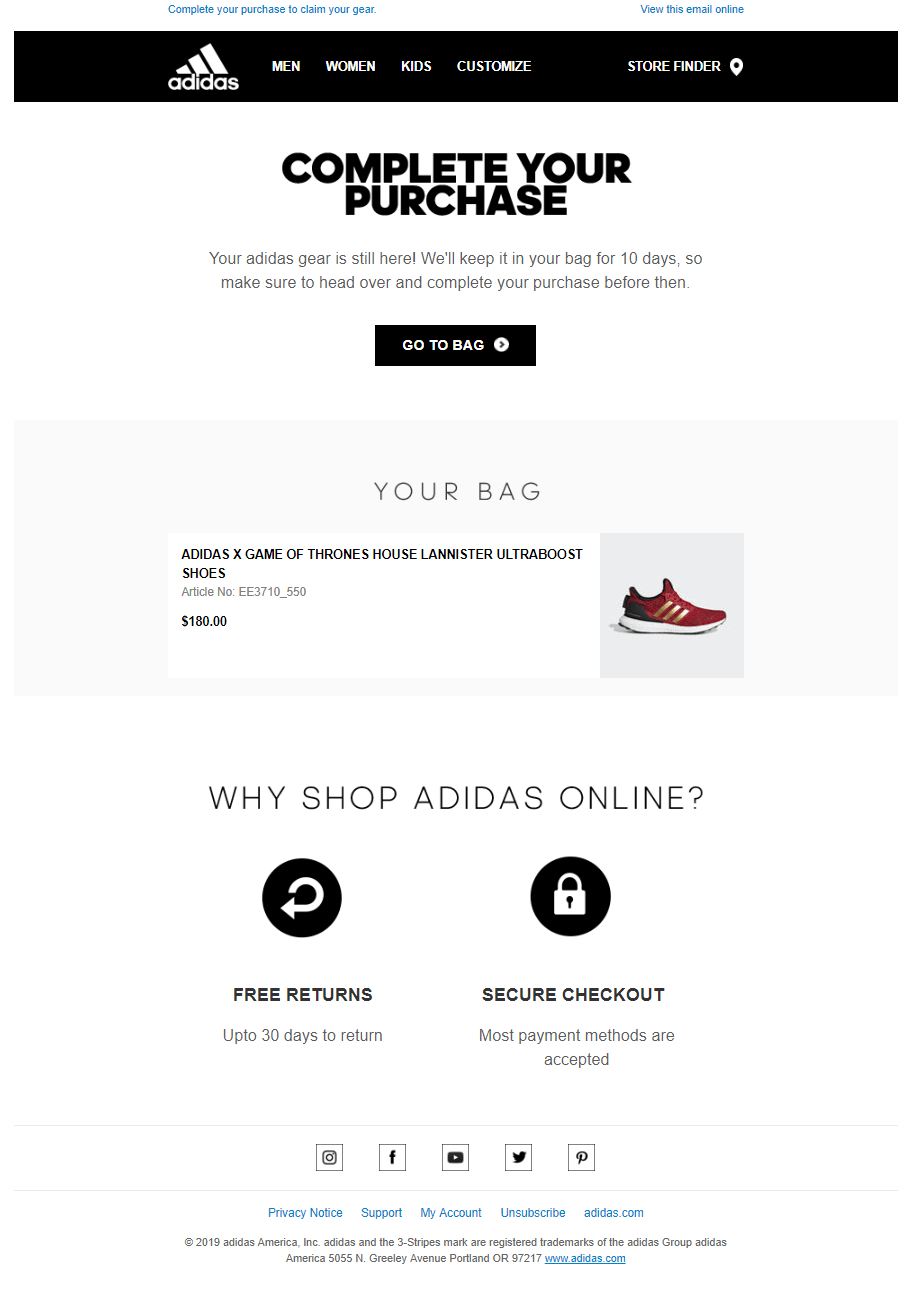 Source: Personalized email example
Email marketing also benefits greatly from personalization as tailored emails with the recipient's name, past purchases, and relevant recommendations are more likely to be opened and acted upon.
However, personalization must be used responsibly as consumers increasingly know their data privacy. Therefore, businesses must balance personalization and privacy by ensuring transparency about how customer data is used to personalize their shopping experience.
Wrapping up
Technology advancements are no longer optional but a 'must have' for ecommerce businesses wanting to gain a competitive edge. Staying competitive in a rapidly evolving business environment requires meeting the needs of increasingly tech-savvy consumers. Therefore, ecommerce businesses should focus on implementing the technologies mentioned above in 2023.
Adopting these technologies will enhance customers' shopping experience and optimize operational efficiencies for businesses. We recommend following these ecommerce development tips before investing in these technologies to ensure a better return on investment.
About Author
Lucy Manole is a creative content writer and strategist at Marketing Digest. She specializes in writing about social media, email marketing, technology, entrepreneurship, and much more. When she is not writing or editing, she spends time reading books, cooking, and traveling.
Join
5,369

remote workers and makers

The Remote Weekly goes out every Wednesday and brings to you original content, product tips and latest stories around remote working.