The Remote Weekly goes out every Wednesday and brings to you original content, product tips and latest stories around remote working.
Top 5 Tools for Remote Writers to Create Better Content‍
This article explains how remote writers can create better content using these top 5 tools
Remote working wasn't a thing before the pandemic hit the world. When companies weren't allowed to gather their employees in the office due to the high health risk, remote working got promoted a lot.
Even today, when life has turned back to normal, remote working is still in the running, as it's beneficial for employers and employees. This working module has mainly helped people working in the digital world, as here, physical contact isn't as essential as in other fields. The rise in remote working also brought life to several digital tools that assist writers in carrying out their chores effectively.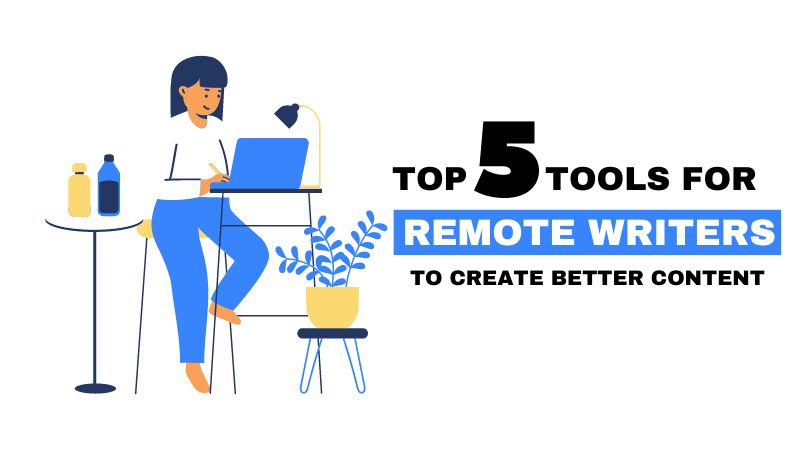 Content writing is one field where companies hire writers from around the globe and ask them to work remotely. Being a writer, you will know the importance of coming up with top-quality content to satisfy the audience.
The competition in this spectrum is quite fierce; hence, you don't get much leverage of compromising content quality. To generate the best results, content writers can rely on remote working tools that help them create better content.
We are here with this blog to highlight the top 5 tools for remote writers.
Go through them to find how these utilities can aid your writing tasks and help you achieve effective results!
Project Management Tool
When it comes to remote working, things are quite challenging to manage.
Looking at multiple ends in a synchronized way takes time. Managing and handling projects in a way that there shouldn't be any issues while working on the details.
There comes the need to manage things with a microscopic eye. For that reason, you would need a project management tool that can smoothen up the entire process for you.
Such tools also allow you to collaborate with others. Some tools can assist you in tracking your projects and the progress that is going on; if you are handling a team, then their work progress can also be tracked effectively.
The general features of a project management tool are listed below:
Detailed and Quick Overview of project details.

Assigning tasks to individual team members.

File management.

Addition of comments on projects and update their status.
Note-Taking Tool
Writing isn't just about jotting down words out of the blue; you must conduct in-depth research on the assigned topic to write better content. The research phase is the most crucial one for writers.
When it comes to remote working, it becomes even more for writers to research the topic they need to write content on thoroughly. Here, a note-taking tool can help you execute this task effortlessly. This utility is undoubtedly a blessing for writers, as they won't miss out on essential details and record all important points to use while creating content.
A note-taking tool can be a helping hand for writers working remotely, as they can use it to prepare notes while in discussions with other teams.
Whether you are using Zoom, Slack, or any software program to attend meetings with other teams, you can use a note-taking tool alongside to note down essential details that can help you curate better quality content.
What else can a note-taking tool help you with? Let's take a glimpse!
Set due dates and assign tasks within the notes.

Include the entire snapshot of web pages without ads.

Add text, images, audio, PDFs, scanned files, and documents.

Flexible search capabilities allow users to find any note effortlessly.
Plagiarism Checker
A tool that every writer must access is an online plagiarism detector.
It helps writers in keeping a check on their work's integrity. They always look for fresh content if we talk specifically about the audience.
The companies also hire and pay writers to provide unique pieces of content.
If your content contains plagiarized portions, it can get rejected, and your efforts might fail.
Therefore, using a free plagiarism checker is a must for every writer working remotely.
In a remote working environment, your work is the only way your employers will judge you.
Plagiarized content can raise fingers on your authority and credibility; it can also lead you to lose your job.
Plagiarism tools can save you from such a hassle. This tool conducts an in-depth check on your textual file and cross-checks it with billions of web pages' data to identify instances of plagiarism.
Generally, the results of a plagiarism checker include the following:
A plagiarism scan report, consisting of the entire summary related to content's integrity.

Percentage gauges representing the plagiarized and unique content.

Highlighted sentences, phrases, and paragraphs that contain plagiarism.

A list of sources from where a text has been replicated.
Keyword Research Tool
If you are already aware of a keyword research tool, chances are that you'll relate it to the need for an SEO person.
Undoubtedly, it's an essential tool for SEO executives, but it doesn't mean that writers won't have anything to do with it.
For every writer working in a remote environment, it's essential to understand what kind of content can grab the audience's attention.
This objective can be achieved by analyzing the search pattern of the audience, and a keyword research tool is a solution to execute it.
A keyword research tool provides you with the details regarding what kind of terms and phrases are being searched by your targeted audience.
The formula for writing better content is quite simple; you need to feed people with what they are already looking for.
Keywords play a crucial role in writing, and you cannot afford to deliver content that contains no keywords.
You can get your hands on an extensive amount of data through a keyword research tool, which includes:
The search volume of keywords depicts how many users enter certain words to do relevant searches through search engines.

The competition of keywords helps you figure out which words you should target while creating content to obtain high rankings on SERP.

Find long-tail keywords which allow you to rank higher in a short period.
Consumer Insight Tool
A consumer insight tool is another remote working utility for writers to create better content.
You should focus on writing content for customers instead of businesses.
It's because the readers aren't interested in going through the promotional stuff; instead, the content that helps them figure out how something can be useful for them as compared to other things captures their interest and leads them to take their desired actions.
A consumer insight tool can help you in this regard, as it eliminates the guesswork from writing and allows the writers to follow data that can drive more traffic, conversions, views, shares, and downloads.
This remote working tool allows the writers to tackle the writer's block issue that can affect their productivity badly.
It can also be helpful for writers in the following ways:
Streamline content production.

Make content creation decisions.

Save yourself from wasting time.

Unveil hidden content ideas.
Join
5,369

remote workers and makers

The Remote Weekly goes out every Wednesday and brings to you original content, product tips and latest stories around remote working.