The Remote Weekly goes out every Wednesday and brings to you original content, product tips and latest stories around remote working.
Top 10 Copywriting Tools to Write Better Email Copy‍
Here's a list of the top copywriting tools to help create high-converting copy, along with the best practices for using these tools effectively to achieve greater success in your email marketing efforts.
In today's world, email marketing is an essential part of any successful business strategy. However, writing effective email copy that engages and converts your audience can be a challenging task. That's where copywriting tools come in handy.
With the right tools and techniques, you can create compelling email copy that captures your reader's attention and motivates them to take action. In this article, we'll explore some of the best free and paid copywriting tools for email marketing and share tips for using them effectively.
Most of the tools use advanced algorithms as well as machine learning, meaning they're powerful yet user-friendly. So, whether you're a seasoned email marketer or just getting started, read on to learn how to take your email copywriting game to the next level.
What Is a Copywriting Tool?
A copywriting tool is any software or online tool that helps writers improve the quality and effectiveness of their writing. In the context of email marketing, copywriting tools are specifically designed to help marketers create compelling and effective email copy that engages and converts their audience.
These tools typically provide features such as grammar and spelling checks, readability analysis, keyword optimization, and subject line testing. Copywriting tools can help marketers save time and effort by streamlining the writing process and ensuring that their email copy is effective, engaging, and persuasive.
What Are the Best Copywriting Tools?
Below, you'll find the most reliable tools for writing emails and other marketing copy.
Grammarly - Check for grammar errors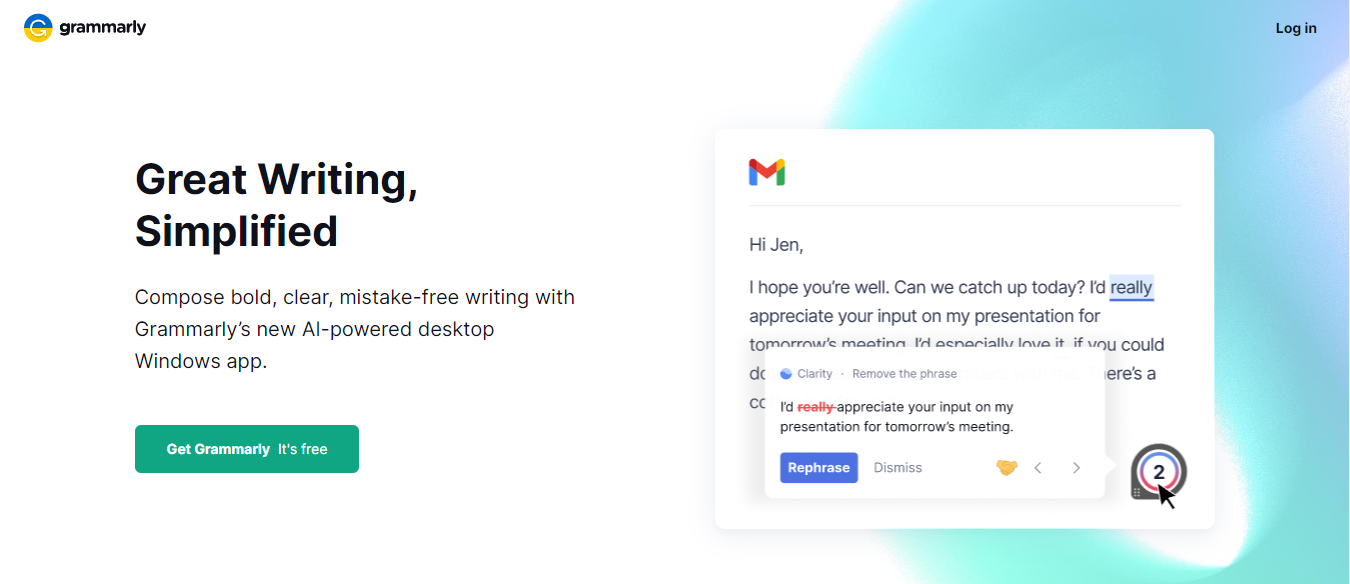 Grammarly is one of the most popular copywriting tools for email marketing. It is an advanced writing assistant that helps you write better and error-free content. Grammarly can be used as a browser extension, desktop app, or mobile app, and it integrates with various online editing platforms, including Gmail, Outlook, and Google Docs.
Grammarly is known for its grammar and spell-checking capabilities. The tool can identify and correct common grammatical errors and spelling mistakes in your email copy. It also provides suggestions for sentence structure, word choice, and punctuation, helping you to improve the clarity and readability of your email copy.
In addition to its grammar and spell-checking features, Grammarly also offers a tone detector that can analyze the tone of your email copy and provide suggestions to help you convey the appropriate tone for your audience. This feature can be particularly useful when writing emails that require a specific tone, such as sales emails or customer service emails. Grammarly also has a plagiarism checker to check how original your text is.
To use Grammarly for email copywriting, simply install the tool and enable it for your email platform. Then, compose your email as usual, and Grammarly will automatically check your text for errors and provide suggestions for improvement.
Pricing: Grammarly has a free version, and the paid plans start at $30 per month for Premium.
Copyscape - Remove plagiarism

If you need a well-established plagiarism detection tool that ensures your email copy is original and not copied from other sources, Copyscape may interest you. The tool can scan your email content and identify any instances of texts that appear on other websites, indicating that your content may be copied or duplicated.
What you do is enter the URL of your email content or paste the text into the search box, and the tool will scan the internet for any instances of the same text. If any matches are found, Copyscape will provide a list of the websites that contain the matching content, allowing you to review and potentially edit your email copy to ensure that it's original.
Copyscape can be especially useful when creating email campaigns that involve sending similar emails to multiple recipients. Checking for plagiarism ensures that your email content is unique and not duplicated from other sources, improving the effectiveness of your email campaigns.
Another advantage of using Copyscape is that it can help you to identify instances of duplicate content on your own website. This can be useful for SEO purposes, as search engines penalize websites that contain duplicate content. By using Copyscape to check for duplicate content, you can ensure that your website content is original and unique, which can help to improve your website's search engine rankings.
Pricing: While Copyscape is free to use, you can upgrade to Premium for more features for only 3 cents per search.
Jasper - Write Original Copy from Scratch

Jasper is an AI-powered writing tool that can help you create original and effective marketing copy that engages and converts your audience. The tool uses advanced machine learning algorithms to suggest text for your email content, right from the beginning to the end.
One of the key features of Jasper is its variety of tones and styles. The tool can write your copy in the tone you like, such as whether it is formal or informal, depending on the audience you're targeting.
Jasper also offers error-free writing when it comes to grammar, spelling, and punctuation. On top of that, you can also access a tool that checks your content for plagiarism.
Besides email copy, Jasper is adept at writing product descriptions, social media posts, and landing pages, among other sales messages. It can even write blog posts for you, regardless of how many words you need.
Pricing: Jasper's popular plan, called Boss Mode, starts at $59 a month.
Quillbot - Reword text

Quillbot is a powerful writing platform that uses AI technology to help users create high-quality content quickly and easily. With its advanced algorithms, Quillbot can rephrase text to create unique and compelling content that engages your audience. It has different modes that you can choose from depending on how you want the new text to sound, such as simple, creative, and formal.
Quillbot's paraphrasing tool can help you avoid plagiarism by creating unique content based on existing text. Its AI-powered algorithm can rephrase text in real-time, providing suggestions for alternate phrasing that can help improve the readability and flow of your content. This can be particularly useful for content creators who need to produce large amounts of original content in a short amount of time.
Quillbot also provides some other features that can help you create high-quality content with ease, such as its summarization tool. This tool can automatically summarize long articles into shorter, more manageable pieces. You get a chance to save time and effort when creating content and focus on other important aspects of your business.
Pricing: Quillbot has a free version with limits as well as a premium plan that costs $9.95 per month.
Hemingway Editor - Improve your writing

Hemingway Editor is a writing tool designed to help writers create clear, concise, and effective content. It's named after the renowned American author, Ernest Hemingway, who was famous for his straightforward and impactful writing style. The Hemingway Editor aims to emulate his style by highlighting areas in your writing that could be simplified and made more concise.
One of the key features of Hemingway Editor is its ability to analyze your writing and identify areas that could be improved. The tool uses a color-coded system to highlight sentences and phrases that are too long, complex, or difficult to read. This makes it easy for you to identify problem areas in your writing and make the necessary changes to improve its readability and impact.
Hemingway Editor also improves your writing with abilities like identifying passive voice, adverbs, and other areas. These features can help you create content that is more impactful, engaging, and effective in achieving your writing goals.
The app suggests alternative phrasing for complex or wordy sentences. By providing suggestions for simpler, more concise phrasing, Hemingway Editor can assist you in creating content that's easier to understand and more engaging for your audience.
Pricing: You can use Hemingway Editor for free online, but the desktop version, Hemingway App, is available for a one-time payment of $19.99.
Frase - Generate email subject lines

Frase is an AI-based tool designed to help businesses create high-quality content that engages their audience. Its advanced algorithms can analyze and summarize content from multiple sources, allowing users to quickly create new content that is relevant, informative, and engaging.
Frase has a subject line generator that is designed to help businesses create compelling and effective subject lines for their email marketing campaigns. The tool uses advanced algorithms to analyze your input or description and suggest relevant and engaging subject lines that are more likely to catch your audience's attention and improve your email open rates.
Frase's subject line generator takes into account a variety of factors, such as the length of the subject line, the tone of the email, and the content of the email itself. This helps to ensure that your subject lines are not only attention-grabbing but also relevant and informative, providing your audience with a clear idea of what your email is about and why they should open it.
In addition to its subject line generator, Frase provides a range of other content-creation tools. For example, its content optimization feature can analyze your content and suggest improvements to increase its SEO value and improve its readability and engagement.
Pricing: Frase's pricing starts at $14.99 per month for the Solo plan.
Copy.ai - Write converting emails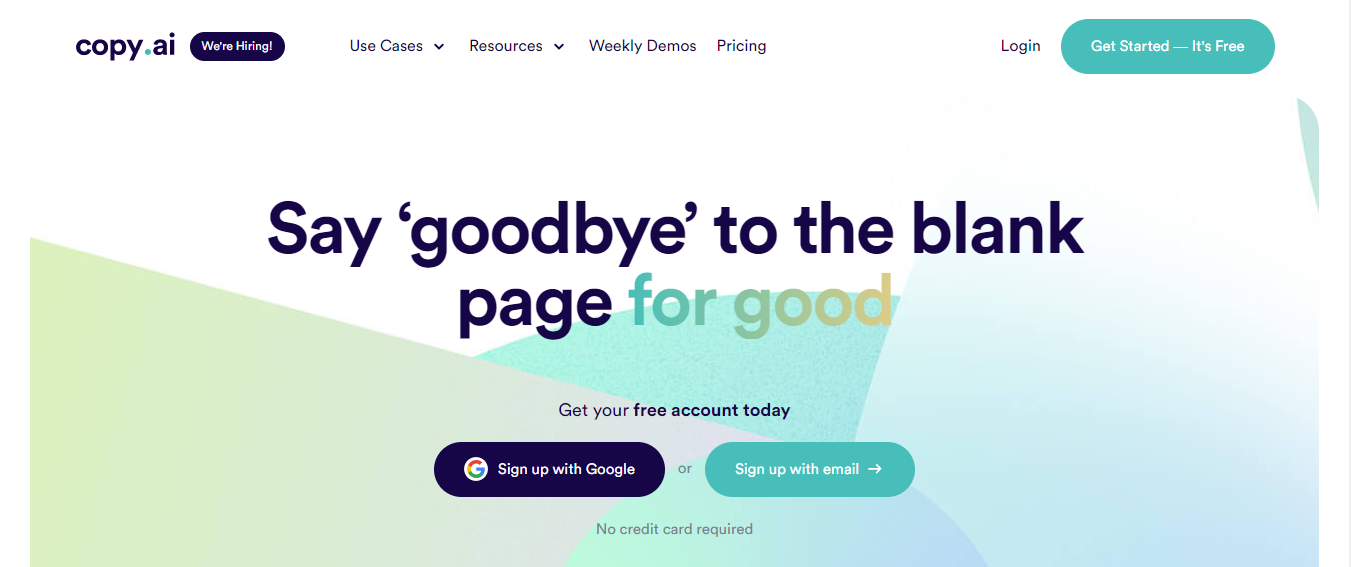 Copy.ai is a powerful copywriting tool similar to Jasper that's designed to help freelance writers and marketers create a high-converting copy in minutes. Its advanced AI-powered algorithms can generate ideas for a new copy or suggest improvements to your existing copy.
Copy.ai is able to generate high-quality email subject lines and email body copy that can help businesses achieve their email marketing goals. You just need to describe what you need, and it will provide something that suits your audience and brand voice. Copy.ai can suggest subject lines that are more likely to catch your audience's attention and body copy that engages them and drives them to take action.
Copy.ai's email marketing features include a range of customizable templates that allow you to create effective email marketing campaigns in just a few minutes. The tool can also be used to create other types of marketing content, such as social media posts, ad copy, blog posts, and more. Using Cop.ai, businesses and marketers can create content that adds value to their audience, builds brand awareness, and achieves the desired outcomes with ease.
Pricing: Copy.ai has a free plan, and Pro costs $36 per month.
CoSchedule's Headline Analyze - Analyze subject lines

CoSchedule's Headline Analyzer is a powerful tool designed to help businesses and marketers create compelling headlines for their content, including emails. It uses advanced algorithms to analyze your headline and provide suggestions for improving its overall effectiveness.
The headline analyzer takes various aspects into consideration, such as the length of the headline, the use of emotional language, and the use of powerful words that can capture the reader's attention. It also considers factors such as the use of keywords, the presence of numbers, and other elements that can make your headline stand out.
This tool provides a detailed breakdown of your headline's overall score, including a score for the headline's overall structure, grammar, and readability. It also provides suggestions for improving your headline's score, such as using more powerful words, making it shorter or longer, or adjusting the tone of the headline to better fit your audience.
Pricing: Coschedule's Headline Analyzer is available for free.
AnswerThePublic - Find questions people ask

AnswerThePublic is a powerful tool for marketers who want to identify frequently asked questions (FAQs) that their audience is searching for online. One of the ways that AnswerThePublic can help marketers with their marketing copy is by identifying common questions and concerns related to their products or services.
It analyzes the top search queries online and gives marketers an insight into the common themes and topics that are of interest to their audience. You can then use this information to write marketing copy like social media posts or landing pages, or create targeted email campaigns that address these specific concerns and questions.
For example, if you're selling a new skincare product, you can use AnswerThePublic to identify common questions and concerns that people have about skincare. You may find that people are searching for information about specific ingredients or how to address common skin concerns such as acne or wrinkles. Armed with this information, you can address these specific concerns and provide helpful tips and advice to your readers.
Pricing: AnswerThePublic starts at $9 per month for the Individual plan.
The Word Counter - Count words in emails

A word-counting tool, although less essential, is still useful for email marketers who want to ensure that their emails are concise and effective. The Word Counter is one tool that allows email marketers to analyze the length of their emails and make adjustments to ensure that they are optimized for maximum impact.
When it comes to email marketing, it's important to keep your emails short and to the point. Most people receive a large number of emails every day, and they don't have the time or attention span to read long and complicated messages.
The Word Counter can help you analyze the length of an email's subject line, body copy, or both. This can help email marketers identify areas where they may be able to make their emails more concise and effective. For example, if the subject line of an email is too long, it may not be fully visible on mobile devices, which can result in lower open rates.
Similarly, it can be used to analyze the length of the email's body copy. If an email's body copy is too long, it can be difficult for readers to stay engaged and focused. By using a word counter to analyze the length of the subject line and body copy, you can make adjustments to ensure that it is concise, easy to read, and optimized for maximum impact.
Pricing: The Word Counter is free to use.
Best Practices for Using Copywriting Tools in Email Marketing
Copywriting tools can be incredibly useful for email marketers who want to improve their email campaigns and create high-converting copy. However, it's important to use these tools effectively in order to get the best results. Here are some best practices for using copywriting tools in email marketing:
Understand the tool's strengths and limitations: Before using a copywriting tool, it's important to understand what it can and can't do. Some tools are better suited for certain tasks, such as identifying long-tail keywords or improving readability, while others may be more versatile. Make sure you know what the tool is designed to do and how it can best support your email marketing efforts.

Use the tool to supplement, not replace, your own writing skills: While copywriting tools can be incredibly helpful, they should not be relied on to do all of the work. Your own writing skills and expertise are still important for crafting effective email campaigns. Use the tool to supplement your content writing efforts, but don't rely on it completely.

Test multiple tools: While individual copywriting tools can be helpful, using multiple tools can provide a more comprehensive approach to improving your email copy. For example, you might use one tool to analyze readability and another to generate subject lines. By using a combination of tools, you can cover all of your bases and create more effective email campaigns.
Conclusion
Copywriting tools can be incredibly helpful for freelance writers, marketers, and businesses that want to improve the effectiveness of their copy, including email campaigns. From Grammarly and Copyscape to Jasper and Quillbot, there are a variety of tools available that can help you refine your writing, generate subject lines, and optimize your email copy for readability and engagement.
However, it's important to use these tools effectively in order to get the best results. By understanding the strengths and limitations of each tool, tailoring your approach to your audience, and using a combination of tools for a comprehensive approach, you can create email campaigns that resonate with your subscribers and drive conversions.
Ultimately, copywriting tools should be seen as supplements to your own writing skills and expertise. Combining your own knowledge with the power of these tools means even greater success in your email marketing efforts and stronger relationships with your subscribers.
Bio: Mike Stuzzi is an online entrepreneur who blogs at MikeStuzzi.com. He publishes helpful guides on starting online businesses, the best business tools to use, and his personal experiences on the site.
Join
5,369

remote workers and makers

The Remote Weekly goes out every Wednesday and brings to you original content, product tips and latest stories around remote working.