The Remote Weekly goes out every Wednesday and brings to you original content, product tips and latest stories around remote working.
Top 8 Subscription Plugins for WooCommerce‍
Your eCommerce store brings in consistent revenue, month-over-month. Your churn rates are lower than the 20% eCommerce industry average. It's almost like you're running a tech business.
That's what subscriptions help you achieve.
Subscriptions retain your most loyal customers. And retaining customers is 5 to 25 times cheaper than acquiring new ones.
Subscriptions also reward customers with convenience, better deals, and offers while you get a monthly recurring revenue and some breathing room to grow your store!
Setting up subscriptions isn't difficult—choosing the right plugin is.
To make it simpler, we've shortlisted some of the best subscription and membership plugins for WooCommerce stores that will make your life easier.
Understanding WooCommerce Subscription Plugins
WooCommerce subscription plugins are tools that integrate deeply with WooCommerce and help you create products or services with recurring payments.
Adding recurring payments to your eCommerce mix can be extremely beneficial. It provides a predictable and steady cash flow improving the financial health of your business.
The right membership or subscription plugin can add to your store's customer experience.
Customers no longer need to manually repeat their orders, can receive faster premium support, and even earn loyalty points for discounts and offers.
As subscriptions increase your retention and repeat purchase rate, they also help improve your WooCommerce store's SEO as more people begin to talk and search about your brand.
There are endless benefits to creating subscription sites.
The question is—is it easy to create that with WooCommerce? The answer is a resounding yes!
WooCommerce doesn't natively offer recurring payment features — but this can be easily achieved by integrating a subscription plugin.
You can even customize the WooCommerce checkout pages to optimize conversions.
With the right subscription plugin, you can set up recurring payments and work with advanced features like subscription management, multiple billing schedules, and automated notifications.
8 Best WooCommerce Subscription Plugins
Let's get into the list of some of the best WooCommerce subscription plugins.
Want to add an Amazon Prime-style membership to your site? You need to try SureMembers.
SureMembers is a comprehensive membership plugin that handles all the complexities behind the scenes.
It helps you create membership tiers, charge a monthly subscription fee, and create paywalls to lock content for non-members.
Let's look at some of the features of SureMembers that make it powerful and easy to use.
Features and Benefits
SureMembers offers a range of features that are perfectly crafted for a membership website:
Subscription management: Easily manage all your subscription plans, subscribed members, and more from your WordPress dashboard. SureMembers is designed not only to be easy to use but also pleasing to the eye.
Multiple payment gateways: SureMembers seamlessly integrates with its free peer plugin—SureCart, allowing you to accept payments across all major payment gateways.
Content locking: Don't want non-subscribed members to view specific pages or pieces of content? Simply lock them and SureMembers will ask the user to log in or subscribe to view.
Sell digital courses: If you sell digital goods, SureMembers has you covered. Create the content you want and publish it on your site. Then, lock the content with SureMembers and select which tier of membership is required to access your course content. Visitors will automatically be prompted to subscribe to the specific tier to access it.
Integration with external plugins: As part of the family, SureMembers also integrates with SureTriggers. They enable integration with all major WordPress plugins, allowing you to pass data between multiple plugins easily.
Support and Payment Gateways
SureMembers offers 24x7 customer support. You can rest assured that if you face any difficulties with your membership site, there's a SureMembers expert ready to help you.
Its integration with SureCart helps you accept payments through Stripe, PayPal, and Mollie. The team at SureCart is also working to add Mercado Pago, PayStack, RazorPay, and others.
WooCommerce subscriptions is a subscription plugin created by the WooCommerce team.
As such, it deeply integrates with the platform and helps you set up subscriptions easily. It also integrates with over 25 payment gateways giving you complete freedom to choose the gateway that works best for you.
Features and Benefits
Multiple billing schedules: WooCommerce Subscriptions enables you to create you own billing schedules—including weekly, bi-weekly, monthly, etc.
Manual and automatic renewals: It supports both manual renewals through any WooCommerce payment gateway. There's also automatic rebilling on failed subscription payments so you never lose revenue due to payment gateway failures.
Subscription management: Store owners can easily manage subscriptions via the WooCommerce > Edit Subscription Administration dashboard. You can suspend or cancel a subscription, change the trial expiration, add items, shipping, fees, or taxes to the subscription, or modify the recurring total for future payments.
Flexible product options: When creating a subscription product, you can make the product downloadable, virtual or physical, limit the product to one per customer, and even set the shipping fee to be charged only on the first order.
Customer account management: Your subscribers have an accessible dashboard where they can manage and cancel their subscriptions. This additional UI gives your customers the confidence to try your membership without the worry of being overcharged.
Support and Payment Gateways
WooCommerce Subscriptions gives you access to fantastic reporting tools so you always know where your business stands.
Don't worry about staying on top of subscription renewals and payment updates yourself - the plugin automatically handles renewal reminders and emails to keep you and your customers in the loop.
The plugin is compatible with over 25 payment gateways to automatically charge subscribers' recurring payments.
Whether your customers prefer to pay with Stripe, PayPal, credit card, or other methods, you've got them covered with a huge selection of trusted payment gateways.
With so many options to choose from, your customers can pay with whatever works for them.
Subscriptio lets you sell subscriptions through your WooCommerce store. You can offer products with recurring payments - subscriptions for physical goods, digital downloads, services, and anything in between.
It's a great tool if you want to build a subscription-based business model.
Features and Benefits
Subscription management: Subscriptio comes with powerful subscription management features. You can set up products to charge customers on a recurring basis and control all parts of the subscription lifecycle.
Variable subscriptions: Want to provide options for your customers? Subscriptio supports subscriptions on any timeline - renew daily, weekly, monthly, or yearly, the choice is yours. You can even bundle multiple products together in one multi-product subscription if you want to offer packages.
Automatic and manual payments: Your customers can choose to have automatic payments charged to their card on file or pay each bill themselves manually when it's due. And if they need to press pause on their subscription for a while, they can do that and resume payments whenever they're ready.
Payment gateway integration: With over 25 supported payment gateways integrated into WooCommerce, your customers will have no problem paying with a method they trust. Subscriptio works with all the major payment gateways so you can provide secure and reliable payment options.
Support and Payment Gateway Details:
Subscriptio offers a support portal full of helpful resources for any question you may have. There are detailed guides that walk you through getting your subscription program set up, managing paused subscriptions, connecting payment gateways, and more.
Whatever you need help with, Subscriptio has you covered.
Speaking of payment gateways, Subscriptio works with a huge variety of options so your customers can pay with whatever method they prefer.
The plugin supports both automatic recurring payments as well as manual payments for each billing cycle. The support portal provides instructions for integrating each payment gateway and getting it set up to charge your subscribers automatically or allow them to pay manually.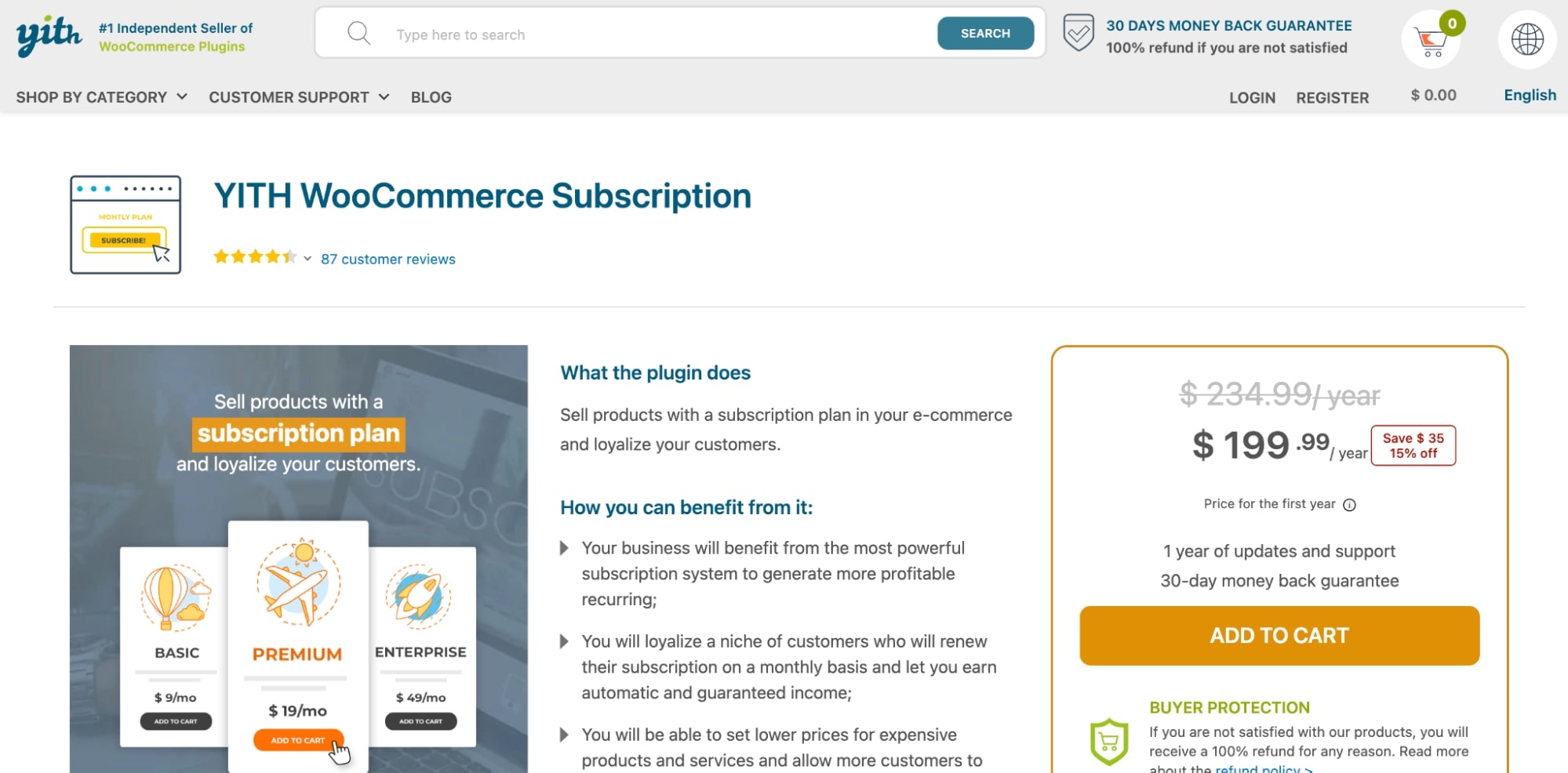 The YITH WooCommerce Subscription plugin lets you sell recurring payment products through your WooCommerce store.
This powerful solution helps you build a subscription business model so you can generate consistent income from the products and services you offer.
Features and Benefits
YITH WooCommerce Subscription comes with useful features that make managing subscriptions a breeze.
Subscription plans: With YITH, you can offer subscriptions for any products you sell - physical goods, digital downloads, services, and more.
Recurring payment types: You have the flexibility to create plans that charge daily, weekly, monthly, or yearly so you can find a schedule that suits your business model.
Subscription end time: If you want to put an end date on subscriptions, that's easy to do as well.
Subscription dashboard: All the subscription details, from plans and payments to renewal dates, are available in one place on your customer's My Account page. They will always know what they've purchased and when the next bill is due.
Support and Payment Gateways
While the only supported payment gateway is PayPal, YITH does provide dedicated support to help you get set up and assist with any questions you have along the way.
They offer an FAQ, documentation, and an active community forum where you can get advice from other users.
SUMO Subscriptions, developed by Fantastic Plugins, is a powerful WooCommerce plugin that lets you charge recurring payments to customers.
With SUMO, you can create membership and loyalty programs where customers pay you a monthly fee to get member-only offers and benefits.
SUMO is also compatible with WPML, so you can increase traffic to your store from around the world and boost your SEO rankings globally.
Features and Benefits
Subscription types: SUMO offers a variety of subscription types including basic subscriptions where the pricing is consistent, variable subscriptions, or grouped product subscriptions depending on your customers' needs.
Custom billing cycle: SUMO also lets you synchronize renewal dates on a weekly, monthly, or yearly basis so you have more control over your billing cycle.
Subscription pause and resume: Your customers will appreciate the flexibility SUMO provides. They can pause or resume their subscriptions at any time for an improved experience.
Multiple subscriptions in single checkout: Customers can also purchase multiple subscriptions in one checkout for a seamless shopping experience. You can choose to offer trial periods or charge sign-up fees to provide incentives and boost sales
Automatic and manual renewals: Subscriptions can renew automatically or let your customers renew manually, whichever you prefer. SUMO Subscriptions automatically sends reminder emails about renewals, payments, or cancellations to keep your customers informed about their subscription status.
Support and Payment Gateway Details
SUMO Subscriptions offers support for many payment gateways so your customers can pay with a method they trust.
PayPal, Stripe, and PayPal Reference Transactions are fully supported. All other WooCommerce gateways are partially supported.
SUMO Subscriptions comes with 6-12 months of support from Fantastic Plugins to help you work through any issues and ensure compatibility with new versions of WordPress and WooCommerce.
Subscriptions for WooCommerce by WebToffee is a game-changer for any WooCommerce store looking to build ongoing relationships with customers.
This handy plugin makes setting up a subscription program super simple. You'll be able to get recurring revenue rolling in no time!
Features and Benefits
Simple and variable subscriptions: With this plugin, you can create basic or more customized subscriptions easily. Set the price, how often it renews, how long the subscription lasts, and any product options you want to offer. You can even offer free trials to let customers try before they buy.
Manage renewal interval and expiry: Managing renewals and making sure subscriptions don't lapse is usually a headache, but not with this plugin! You choose if subscriptions renew daily, weekly, monthly, or yearly. You can have them renew every 2nd time, 3rd time, up to every 6th time. You also set when each subscription will end. The plugin does all the hard work of tracking it all for you.
Recurring discounts: The best part is you can offer discounts that automatically renew with each subscription! Create a fixed amount or percentage discount coupons that will apply for every renewal payment for individual customers or a group.
Synchronization and prorate: The plugin can line up all your customers' renewal dates to the same day. It will also prorate their bill so they pay for the time left until that first renewal.
Email notifications: The plugin sends handy emails to customers when their subscription is canceled, expires, or renews. You get a copy too so you always know the status of your customers' subscriptions.
Support and Payment Gateways
WebToffee provides awesome support for all their plugins. They have tons of helpful docs, tutorials, FAQs, and code samples. Their support team usually responds to any questions within a day or two.
In terms of payment gateway support, you can use Stripe and PayPal for regular recurring revenue and recurring subscriptions.
The WP Simple Pay plugin makes it super easy to accept credit card payments and subscriptions through Stripe on your WordPress site.
It's designed to be super simple to use with no coding needed. So if you have an eCommerce store and want an easy way to process payments, this plugin is for you!
Features and Benefits
Simple setup: Setting up WP Simple Pay is a breeze. Just connect your Stripe account in a couple of clicks, pick from their ready-made payment form templates and you're all set to start accepting payments.
Recurring payments: The plugin automatically handles billing so you don't have to manually charge subscribers every month. This is perfect for nonprofits taking donations or any site with a membership program. Your subscribers can opt to make repeat payments and you save hours. Win-win!
Form builder: WP Simple Pay comes with an easy drag-and-drop form builder. You can add custom fields like dropdowns, checkboxes, and whatever else you need to capture more details when people pay. This boosts how many people complete their purchase since they pay on your site instead of going to Stripe's site.
Secure payment processing: Payments are processed securely through Stripe so you do not need to worry about keeping your customer's payment data safe. The plugin also has built-in protection against fraud to avoid chargebacks reducing losses for your business.
Support and Payment Gateways
WP Simple Pay has some of the best support around. The team cares about its customers and is always quick to help with any questions you have. They're known for giving five-star white glove support and service.
The plugin only works with Stripe, but you can accept all major credit/debit cards, bank transfers, SEPA payments, Afterpay, Klarna, and more.
The plugin also lets you offer "pay in 4" and other payment plans through Klarna and Afterpay.
Paid Memberships Pro is a great plugin if you want to start your ecom membership site. It lets you run any kind of membership business—blogs, online courses, clubs, subscription boxes, newsletters, you name it.
Here are a few features of the plugin:
Features and Benefits
Membership management: For starters, it's super flexible. You can have free memberships, trials, subscriptions, and one-time or recurring payments. You decide how you want to structure your memberships and what options to offer.
Content restriction: The plugin lets you put content like blog posts, pages, online courses, or forums behind a paywall. Only paying members get access to premium content and community. It's a great way to provide value that people will pay for.
Multiple payment gateways: It works with the top payment gateways like Stripe, PayPal, Authorize, and Braintree. Your members can pay however they want and the plugin will automatically handle accepting the payment on your site and charging them again when needed.
Member experience features: Your members can sign up, log in, update their info, check billing, download invoices, and more right from your site. The plugin aims to make the membership process as easy as possible.
Reporting and analytics: The reporting dashboard gives insights into how your membership business is doing through reports. See sales, revenue, signups, cancellations, and how much revenue each member brings in.
Support and Payment Gateways
Paid Memberships Pro offers great support for their plugin. They help fix any issues, set it up to work exactly how you need it, and give advice for enhancing your membership.
With built-in support for major payment gateways, it's easy to accept payments from your members. They can pay with cards, e-transfers or however they prefer. The plugin automatically processes all the payments for you.
Comparing WooCommerce Subscription Plugins
Let's begin by comparing the pricing for each plugin and then move to compare their ease of use, payment gateway support, and customer support.
Pricing Comparison for WooCommerce Subscription Plugins
Free: $0
Pro: $49 per month
Enterprise: $99 per month
WooCommerce Subscriptions
Single Site: $199 per year
5 Sites: $249 per year
25 Sites: $399 per year
Regular License: $49 (One-time payment)
Extended License: $245 (One-time payment)
YITH WooCommerce Subscription
Single Site: €99,99 per year
6 Sites: €169,99 per year
30 Sites: €249,99 per year
SUMO Subscriptions by Fantastic Plugins
Regular License: $49 (One-time payment)
Extended License: $199 (One-time payment)
Subscriptions for WooCommerce by WebToffee
Single Site: $89 per year
5 Sites: $129 per year
25 Sites: $199 per year
WP Simple Pay (Built for Stripe)
Personal: $99 per year
Plus: $149 per year
Professional: $249 per year
Free: $0
Standard: $247 per year
Plus: $397 per year
Builder: $697 per year
Payment Gateway Support for the Best WooCommerce Subscription Plugins
Let's recap the payment gateways that each of the plugins supports!
| | |
| --- | --- |
| Plugin | Payment Gateway Options |
| SureMembers | Stripe, PayPal, and Mollie through SureCart integration |
| WooCommerce Subscriptions | Supports over 25 payment gateways |
| Subscriptio | Supports a wide range of payment gateways |
| YITH WooCommerce Subscription | Supports PayPal only |
| SUMO Subscriptions | Full support for PayPal, Stripe, PayPal Reference Transactions, and SUMO Reward Points Payment Gateways |
| Subscriptions for WooCommerce by WebToffee | Supports Stripe and PayPal |
| WP Simple Pay | Built specifically for Stripe |
| Paid Memberships Pro | Supports Stripe, PayPal, Authorize, and Braintree |
Choosing the Right WooCommerce Subscription Plugin for Your Store
Choosing the right subscription plugin for your WooCommerce store is a big decision. It depends entirely on your store's specific needs and what will benefit you in the long run.
Understanding Your Store's Needs
Before looking at any options, you have to understand exactly what you're selling and how subscriptions will work.
Are you offering simple or more complex subscription models?
Physical, digital, or virtual products?
Will you need free trials or signup fees?
Figuring this out will determine what features matter for your store.
Evaluating Plugin Features
Once you know what you need, you can compare the different plugins based on what they offer.
Subscription types and pricing: Look at the types of subscriptions they support - daily, weekly, monthly, or yearly. Make sure you have full control over pricing so you can provide options at different levels.
Seamless subscription management: A good plugin should also give you a dashboard to easily track subscribers, payments, and subscription status. You should be able to handle cancellations, upgrades, and downgrades smoothly so your customers have a great experience.
Integration with popular payment gateways: Integration with major payment gateways is key. You need a plugin that works with PayPal, Stripe, and others so people can check out conveniently and securely.
Extensive customization options: Extensive customization is also important so you can match your brand. You should be able to personalize subscription emails, design your pages and use custom styling.
Considering Budget and ROI
Factor in how much the plugin costs versus how much benefit you get.
Some WooCommerce subscription plugins are free but others charge either a one-time or monthly fee.
Consider the cost and compare that to how much the features and support can boost your business in the long run.
A pricier plugin may offer more to help increase your return on investment.
Monthly Recurring Revenue From Your Online Store With Subscriptions
Finding the perfect subscription plugin for your WooCommerce store is an important choice. It can change whether or not you start making good money from recurring payments.
You need to figure out what your store truly needs, compare how different plugins measure up, and make sure the cost makes sense for it to generate a solid return on investment (ROI).
The bottom line is, the best plugin for your store is one that gets the job done and genuinely helps fuel your business growth.
As the eCommerce world continues to grow, you cannot help but stay on the edge of your game.
Many tools are being released every single day and Remote.Tools is one such resource where you can stay updated.
You can read useful how-tos and guides for learning all types of digital tools and platforms.
So, why keep waiting? Pick the best WooCommerce subscription plugin today and get closer to crushing it with recurring payments!
About Author:
Author Name - Sujay Pawar
Author Bio - Sujay is the CEO and Co-Founder of Brainstorm Force, the company behind Astra. He's passionate about the online space and writes articles to help entrepreneurs and freelancers succeed online. A father, a Youtube addict, and the brain behind numerous world-class products, you can connect with him on Twitter. @sujaypawar.
Join
5,369

remote workers and makers

The Remote Weekly goes out every Wednesday and brings to you original content, product tips and latest stories around remote working.