The Remote Weekly goes out every Wednesday and brings to you original content, product tips and latest stories around remote working.
10 Tips To Write Good Instagram Captions‍
Instagram is the perfect platform to showcase your brand's personality and connect with your customers. While it can be tempting to post only photos, adding a caption to each image is an effective way to elaborate on your message.
Captions can help you stand out from the crowd and express your brand's voice. It can also be an opportunity to connect with your audience and tell them more about your brand. It's your last chance to make an impression on them before they scroll past your post.
That's why it's so important that you use Instagram captions. But what makes a good Instagram caption that inspires your followers to take action and increase popularity? What's the secret sauce?
In this article, I'll teach you how to write great Instagram captions that attract more followers, drive engagement, and help you build a loyal community for your brand/blog. Also, I will be sharing some great Instagram caption examples to help you understand better.
What Makes A Good Instagram Caption?
The caption is the most important part of your Instagram post. It's what people see first, and it's how they decide whether or not they want to stay and explore the rest of your content.
A good caption is the one that stands out and gets people to click on it. It has to be interesting but not too long or boring. It should grab the reader's attention in a way that makes them want to know more about the post.
Many people make the mistake of writing boring captions without much context.
For example:
[Image caption: A cute cat sitting on a chair next to a laptop.]
This is a terrible caption because it tells us very little about the image. The viewer has no idea why they're looking at this cat sitting on a chair next to a laptop. If we add some
context to the picture (such as the place or event where it was taken), our viewers will be able to better understand what is happening in this picture.
Why Are Good Instagram Captions Important
The success of your Instagram marketing campaign largely depends on the captions you use in your posts. Instagram captions are what draw in your followers and give them a reason to keep scrolling through your feed.
They are the first thing people see when they look at your photo or video, which means it needs to be something that will make them want to stay and continue looking at more of your content.
There are plenty of ways to do this: from funny captions to inspirational quotes, but one thing remains the same — if you want people to engage with your content, you need to make sure your captions are captivating and interesting.
How To Write Good Instagram Captions
Make Your First Line Attention Grabbing:
It's not enough to just post a cute photo on Instagram and hope for the best. You need to write a great caption that will make people want to double-tap your photo.
And a good Instagram caption doesn't just tell your followers what you're doing but also makes them want to follow along.
The first line of your caption is where you can set the mood for what follows. This means it needs to be relevant and make sense in context. It also needs to resonate with your audience as well as express what you're trying to say.
A good first line will also help you tell your story without writing a long caption. You can use it as an elevator pitch for your business, product, or service.
It should be specific enough to give people an idea of what they're about to see but vague enough to leave space for interpretation.
For example, "You'll never guess who I saw at Starbucks today... or Guess what helped me make 100$ a day."
Try putting yourself in your audience's shoes and asking yourself how you would react if you saw the caption on someone else's post.
Include CTA:
You've probably heard about the importance of including a call-to-action (CTA) in your Instagram caption. A call to action (or CTA) is a way of telling your followers what you want them to do. They could be as simple as "Follow me" or "Shop now."
Including a CTA in your Instagram caption is a great way to get people to follow you on Instagram. It can also boost engagement by encouraging followers to take action, like commenting on your post or reposting it on their profile.
Let's take a look at an example; @MiniSo is a famous brand. It is well-known for its Kawai products. This brand occasionally holds giveaways to encourage people to follow, comment, and share their posts. And it works well for them; the post alone got 3000+ likes and 2000+ comments.
The point is that a CTA works well when you are giving people something in return. It can be a discount, voucher, giveaway, or simple shout-out.
When writing a CTA, make sure it's clear; don't make it so long that it's confusing or complicated for people scrolling through their feeds quickly. You want your message to stand out without being overwhelming!
Ask Open-ended Questions:
You may have noticed that people are asking questions in their Instagram captions. It is one of the best Instagram marketing strategies and a great way to share knowledge and experiences with followers.
You can encourage engagement and interaction with your post by asking an open-ended question in your caption.
An open-ended question is one that can't be answered with a simple yes or no answer, such as "What's the best way to improve my business?" or "What do you think about this article?" The trick here is to make sure that the question is relevant to the post's content and not just random chatter!
So, whether you're trying to get people talking about their favorite things or want feedback on a new product, an open-ended question can help you start the conversation.
Add Value:
When you're posting to Instagram, it's easy to get caught up in the visual aspect of your posts. After all, Instagram is visually based, so photos and videos are what get the most attention and make the biggest impact.
But if you want your posts to be successful, you must remember that people also read on social media. They're not just looking at pretty pictures; they're also reading captions.
A caption can make or break a post in terms of engagement. If your caption doesn't add value to the image or video you're sharing, people might not even bother to click through and see what else is happening on your account.
Your viewers are there because they want to be entertained, but they also want their time on Instagram to be worth something. If you can give them something valuable in exchange for their attention, you will win their loyalty and trust.
Here's how to add value to your caption:
● Add context if it's not apparent what's happening in the photo; add a few words to give context, so viewers know what they're looking at.
● Include links. If you have an online shop or website, post links in your captions so people can click through to view more of your products or services. ● Share helpful tips and tricks related to your niche.
● Using testimonials and reviews, highlight how others can benefit from your content or product/service.
● You should always write in a conversational tone so that you are talking directly to your readers instead of writing as if you are writing an essay or thesis paper.
Use Storytelling:
Storytelling is a powerful way to engage your audience on social media. It allows you to share the behind-the-scenes, giving your followers a deeper understanding of who you are and what you do.
People will be drawn to your brand when you use storytelling in your captions because they're more likely to relate to it.
And I am not talking about writing long paragraphs here. I am talking about using a combination of words and images to convey a story that makes people want to engage with your content.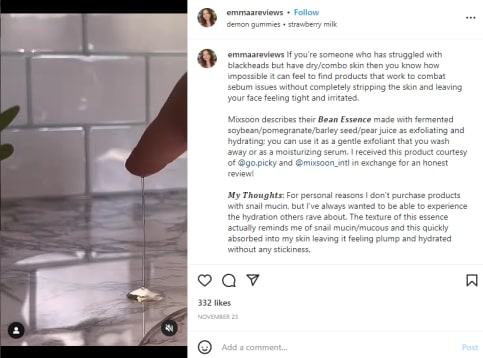 A great example to look at is @emmareviews. Emma is an Instagram. On her account, you will find plenty of posts where she shares her experience and thoughts on skin care products.
And if you read the above caption, you will find it covers almost all the things a storytelling caption should contain, such as experience, thoughts, advice, and its short length.
Use Hashtags:
The use of hashtags has become an essential element in any social media strategy because people search for hashtags to find out more about a topic or product.
Hashtags can be used in any post on Instagram, including captions, stories, and comments. It adds relevancy and makes your content more accessible for users to find in search results.
Instagram uses hashtags as a way of categorizing content into topical groups. If you enter a hashtag in the search bar, posts with that hashtag will be displayed.
For example, If someone searches for #dogs, they'll see all posts with that hashtag in them anywhere on Instagram (not just the posts with dog photos).
Here are some tips for using hashtags in your caption:
Use hashtags relevant to your post: If you're posting about a beach vacation, use hashtags like #beach, #summer, and #vacation.
Use multiple hashtags per post: Using multiple hashtags can increase your chances of being found by other users.
Don't overdo it: Too many hashtags can be spammy and push down your engagement metrics because people won't want to click on a caption with too many hashtags.
Use Emoji:
The best way to get people to notice your content is through emojis in your Instagram captions. They're a fun, colorful way to convey your mood and personality in a caption or comment.
But emojis are more than just fun; they can help you stand out from the crowd and increase engagement with your audience.
You can use emojis to:
Express yourself: Whether you want to show off your feelings or make a point, emojis are the perfect tool for getting your point across without saying anything.
Highlight important information: Use an emoji to highlight an important point or add some color to your caption.
Add visual interest: Emojis make your caption more exciting and fun for readers.
Try using an emoji as a button in your next caption! This will help break up the text and make things more visually appealing for readers.
Write Short Captions:
It is important not to overwhelm your followers with long-winded stories or instructions when they only have a limited amount of time to dedicate to each post.
One of the best ways to engage your followers on Instagram is to keep your captions short and sweet. That means don't write an essay in your caption!
When writing a caption, try using bullet points instead of paragraphs. It makes it easier for people to read and digest what you're saying before scrolling past your post.
Also, make sure that the first sentence of your caption is engaging enough for people to keep reading, but stay moderate with the details.
Consistent Language:
One of the best ways to build engagement on your Instagram channel is by being consistent with your language.
Consistent language means that you're using some of the same words and phrases in most of your posts, which helps to establish your brand voice.
For example, If you use different words than usual in your posts, your followers won't know what to expect.
However, if you always use certain words in your post, your followers will be more inclined to engage because they know what they're getting into when they click on your content.
Experiment With Different Strategies:
When it comes to social media marketing, there's no shortage of advice for what you should be doing. And it can be tricky to know where to start, especially if you're new to the game.
The good news is you can experiment with different strategies until you find the one that works best for your brand and audience.
Many people get hung up on trying one strategy and sticking with it until it works — but that's not how social media works! Try something else if a particular approach isn't working well for your brand.
There are plenty of ways to engage with your followers and attract more traffic from them through Instagram captions alone, so experiment until you find one that works best for you!
Four Instagram Caption Examples To Look At
Funny caption:
Humor is a great way to connect with your audience. Whether you're writing about your day, posting a selfie, or sharing an image from your latest trip, adding some humor can make your Instagram caption more interesting.
We are all familiar with @dunkindonuts. It is famous for its donuts and coffee. The brands keep their followers engaged by adding a little humor in their captions from time to time.
Posts with captions like these encourage people to comment and like.
The Informative Caption:
An informative caption lets readers know what they're looking at without being too wordy or long-winded. It should be enough information to give your audience an idea of what your picture is about.
@seefood_diet is an Instagram food blog. Several reviews of restaurants and cafes are posted along with information about items and prices on the account. Audiences find these kinds of posts helpful when making decisions.
The Question Caption:
Asking questions is one of the best ways to get responses from your followers. People love answering questions because it allows them to talk about themselves or their opinions.
The below example by @circut shows how to do it right.
The Advice Caption:
If you're selling a product, service, or information, your Instagram caption is an opportunity to give advice. This can be as simple as answering a question someone has asked or giving a quick tip you've learned through experience.
@myadorabletortoises is an account dedicated to the tortoise. The account shares cute pictures of the tortoise doing activities along with information and advice about them.
Conclusion
Hopefully, this article helped you figure out how to start writing Instagram captions. Follow these tips to stand out and get more engagement on your Instagram posts.
In addition, remember that captions are another creative outlet. They provide a fun change from the usual photo.
Treat your caption like a short blog post and include links to relevant sites and hashtags. Also, through captions, try to connect with people on a personal level. Just remember to be genuine and honest.
Bio:
Author and the founder of Blogituplife, Shama Shafiq, writes about blogging and marketing on her blog. Her goal with her blog is to help beginner bloggers who need step-by-step guidance.
Join
5,369

remote workers and makers

The Remote Weekly goes out every Wednesday and brings to you original content, product tips and latest stories around remote working.