How to Add Emojis to Discord Servers?‍
Written by: Hrishikesh Pardeshi, Founder at Flexiple, buildd & Remote Tools.
Last updated: Jan 19, 2023
This blog explains how to add emojis to Discord (pc and mobile app)
Emojis are fun ways to express our feelings in online social chats. You can pop them up in text or glue them to messages from other users.
The Discord app has the "juice" regarding creative emojis. You can pick from diverse Discord's preloaded emojis or create a custom one to share with server members.
Read on to learn how you can add Discord emojis in chat.
TLDR
Here's how to add custom Discord emojis:
Open the Discord app
Click on your preferred server
Right-click on the server icon and select Server Settings
Click on Emoji and select Upload Emoji
Select a file to add an emoji to Discord
---
TABLE OF CONTENTS
---
How to Use Emojis in a Discord Chat
You can use emojis in server chat or direct messages. There are built-in emojis accessible to all Discord users.
Follow these steps to share emojis in a Discord chat:
Launch the Discord app
Select a server and navigate to a text channel (OR go to a direct message)


Click on the emoji icon present on the right side of the chat bar


Select an emoji category (e.g., people, nature, or food) in the emoji menu. OR use the search bar to find the Discord emoji


Click on your preferred emoji and hit Enter OR the "Send Button" to share in the chat
You can use Discord emojis with simple text format. Enclose the emoji name within a pair of column (:).
Example.
:thumbsup:
Discord uses "Emoji Matching" to suggest emojis based on your wording. Click on the one that matches your preference.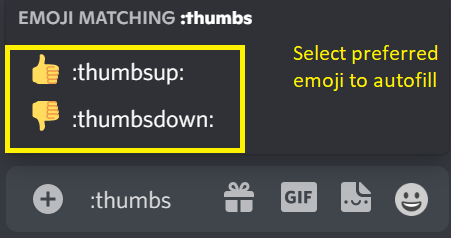 Want something unique to your server? Consider uploading a custom emoji.
How to Add Custom Emojis to Discord
Design and share custom emojis that resonate with your community's experience. For instance, a book club can craft its own custom emoji relating to books, studying, and libraries.
Let's consider some important notes before pumping uploading custom Discord emojis.
The user must be a server owner or acquire the Manage Emoji Permission
The recommended emoji file size is 256KB
The Emoji file type must be either GIF, PNG, or JPEG
Emoji names must include only underscores and alphanumeric characters, having a minimum of 2 characters
Discord Nitro subscribers can use animated emojis
Note: A Discord nitro subscriber can use a server's custom emoji anywhere. This provides more options outside the standard emojis. Non-subscribers can only use a custom server emoji in the server that uploaded it.
How to Add Custom Emojis to Discord (PC)
PC users can upload custom emojis using the Discord website or desktop app. Here's how to do it:
Launch Discord
Right-click on your server icon on the left sidebar. OR select the downward arrow after your server name at the top left




Click on Server Settings in the pop-up menu


Click on the Emoji tab in "Settings" and Select Upload Emoji


Choose an Emoji file from your PC
Viola, you now have a new smiley face. Note that Discord saves the emoji name as its original file name.
Double on the emoji name to highlight it and type the desired name. Furthermore, you can only access 50 custom emojis.
How to Upload Custom Emojis to Discord (Mobile)
Server owners can add emojis via the Discord mobile app. This is a unique feature compared to other social media sites. Here's how to do it:
Open Discord
Click on the hamburger icon to view available servers


Select your preferred server
Select the three dots (ellipses) next to the server name


Click on Settings in the pop-up menu


Tap on Emoji > the Upload Emoji button


Select an Emoji file from the device
How to Use Emojis in "Set Custom Status."
Don't just create emojis. Spice up your activity status with them. Here's how to do it on Discord:
Navigate to a profile name at the bottom left and click on it


Select Set Custom Status


Click on the emoji icon below "What's Cooking; Username?"


Select from the emoji list and click on "Save."


Other Discord users can see the new Emoji when they click on your profile picture.
Other Cool Ways to Use Discord Emojis
Whether you have a Discord Nitro account or not, there are some cool ways to use emojis in a Discord server. This includes reaction, wumboji, and streamer emojis.
React to Messages with Emojis (PC)
Hover on OR right-click on the text


Click on "Add Reaction"


Select an emoji to react to the message
The reaction appears below the text. You can add multiple reactions by holding Shift and selecting multiple emojis.
You can also add reactions to other content, like images. Do you want to see who reacted to a post? Right-click on the post and select reactions.
This displays the username, showing which user sent a specific reaction.
React to Messages with Emojis (Mobile)
Long-press a post (e.g., message or image)
Select from frequently used emojis displayed on the menu icon OR click on the smiley with a "+" to Add Reaction.
Use Wumboji
Wumbojis are enlarged standalone emojis. Select a few emojis without adding any characters to create them. Furthermore, emojis don't Wumboji in compact mode.
How to Use Streamer's Emojis
Discord users can take some emojis from Twitch streamers having custom emojis in their stream channels. You need to connect Twitch to your Discord account to the emojis on Discord.
How to Stop Discord From Converting Emoticons to Emojis
Typing :) automatically turns to a smiley on Discord. Thankfully, you can disable this in Settings. Here's how to do it:
Click on the Gear Icon to open User Settings
Navigate to Text & Images
Scroll down to the Emoji section
Toggle off the second option to disable Discord from converting your emoticons to emojis
FAQ
Here are frequently asked questions about adding emojis on Discord:
What is an animated emoji?
Animated emojis (animojis) refer to 3D emojis that show expressions
Where can I download custom Discord Emojis?
Download custom Discord emojis via websites like emoji.gg, discord.st, and getemoji.
Are custom emojis on Discord free?
Yes, custom Discord emojis are free. You only have 50 slots and can increase them with a Nitro subscription.