Slack vs Discord: Which Team Collaboration App is Better?‍
Written by: Hrishikesh Pardeshi, Founder at Flexiple, buildd & Remote Tools.
Last updated: Jan 19, 2023
The choice of collaboration platform significantly affects work dynamics, especially for remote teams. These platforms determine how easily you can share information and manage teams. Discord and Slack are some of the most popular team communication platforms available today, providing opportunities for voice and video calls, live chats, file sharing, and several other features that facilitate communication among remote teams.
In this article, we'll review two popular communication platforms– Slack and Discord– their market share, usability, and other key features.
TLDR
The following features stand out as major differences between Slack and Discord.
 Discord has a larger market share, with over 300 million registered users, while Slack has 570,000 registered organizations.

 Per design and usability, Slack edges over Discord because of its sleeker arrangement of chats in the Slack workspace into drafts, threads, DMs, mentions, and reactions, which favors professional teams.

Slack provides more advanced features for voice and video calls. Slack allows users to create a Hurdle, invite friends, share screens, record audio, react with emojis, and share files during a live call.

Where Slack lacks in voice and video call functionalities, it gains in integration. Paid Slack plans provide unlimited integrations, which allow you to connect Slack to several apps. Discord has a significantly smaller number of integrations but allows as many bots as you want.
Slack Overview
Slack is a cloud-based team chat app founded by Stewart Butterfield and Cal Henderson. Slack began as an internal tool used by their company, Tiny Speck, during the development of their game Glitch. In order to facilitate better communication between employees, Butterfield and his team created a tool that would later become Slack. After the release of Glitch, the Tiny Speck team decided to open Slack to the public in August 2013. Slack is now one of the fastest-growing startups in the world, with over eight million daily users.
Slack is unique in many ways: its user-friendly interface and excellent chat organization into drafts, mentions, threads, and direct messages. Slack is also highly customizable, with hundreds of third party integrations and a wide range of features. Despite its relatively young age, the team chat app has quickly become one of the most popular collaboration tools for businesses of all sizes.
Discord Overview
Discord is a communication tool that allows gamers to connect with each other for gaming purposes. It was founded in 2015 by Jason Citron and Stanislav Vishnevskiy, and it is currently one of the most popular gaming platforms in the world. Discord has seen tremendous growth in recent years and is now used by millions of gamers worldwide.
Discord is a popular VOIP (Voice over Internet Protocol) and chat app for gamers that allows gamers to connect with each other for gaming purposes. It was founded in 2015 by Jason Citron and Stefan Klocek, and it has since grown to be one of the most popular chat apps for gamers. Discord is free to use and allows gaming communities to connect with each other through voice and text chat in dedicated servers and channels. With over 140 million monthly active users and 300 million registered Discord account holders, the communication tool continues to grow in popularity among gamers and tech lovers worldwide.
Slack vs Discord: Features Comparison
Discord and Slack are both popular chat platforms for businesses and organizations. Both platforms offer a variety of features, but there are some key differences between the two. This article will dive into the Discord-Slack debate and help you decide which platform is right for your needs.
Slack vs Discord: Market Share
In recent years, the battle for market share in the business communication space has largely been between Discord and Slack. As of July 2022, Business of Apps reports that Slack has a 43% annual revenue increase, with over  570,000 registered organizations and 156,000 paying businesses. In July 2021, Salesforce completed the acquisition of Slack for $27 billion. 
According to Business of Apps, Discord recorded a 188% increase in revenue in 2020 and a 40% increase in active users in 2021. Although a majority (CNBC reports up to 70%) of users are gamers, more people find the app excellent for building communities with common interests, including TV shows, sports, memes, dating, forex trading, and investment. 
Slack vs Discord: User Interface, Design, and Usability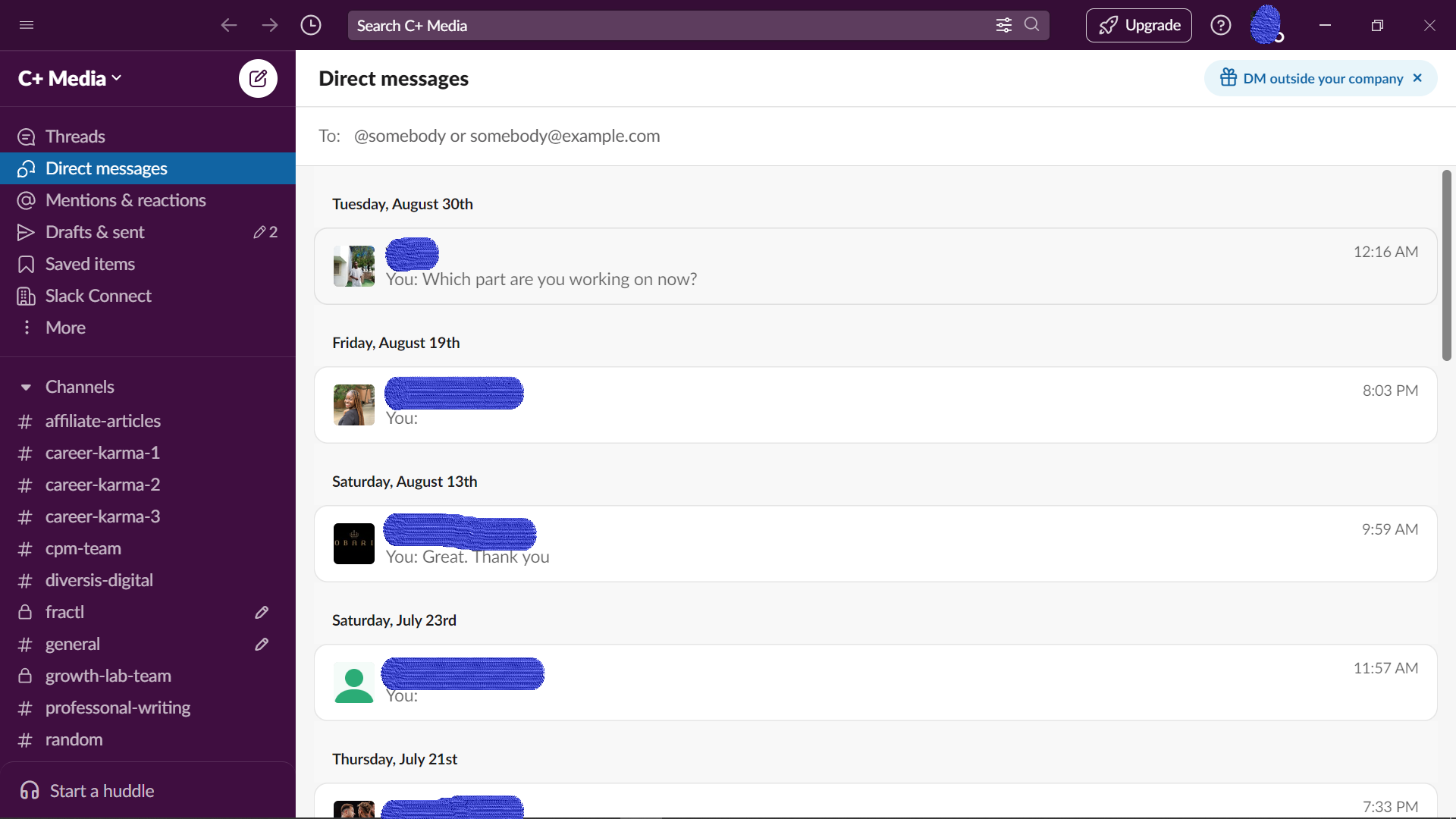 For one, Slack has a more traditional user interface that is designed for professional use. The platform provides an easy-to-use and sleek arrangement of messages into channels, DMs, and threads. The arrangement also uniquely separates each Slack workspace from the other, such that you do not mix up messages from different teams.
Discord, on the other hand, lets you into all your direct messages and servers in a single dashboard. Clicking on one server icon opens up your list of channels and messages under the server. You can switch between servers from the server list on the left sidebar, make group voice calls, and send messages with only a few taps. 
Regarding the search functions and record keeping, both Slack and Discord offer a search function that allows users to find specific conversations or messages within a chat. However, the way that these two search functions work is quite different.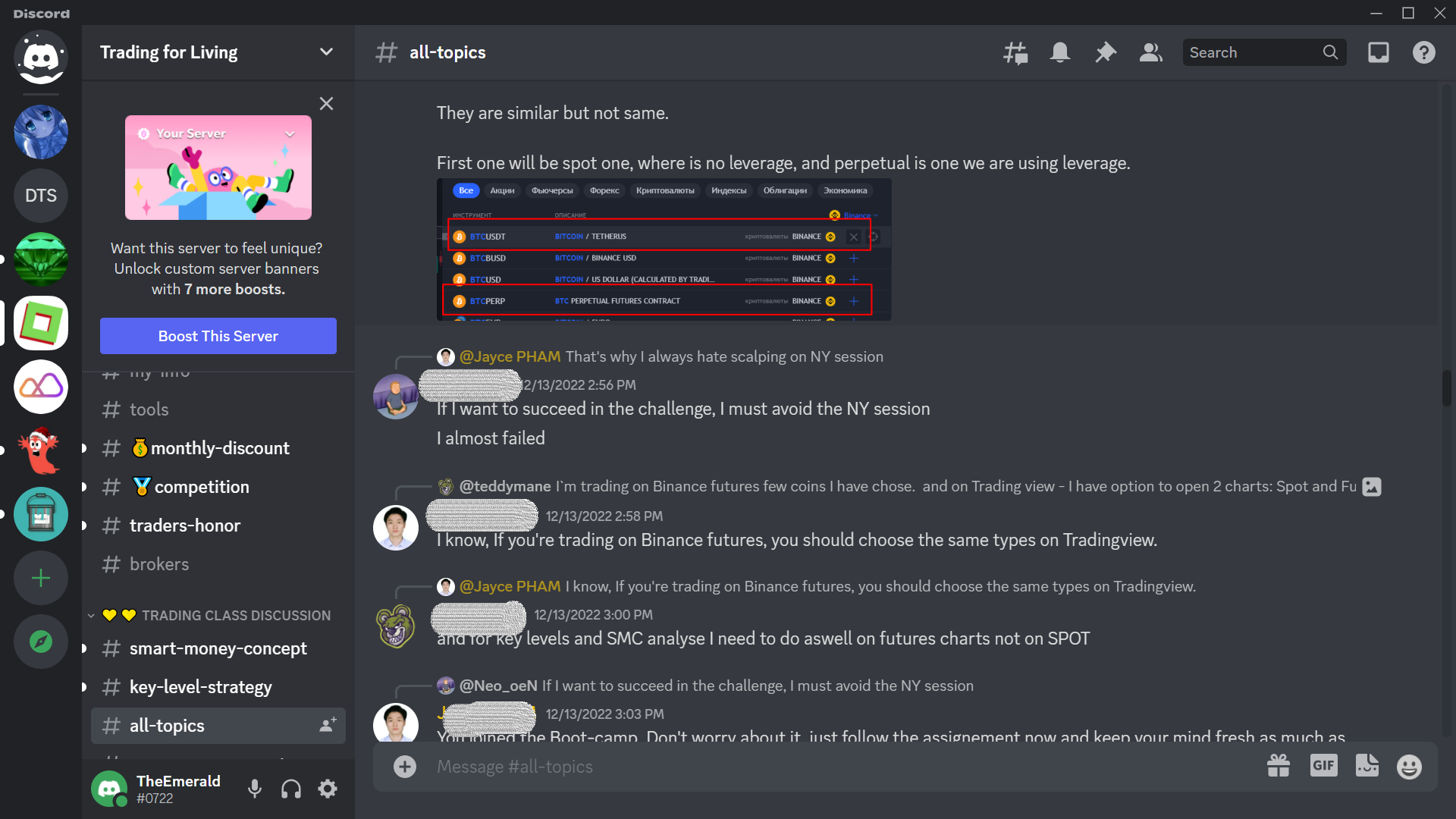 Discord's search function is based on keywords. This means that if you want to find a specific message, you must remember which keywords were used in that message. This can be difficult, especially in large chats where many messages are being sent every day
Slack's search function, on the other hand, is based on dates. This means you can easily find specific messages by searching for the date they were sent. This can be very helpful if you need to find a specific conversation but don't remember the keywords that were used.
Which Application Has a Better Interface and Design?
Discord seems to be more elaborate in tracking the numerous servers, which can be helpful for users who are not as familiar with chat platforms and has a more gaming-oriented interface that some users may find more intuitive and easy to use. However, Slack was designed to be simple and straightforward, making it more suited for professional communication for businesses and organizations.
Slack vs Discord: Text Chat
Slack and Discord are designed for team communication and provide features and tools for a fluid texting experience. You can send direct messages or leverage channels and threads for group conversations.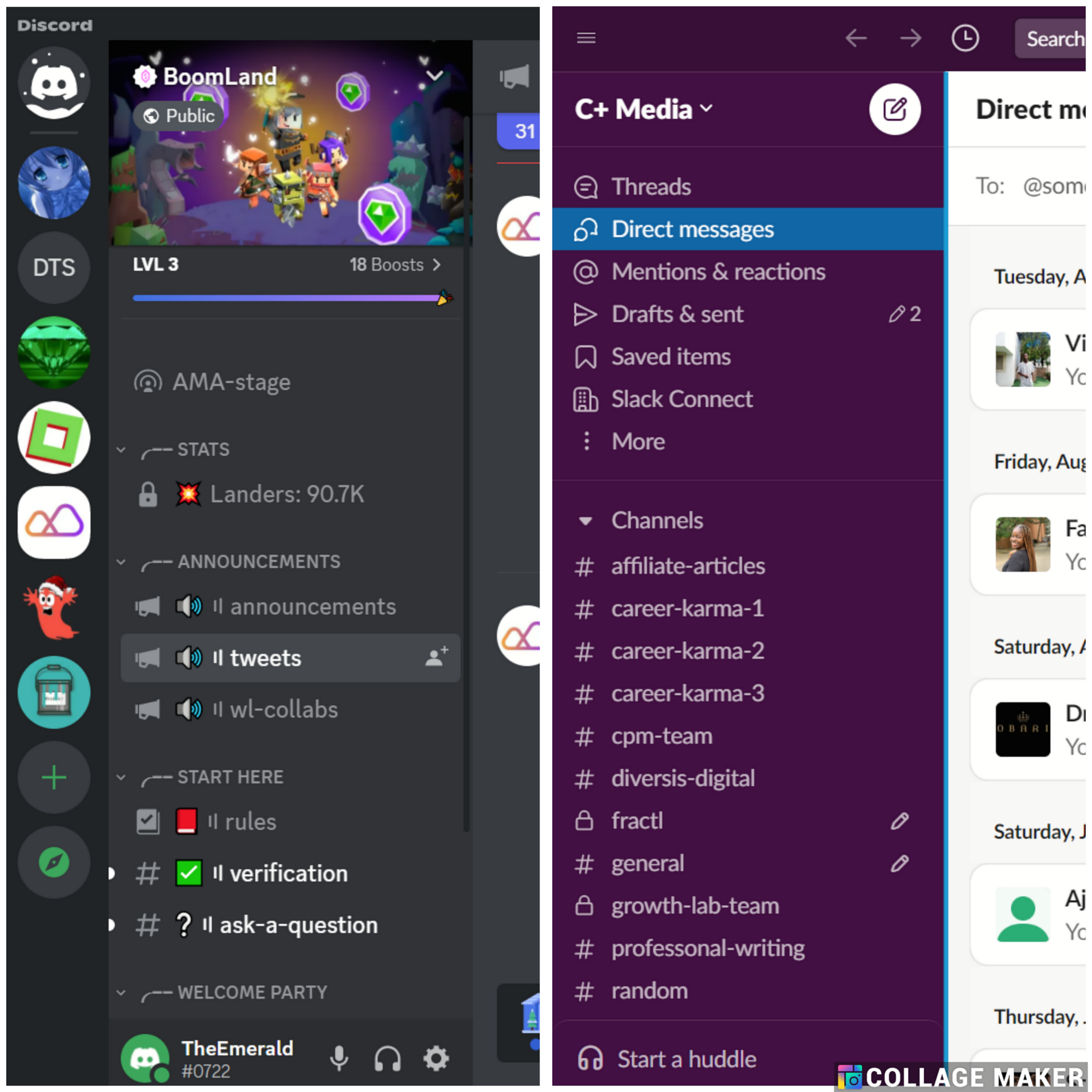 Ordinarily, text conversations can easily get messed up, especially when the teams or communities brainstorm several ideas simultaneously. Both platforms take the extra step towards organizing communications among groups by allowing you to create several channels dedicated to specific topics.
With Slack, you can create and join unlimited Slack channels to organize. However, you can only keep 10,000 messages in your history. Any message beyond that goes into Slack's archives. Discord, on the other hand, limits you to 500 channels per server but allows unlimited access to all the conversation history.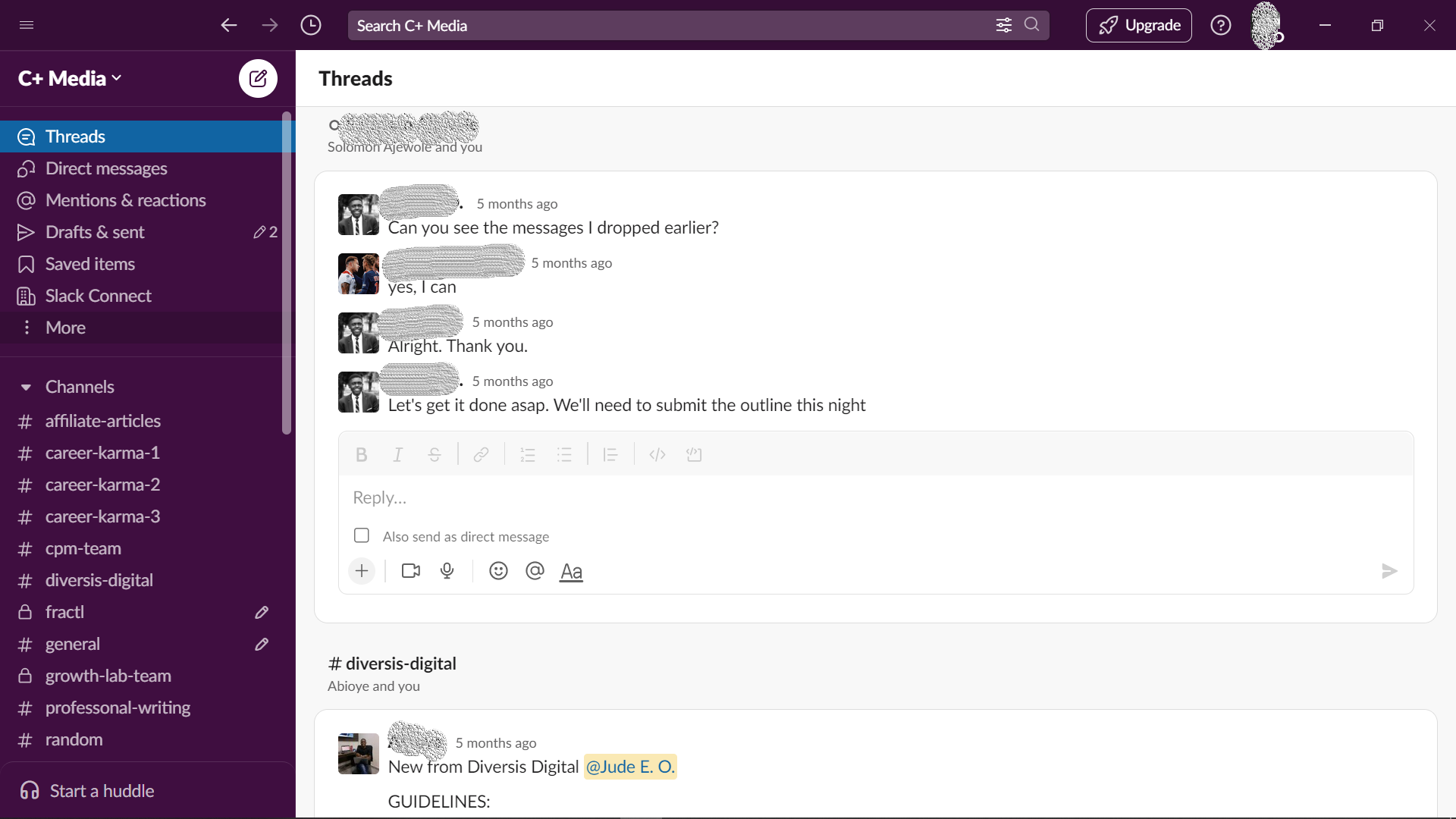 Until August 17, 2021, creating threads on the Discord platform was impossible. Threads are sequences of branched-off conversations within a chat, with each message acting as a reply to the next one. While Slack lets you keep your conversation history for as long as possible. Besides, Slack offers a separate window for threads– on the screen's left side–making monitoring active communications with team members easier.
Discord threads only last 24 hours on the free plan or three weeks on boosted servers.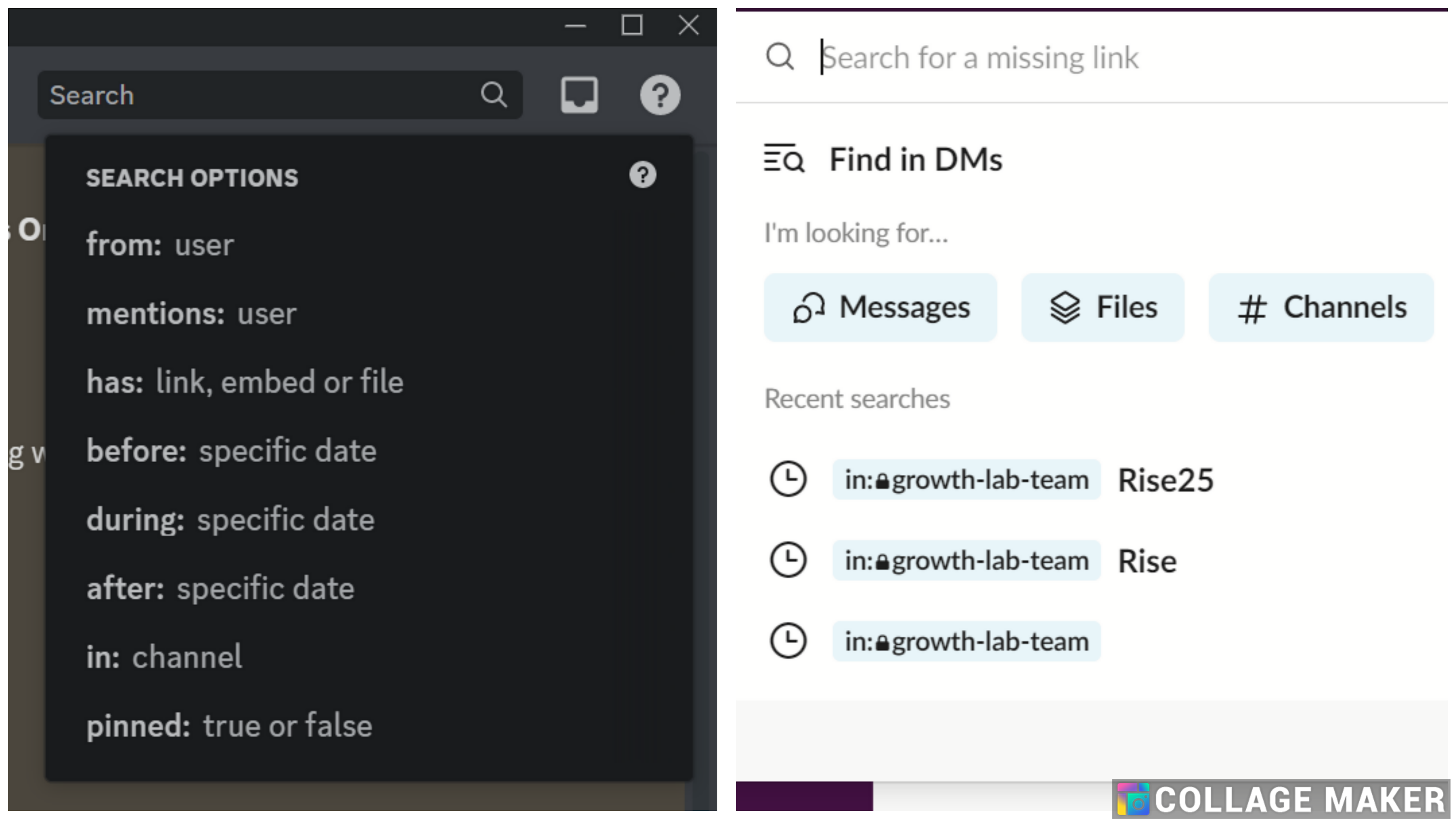 Discord and Slack provide search and mentions functions that help you filter through chats to find specific messages and conversations that directly mention you. Exploring text chat on both platforms exposes some significant differences between the text features. 
Slack provides some extra finesse, allowing you to reply to group or direct messages using emojis and track emoji reactions on your posts. You can also create and use as many custom emojis on Slack, while Discord's limits cap at 50 custom emojis. 
Which Platform is Better for Text Chats?
Slack wins here as it is a better platform for monitoring and organizing conversations among large teams. Slack lets you reorganize your sidebar by separating conversations into folders and threads. 
The platform also allows more fun with texting by allowing more extensive use of emojis compared to Discord. If you enjoy formatting texts, Slack's design makes these buttons– like bold, italics, and hyperlinks –readily accessible. Altogether, Discord provides more attention to detail as regards.
Slack vs Discord: File Sharing
Beyond sending texts and emojis, communication platforms have also become popular for sharing files– like pdf documents, images, videos, and audio. While Discord and Slack users can enjoy sharing various types of files, the experience on both platforms both offer platforms differs mainly with the size of files you can send.
Unlike Slack, Discord's file sharing allows you to send up to 8MB-sized files on the go. Discord Nitro subscribers, however, send up to 100MB-sized files at a time. Compared to Discord, Slack provides a much larger threshold, allowing you to share files up to 1GB at a time. Meanwhile, Slack provides up to 5GB of storage space for saving files if you are using the free version and 10GB for Slack premium users. With Discord, you have unlimited storage space to hold all file types.
Which Platform is Better for Sharing Files?
You can comfortably say that Slack file sharing is the better option since it allows you to share larger files with teams. Besides, the platform also provides an option to store your files on Google drive. However, if you are titled more towards storage space over time than transfer bandwidth, Discord may be a better option for you.
Slack vs Discord: Voice Calls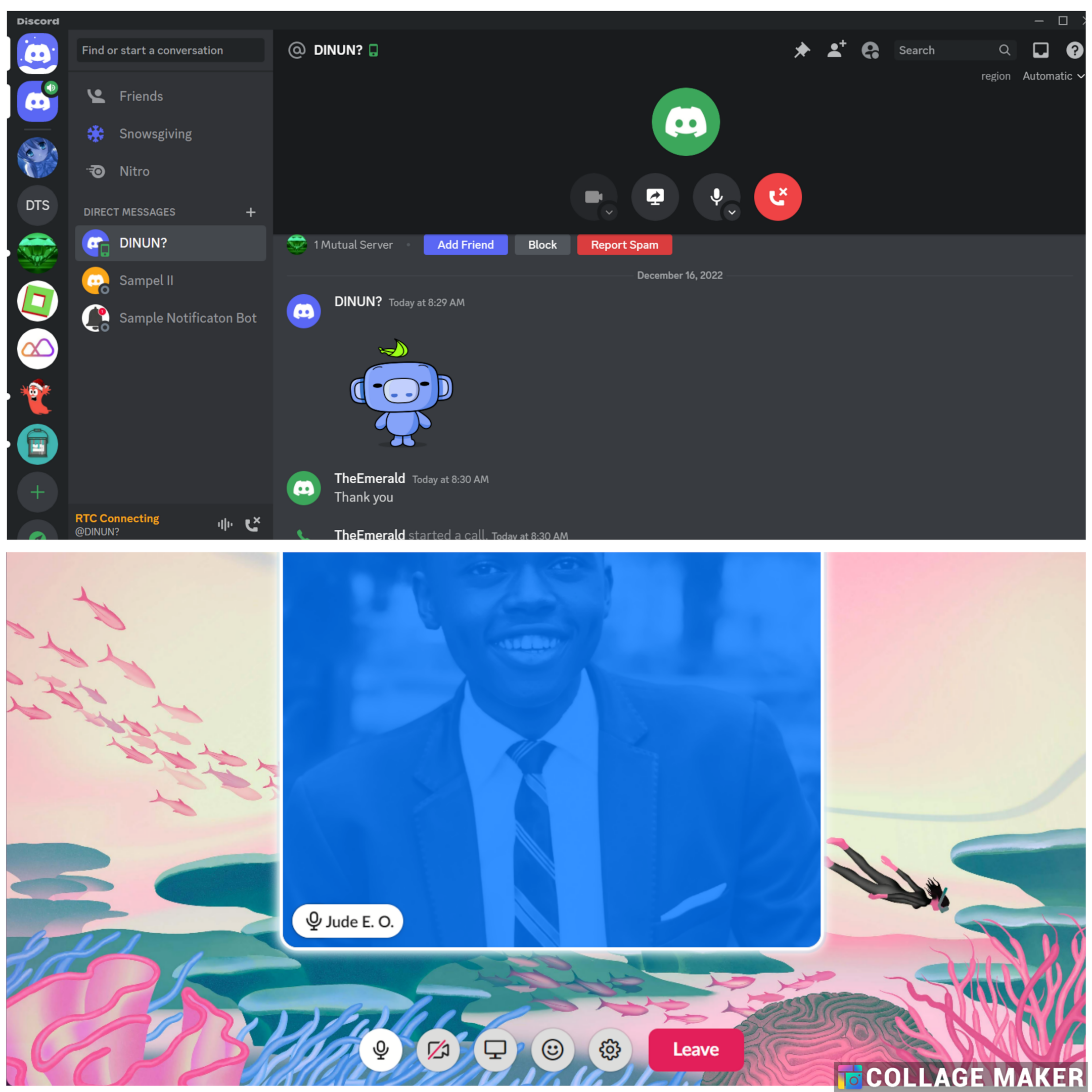 Having in-app voice call tools is another feature common to both platforms. However, the sophistication of this feature differs significantly from the platform. Being a VoIP platform built around serving online gaming communities, Discord's voice call offers several sophisticated features you may not find on Slack. Gamers typically get on a call, leave it running in the background, and communicate with each other in real-time while they play games.
Slack also provides the voice call option, but the service differs from Discord's voice calls in the following ways:
The availability of the voice call feature on Slack depends on your active plan. The free plan allows only allows you to call one user at a time, while Premium users can hold group calls comprising up to 15 people.
On the other hand, Discord users can host group calls with up to 15 users at a time using the free plan. Upgrading to a Discord Nitro plan allows you to host up to 5000 users on a single call.
Knowing how challenging group calls can be if not properly moderated, Discord provides the push-to-talk feature. The push-to-talk button allows you to mute users automatically when they join the voice call to prevent unwanted interruptions. With this setting on, users will have to request permission from the moderator to make contributions on the call. This feature is not available on Slack.
Which Platform is Better for Voice Calls?
Discord builds its reputation on creating effective audio communication channels for online gamers. Both platforms use WebRTC technology, which leverages the users' browser or device to negotiate audio between caller and receiver. However, Discord uses Salsa20 encryption, which provides faster audio encryption and delivery than Slack's DTLS-SRTP encryption technology.
Discord also features voice-only channels where users can get in and send voice chats without necessarily starting a call.
Slack vs Discord: Video Conferencing
The video chat feature is another significant feature common among remote teams and online communities. Free Slack supports video calls between two users. Upgrading to Slack premium increases the limit to 15 people per call. The paid plans also allow you to share your screen with other users on the call.
Like with voice calls, Discord video calls allow more participants compared to Slack. Discord's video call feature allows up to 25 friends per call and sharing your screen with other participants.
Which Platform is Better for Video Calling?
Discord is the better option for video calls. In addition, Discord video calls also allow you to adjust noise suppression and echo suspension settings. Instead of calling in-app on Slack, many people often prefer to use Zoom calls, which is pretty accessible on the platform thanks to the Slack-Zoom integration.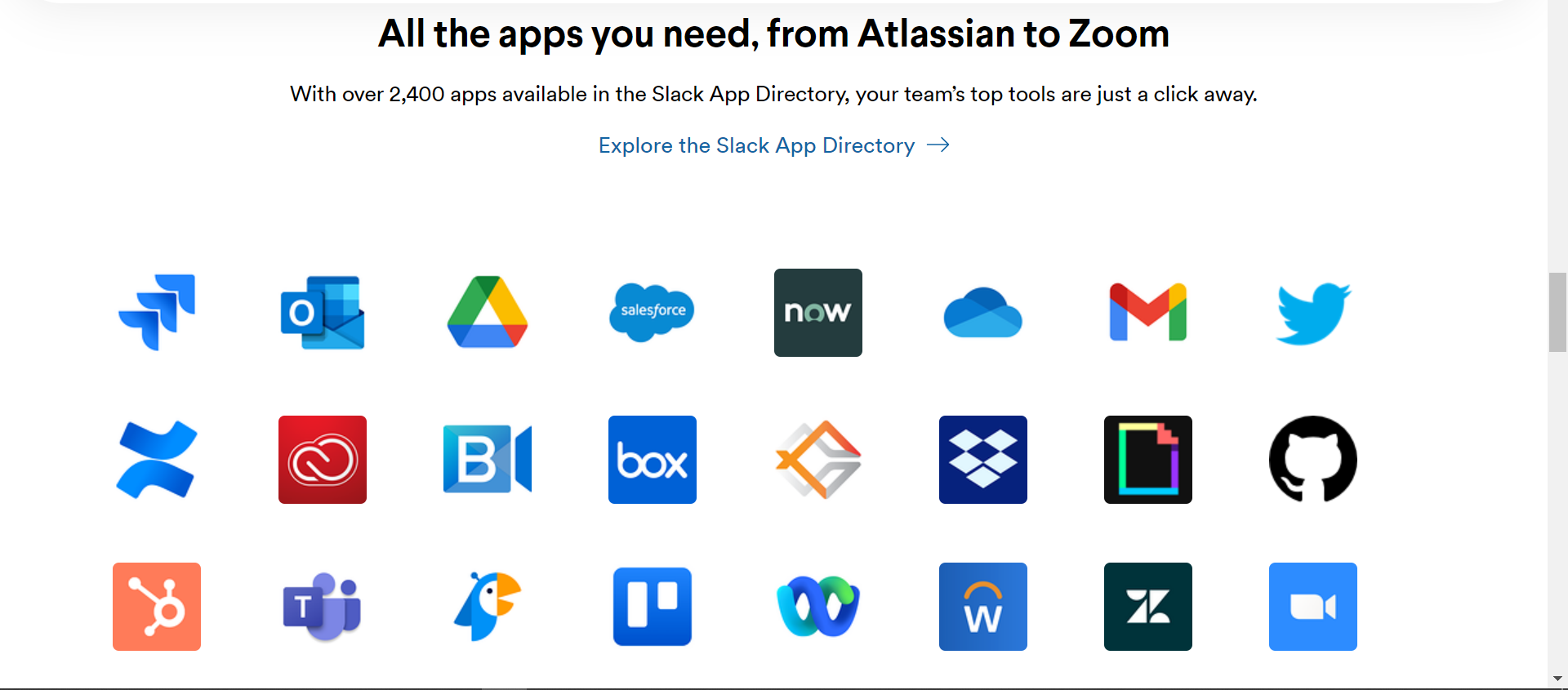 Software integration is the process of connecting two or more software applications to exchange data between them. Third party integrations are essential for communication apps because they allow users to connect with the people and services they need most. By integrating with popular apps and services, communication apps can provide a richer and more contextual experience for their users.
Slack Integrations
Slack provides integrations with over 2,400 applications available on the platform's app directory. These apps range from business tools to communication, social media networks, project management, and organizational applications. Some of the popular applications integrated with Slack include:
 Zoom

Salesforce

Gmail

Outlook

Twitter

Asana

Loom

Hubspot

Asine creative cloud
Slack also allows users to develop bots and integrate them with their accounts. Slack bots are computer programs that interact with the Slack platform to perform various tasks, such as sending direct messages, responding to messages, and performing various other automated tasks. There are a variety of Slack bots available, each with its unique set of features and capabilities. Some Slack bots are designed to help users with their work, while others are designed to entertain and engage users.
Discord Integrations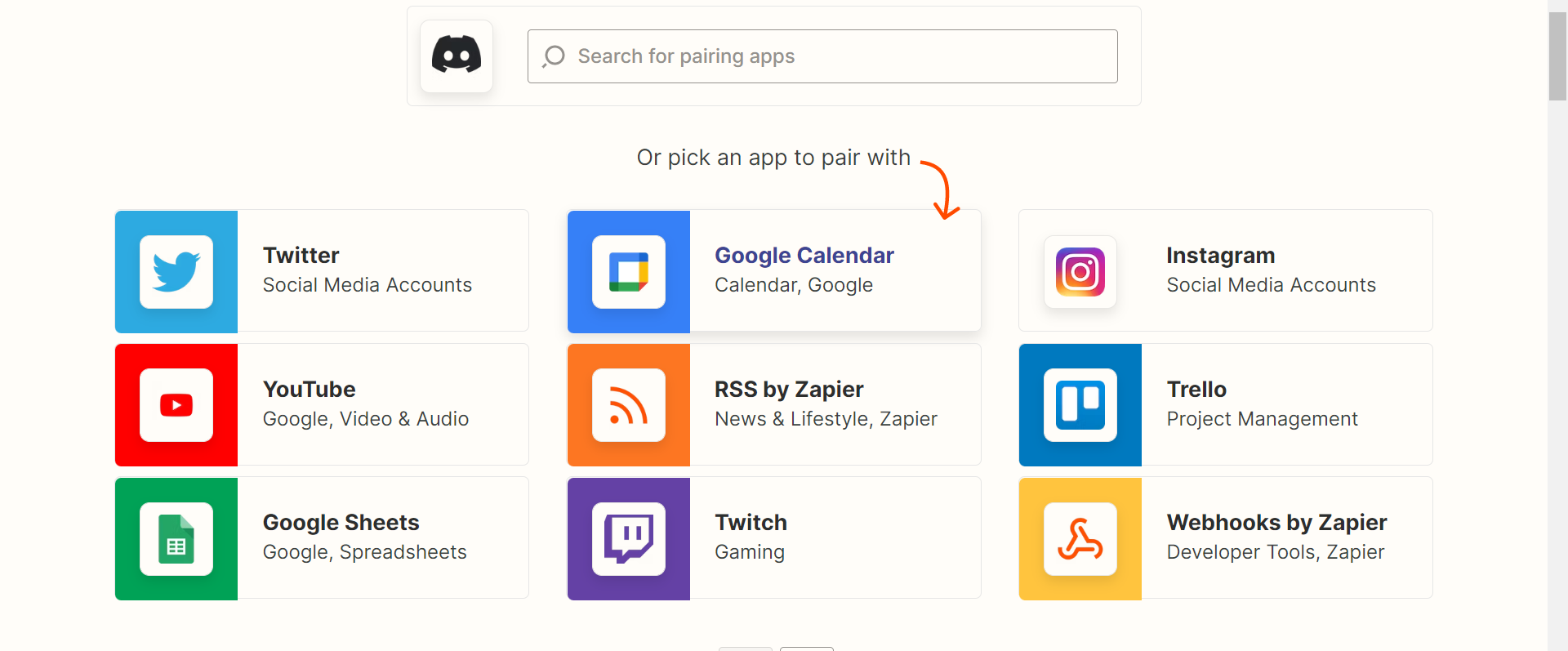 Discord provides numerous integrations that allow users to customize their servers to their tastes. Discord users can integrate their servers with Twitch and YouTube. This integration affords the opportunity to automatically alert server members on upcoming live streams and uploads on the platforms. 
Further, users also use Webhooks to generate article snippets from various websites and post on Discord channels. There's also an option to upgrade the Discord server performance and features using Discord bots. Users can create or download hundreds of bots, performing various functions, from automating posts to Discord server administration.
Slack vs Discord: Pricing
Another significant talking point in the Slack-Discord debate is the price. Both Slack and Discord offer a variety of pricing options, each providing unique offerings. The section below dives deeper into the various payment plans available for both platforms.
Slack Pricing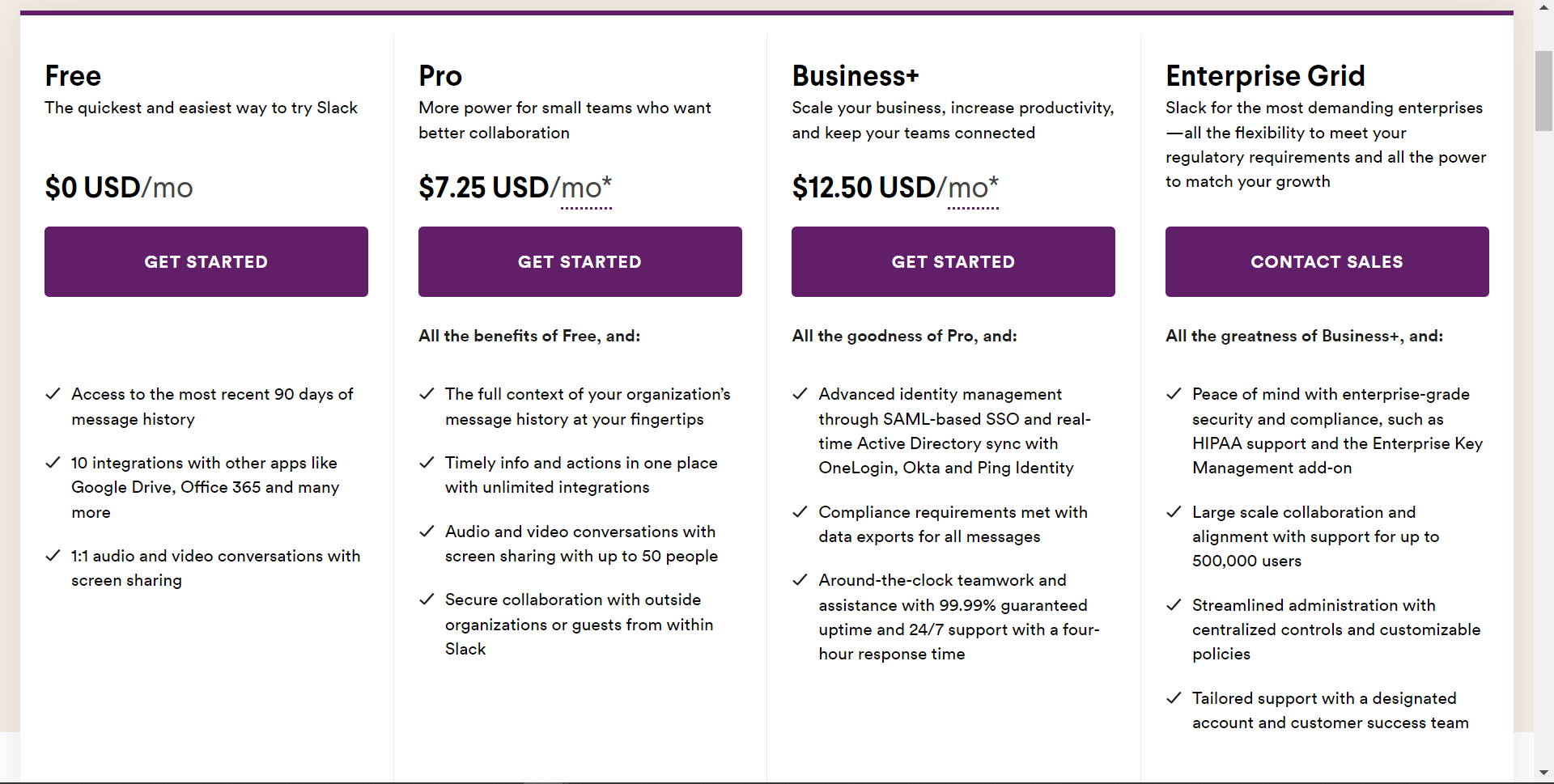 The following are plans available on Slack.
The Slack free plan is the smallest plan available. The plan allows users to use the service without pay, although with limited features. With Slack free plan, users can access up to 90 days max of message history and integrations with up to 10 applications, including Google Drive and Microsoft Office 365. Slack's free plan also allows you to join one-on-one voice and video calls.
Slack Pro is the smallest of Slack's paid plans, and it builds up on the offerings provided by Slack free. Subscribers can get the full history of their organization's chats and message history and unlimited integration with other apps, including Zoom, Salesforce, Gmail, and Outlook. Slack Pro also allows users to collaborate with up to 50 people via audio or video chat. 
The plan costs $7.25 USD per month.
This plan offers the services available with the previous plans, alongside services like round-the-clock support with a four-hour response time. Subscribers also get advanced identity management and seamlessly export messages.
The plan costs $12.50 per month.
The enterprise grid is the most suited for large businesses. It provides all benefits of previous plans, plus extra security using HIPAA support and extra management key add-on. Subscribers also get dedicated accounts and customer success teams to subscribers through whatever challenges they may encounter. Slack Enterprise is a paid plan with varied costs which depend on your negotiations with the Slack team.
Discord Pricing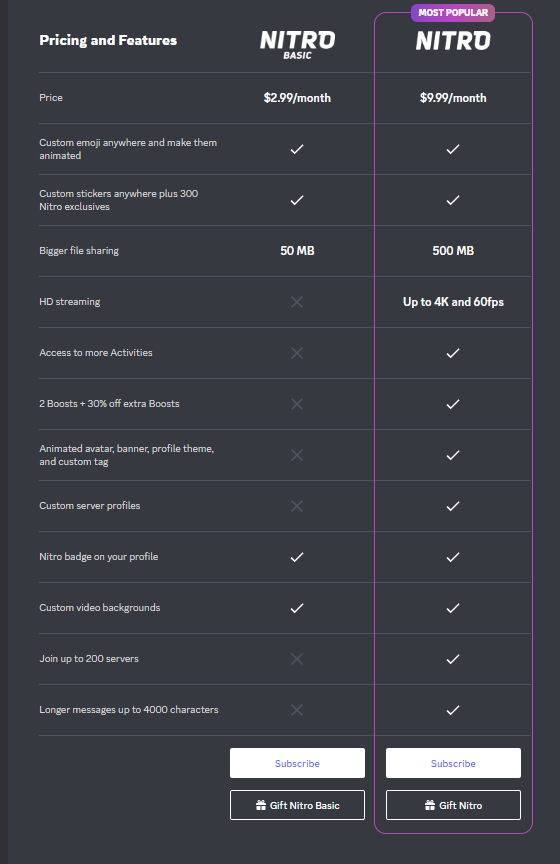 Discord is generally free to use platform with numerous features available to free users. However, heavy gamers and those with larger gaming communities often require more than the basic features to manage their servers and provide numerous features for building and interacting with large communities. 
Thus, Discord provided two paid plans extending the benefits and features available to users. These plans include:
Discord Free
Discord Free provides an extensive list of features to users at no cost. The Discord character limit of text chats peaks at 4,000, with an 8MB max limit on file sharing. The plan also allows users to connect with friends via live audio channels, voice calls, and video calls. Unlike Slack, Discord free also lets you have unlimited access to the conversation history.
Discord Nitro Basic
Subscribers to the Nitro Basic plan can send files up to 50MB in size and usecustom backgrounds for video calls. Discord Nitro subscribers also get a Nitro badge displayed on their profile to separate them as premium users.
This paid plan costs $2.99 per month.
Discord Nitro classic
The Nitro plan extends the file sharing limit to 500MB and unlimited characters per message. Subscribers can also join up to 200 Discord servers at a time, stream HD videos, and create unlimited custom emojis.
The plan costs $9.99 per month.
Slack vs Discord: Which is Better?
Comparing Slack and Discord, they offer excellent services for both voice and video communication. However, Discord offers more extensive voice communication and screen-sharing features making it more suited for voice calls. Slack, on the other hand, provides integration with voice and video calling apps like Zoom. Some of these tools also provide extensive screen sharing features.
As mentioned earlier, the verdict on which of the team chat apps is more user-friendly slightly tilts toward Slack because of its sleeker interface. Slack also has the upper hand with its unlimited integrations, video calls, and file and data exports.
However, when it falls short when you compare Slack to Discord's voice chat, voice channels, and screen sharing abilities. Further, Discord provides a more storage for both text and voice messages. While both platforms offer file sharing, Slack offers unlimited file storage, while Discord only offers 1GB of storage.
Now, let's end the Slack vs Discord debate once and for all. Slack is the better choice for businesses that wish to organize communication among remote teams. However, if you have a large community of friends or fans, Discord's extensive functionality makes it a better and cheaper option for you.