500+ Fantastic Flag Football Team Names‍
Written by: Hrishikesh Pardeshi, Founder at Flexiple, buildd & Remote Tools.
Last updated: Apr 12, 2023
TLDR
Check out these fantastic flag football team name ideas:
The Bulldozers

End Zone Rangers

Fearsome Dashers

The Claws Team

Power Tanks

Flag Queens

Deranged Monkeys

Vickers

The Visionaries

Legions United
A crucial aspect of forming a flag football team is choosing the right team name to differentiate your team from the others.
You do not have to play in an adult flag football league before choosing a team name. You can give your team of friends a team name to build team spirit and connection among your teammates.
Are you in need of good team names for your flag football team? This article provides a variety of good, funny, creative, and unique flag football team names you can use to draw inspiration while choosing a team name and tips on selecting the perfect team name.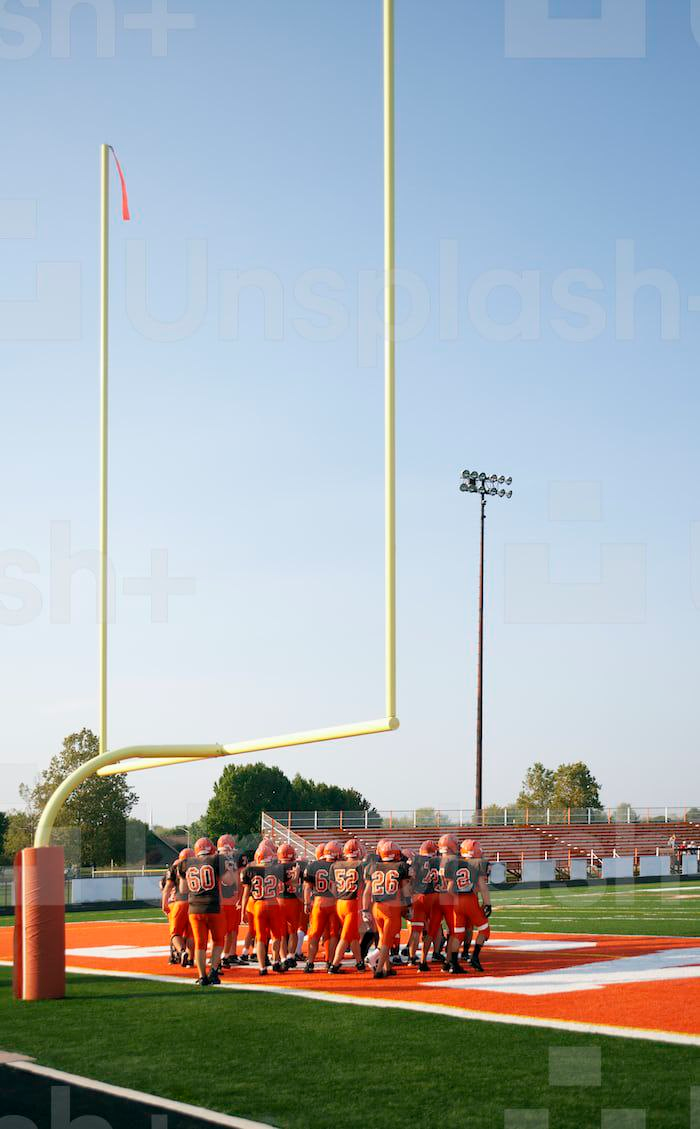 Best Flag Football Team Names
Here is a list of the best flag football team names you can draw inspiration from:
The Extremists

Field Dominators

Flaring Jaguars

Rogue Deflaggers

The Sprinters

Holy Routers

End Rushers

Guardians Of The Flag

Bad Downers

Riggers N Foulers

Flag Ninjas

The Dashers

Shovellers

Flag Chasers

The Offensive OnesTh

The Flag Wolf Pack

The Intimidators

Cleats Bouncers

Lateral kings

End Zone Warriors

The Terror Squad

Stampeders

Fencers

Invaders

The Exceptional Ones

Jumping Heroes

The Screamers

Bravados

Raging Panthers

Flaming Monkeys

Star Hitters

Drillers

The Outlaws

Raging Chargers

The Bulldozers

End Zone Rangers

Fearsome Dashers

The Claws Team

Flag Falcons

The Infallibles

Brick Walls

Point Earners

Gliders

Cunning Cons

Raiding Blitz

Sweeping Hurricanes

Hopping Bunnies

Roving Storms

Defaulters

The Garrison Team

Gold Diggers

Black Iversons

Alternate Wreckers

The Sleek Lions

Crimson Deers
Flag Football Team Names Generator
Click the button to generate a name:
Funny Flag Football Team Names
Below is a list of funny flag football team name ideas you can use to create a good team name for your team:
Scurrying Squirrels

Grabbers Of Flag Land

End Zone Kissers

Bone Breakers

Skull Crashers

Infoulible Foulers

Chicken Catchers

Foul Foulers

Flying Cheetas

Drill Monkeys

Cunning Stunters

The Lethal Force

Cheating Cheetas

Dribbling Outlaws

The White Brawlers

Kne Crackers

Bolting Daddies

Spine Wreckers

Rampaging Gorillas

Pirates

HellRaisers

Wild Wraits

Little Jerry Seinfelds

Viscious And Delicious

Rascal Jackals

Zoned Monsters

Flag Knights

Madd Dogs

Wagglers

The Ghost Crew

Best Beasts

The Prodigies

Barrier Breakers

The Unconstrainables

Free Fighters

Gang Bang

The Conspiracy Squad

The Hurt Dolers

The Wild Turtles

Vengeful Delights

Felons With Talons

Crazy Delinquents

The Spirit Breakers

Crushers

Saber Wielders

The Good Fiends

Red Eyed Belles

Path Crushers

Team White Meat

Blue Balls Of Destiny

Will Benders

Spirit Breakers

The Injustice Squad

Brute Force

Young Ballers
Popular Flag Football Team Names
Here's a list of popular flag football team names you can use to kickstart forming your own team name: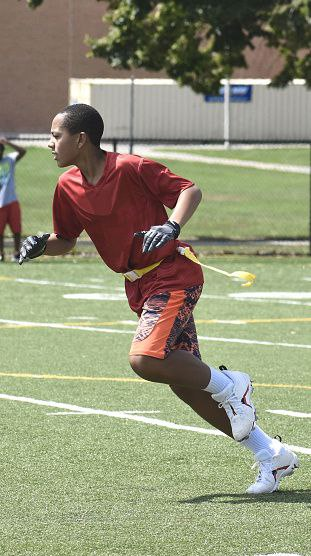 School Bus Drivers

The Practice Squad

Crack Heads

Athletic Hippies

Blue Balls Of Destiny

Kiss My End Zone

Punt Intended

Victorious Secret

Wild Cats

Deep Threat

Flying Squirrels

Founding Fathers

Flaming Flags

Flying Monkeys

Dashing Dudes

Space Monkey Mafia

Soup A Stars

Speedy Cats

Dirt Diamonds

Happy Bunnies

Queen Bees

Cunning Stunts

Great White Hope

Little Jerry

Lethal Goalers

Flag Grabbers

Taggers

White Meat

Boot Balls

Norfolk In Chance

Abusement Park

Back That Pass

Game Raiders

Long Snappers

Intentional Foulers

Bummers

Ball Jackers

Jumptown Passers

Deflaggers

The Flag Catchers

The Trip Team

Jerry Seinfelds

Guillotines

The Renders

Pushers

Zone Angels

Flagged Demons

Blazing Fiends

Wild Leopards

Foul Fiends

Levitators

Shroudy Perpetrators

Sickos

Ferocious Warriors

Strong Thugs
Unique Flag Football Team Names
With this list of unique flag football team names, you can easily draw a good name for your teammates
Hovering Eagles

Zone Mafias

Shinning Stars

Flag Fanatics

Stunt Pullers

Zone Slitherers

Crouching Leopards

Flag Dealers

The Visionaries

Flag Strippers

Vile Snatchers

The Jazz Gang

The Touchdown Warriors

The Stealth Team

Zooligans

Balls Maniac

The Cosmics

The Law Breakers

Outcasts

The Snapper Club

Balling Divas

Dark Sharks

Rowling Tigers

Rapid Bunnies

Venting Nerds

Crimson Rebels

Flag Monks

Dreadful Dragons

Bengal Tigers

The Power Force

The Golden Falcons

Haunting Phantoms

Killer Badgers

Royal Crowns

Legions

Ugly Bandits

The Terror Team

The Flag Brigade

Destructive Typhoons

Flooders

Fire Foxes

Cunning Cats

Pace Setters

Celtic Warriors

Terrestrial Hoppers

Dazzling Stars

Dashing Colonels

Victors

Crazy Musketeers

Majestic Divas

Accelerators

Volcanic Eruptors

Rebels Fusion

Terror Crusaders

Rabid Wolves
Cool Flag Football Team Names
Here's a list of cool football team names you can use to form a good team name for your team
Wave Makers

Raging Bisons

Super Rangers

The Voltage Team

Electrifiers

Ferocious Ligers

Mass Slayers

Mountain Rush

Wild Tornadoes

The Blitz

Zone Men

Blue Jaguars

The Prowlers

Prowling Foulers

Thunderstorms

Glistening Champs

Silver Liners

Flag Bearers

Flag Runners

The Delighted Ones

Destructive Machinery

The Guerillas

Red Flags

Flying Demons

The Speed Squad

Hard Runners

Pathway Pavers

Medieval Knights

Sparkling Troupes

Hot And Flagrant

Trench Men

Mean Crushers

White Rockets

Black Stallions

Red Bulls

Dread Ninja

Bolters

Flaming Balls

Zone Lords

Royal Swingers

Thornful Roses

The Force Troopers

Scarlet Sharks

Sea Lions

Bronze Ghosts

Gate Keepers

Flag Marshalls

Holy Wraits

Defending Attackers

Cave Men

Devourers

Power Jacks

Coup Plotters

Past Noobs

Lethal Arsenals
Catchy Flag Football Team Names
Here are catchy name ideas for your flag football team:
White Yetis

Dark Knights

Racing Bishops

Team Conquerors

Sapphire Hearts

Blue Bolts

The Lightening Strikes

Vengeful Hordes

Caterpillars

Furious Men

Frenzy Pirates

Evil Generals

Bond Breakers

Mad Fiends

Field Warriors

The Last Standers

Scourges

Rapid Rabbits

Field Lords

Overlords

Five Spartans

Field Assasins

Jaw Breakers

Team Dread

Dreadful Vassals

Atomic Bombs

Field Troopers

Lightening Bolts

Flamingos

Baobabs

Team Sturdy

Flag Addicts

Ball Scoopers

The Snipe Team

Blunt Talons

Victory Addicts

Touchdown Spartans

Desperate Titans

Ball Bearers

Field Kngs

Streak Makers

The Menace Team

Rolling Boulders

Terrestrial Force

Undercover Ballers

Bold Downers

Field Hawks

The Scavengers

Soul Breakers

Black Wizards

Velvet Wolves

Roaring Lions

Rading Eagles

Ball Plunderers

Flaming Hawks
Creative Flag Football Team Names
Check out these creative flag football team name ideas
Spell Casters

Flaggs United

Unhinderables

The Stripped Warriors

Mohawks

Field Mowers

Victory Vortex

Ice Hounds

Rioters

Allied Outlaws

Powe Tanks

Flag Queens

Deranged Monkeys

Vickers

The Visionaries

Legions United

The Truth Team

Screaming Squirrels

Flooders

Floaters

The Terminators

Cool Queens

Flag Vixens

Masters Of Da Balls

The Enchanters

Sky Floaters

Sky Raiders

Field Marauders

Thrashers

The PlayMakers

Vicious Vixens

Raiding Vixens

Running Frogs

Focused Pacers

Sole Trainers

Field Nerds

De Flag Batallion

The Flashers

Armadillos

Sky Divers

The Risk Team

Flag fishers Flag hunters

Tipsy Warriors

The Real Dictators

Team Homicide

Defending Attackers

Super Trimmers

Ladies On Fire

Sleeks

Fearless Tigresses

Fantastic Torpedoes

The Rampage Team

Red Roses

Hell Hounds

Golden Knights
Good Flag Football Team Names
Check out these cool name ideas for your flag football team
Flying Comrades

The Thrillers

The Dissectors

Wild Coyotes

Feisty Fangs

The Maneuverers

The Tenacious Ones

Elite Downers

The Devotees

Passing Ninjas

Dirty Ghouls

The Unbendables

The Incredible Ones

Flippers

Flaming Chariots

Green Snake

White Angels

Smackers

Wild Taggers

Mauraders Invasion

Maroon Blitz

Crashing Bulls

The Bomb Team

Demon Kings

Hateful Vikings

The Undefeatables

Lightening Strikers

Butchers Domain

Blood Shedders

The Saboteurs

Crazy Stabbers

Team Booted

The Punchers

Grim Reapers

White Souls

The Bouncers

Vicious Drowners

Pro Flaggers

Dark Skies

Morning Stars

Defiants

Sea Wavers

Fuzzy Giants

Hunters X

Beast Slayers

Torrents

Bad Baboons

Venting Machines

Flag Flairs

Jungle Bulls

Grim Dashers

Nocturnal Jackals

Game Changers

Net Scorers

Dazzlers
Awesome Flag Football Team Names
Consider the following names if you are looking for awesome name ideas for your flag football team:
Slay Queens

Decapitators

Gate Crashers

Post Guides

All Flags

Trail Trailers

Rash Legends

The Legendaries

Trip Team

Knuckle Horse

Ball Diggers

The Bliss Team

Death Machine

Pall Bearers

The Kill Team

Clay Soldiers

Flag Mafia

Raw Punks

The Bling Team

Pincers

Strategic Queens

Gambit

Wild Tyrants

The Zealots

Hooligans

Groovy Exterminators

Violent Disciples

The Vigorous Ones

Sharp Shooters

Warfare Team

Veteran Wreckers

Danne Shooers

Destructive GAng

Blue Bands

doom enforcercers

Tyrannical Strategists

Pure Devils

Sabotage Team Inimical Tycoon

Deleterious Wreckers

Brash Domineers

Brute Crashers

Gloomy Face

Crushing Machine

Odd Killers

Trollers

Lone Wolves

Dark Souls

Gas Lighters

The Keen Team

Grim Manipulators

Intimidating Dads

Gaggers

Rebel Buffaloes

Lady Cougars

Red Titans
Tips on Choosing a Good Flag Football Team Name
Consider the following when choosing a flag team name
Choose names that convey a message, such as your team's origin or beliefs. Also, brainstorm with your teammates before choosing a team name.

Consider names that are short and easy to remember. Your flag football team name should ideally be three words. This will make cheering easier for your fans.

Avoid names that other teams have chosen