Best Remote Working Tools For Marketing Professionals‍
Written by: Hrishikesh Pardeshi, Founder at Flexiple, buildd & Remote Tools.
Last updated: Jan 19, 2023
The pandemic has pushed a massive segment of the global workforce to go through a remote-working experience that they never had before. After a year, organizations have realized that work from home can be as productive as working in the office.
Hence, some companies have planned to remain 100% remote post-pandemic, while others, like Reddit and Microsoft, will take a hybrid approach.
The shift towards remote working inevitably results in a sharp rise in the number of job ads for remote positions in different work areas, including marketing, Data Science, AI, and business intelligence.
However, working from home also means dealing with the lack of professional setup and data security mandatory for marketing professionals. In order to create the best and most productive work environment, you need the support of the best remote working marketing tools.
Here are the best remote working tools for marketing professionals:
1- EngageBay (Marketing Automation)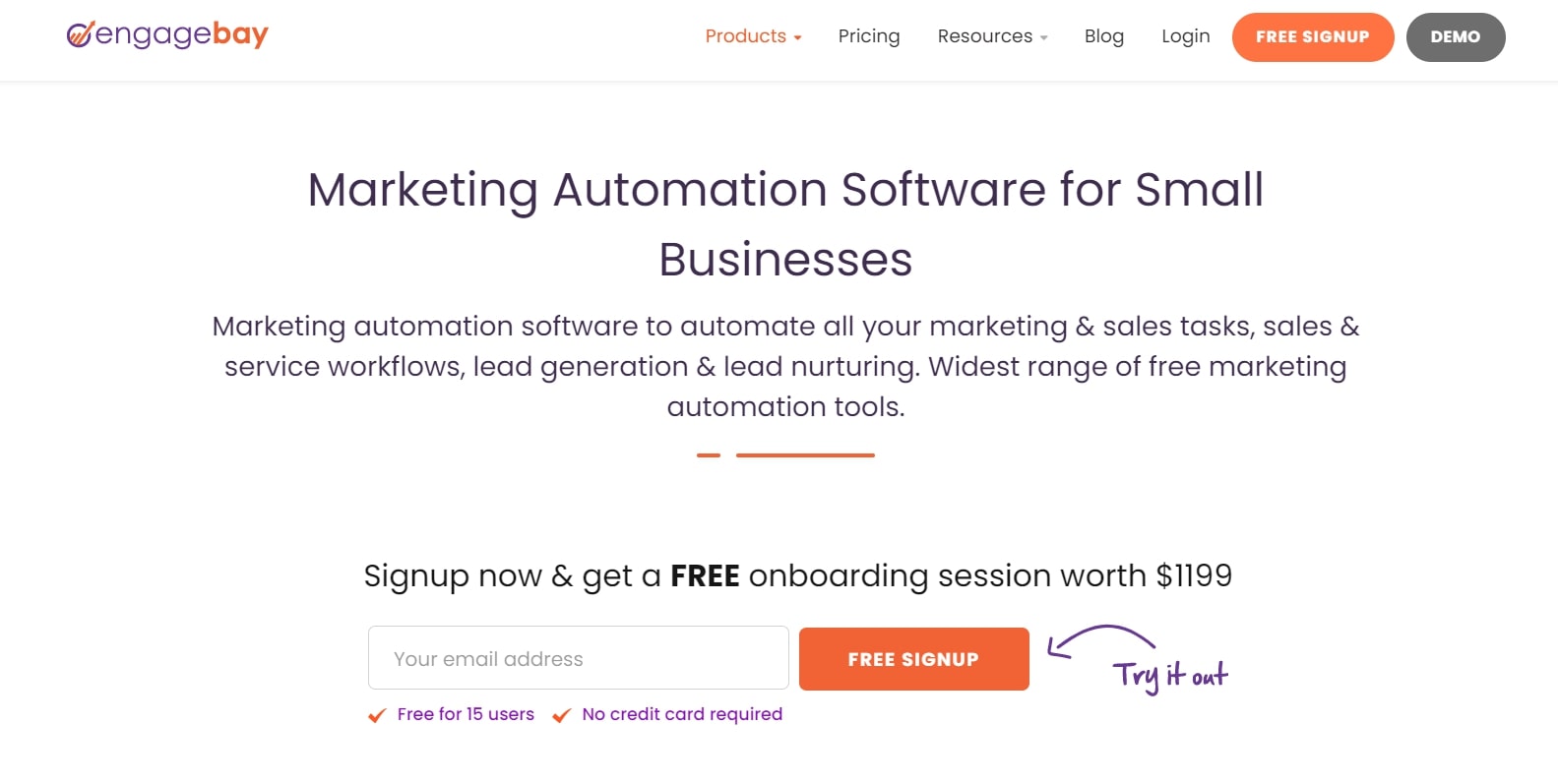 Automating marketing tasks can be a great time saver and hence EngageBay.
It also allows automated integrations between marketing tools, CRMs, business phone systems, and other tools that lead to seamless workflows within sales teams.
By automating marketing tasks, you limit the room for error. Creating, responding, and tracking customer emails becomes much easier, time-efficient, and smooth with marketing automation.
There is another reason why you should opt for this solution. EngageBay is also an excellent solution for seamless team collaboration and communication, which are pivotal for strong marketing. For the marketing team working in different business hours and/or time zones, the automation software efficiently makes coordination and collaboration with the rest of the teams.
EngageBay is a must-have tool for any marketing professional working remotely.
Pricing
Free: The free plan offers 500 contacts and 1000 branded emails, plus email broadcasting, lead grabs, autoresponder, video marketing, live chat, and more.
Basic: The first paid plan is $10.39/user/month when billed annually. It offers everything in the Free plan plus, 1000 contacts and 2500 branded emails, landing page builder, SMS marketing, 3rd party integration, and more.
Growth: It costs $19.99/user/month when billed annually. It offers 20,000 contacts and 20,000 branded emails, A/B email testing, marketing automation, landing page A/B testing, and more. 
Pro: The plan costs $39.99/user/month when billed annually. It offers a Growth plan plus, everything in 30,000 contacts, and 30,000 branded emails, custom reporting, phone support, uptime SLA, and more.
2-Asana (Project Management)
Managing tasks is crucial to ensure successful marketing campaigns, especially when you are working from home in a distracting atmosphere. Asana is a solid project management software with powerful automation features for task allocation and tracking. It drastically saves your time when you can automatically set due dates or assign work to other team members of larger teams.
The user experience with Asana is excellent with multiple options for project views, which includes Kanban boards, calendars, lists, portfolios, timelines, and workloads.
Team collaboration is another one of the most useful features of the tool, which enables you to share PDFs, JPGs, Google docs, and more. The user can assign tasks and set priorities, which will be visible to the entire team so that they can plan around each other's schedule.
Integrations with over 100 popular third-party apps like Dropbox, Slack, Google Drive, Zapier, Zoom, Tableau, and Salesforce will extend the functionality of Asana and hence your capabilities as well.
Asana has an incredible free plan with an array of features feasible to even large enterprises.
Pricing
Basic: It is a free plan for beginners. The plan is designed to manage unlimited tasks, send unlimited messages, offer unlimited file storage and 100+ free integrations.
Premium: The first paid plan costs $10.99/user/month when billed annually. It includes everything in the Basic plan, plus unlimited free guests, forms, rules, milestones, and more.
Business: The top-most plan costs $24.99/user/month when billed annually. It includes everything in Premium plus, portfolios, goals, workload, approvals, proofing, and more.
3- NordPass (Password Management)
Remote working involves concerns related to data security. NordPass provides you a location where you can keep all your passwords safe and also you don't have to remember them all. 
Broadly speaking, it syncs and saves all your passwords to auto-fill them in. Also, it generates new secure passwords and gives password suggestions when required.
The software is cleanly designed and is fairly intuitive to use. It stands out in the security parameters, as it uses XChaCha20 encryption, which is also adopted by Google. 
Among its standard features, you will find a secure notes app and a secure password generator. The Premium plan also has the feature to scan the web for any security breach. 
NordPass has a free plan and all the paid plans come with a 30 days money-back guarantee.
Pricing
Free: The free plan allows 1 user at a time, unlimited password saving, import and export passwords, and more.
Premium: The basic paid plan costs $1.49/month. It includes everything in Free plan, plus item sharing, scan the web for data leaks, and more.
Family: The plan costs $3.99/month. It includes everything in the Premium plan plus, allows 5 users.
Business: The plan costs $3.59/month. It is designed for small companies and hence allows up to 250 users. It includes unlimited password saving, premium security tools, multi-factor authentication, password recovery, and more.
Enterprise: The plan is for large enterprises and hence allows unlimited users. It includes everything in Business plan plus, a dedicated account manager, and onboard service.
4-Slack (Communication)
Lack of communication with your team can cost you heavily in marketing and you would surely not risk it while working remotely. Slack is an excellent communication tool to connect with team members through audio/video calls and messaging.
Slack allows you to refine your communication channel. You can create separate channels as per your project needs. For example, there can be individual channels for your teams, different departments, clients, and so on for messaging and carry out video or voice calls when needed. Moreover, you can scale up when the team expands.
Security is the core feature of Slack's Enterprise plan that utilizes enterprise-grade security protocols to prevent data security breaches.
The slack app is accessible from different devices and platforms, including popular web browsers, Windows app, iOS app, Mac apps, and even Linux. 
Pricing
Free: The plan provides access to 10,000 latest messages of the team members, 10 integrations, and one-to-one voice calls and video calls.
Pro: The basic paid plan costs $2.67/user/month when billed annually. The plan offers all benefits of Free plan plus, entire message history, group video and voice call up to 15 members, secure collaboration, and more.
Business+: The plan costs $5/user/month when billed annually. It includes everything in Pro plus, advanced identity management, 99.99% uptime, 24/7 support, etc.
Enterprise Grid: The plan includes everything in Business, plus large-scale collaboration, centralized control, tailored support, and more. For pricing you need to contact the sales team. 
5-Basecamp (Task Management and Chatting)
Basecamp combines project management and communication so that you don't have to switch to different apps for two individual tasks. The tool makes your work from home more organized and keeps you connected with your team in real-time to stay you and your team updated with the latest developments.
With Basecamp you can create to-do-list, tasks, sub-tasks, set deadlines, and then assign them to team members. It also allows you to add images and other files for extensive details.
Basecamp supports private messaging and group communication. Since it has a real-time chat system, it is perfect for casual discussions, quick queries, and file sharing.
It also has a reporting feature that tells which member is working on what. Besides, it has Hill Charts using which you can track project progress in real-time.
Other than that, Basecamp incorporates a search function to search across projects, chats and files using any matching keyword or phrase.
Pricing
Personal: It is a free plan designed for personal projects, freelancers, students, families, and light use. It allows 3 projects, 20 users, and 1GB storage.
Business: The only paid plan costs flat $99/month and includes features like unlimited users, unlimited projects, 500GB storage, unlimited clients, projects templates, and more. The plan also offers a 30 days trial.
6-Zyro (Website Building)
Zyro is recommended for designers working from home, especially because they have limited access to programmers, writers, and other required resources that are readily available in offices.
The biggest plus point of Zyro is that anyone even with zero coding experience can develop a beautiful and amazing website flawlessly. Using the drag-and-drop feature it is super easy to customize a website's layout. Hence, no need for a programmer.
The designers don't have to work too hard to find or create eye-catching templates. Zyro provides both professionally designed templates to save your time and blank templates to build a website from scratch. Choose from an array of beautiful templates.
Besides, there are over 1 million free images from the Unsplash image library that are accessible to users. Moreover, Zyro is backed up with a powerful AI Writer tool that generates relevant texts for any specific webpage segment. Hence, there is no need to worry if they are not a good writer.
The website created is optimized for both search engines and mobile devices, which is another added advantage to designers.
Pricing
Basic: The plan costs $2.9/month and is designed for personal brands. It includes 3GB bandwidth, 1GB storage, security with SSL, free web hosting, connection with your own domain, and more.
Unleashed: The plan costs $3.90/month and offers everything in Basic plan plus, unlimited bandwidth and storage, Google analytics, embed code, and more.
Ecommerce: The plan costs $9.90/month. It includes everything in Unleashed plus, online payment acceptance, 100 products, shipping and tax management, visitor remarketing, and more.
Ecommerce Plus: The plan costs $14.90/month. It includes everything in Ecommerce plan plus, 2500 products, abandoned cart recovery, Facebook shop, Instagram store, and more.
Summary
The number of home-based positions for marketers has grown significantly in 2021. It means work from home has to be more professional, time-saving, and secure. The tools mentioned above are selected considering the needs of marketing working from home. 
Choose the tool wisely so that you can focus on work instead of worrying about the weaknesses of your home office setup.