Guide to Automating Client Acquisition For Your Online Business ‍
Written by: Hrishikesh Pardeshi, Founder at Flexiple, buildd & Remote Tools.
Last updated: May 15, 2023
Growing an online business in today's uber-competitive online environment is a challenging task to itself. It requires proper planning and utilization of all the resources at one's behest. Given the nature of this competition, acquiring clients is the first step towards ensuring the healthy growth of any online business.
The trickiest part about attracting suitable clients is the effort required in identifying ways to create awareness amongst them, which ultimately captures their interest. When a prospective user develops an interest in the services or products provided by your online business, the next steps become rather easier to execute on the way to converting that user into a client.
A business without clients is nothing but a fluke, a non-entity at best. That's why it is imperative to not only bring in clients to a business but also to maintain a continuous flow of them. This ensures that the said business remains in a state of growth and not eventual stagnation.
The ecosystem of online businesses is replete with methods to achieve the aforementioned goal of client acquisition. Even in such a scenario, not all online businesses take off easily. This could partly be attributed to the age-old strategies that lack a basic tool, i.e in part can be attributed to strategies employed by many of them that lack a very basic tool, which when utilized properly can definitively ease things, i.e. automation.
Automating client acquisition processes is the need of the hour. It lends an edge to any business when it comes to avoiding repetition of the same steps involved in the process of acquiring new clients.
Automated client acquisition leaves plenty of room for the business owners to focus on other aspects such as innovation, revenue generation, etc.Want to find out more? Then stay put and read on!
This article is a concise guide to various time-tested strategies and methods that can be used to create an efficient, robust, and rewarding automated client acquisition system for your online business.
We also analyze the multifarious benefits of automated client acquisition. Furthermore, we shall also look at some common mistakes made by businesses while implementing automation and ways to avoid them.
Table of contents
Automation in Client Acquisition Funnel
Client Acquisition is the process of persuading, convincing, and bringing in new customers to your business, to buy your services/products. The sales funnel is a thematic device that tracks various steps involved in the realization of this goal. It includes the representational act of pushing a prospective client down the sales funnel, starting from business awareness to final purchase. This so-called funnel draws down the entire process into simpler steps viz. awareness, interest, decision, and action.
Source: Hubspot
Awareness Stage
Using tools like webinars and scheduling social media content, businesses can create brand awareness and educate their prospects regarding the services and products they offer. Automation tools come handy in engaging with your target audience on social media platforms. You can save crucial time by automating engagement and minimizing your workflow.
For example, Instagram automation tools like Kicksta help you to automate user engagement. Similarly, email outreach campaigns are a universally recognized, effective way to create awareness. Automated emails can have multiple benefits like personalized lists for various segments of your audience, irrespective of the size of the contact list.
Another example, Shopify allows automated workflows using Shopify Flow. The workflow can send an email to your customers when a specific milestone or trigger has been met.
Interest Stage
In this stage of consideration, the goal is to give your prospects more reasons to choose you over the competition. At this step, they are aware of your services and products but need solid ground to move to the next stage of deciding on choosing your brand over the competitors.
Lead magnets can come in handy at this stage. These are nothing but free valuable content pieces that are offered by businesses to website visitors in exchange for their contact information. Naturally, once the contact information is obtained, automated email campaigns can be used to deliver these lead magnets to the prospects on their email addresses.
Decision Stage
The penultimate step in this process requires the final persuasion of the prospects to the effect of converting them. At this stage, they already possess all the required information to go ahead with the purchase, but they are still weighing all their options.
Now, what drives you towards your goal of converting them is the trifecta of 'sending proposals', 'scheduling meetings', and 'customer service'. Drafting a solid business proposal is very important at this stage as it builds confidence in the prospective customer.
The next step is scheduling meetings with your prospective clients and offering them discounts, personalized plans, and a promise of impeccable customer service. Good customer service goes a long way in extracting loyalty from your customers.
This can be achieved by employing chatbots — based on Artificial Intelligence — to automate customer service. This way you reduce wait times for customers before they get to interact with customer care executives.
Action Stage
Now that your prospects are ready to convert as clients, the final few steps can benefit heavily from lead scoring software. Payments can be a challenging aspect to keep track of if not for auto-collecting payment tools.
There are various viable options available to choose from based on feasibility. The only consideration that you should have in mind is that your chosen method also tracks invoices and sends email notifications.
After closing the deal, the journey of the acquired client is just beginning with your business. The next step is to strengthen this newly-formed relationship into a long-term commitment.
A Customer Relationship Management(CRM) software comes into the picture at this step. CRM systems help you manage customer data and enable building strong customer-brand relationships. The most important advantage of using a CRM software is that it helps you gather, evaluate, and process data from multiple communication channels while keeping them all in one place.
To read more on 'Automation in Client Acquisition Funnel', click here
Automation in Marketing
Marketing automation and on-site retargeting are complementary to the process of client acquisition. On-site targeting involves automating calls-to-action aimed at converting visitors to your business's website into leads and eventually down your funnel.
Once your business has well-defined stages of its conversion funnel, an amalgamation of the aforementioned practices with an automated workflow can result in rich dividends. Calls-to-action(CTA) can be personalized at each of these stages of a well-defined funnel, making marketing strategies more effective.
Identifying conversion goals is half the battle won. Such an action plan is sure to fetch tangible results. These conversion goals can range anywhere from 'subscribing to the newsletter', 'signing up for free trials', 'upgrade to paid plan', etc.
The next step is to promote these goals with personalized CTAs, based on the stage of conversion of a particular visitor. All of these processes rely heavily on automated systems incorporated in the working of your website. These CTAs ought to be dynamic and in line with the content of your website.
For example, below is a simple signup CTA as seen on the first page of EduardKlein.com.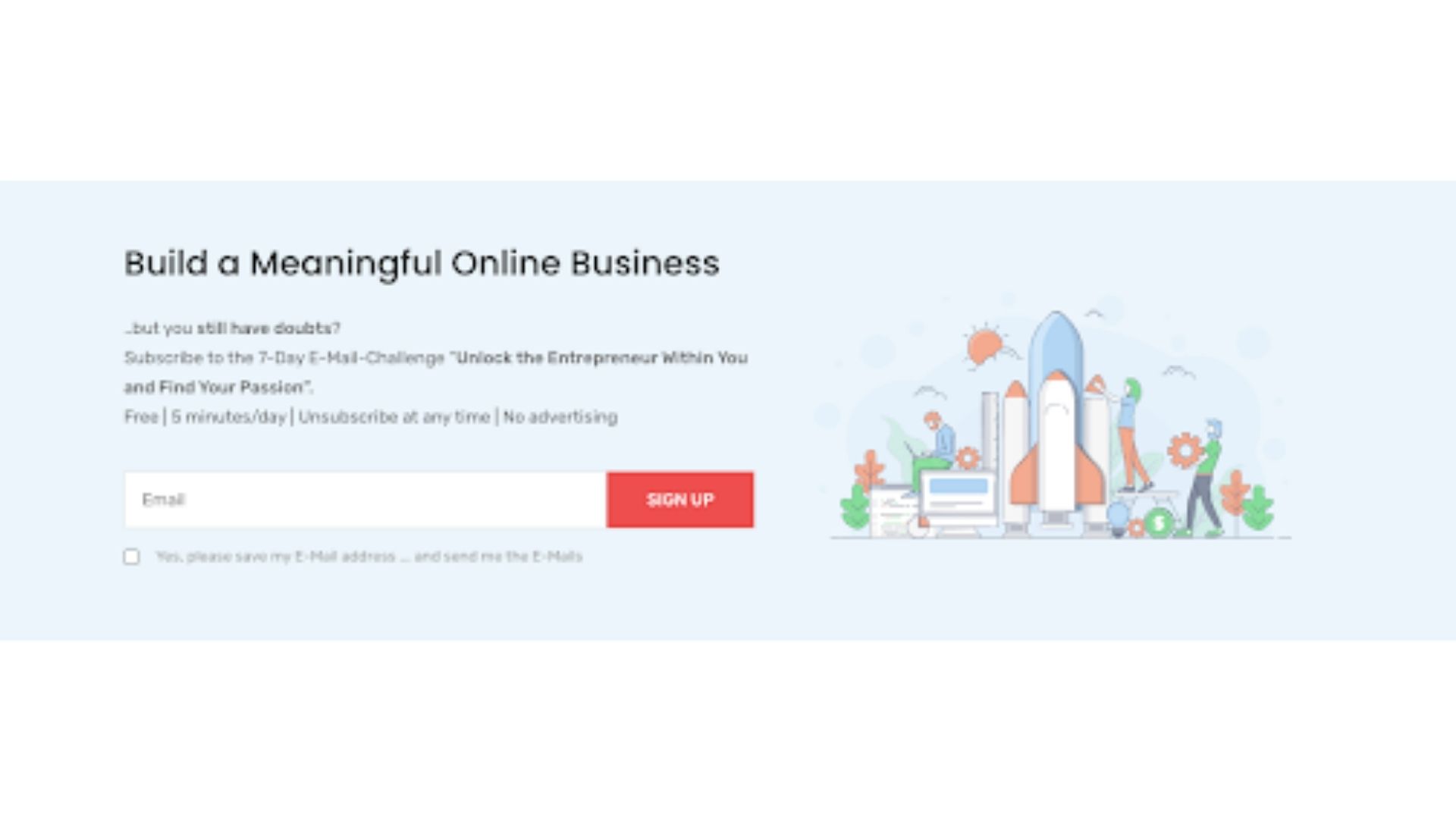 Once visitors engage with your CTAs and subsequently complete conversion goals, the next step is triggering apt automated marketing actions. These can range anywhere from retargeting ad campaigns on Google, Facebook, or any other channel relevant to you, to email follow-up campaigns.
To ensure that visitors can easily reach your website it needs to appear amongst the top results of a google search, i.e. command more authority. One of the methods of gaining this authority is backlinks, which are nothing but recommendations for the search engine algorithm, in simpler terms.
The quantity of backlinks is directly proportional to (domain) authority and trust in your website. You can work on increasing the backlinks by identifying their current number by using a free backlink checker.
Automation in Retargeting
A profusion of choices in the market has made prospective customers hard to convert into clients. They are perpetually on the lookout for cheaper alternatives and thus, the guarantee of them coming back after leaving your website is always questionable.
To ward off this uncertainty, you need to keep reminding them of your products and services — retargeting campaigns get this job done, by building trust and generating a recall value. For example, when you search for water bottles on Amazon, you will see ads relating to water bottles on the pages that you visit.
Source: MailChimp
This works by allowing you to retarget your prospects through these automated campaigns that show them relevant text or visual ads as they scroll through other specific websites. Automated ad-generating platforms like Adyogi, Bannerflow, etc. come in handy here.
Common mistakes to avoid whileAutomating Client Acquisition
There's plenty of room for committing gaffes that might undermine the purpose of automation drastically if left unattended. Here are some of the most common mistakes that you can avoid:
Following a sales-centric approach
Automation provides for easy tools to push sales-centric promotional messages. However, a bombardment of these messages is a call for 'send me to spam'. This approach is highly unlikely to develop interest, leave alone client acquisition.
The Fix
Being sensitive towards a particular stage of the funnel cycle and tailoring the push messages accordingly goes a long way in personalizing your approach and giving it a humane touch.
Ignoring ROI
Using automation without calculating return on investment(ROI) just for the sake of FOMO(fear of missing out) can land you in serious trouble in terms of financial viability.
The Fix
Always judge the cost of implementation of an automation tool. Also, calculate the cost of training your employees to use this tool. And most importantly, only use automation if it increases the efficiency of your business's user acquisition concerning the above two metrics.
Automation of big, independent tasks
Although not all small and medium businesses have the heft to deal with the complete automation of most tasks, businesses commit the mistake of automating bigger, independent tasks. This makes it difficult to integrate these tasks with the consolidated process at later stages.
The Fix
Dividing larger tasks into smaller ones and then automating these specific parts helps in retaining control over the overall processes involved in client acquisition. These can include tasks like email marketing, which can be fully automated.
Benefits of Automating Client Acquisition
Social media management and improved marketing strategies
Engaging with followers on social media is a currency in high demand today. Given the magnitude of potential customers in followers, it is not possible to manage social media without either employing multiple employees or automating the entire process. The latter pays richer dividends with a lesser margin of error.
Similarly, given the nature of strategizing, handling data, and crunching numbers is a cumbersome task and is best left for automated tools to handle. Various features and analytics of these tools are more than adequate to help you make a comprehensive and winning marketing strategy.
Lead generation and nurturing
When the prospects answer your calls to action, they help you generate leads. As mentioned above, CTAs are best handled by automation, for example by using email follow-up tools. Once the leads are generated, lead nurturing tools such as email newsletters, social media communication, etc. can help you nurture and retain those leads.
Improved customer service because of speedy complaint resolution
As discussed above, CRM software helps in enriching the customer experience. Customer relationship management helps in resolving customer issues, focusing on building valuable relationships, and attending to their needs.
Automation features such as chatbots help automate standard responses, hence buying time before an executive can reach the customer. This speeds up the process of complaint resolution as every customer values a speedy response against their complaints.
Transparency and better security
Automation helps in removing red tape and other probable bureaucratic malpractices. This brings transparency to the functioning of your business.
In a world revolving around the best security and privacy practices, automation ensures better encryption of client data and other information important to your business. This adds to the credibility of your business, and eventually attracts more clients.
Hiring a trustworthy digital agency like Digital Web Solutions is a prerequisite to achieving all the aforementioned benefits.
Source: Digital Web Solutions
Conclusion
Automation can be a great asset for an online business for helping them with the acquisition and retention of clients. Manual customer engagement practices have their operational limits and undermine the full potential of an online business. Therefore, it becomes imperative to utilize the benefits of automation and build a resilient and successful online business.
Author's Bio
Vaibhav Kakkar is the Founder and CEO of Digital Web Solutions, a globally trusted agency with a full suite of digital marketing services and development solutions. Vaibhav believes in building systems over services, and has helped scale up agencies from scratch to niche-leaders with million dollar turnovers.