Hackathon Team Names: 250+ Top Programming Team Names and Coding Team Names‍‍
Participating in huge hackathons with an ace team, all sleep-deprived and caffeinated, struggling for hours to solve that one problem - is what college is all about. If you are into coding, participating in hackathons is the way to get better and brush up on your coding skills. But you'll not only learn to become a better programmer and problem solver but you'll also learn to work with a team. 
Winning a hackathon with an amazing team is every coder's dream butall ace teams need winning hackathon team names. If you are looking for a dashing name to name your team, you've come to the right place. 
In this article, we talk about all the little tips and tricks that can help you to come up with the best hackathon team names along with a list of name suggestions that will surely get you started. Enjoy!
You can use these cool team names however you like!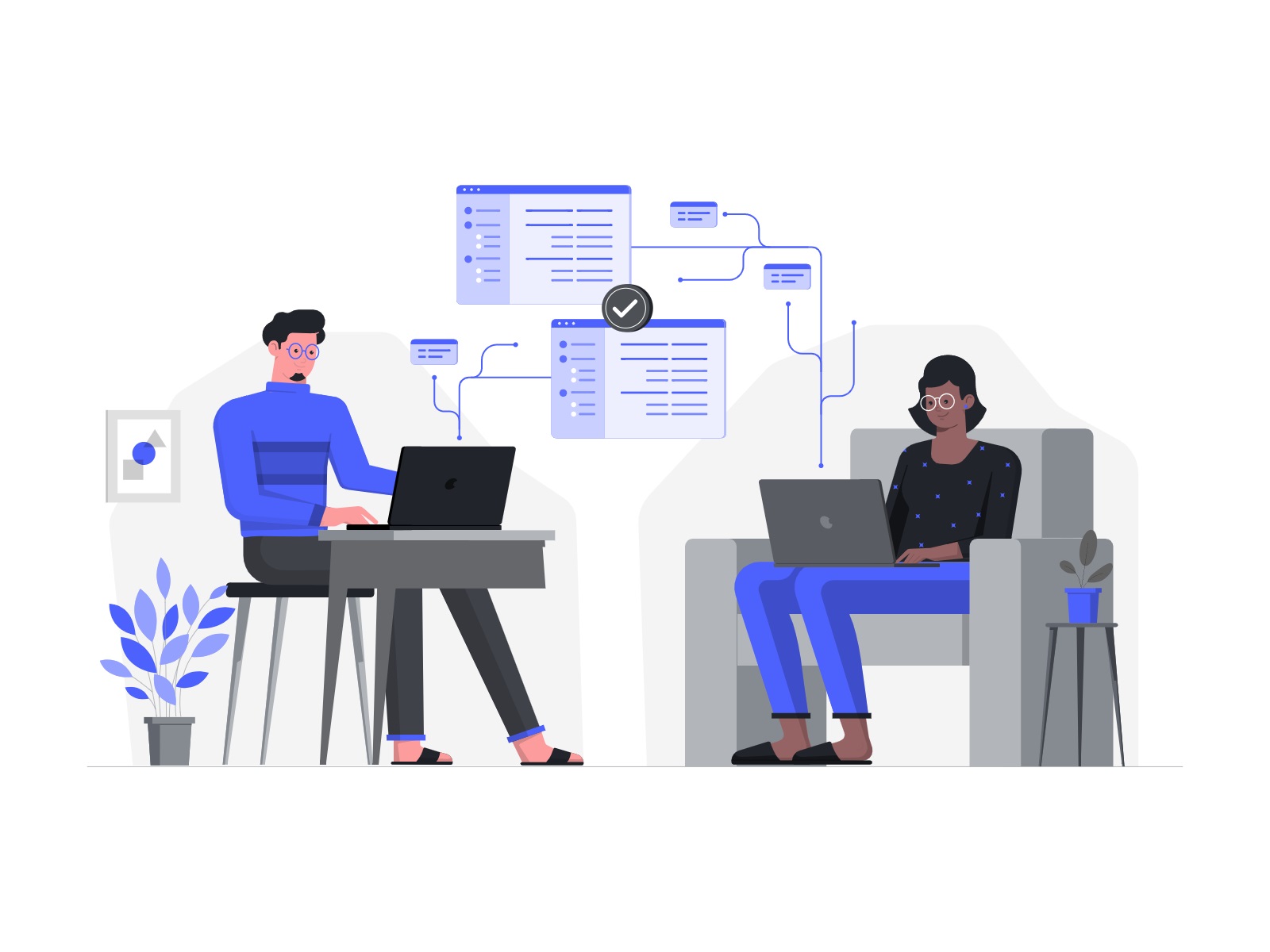 ---
TABLE OF CONTENTS
---
Tips to create the best Hackathon Team Names
We understand that it can be difficult to come up with your own hackathon team names for every hackathon you participate in. But by following a few simple tips you can become incredibly good at coming up with programming team names.
We have compiled a list of tips just for you, so keep reading to know more.
Keep your names punny. Using puns as team names will surely establish your team as the cool one.
Try to use alliterations and rhyme schemes.
Make sure your name is memorable.
Use coding related terms to give in a fun twist
Make a list of the best names and choose the ones that the entire team loves!
Funny Hackathon Team Names
If you are going to actually put some effort into brainstorming hackathon team names then you better make them funny. So here is a list of funny hackathon team names that you'll surely love.
You can use these funny team names for work as well:
Pixie Chicks
Stuck Between Pixels
Master's of Algo Lands
The Rubix Cube
Tiny Coders
Caffeinated fast fingers
Pony Boy
That IT Guy
Phantoms
Win and then Win Some More
Chronicles of Java
System Obsessed
Rebooting Rebels
Scared to Compile
The ERROR List
Enemy of Syntax
Boolean Hooligans
Code Wars
The Code of Duty
Star Techies
These funny team names will help you bring your A-game and outshine others.
Programming Team Names
These programming team names are cool, classy, and overall quite amazing. Use them to name your programming team.
Generic Programs
Pythons and Pythonistas
The Programming Gang
Web of Lies
Solution Makers
One and Zero
Disciples of Programming Gods
Comp Crew
Updated to Pro
Innovators
Need more Space
Memory Space Makers
Developer by Developers
Error Makers
The Comp Whizzkids
Binary Brains
White Hats
Pursuing FAANG Jobs
Starter Pack Makers
Google Devs
Coding Team Names
We have all the best coding team names listed below. And worry not! We have some funny team names added to it.
Driven By Data
Analyzing Anarchists
Decision Makers
The Systems Squads
The DIGI Life
Autocrats of Data
Morse Coders
Puppeteers
Tech Savy Youth
Skyscrapers of Tech World
Jump of Roofs
Coding Brigaders
Bit by Bit
Ultra Hackers
THE Ultra Scientific Bunch
Hackerstreet Boys
99 Problems but Coding Aint One
The Alter of Classes
Mapping through the Edge of World
Open Source Messiahs
Software development team names
All software development teams need unique and amazing software development team names. If you are finding it difficult to name your team, we have got you covered. Refer to the list below for the best software development team names
Prime Calculus Curators
Digitally Destroyed
Sore Eyes and Tired Fingers
Bug Squash Gang
Terminate the Bug
The Aftermath of Stack Overflow
Surviving with Google
Coding Academics
Star Fleet to Bit Land
Inky Pixel Canvas
Misfits and Misnomers
Optimal Circuitry
Coding is Witch Craft
The Sons of Greek Gods
The Panoramic Artists
Art of Coding
The Techie Pirate Ship
Cobraists and Pythoners
Virtually Cool, Physically Uncool
Brew your Way to Coding Haven
Developer team names
Here is a list of developer team names. Pick and choose or mix and match to make your own using these great team names.
Digi Dreamers
Dark Web Crusaders
Studious Coders
Cool as Code
The Creative Gang
All Developers
Java Lagged
The Great Dev Show
Kill a Byte, Now
Drunk Bits
Deadline Chasing Devs
Death Valley
Copy, Paste, and Repeat
The Spam Artists
The Tech Guys
Mighty Pythons
Bug Aches
Neptune Technologies
Building the Robo Hegemony
Human Cyborgs
Programming team name
Below you will find all the best team names, choose one for your own programming team!
Remote Coders
Hacking Hackathons
Rice Brain Cereal
Mighty Programmers
Splash and Kaboosh
Formidable Skillsets
Analyze your way to Glory
System Breakers
Breakers of Bugs
Meta Data Builders
Ideal Bits
Arrays of Dread 
Fruits of Binary Tree
Waves of Data
The Data Sea
Connect the Bots
Bro Coding Clan
Multiprocessing Engines
Bolt Heads
Computer Science Team Names
Code Linguistics
Self Referential Isomorphism
Program Poltergeists
Hung up on Binary Tree
Bug Smashers
Clan of Optimists
Run the Code
Cookie Cutter Army
Precision and Accuracy
Byte the Bullet
Boot by Boot
Scanning for Bugs
Secret Society of Nerds
Slick Worries
The Cloudy Fair
Cloud my new Home
Love for Java
What is C?
Hack and Whack
Trojan Horses
Technology Team Names
Use these team name ideas to form your own technology team names, mate. We believe in you!:
Fuzzy Logic Heads
Grey Matter Gone
Pyramid Scheme
The Hex Clan
Linked and Unlinked
Roto Commanders
The Net of Networks
Hugs for my Bugs
Invalid Markup 
HTMLites
Unplugged and Wireless
Up in the Clouds
The 7th Cloud
File Systems
Trouble Shouters
Mac and Cheese
Loads of Logic
Venturing Vultures
Zipped and Packed
Bug Crawlers
Funny Data Team Names
Tickle your competitors' funny bones using these funny data team names. You can use these names for whatever purpose you want. Do you need hackathon team names? Pick one and go!
Complex Processors
The All Night Gang
Profiled Divas
Pico Zen
Parametric Patrollers
Robust Red Heads
Creed Masters
Dancing Bits
The Truth Serum
Alohomora
Cookie Monster
Fully Developed
Generic Genius
The Hippies
The Linkers
Stella and Stellars
Speed Drives
Going the Data Way
Data Miners
Flawlessly Fine 
Cool Team Names
If you need cool hackathon team names, we'll let you in on some. But you know what? If you need cool club names you can use these names too. Or say you need cool team names for games, this list won't let you down.
Digital Destroyerz
Crime Calculus
BugDiscoverers
Keyboard Wackers
Pivotal Patterbrain
Code Fellaz
Digibyte Autocratz
Tech Armie
Zebro Aftermath
Beigie Panachex
Hack Frenzyxoxo
Beyond Infinitnium
Ink Canvax
Scrum Lordz
Optimal Circuitz
Misfit Maniacs
Geek Speak Hertz
Shadow Watts
In case you need cool group names, you can spice things up by mixing and matching random names from this list. Also, if your homies are looking for cool gang names, shoot them this list! They'll definitely enjoy.
Good Team Names
Eveything starts with good group names. They make you more confident and help you give out strong badass coder vibes. Try to find your perfect name using these good team names: Come up with good team names using these ideas.
Appy Clan
BooleanxPunditz
Soul Celestum
Mind Installers
Ode To Codes
Bit Hoarders
The Bug Epix
Beta Your Mindz
Purple Bit Logix
Debug Thugz
Imagery of Markupz
Byte Systemz
The Tag Enderz
Pandora Rebooters
Plug Config
Data Poltergeistz
Ibot Interfacexx
Binary Tree Nodezz
Debug There
MonadAmy
EntropySuit
The Epic Bytez
Loader Logix
The Link Clownzz
Geek Navi Rex
Charismatic Compilerz
Profiler Knightz
Hat Statix
Binary Fetcherz
The Roto Commandoz
The Whack Hackers
Open Class Systemzx
Parallel Transcendersz
Mind Mine Dataa
Nano Zillaz
Monster Markupz
The Zip Tomcatz
Plugin Immortalz
BetaminC
Python byte
Cookie Cookers
Geek Navi Tex
Soul Celestum
Imagery of Markers
Flow Bit Theorem
The Hip Trojanz
Bugz with Things
Hat Statz
Grep Cleps
Nano Monsters
Best Team Names
We have listed the best team names just for you, bud. What are you waiting for now? Just scroll along and find your perfect team name.
Byte HogPrime
Grey Cell Interfacez
Hack ElitePlus
White Hattez
Did It All for the Cookiez
Bro Coders
Bug SquasherzXL
Hash it OutPlus
Trojan Horsez
Reboot Rebelz
Cyber Creeperz
Access Deniedxx
Brewing JavaLite
Hack Elitez
Cyber Bot Demonz
Byte Hogz
Pentium Predatorz
Poker Foobarz
Tragic Bytez
Red Hat Zombiez
Grep Triberz
405 Found Now
The Hip Scripters
Pingz with Thingz
Hugs for Bugz
Kick Bit Feverultra
Babes With Bot Hacko
Plug Mind Configurationz
Odd Bit Loaderz
Hack Zombiez
Pine Hackerz
Bright Byte Domainz
Love Bot Johnspiracy
Alpha Interfacez
Trojan Fex
Profiler Devils
Creep AccessXD
The Tag Endz
Cunning Linguistz
The Apache Vibez
Entropy Crusaderz
Bootstrap Shock
The Bug Slayerz
The Hip Trojansxp
Babe Got Bytes
System in Bits Misfits
Mc Brook Alliancex
Bootstrap Paradoxes
Hackover Booze
Trojan Rex
Come up with unique team names using these hackathon team names ideas.
Team Name Generators and Group Name Generators
If you are still having difficulty coming up with unique team names, you can try using team name generators. There are plenty of group name generator tools and random team name generator tools on the internet.
All you have to do is enter if you want funny team names or creative team names and several team name ideas will be generated.
Related Articles
---
Trending Articles
---