Best Job Sites for Remote Work in 2023 – Review‍
Written by: Hrishikesh Pardeshi, Founder at Flexiple, buildd & Remote Tools.
Last updated: Jul 14, 2023
Just last Saturday, I got a call from a colleague from my previous organization asking, "I am going to get married soon and planning to switch career to full-time freelancer as a Product Manager. I know that you have been doing significant work in the remote working space, so I thought that you can guide me through this "job search" phase. Do you have referrals in any company who are currently hiring for a remote Product Manager position? Or are you by any chance aware of the best job sites for remote work?" 

This question got me thinking that even though referrals are a great way to go about searching for remote jobs, they are not the most effective. A large part of transitioning to a desired remote job depends on the preferences set by the candidate. I started to search through the internet and found 100+ of the, as they claim to be, best sites for remote jobs catering to tech as well as non tech remote jobs. I compiled a list of top 30 picks of websites including remote job boards and remote job aggregators. For each site, you will find a short description, a top feature and a pro-tip (often used by digital nomads to optimize their time to search for relevant opportunities). 

Questions to help you decide on the best job sites for remote work to spend your time, energy and money on:
Are you looking for a tech or non tech remote job?
Do you already have a great portfolio and are currently seeking specific client projects or are you still in the exploration stages of remote work?
How much time can you dedicate to your job search? (Pro Tip #1: Job aggregator websites save time)
Do you wish to invest your time or your money for landing your desired job? 
Pro Tip #2: We picked sites that charge reasonable rates starting from as low as $2. Some offer free trial periods as well :)
Flexiple
Flexiple is a premium tech talent network with a community of amazing freelance developers and designers. Their highly flexible hiring solution can be tailored to suit any specific requirements, The platform adopts a rigorous screening process to ensure the quality of freelance coders. Also, the screening process is asynchronous; i.e., freelancers can complete steps in the process only when there is a requirement that matches their skillset.
Top Features:
Rigorous vetting process
Vetted client companies
No charges to be paid by developers
Personalized recommendations
Fast onboarding
Great customer service & support
RemoteJobs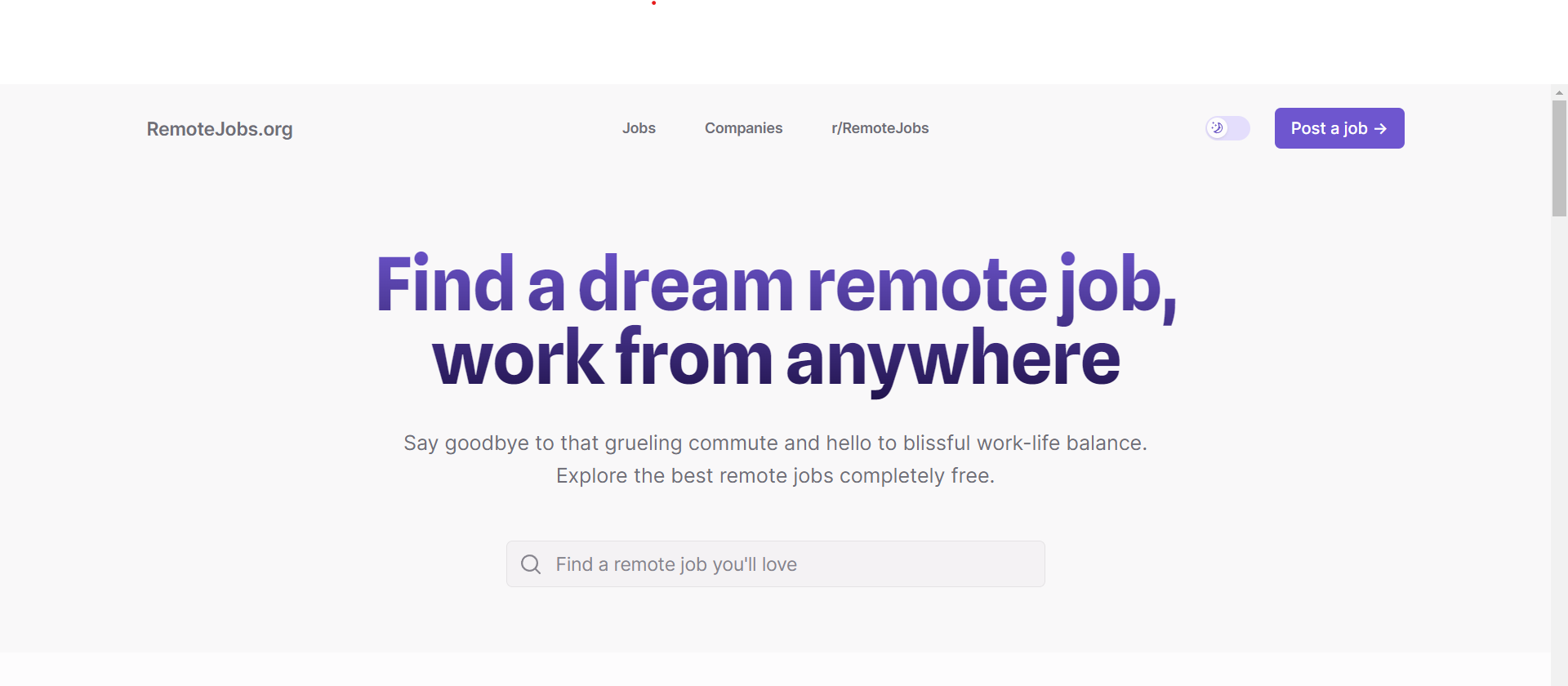 RemoteJobs.org is your go-to platform for finding curated remote job opportunities and the perfect remote positions. They offer a comprehensive remote job board to help you find jobs in customer service, programming, sales, and more.
The remote job board at RemoteJobs.org was designed to make your job search more accessible and efficient. With multiple filters available, including location, job title, company, and skill, you can narrow your search and find the ideal remote job matching your preferences and qualifications.
Top features:
Super simple interface
Easy and enjoyable website experience
No ads
New job openings are posted constantly
Pro Tip: Sign up for the newsletter to deliver remote jobs daily to your inbox. You'll never miss out on an opportunity.
Workew
Workew is a simple remote job board with a specific focus on the tech industry. It includes non-tech remote job listings as well, such as Language Teacher, Education Specialist and Accounting to name a few. They recently added crypto and blockchain related jobs. You can bookmark a remote job and review it later by signing up on the platform.
Top Features: 
A weekly newsletter to receive updates on new remote jobs. 
You can also opt for Twitter notifications to receive these updates.
Pro Tip:
Sign up and post your resume on Workew as it will help speed up the selection process.
Adzuna
Adzuna is a global job search engine, with millions of jobs from thousands of websites. With Adzuna's powerful search algorithms and filters you can easily find specific types of remote jobs tailored to your skills. You can create an account on the platform and save searches and receive email notifications when new remote jobs are posted.
Top Features: 
Distinctive salary insights to help you pinpoint that killer role for the right pay.
Unique tools to cut through the noise & zero in on the right roles.
Data privacy feature, where no other company has access to your data.
Pro Tip:
Use Adzuna's advanced filters to narrow down your desired remote job listings quickly. This will save you a lot of time and keep you updated on the latest remote job postings.
We Work Remotely
We Work Remotely works with some of the top remote companies such as Invision & GitHub to fulfill their remote positions. You will find a huge number of company profiles and remote jobs posted on the website. You can receive updates of new remote job listings for specific categories via their email newsletter.
Top Features:
A remote job listing has a colored flag beside the company name, if it is posted by a top remote company.
A large slack community.
Pro Tip:
For newbie remote job seekers, you can use their career resources page wherein WWR has listed quite a few tools, services and content that you can use to land your desired remote job.
AngelList
AngelList is the world's largest startup community. It has a huge number of remote jobs - full-time, part-time and contract. A number of early stage startups list roles like Co-founder and CTO, with a visible percent equity share and salary. It is clearly a favorite in the list of best job sites for remote work.
Top Features:
You can speak directly to founders and hiring managers. 
Third party recruiters are restricted to hire from the platform.
Pro Tip:
Rather than searching for remote jobs using common filters like role, location, salary etc., use the categories created on this website's job collection page - YC startups that are aggressively hiring, 20 clean-tech startups that support your dream of owning a tesla, 28 hot healthcare startups hiring now and many more.
Remote Circle
Remote Circle is an easy-to-use remote job board wherein you can filter jobs based on category (sales, design, programming etc.), type (Permanent, contract and part-time), keywords and company name. Similar to Workew, you can bookmark the remote jobs you like (requires you to sign up though).
Top Feature: 
A weekly newsletter to receive updates on new remote jobs and also advice on finding remote jobs.
Pro Tip: 
Use the keyword feature to filter remote jobs from the job descriptions.
Jobspresso
Similar to Workew, Jobspresso is a job board with the majority of tech remote job listings. The jobs are curated by internal trained staff and companies need to pay to have their jobs listed on the website. It does not have the feature to bookmark/ save jobs though.
Top Features:
A weekly newsletter to receive updates on new remote jobs.
Pro Tip:
Sign up and post your resume on Jobspresso as it will help speed up the selection process. Also do follow their Twitter account and Facebook page, if email alerts are tough to track.
Remote Masters
Remote Masters is focused only on listing remote developer jobs across varied skill-sets and tech stacks.
Top Feature:
Once you follow a particular job category on Telegram, you will receive notifications from the app (mobile or desktop).
---
Pro Tip:
If prefer working in a specific industry, location or company, do check the filters here: https://remotemasters.dev/companies
Stack Overflow Jobs
Stackoverflow is a large, active and open community which is built by developers and for developers. Just like AngelList, it has multiple filters to take care of your job preferences.
Top Features:
The Perks filter that includes options such as Visa sponsor, offers relocation and education and tuition benefits, 10+ vacation days and so on
The Tech filter is divided into two categories - tech you like and tech you dislike. This helps you narrow down remote jobs efficiently and much closer to your preference.
Pro Tip:
Stackoverflow has partnered with a few companies, wherein they allow registered developers to speed up the selection process by using easy apply feature.
Remote.io
Remote.io is a search based remote job board with no filters.
Top Feature: 
A weekly/ daily newsletter to receive updates on new remote jobs and also advice on finding remote jobs.
Pro Tip:
If you are absolutely clear on your preferences such as job title, role and industry to work in, then the multiple tags under each job listing will match your search preference and pace up your search process.
NODESK
NODESK is a curated collection of resources for digital nomads. Remote job boards is just one of the many resources they provide. For their remote job board, there are multiple filters such as location, job title, company and skill.
Top Features:
Actively posts new jobs on their twitter feed
A weekly newsletter to receive updates on new remote jobs
Pro Tip:
In addition to searching for remote jobs, explore the website and gain insights from the huge knowledge library that NODESK has collected around remote work.
The Remote PM
The Remote PM is a weekly newsletter that posts remote jobs exclusively for remote product managers. Each weekly post on its website lists open remote positions across geographies.
Top Feature: 
The remote product manager jobs are listed in a very simple and intuitive way - position/ company (location). No filters required.
Pro Tip:
Sign up for their newsletter as the same content is posted on the website. You will have everything you need in your inbox.
We Remoto
We Remoto is a remote job board with a specific focus on jobs in the Latin American market. Remote jobs are split across 4 major categories - Programming, Marketing, Design and Drafting/ Content Writing.
Top Feature: 
Email newsletter to receive updates on new remote jobs.
Pro Tip: 
Follow their twitter account as they post new remote job updates regularly.
Daily Remote
Daily Remote, as the name suggests, posts jobs on a daily basis on its remote job board.
Top Feature: 
Salary range filter for professionals targeting a remote job with a particular salary package.
Pro Tip: 
Explore the website rather than just finding remote jobs. They have shared valuable remote work resources that would enhance your experience.
Remote Hub
Remote Hub lists remote companies with their locations, benefits, tech stack, and more – to help you find the ideal remote team you would like to join.
Top Feature: 
The 'Instant Apply' feature for select companies helps you submit your application quickly. All you need is to sign-up on Remote Hub and fill in the needed details.
Pro Tip: 
Use the 20+ tags/ filters with different combinations to improve your chances of narrowing down to your dream remote company.
Remote Habits Jobs
Remote Habits Jobs is an aggregator of remote job boards and sources listings from some of the other best job sites for remote work such as StackOverflow and Remote OK.
Top Feature: 
Once you like a job and click on the apply button, it opens up a new page with details on the remote job. It also suggests other recent jobs
Pro Tip:
The Q&A section is a good place to understand the mindset of an employer seeking a remote candidate.
Remote Leaf
Remote Leaf is a remote job boards aggregator. This is a paid newsletter and has monthly, yearly and lifetime subscription options with customization available on the frequency of mails sent.
Top Feature: 
Handpicked remote jobs (manually reviewed) from popular remote job boards, company career pages, Linkedin, Reddit, Facebook and Hacker News Hiring.
Pro Tip:
Use the 7-day trial to test out whether you like the kind of remote jobs posted and if they are aligned to your preferences.
FlexJobs
FlexJobs provides a highly personalized experience to its members seeking remote job opportunities across 50+ career fields. The platform caters not only to full-time remote jobs, but also part-time and other flexible work opportunities. Access to all the features are available only to paid members.
Top Feature: 
A filter called 'Featured and Award-Winning Employers' available under advanced job search.
Pro Tip: 
With the number of options and number of jobs listed on Flexjobs, it can easily become quite overwhelming. Be clear in what sort of opportunity you are seeking. Only then can you derive maximum benefit from this website
Solidgigs
Solidgigs is a premium remote job board that sends curated jobs in its weekly newsletter to its members. Additionally, it gives you access to its course library which covers topics like pitching, sales, pricing, client acquisition and many more
The focus of Solidgigs is not solely on remote jobs, but freelancer community at large which includes part-time, short-term, long-term, contract based and other work types under the broad umbrella of freelancing.
Top Feature: 
The 30-day trial period at a price of $2 is a reasonable investment. Solidgigs also shows confidence by curating only the top 1% jobs available daily across different job boards.
Pro Tip: 
Similar to my recommendation for Remote Leaf, use the 30-day trial to test out whether you like the kind of remote jobs posted, if these align to your preferences, and to consider how high you'd put it in your list of best job sites for remote work.
Remotive
Remotive is a remote job board with startup jobs available across categories like marketing, software development, sales, design, product management and many more. The simple interface helps to focus on the job search rather than get distracted by the other related offerings.
Top Feature:
They have two active communities - for remote professionals and for remote leaders. Being a part of these communities can help you interact with leaders from desired companies and remote professionals across the globe.
Pro Tip: 
Startup enthusiasts, do sign up for their weekly/ daily newsletter.
Hubstaff Talent
Hubstaff Talent is an additional offering by Hubstaf (primarily provides staff monitoring through time tracking software). The company itself is 100% remote, thus adding a bit of proficiency in curating remote jobs as well.
Top Feature: 
100% free services and job listings
Pro Tip: 
Create your profile on Hubstaff Talent and frequently check if a client is interested in your profile and willing to work with you. Do not spend too much time searching for jobs.
Skip The Drive
Skip The Drive has broken down remote jobs into 25+ categories which helps to speed up your job search. Adding to it, it is a completely free service 
Top Feature: 
The Telecommuting Calculator, which helps you calculate the monetary savings you can have by working remote
Newsletter provides updates of any new job posting
Pro Tip: 
Use the job application tracking template provided under the Work-From-Home resources. It will help you stay organized in your job search process
Jobtensor
Jobtensor is an is an AI job board with jobs in IT, science and technology. It enables tech job seekers to take advantage of modern AI search. Jobtensor helps the recruiters, HR departments and whole companies to attract specialists from the fields of natural sciences IT and technology.
Top Features: 
Jobtensor Search lets you search and find in multiple dimensions. Search with skills, job titles, companies and locations.
Jobtensor uses Big Data and Artificial Intelligence to make job search more fun and efficient for tech people.
Pro Tip: 
By entering your unique skill set and other parameters, you can take the efficiency of your job search to a new dimension. Jobtensor's AI matches your profile with jobs and companies that exactly fit your skillset and story.
Working Nomads
With remote job listings under 15 categories and keywords/ color coded tags associated with each job posting, Working Nomads makes the process of job search easier for remote job seekers. They also have a featured remote company listing - the good part being that they feature only one remote company at a time.
Top Feature: 
A weekly newsletter to receive updates on new remote jobs.
Pro Tip: 
The number of remote development jobs posted exceeds the number of remote jobs posted in other categories. Good news for remote software developers and engineers out there :)
Remote.co
Sara Sutton, founder of Remote.co, is a passionate advocate of remote work and has built the popular platform, FlexJobs. Remote.co built upon the cumulative knowledge of this established platform thus giving it the additional credibility in terms of quality of remote jobs posted.
Top Feature: 
Remote companies Q&A section addresses common concerns of remote workers by answers posted by people who work in top remote companies.
Pro Tip:
There are a lot of good remote work resources on the website apart from remote job listings including blogs, popular remote work questions, remote work statistics etc. Make sure to use these to enrich your knowledge on remote work.
Remote OK
Remote Ok is an Open Startup, meaning it operates fully transparent and shares metrics including revenue, users and traffic. The UI is similar to standard remote job boards like Remotive, thus it is easy to navigate the website.
Top Features: 
Remote work statistics, which shows the hiring trend in a particular tech stack over the trailing 12 months period. 
Also, it indicates the median salary and the number of remote jobs posted for that particular tech stack.
Pro Tip: 
As many remote workers do not buy health insurance, I would recommend taking some time to explore remote health insurance options. Remote OK promotes health insurance for remote workers with its affiliation with SafetyWing. Also Remote OK has an affiliation with NomadList wherein you can explore remote locations based on parameters like cost, safety and Internet to name a few
CloudPeeps
CloudPeeps is a freelancer powered platform meaning unlike other remote job boards wherein the company pays some fee in order to list a job, CloudPeeps charges the freelancer to create and list their profile. Thus it makes sense to use this paid option, when you know that your portfolio is developed sufficiently and your goal is to expand your business by freelancing. It also has a curated job list, thus you can actively submit proposals to your potential employers.
Top Feature: 
Storefront lets you promote your services to the clients. Clients can directly buy your service package from the storefront.
Pro Tip: 
A large part of getting work from clients on the platform depends on your profile and reputation that you have created as a freelancer on CloudPeeps. Thus take time to build an attractive portfolio.
Outsourcely
You can create your freelancer profile on Outsourcely. Once done, the platform lets startups discover your profile based on their requirement and matching of skills. Additionally, you will find remote job listings as well to search for relevant opportunities.
Top Feature:
The client, if interested in your profile, can directly connect with you via real-time communication mediums like private chat, live video and voice interviewing, video and voice messaging or email.
Pro Tip: 
As Outsourcely is a profile discovery platform, keep your profile up-to-date at all times so as not to miss out on good opportunities.
Remotees
Remotees aggregates jobs from popular remote job boards like Remote OK, We Work Remotely, Stack Overflow Jobs and Working Nomads, thus saving you time.
Top Feature: 
Use the 'tags' button in the Nav Bar to navigate to your preferred remote jobs.
Pro Tip: 
Install an RSS feed reader and add Remotees as one of the source to receive new job feeds directly into the reader.
Remote Jobs Club
The Remote Jobs Club is a weekly newsletter service that delivers a curated list of remote jobs across the globe.
Top Feature:
Simplicity of the offering and their intuitive interface.
Pro Tip: 
Create a filter in your inbox after subscribing to the newsletter and you are pretty much set in terms of receiving updates on remote jobs from this website.
100 Telecommute Jobs
---
What differentiates 100 Telecommute Jobs from other remote job boards is the wide variety of categories (currently 100+) under which jobs are classified.
Top Feature: 
For newbie remote workers, Telecommute Q&A explains the basics of what telecommute is, which companies are adopting this work style, remote job search strategies and much more.
Pro Tip: 
You can refer this website to your acquaintances who are not aware of the kind of remote jobs available in the market, as the categories are quite exhaustive in nature.
Remotely Awesome Jobs
Remotely Awesome Jobs is a remote jobs aggregator, with the confidence that they crawl more (currently 10 and counting) websites and remote job boards as compared to any other remote jobs aggregator sites. Additionally, you can sign up for a weekly/ daily newsletter for receiving newly added job updates.
Top Feature: 
No other remote job board speaks about their UI/ UX on different devices. Maker(s) of this site explicitly say(s) that the responsive design of the website looks amazing on mobile devices. Worth checking it once :)
Pro-Tip: 
Remote jobs are actively tweeted on its Twitter account. Do follow them on twitter to stay updated.
Remoters, to end the list of the best job sites for remote work
Remoters lists remote jobs that are primarily from Europe-based companies. This platform's activities do align with its tagline, "Own your life" as they provide useful information in the form of interview series, blogs, event listings and much more for digital nomads. And although this happens to be last in our list of 'best job sites for remote work', it has some amazing features you would love.
Pro-Tip: 
Just like I said for Daily Remote, explore the platform fully rather than just finding remote jobs. They have shared valuable remote work resources that would enhance your experience.
Now that you're equipped with a complete review of the best job sites for remote work, do go ahead and pick what suits you best. Also let us know if we've missed anything.