How Can You Schedule Discord Events for Your Community?‍
Written by: Hrishikesh Pardeshi, Founder at Flexiple, buildd & Remote Tools.
Last updated: Jan 19, 2023
Discord recently released a useful feature that allows you to create an event and schedule it for your community. The 'Create an Event' feature ensures everyone stays notified about various engagement activities planned by your Discord community or brand. Additionally, administrators can create events for their different Discord servers and separate guests.
In this article, let's learn more about Discord events and how to schedule on the Discord app.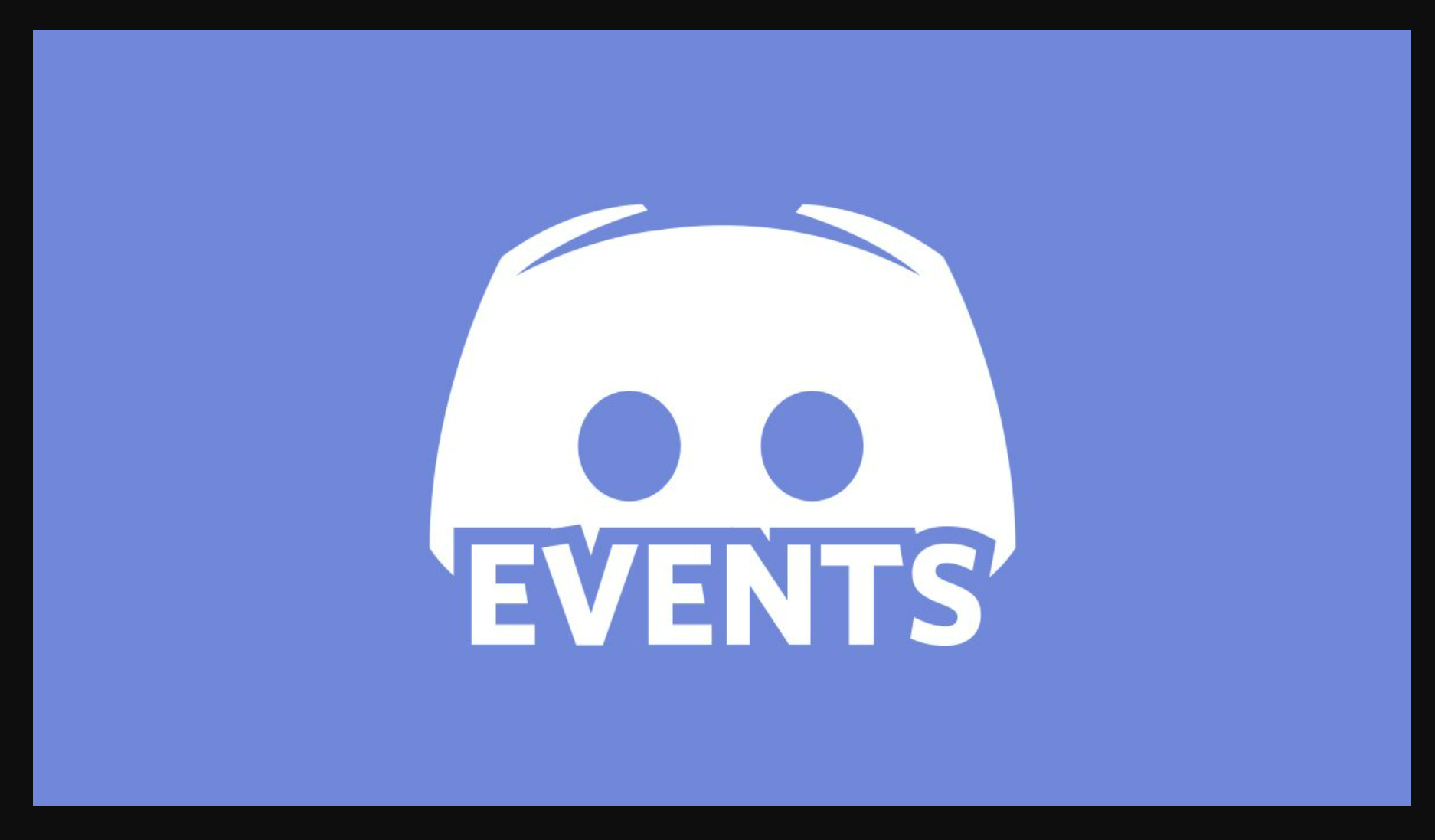 ---
Table of Contents
---
TLDR
To create a Discord event, here's what you must do:
Input your stage channel next to your server name
Click on 'Schedule Event' (depends on the event scheduled time)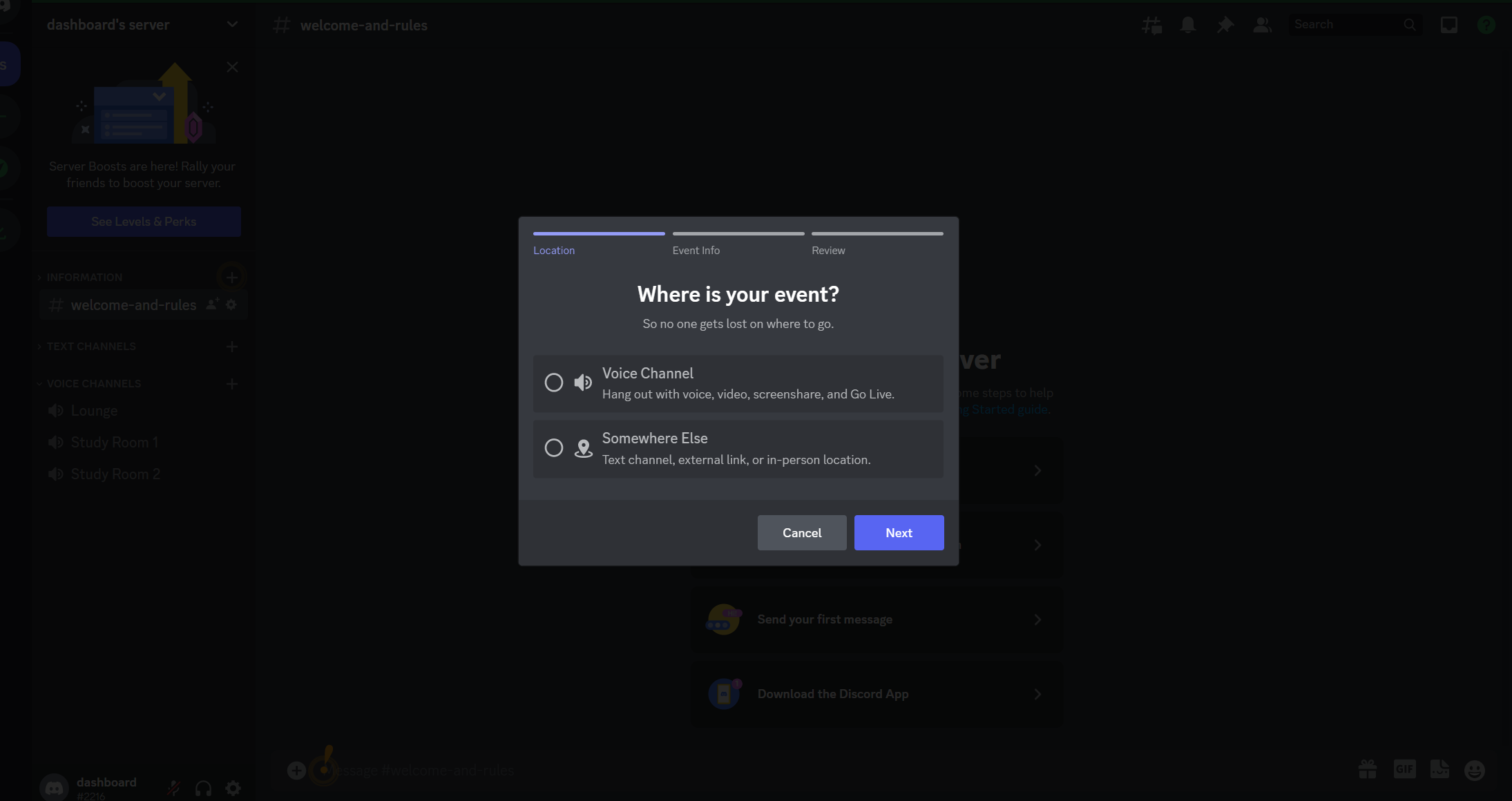 Enter event details such as event topic, etc.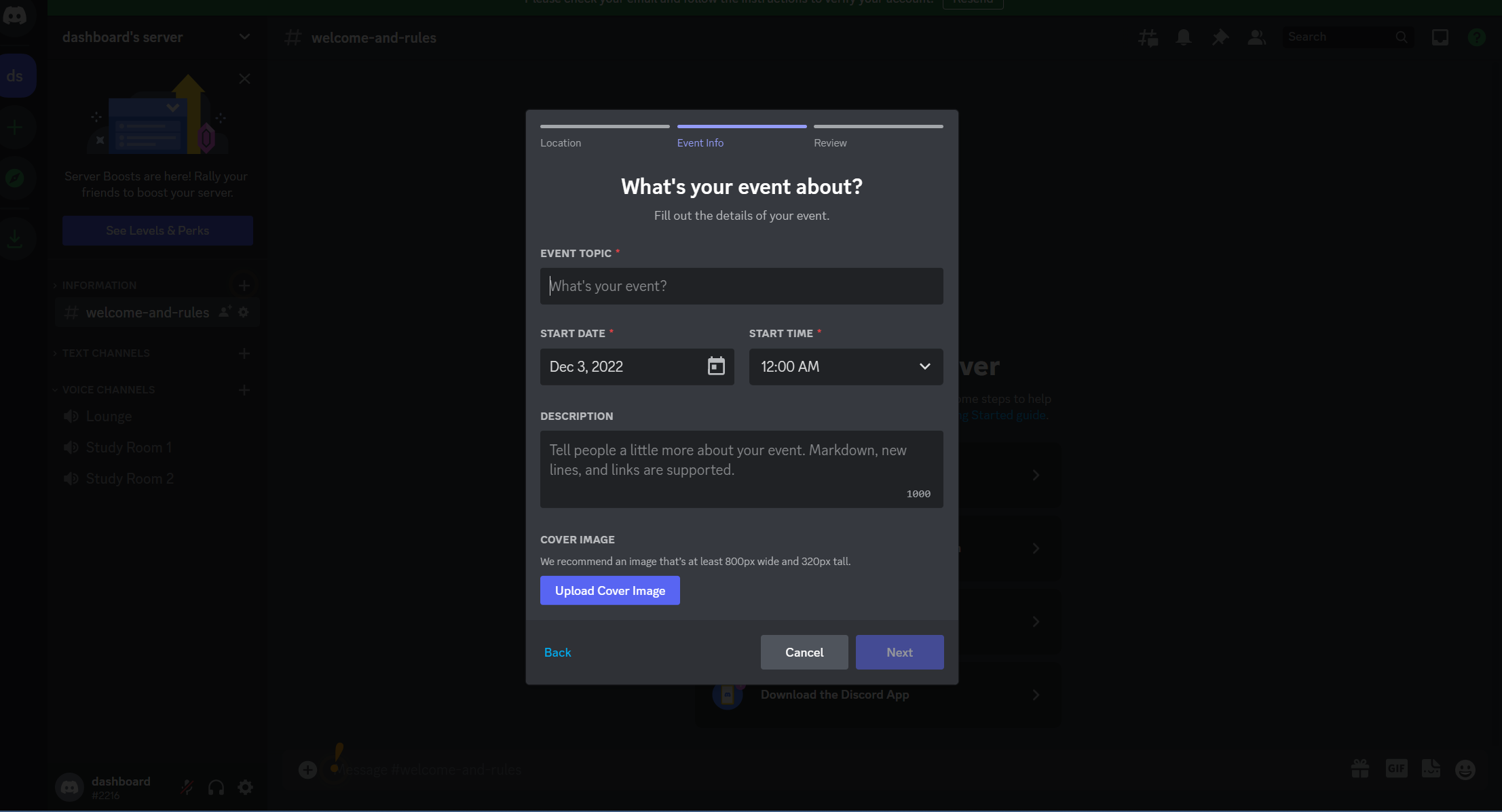 Review Discord events and Schedule or start events.
---
What are Discord's scheduled events?
The server administrator first creates Discord events for their members. As an admin, they regularly post information through the voice channel and on their Discord server. Consequently, whenever they join or create events, the members get an event link for that Discord event. It allows them to join the permissions tab.
Therefore, admins can organize an event like the voice channel or text channel hassle-free. A member who wishes to join the server will automatically enter the Discord event. Also, people believe that Discord events are one of its finest new features.
Let's understand how you can schedule text and voice channels for interested members.
How to schedule text and voice channel Discord events?
Discord tool is a usable and best tool for administrative management. You can not just connect with friends on the server, but also become a creator or build a community. They can conveniently schedule and click "create events" on Discord. First, let's learn how to schedule events for the Discord community.
Send daily reminder messages to your members and start the event via text channels. The Discord server will add your event to google calendar. You can integrate other apps that will automate event info in the Discord server name.
Follow the steps mentioned:
Enter Discord channel






Schedule start date






Personalize your message, e.g., event topic






Post it to the voice channel

Use any other application and integrate it with Discord to regulate texts.
To create a voice chat Discord event, moderators must seek to Manage Events Permission so they can speak, communicate, view, and connect with their members. The "manage events" option exists for both administrators and users.
So, both can manage events based on channel. Steps to schedule Discord voice chat event:
Tap on the down arrow located beside your channel name.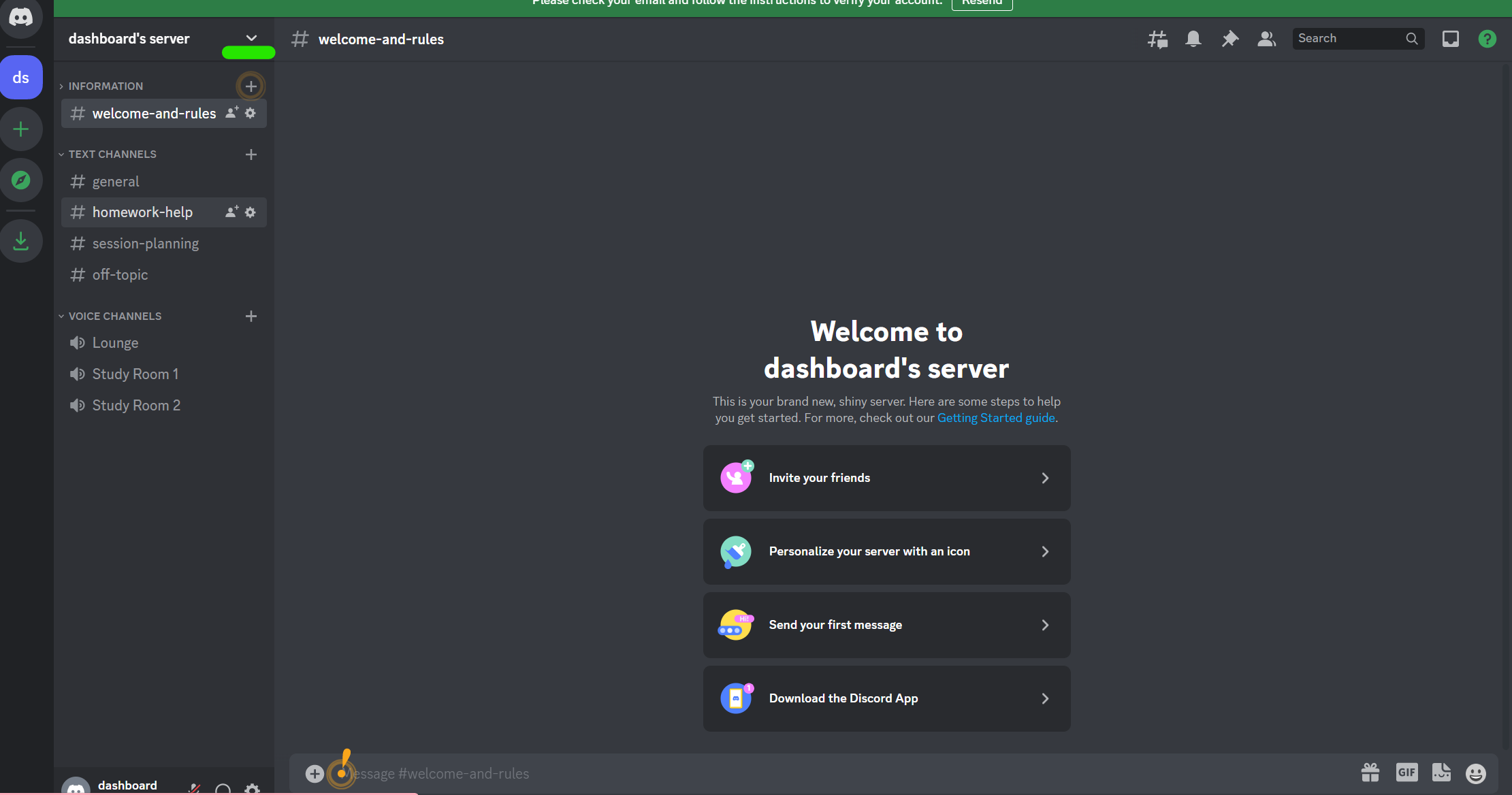 Select 'Create Event' from the dropdown menu.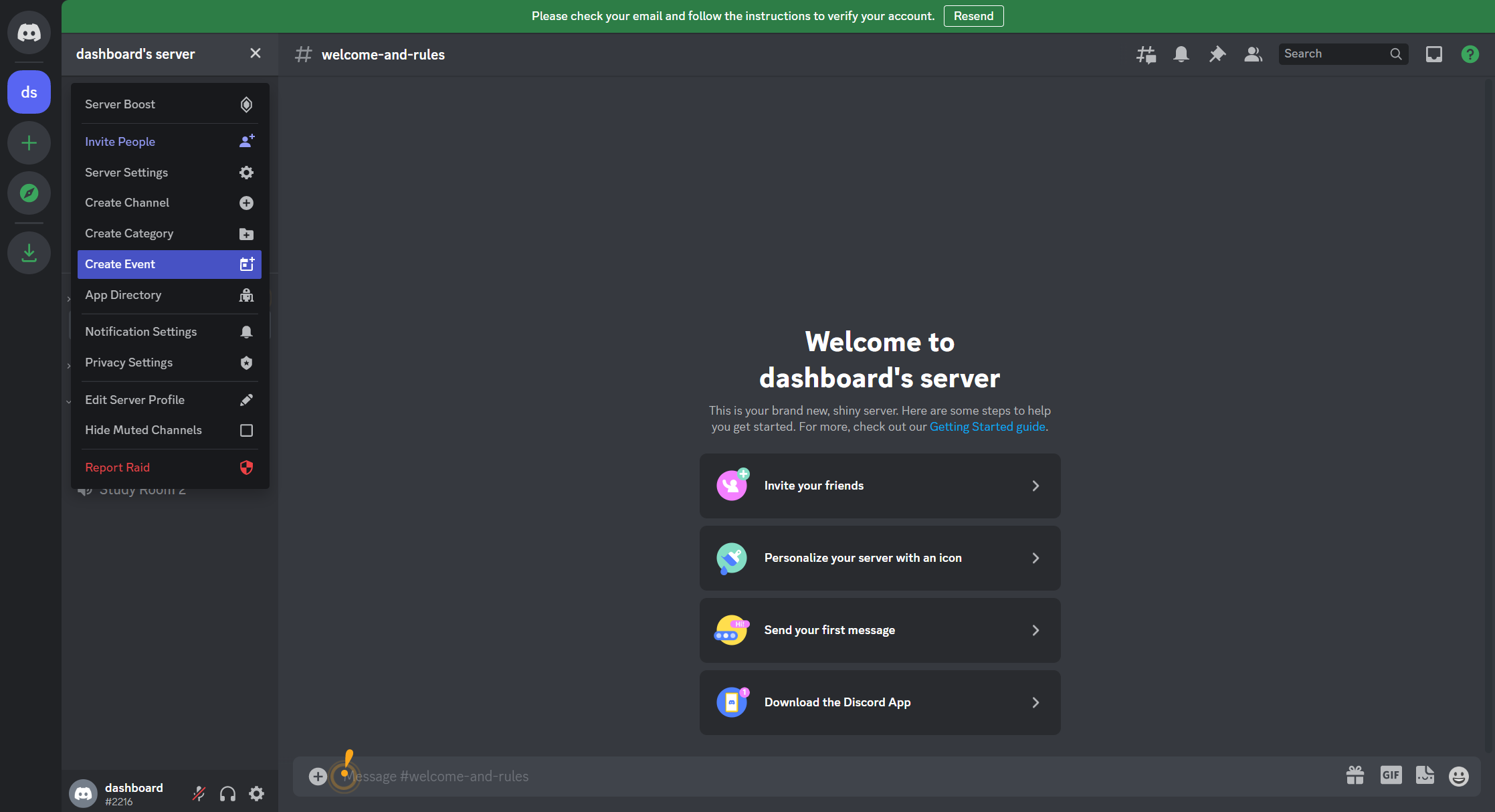 Now, all the events will appear on the screen. Choose your desired channel.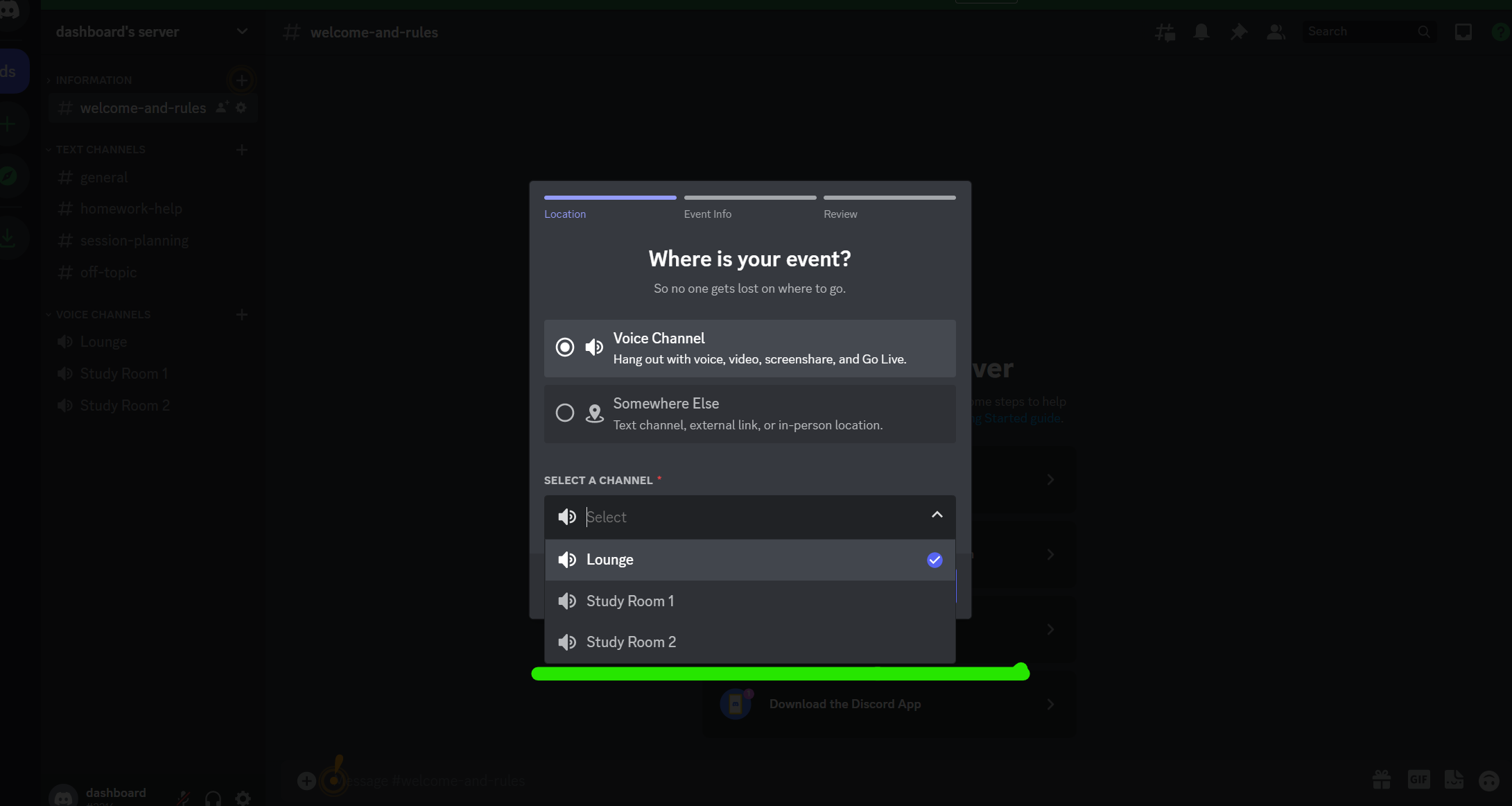 Click on Select a Channel.

Finally, inspect the details of your event directly and click on 'Create Event.'
Make your event interesting by allowing members to change the Discord background.
Note
Discord server allows you to customize voice chat for the event and send out invite permissions to users and admins after clicking the cogwheel button present next to your channel's name at the top left corner, followed by a drop-down menu.
Here we learned how you can effortlessly plan a Discord event via link. Read further to learn to schedule an event from a different physical location.
How to create Discord events from the different physical locations?
You can use it somewhere else if you want to schedule a gaming session and Discord event held somewhere else. For example, inviting server members outside the voice chat channel.
So, let's walk you through its thorough instructions to create Discord events.
Click on the down arrow that you will find beside your server name.

Click on 'Create Event' from the drop-down type of menu.

Tap on the 'Somewhere Else' option.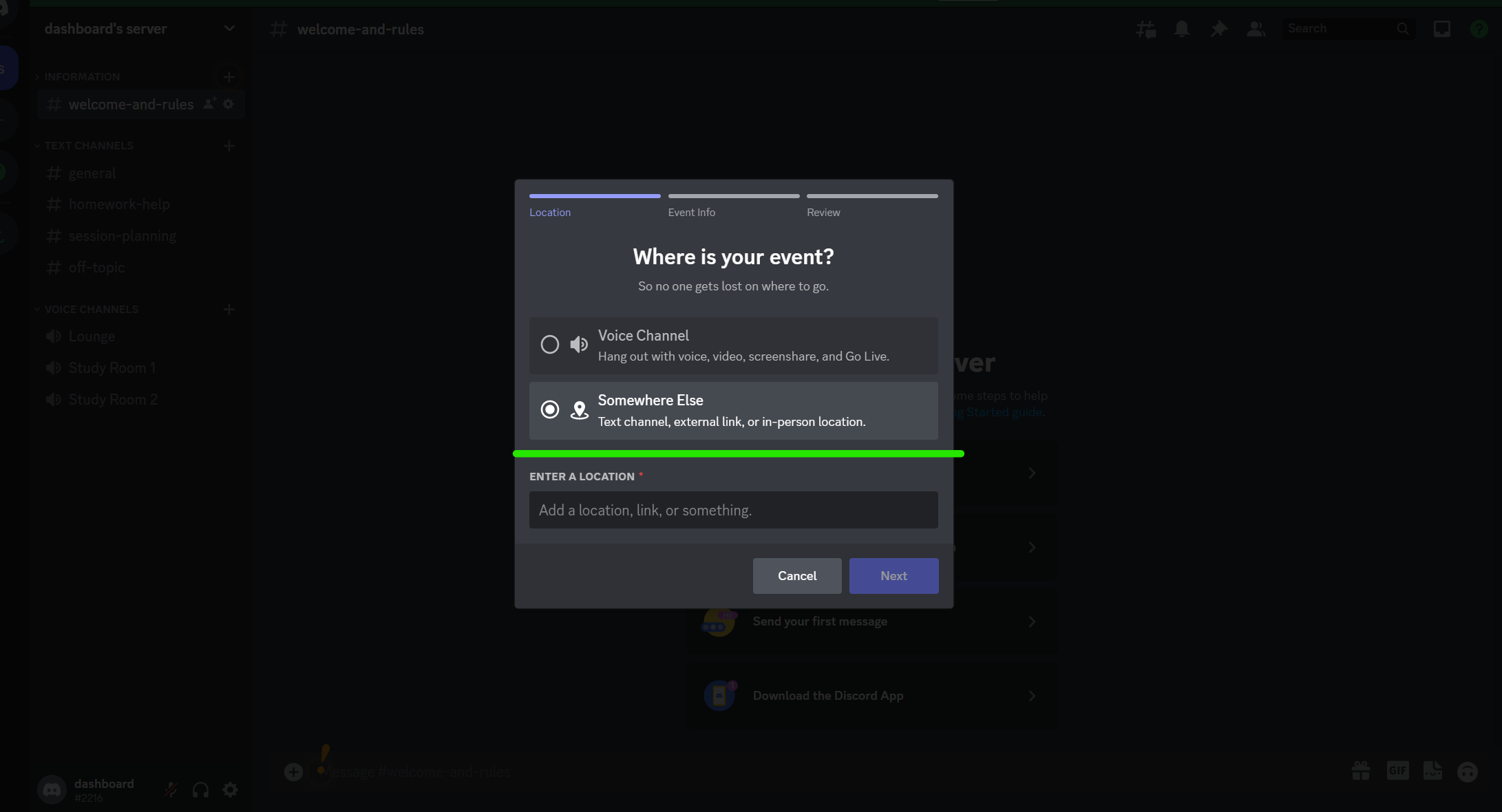 Now, meticulously add text channels, external links, and physical locations for the event.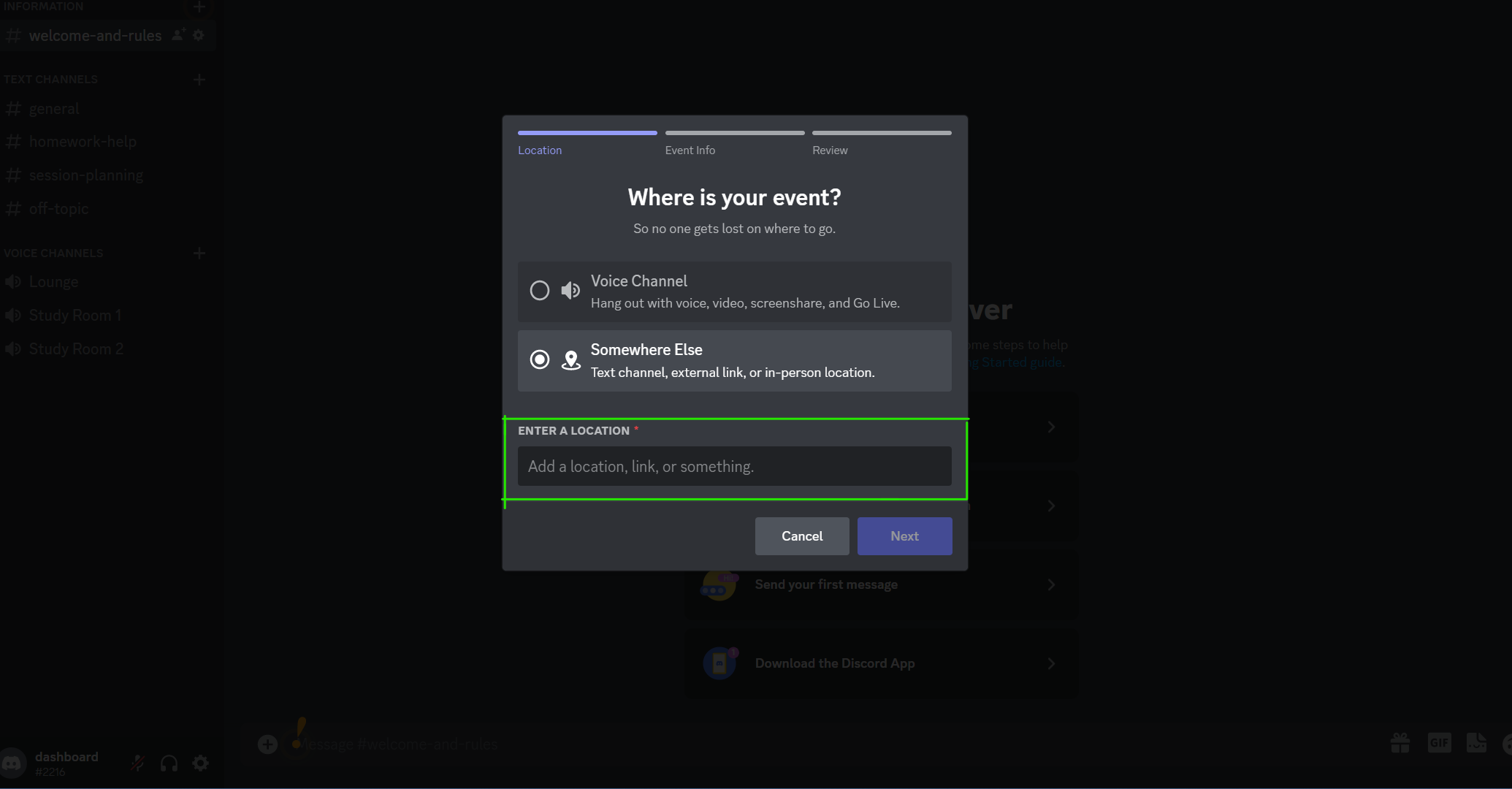 Evaluate the event's details and click on 'Create Event.'
So, follow the earlier-mentioned steps carefully, and don't forget to review your event information before publishing.
You can test your events for signups and ensure the flow works well before the event on Discord.
How scheduled events for the stage channel work?
Scheduling event for the stage channel has a prerequisite; you must have a Manage Event Permission.
Also, you can use the free-form template to create an event outside the stage channel.
Follow the below instructions once you receive Manage Event Permission -
Fill out your stage channel.

Click on Schedule Events.

Enter the details of your event.

Review event details and event topics.

Schedule the event on discord.
Thus, you can stage the event on Discord by following the steps mentioned above.
How to cancel the Discord event?
Discord allows you to give your new event a start and end date. Additionally, you can cancel events anytime you want.
Community members can even join and leave the Discord event as their interests vary as the event takes place. Interested members can interact via various Discord features available with other members.
Steps to cancel your Discord Events -
Click on the Events option next to your server name.




Tap on the three dots located under the Event.




Now, press Delete and cancel the event at your convenience. You can also edit the event in the Ellipses option.




Confirm Cancel Event.




So, cancel the event and delete the event on the discord.
Get started with hosting your Discord events
Scheduling event on Discord is the most convenient and new feature for the server administrators, and their community gets the instant notification. So, Discord is more than a gaming platform because it allows you to create events.
Also, most pop-up options appear at the top left corner of the Discord home page. You can also add your scheduled event on google calendar, cover image, or ICS file. Create an event start date and start scheduling on Discord.
FAQs:
Can I enter a restricted event on discord?
Members need an invite link, permission, or server invite link to join the restricted event on discord.
How many Discord events channel a server must have?
The cap for scheduled Discord events is 100. So, created events should pop up within this cap in a server.
Where is the Discord event?
Set your server as a Community Server and then you can find the Events Page at the top left corner of the channel list.