The Remote Weekly goes out every Wednesday and brings to you original content, product tips and latest stories around remote working.
5 Awesome Snapchat Hacks you Should Know‍
The Snapchat app can be clunky and confusing at times. You have all these social features in one app that can make it unintuitive and overwhelming to new users. But don't switch to Instagram just yet.
With any clunky app, there come some hacks that only a select few know. Knowing these Snapchat hacks allows you to maximize Snapchat's features and unlock the platform's full potential. They'll help you create more unique Snaps that your friends and audience will engage with.
Here are five little-known features you should know about. Whether you're promoting your business or simply enjoying Snapchat for personal use, you'll get a lot of use from these hacks.
1. Make Custom Snapchat Stickers
Not satisfied with Snapchat's Stickers? Make your own!
There are multiple ways you can create Snapchat stickers. One way is by turning yourself into a Sticker.
Turning Yourself into a Sticker
Snapchat has a Bitmoji integration that allows you to use Snapchat stickers that resemble an animated version of you.
You can use these Bitmoji Stickers in your Snaps and conversations. Here's how to turn yourself into a Bitmoji Sticker.
Step 1: Install the Bitmoji App.
Step 2: Tap the Bitmoji icon to launch the app.
Step 3: Click "Create Avatar"
Step 4: You're given a choice between two genders. But once you select one, a Bitmoji pop-up will show, prompting you to take a selfie with your device's camera.
Step 5: Click "Continue"
Step 6: Take your selfie. Make sure you're in a well-lit environment.
Source
Step 7: Bitmoji will generate an avatar based on the selfie it processed. You may finalize it or continue editing.
Source
Step 8: We suggest editing the Bitmoji more since the selfie feature only captures the facial features. You have yet to dress your Bitmoji and decide its body type.
Source
Step 9: Save your avatar.
Great! You now have your Bitmoji. Bitmoji stickers convey a wide array of emotions, ideas, and activities. These stickers will make conversations with Snapchat friends more fun.
Now, link your BItmoji to Snapchat. Here is how:
Step 1: Open Snapchat.
Step 2: Navigate to your profile. The profile button should be on the upper left corner of the screen.
Step 3: Once at your profile, click the gear icon in the upper right corner.
Step 4: Scroll down and click "Bitmoji."
Step 5: Tap on "Create My Avatar"
Step 6: Choose "Link Existing," then "Continue."
Step 7: Log in to your Bitmoji account when prompted.
Woohoo! You now have your very own animated avatar on Snapchat. You can send wacky, fun avatar stickers of yourself to friends or put them in your Snaps. In addition to Bitmoji, Snapchat offers a variety of "Actionmoji," which are reskinned copies of your avatar that are created to depict certain user actions. You must be curious about all Snap map Bitmoji meanings and how this works. Head over to the link to find out.
There's another type of custom sticker that you can utilize, though.
Turn Anything into a Sticker
Perhaps you want to turn your pet into a sticker. Or there's an item near you—a figurine, statue, plush toy, food, etc.—that you think could make for a great sticker.
Turning these things into stickers is very easy.
Step 1: Take a photo of the item on the Snapchat app. You can choose to use a Snapchat lens or not.
Step 2: After taking the photo, select the scissors icon on the right-hand side.
Step 3: Choose either "Draw," "Rectangle," or "Ellipse" from the bottom of the screen. Select the method depending on the shape of the item you want to turn into a sticker.
Step 4: Enclose the subject in a selection. Be as precise as you can.
Step 5: Click "Done."
You now have your custom sticker!
You can drag that sticker anywhere on the photo to immediately use the new sticker, as shown below.
That custom sticker is also saved in your sticker library, allowing you to use it for future snaps.
2. Use Multiple Filters at Once
Having the best web hosting and an engaging website is great if you're a business. But ensuring that your social media content is just as good is also crucial for your marketing. This next Snapchat hack gives users more creativity with their Snaps.
Snapchat lets users enhance their Snaps with filters. Some filters alter the image's color to create a certain mood, whereas others add a graphic to the image. This graphic could be a sticker, moving graphic, location, time, weather, or a mix of these.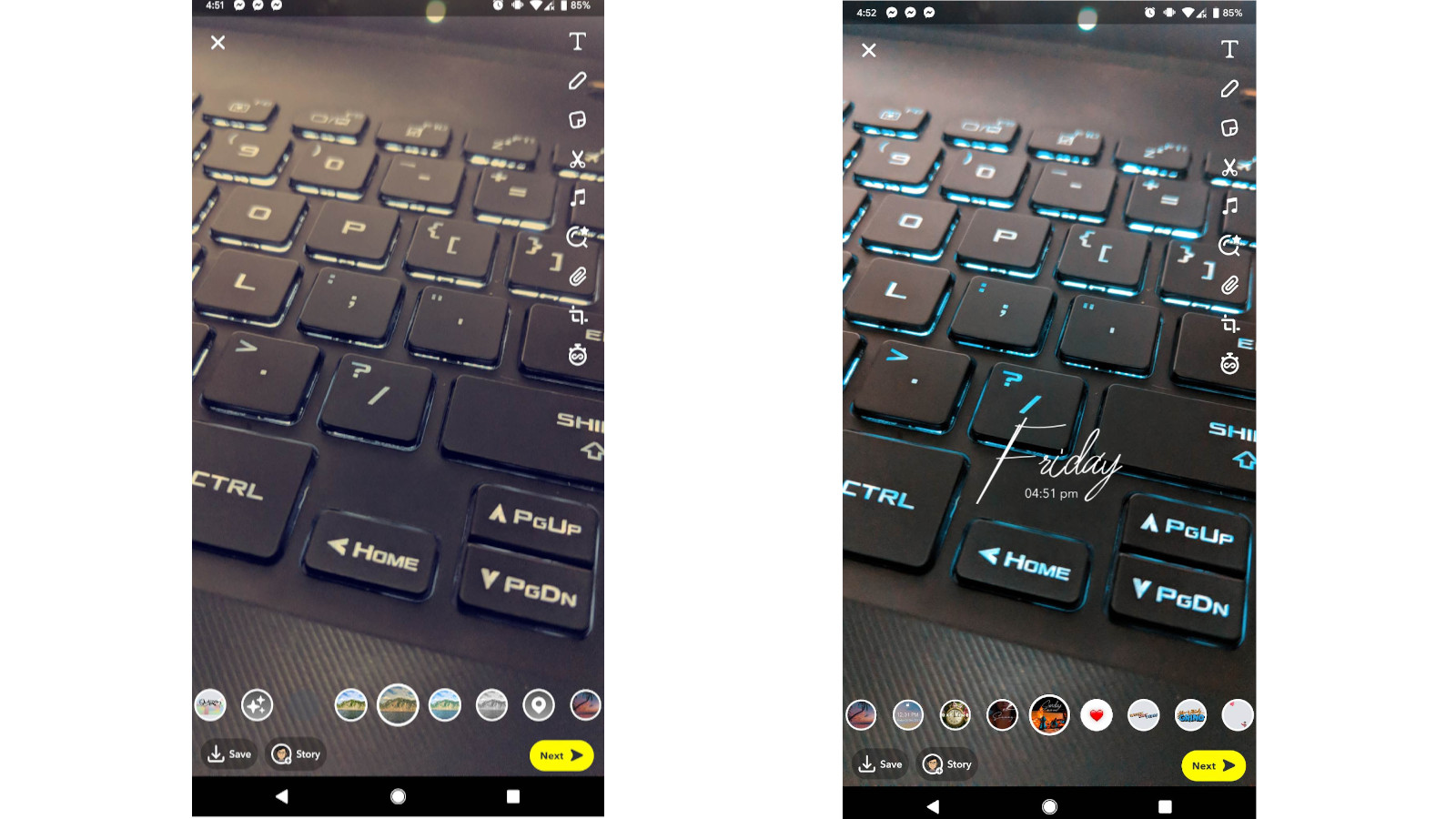 What if you want an image color filter plus the time on your Snap?
Good news—you can add multiple filters to your Snap! Here's how:
Step 1: Take a photo on the Snapchat app, as you normally would.
Step 2: Scroll through the filters until you see one you like.
Step 3: Once you have your desired filter, leave a finger (ideally your thumb) on the screen. This keeps the filter on the screen.
Step 4: With another finger, scroll through the available filters again. This will be added to the filter you're holding down.
Step 5: Voila! You now have that extra filter.
This feature used to allow up to three filters on a Snap. But now, Snapchat can only allow a maximum of two.
Once you have multiple filters, you can keep designing using the other design tools or click "Next."
Pro tip: Take a photo with any of the selectable Lenses on Snapchat. If you apply the above steps to a photo taken with a Lens, you'll effectively have three filters for a single Snap! The image above combines three filters, for example.
3. Draw with Emoji Brushes
The brush tool allows Snapchat users to draw on any photo. You can also use this tool to pepper your photo with commonly used emojis.
You're limited to the following emojis: 😍, ❤️, 😂, 🔥, 😘, 💀, 😭, 💯.
Step 1: Take a photo on the Snapchat app.
Step 2: After pressing the shutter button, you're taken to the edit screen.
Step 3: Click on the Pencil Icon. This will allow you to draw on the photo you just took.
Step 4: Click the heart eyes icon "😍."
Step 5: Select an emoji from the drop-down menu.
Step 6: Trace on the screen your desired shape.
While using the brush tool, emulate a zoom-in gesture to enlarge the emoji brush. Doing this allows you to place bigger emojis on the screen.
The reverse also applies. Pinch the screen, emulating a zoom-out gesture to make the emoji brush smaller. This allows you to place smaller emojis on the screen.
Using the emoji brush can convey an exaggeration of emotion. For example, peppering heart and fire emojis all over your new sneakers.
You can also use the emoji brush to draw shapes with a unique trail. The possibilities are endless with the emoji brush.
4. Change the Color of Your Text
Changing text color in Snapchat is very straightforward. It's not so much a Snapchat hack as it is a feature.
Step 1: After capturing your Snap, tap anywhere on the preview screen.
Step 2: Type in your text as prompted.
Step 3: Drag the color slider knob to your desired color.
But what if you want to color individual letters, words, and phrases?
If you're the super creative type, a single-color text may not suit every Snap you're trying to create. And the various fonts Snapchat provides could be spiced up.
If you want to color your text with different colors, you'll need to create new text for every color you wish to add. That means if you want something like "Good Morning!" where "Good" is yellow and "Morning" is orange, you'll need to type "Good" and "Morning" individually while selecting the color for each.
Giving Depth to your Text.
With this in mind, you can create 3D effects for the text you type. This is a useful Snapchat hack for creating unique and more varied text styles. It's a popular technique used by graphic designers where they use the best logo makers to overlay text and give logos and other branding assets some depth.
Let's see how you can do something similar on Snapchat.
Step 1: Simply type two identical phrases, each having a different color from the other.
Step 2: Choose your colors wisely. Contrasting colors will provide a rather loud, funky look. In contrast, two colors of the same hue will provide a simpler, subtler look.
Step 3: Depending on the font you chose, you may need to tap the "Aa" icon on the upper right corner until you get the style with no background.
Step 4: Resize them to be similar in size to one another.
Step 5: Stack one on top of the other. Doing this gives depth and perspective to the text.
Step 6: The farther the texts are from each other, the more depth they'll have.
With the fundamental knowledge of changing text colors, you can create various types of typography and designs.
You may even use individual letters as design elements, for example. The letter "O" can substitute for a perfect circle. You can create straight lines with an uppercase "I" and much more.
If you're using Snapchat to promote your business, it takes more than fancy coloring techniques, consistent colors, and Snapchat hacks to maintain brand tone. You'll need terminology management as well.
Terminology management will guide you on the terms and tone to use in your copy. This will prove super helpful in maintaining consistency across your marketing assets.
5. Change the Speed of Your Video
Altering the speed of your video can make for some quirky, fascinating results. Take slow-mo videos, for example. Specific actions in a video can be slowed down to emphasize a point.
You can slow down a video and overlay it with matching-tempo music to make for some trendy, eye-catching Snaps. These will make for great Spotlight reels and stories, similar to TikTok's short-form videos.
Here's how you can alter your video's speed:
Step 1: Take a video Snap like you normally would on the app.
Step 2: In the editing screen, swipe through the filters until you find the slow-motion and speed-up filters.
Step 3: There are three filters to choose from—slow-mo, sped-up, and really sped-up.
From there, you can save the snap or continue editing.
Let your creativity flow here. You can add music, stickers, and clips with varying playback speeds. When combined together, you can create fun Snaps that hit viewers in the right places.
In Closing
Snapchat isn't the most popular social network in the world. However, it would be a mistake to assume that some Snapchat knowhow would be irrelevant for business or personal use.
Nonetheless, Snapchat is still a widely used content-creation and social media platform. Knowing how to use Snapchat's full creative arsenal allows you to create engaging content that can be posted on other social media platforms as well.
Matt Diggity is a search engine optimization expert and the founder and CEO of Diggity Marketing, The Search Initiative, Authority Builders, and LeadSpring LLC. He is also the host of the Chiang Mai SEO Conference.
Join
5,369

remote workers and makers

The Remote Weekly goes out every Wednesday and brings to you original content, product tips and latest stories around remote working.