The Remote Weekly goes out every Wednesday and brings to you original content, product tips and latest stories around remote working.
How To Create an Effective Employee Advocacy Program Strategy‍
If you've been relying only on your customers and influencers to become your brand advocates, think again.
Your employees can be one of the best sources for brand advocacy.
Creating an employee advocacy program as a part of your marketing plan can create a win-win situation. Your employees can position themselves as thought leaders and your business can enjoy a wider reach, higher engagement, and a better company image. Moreover, one of the more important employee advocacy benefits is that it humanizes your brand.
So, we'll look into how you can create a robust employee advocacy program strategy to get ahead of the curve.
Steps To Create An Effective Employee Advocacy Program Strategy
Want to create a plan that spotlights the best of your employee content on social media like Semrush?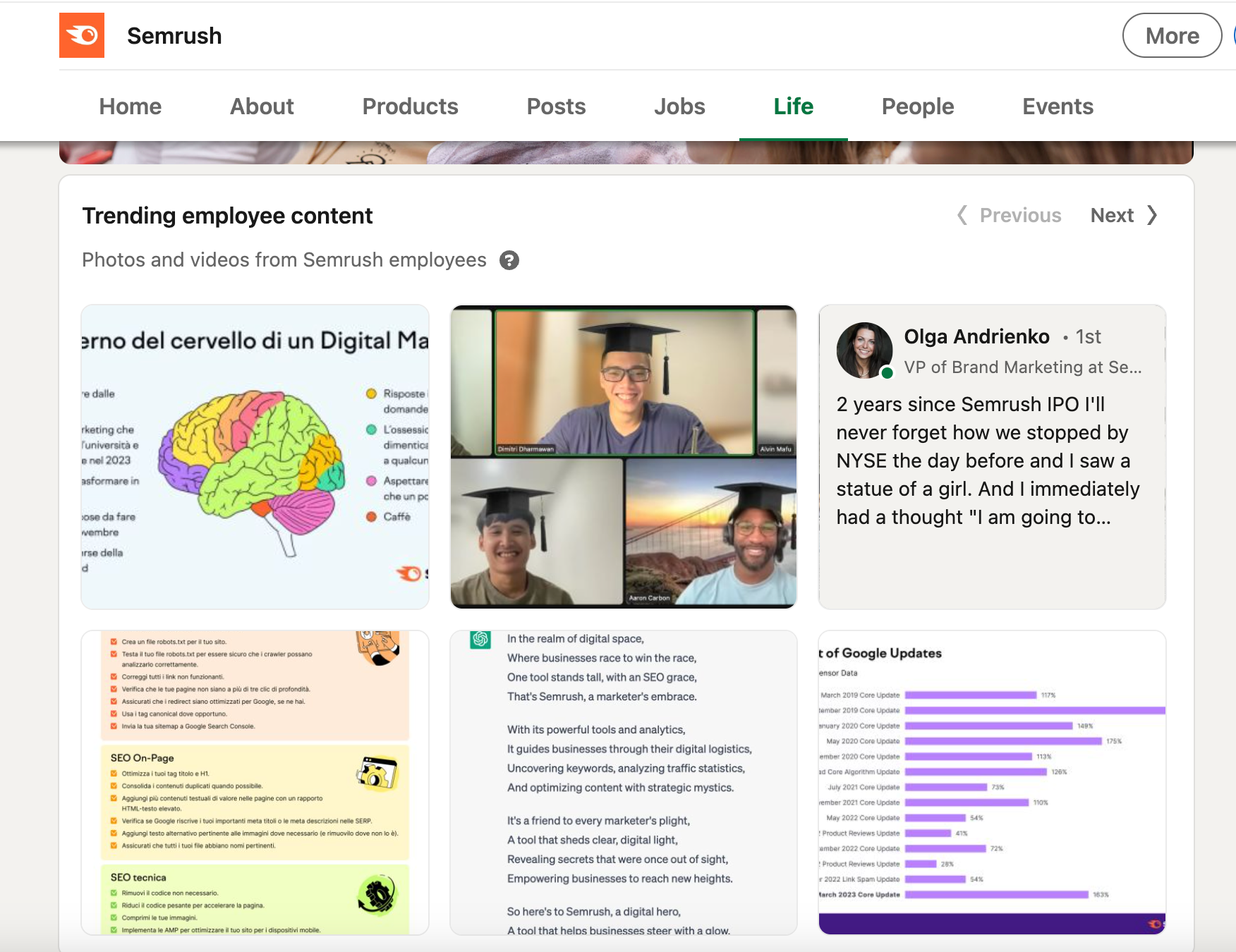 Here are the only steps for an employee advocacy program strategy you need to follow:
Define your objectives
You must define your objectives like any other program while creating an employee advocacy program strategy. To do this, understand your overarching goals and fundamental KPIs. These can differ not only between organizations but also departments.
Here are some KPI-related employee advocacy examples:
Human resources
Improve applicant quality

Accumulate ratings on jobs boards

Increase referrals
Sales
Increase the number of deals closed

Reduce time to close sales

Reduce costs to close sales
Marketing
Improve social media reach

Grow web traffic

Increase marketing qualified leads (MQLs)
For such objectives, it's best to set a defined percentage to measure performance.
Develop content and messaging guidelines
In this stage, you determine not only a content strategy but also the content's tone and the distribution channels. For example, KPMG has amassed 133k followers on Instagram by sharing company updates and featuring their employees often.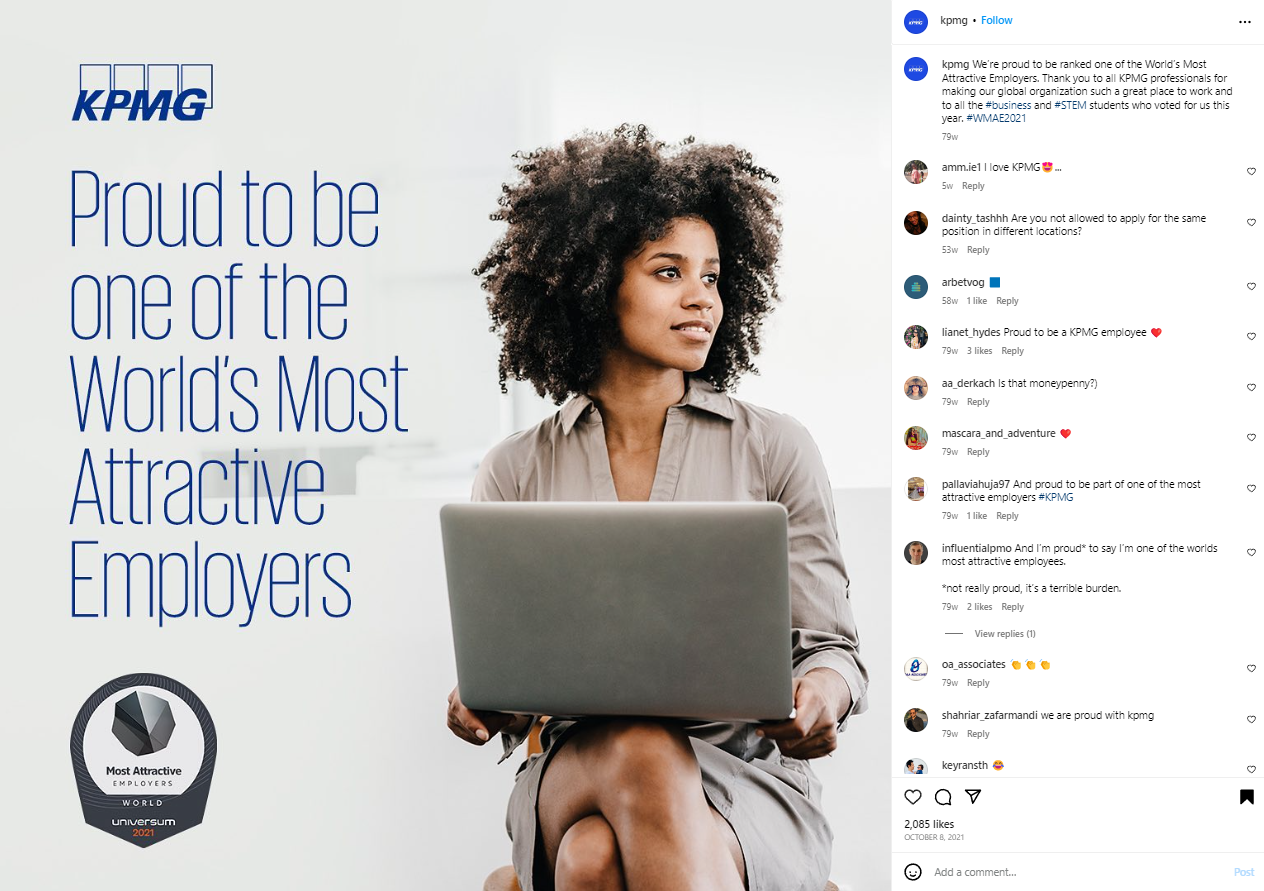 To get similar engagement, focus on establishing content guidelines. This could include the tone of voice, brand hashtags, content to include or exclude on social media, etc.
Train and empower employees
Since not all employees will be well-versed in social media, provide necessary training and help them partner up with other employees to create content that performs well. Also, provide them with the needed media assets to produce engaging posts.
Apart from this, you can also host workshops or webinars and grant them access to online courses. You can even create dedicated internal communication channels where interested employees hold each other accountable and share ideas for social media posts.
Once you start the program, ensure employees share post links internally so the rest of the team can engage with them. This will build them up further and also improve content reach.
Neal Taparia, founder of gaming site Suodku.fm adds, "Show what successful employee advocacy looks like. Give an example of how employees have spread the word about your company positively. This will give your team ideas on how they can do similar things."
Measure and track results
One of the key employee advocacy best practices include frequently measuring the results of your existing program.
Doing so will help you understand if you're moving in the right direction or need to tweak your strategy based on the results.
It is important to note that there could be cases where certain content is performing well but doesn't match your pre-defined objectives. In such cases, you must still realign your activities with the goals.
For example, your original KPI was to increase MQLs by 20%. While executing your employee advocacy program, you notice a 40% increase in content reach but get poor-quality leads. Then, your strategy may require some changes.
Here are a few ways to track your employee advocacy program strategy's success:
Adoption rate

Organic reach and engagement

Referrals

Active participation

Top contributors
Continuously optimize and evolve
According to Post Beyond, the average employee advocacy program adoption rate sits at 53%, with certain sectors like IT services and recruitment having below-average numbers.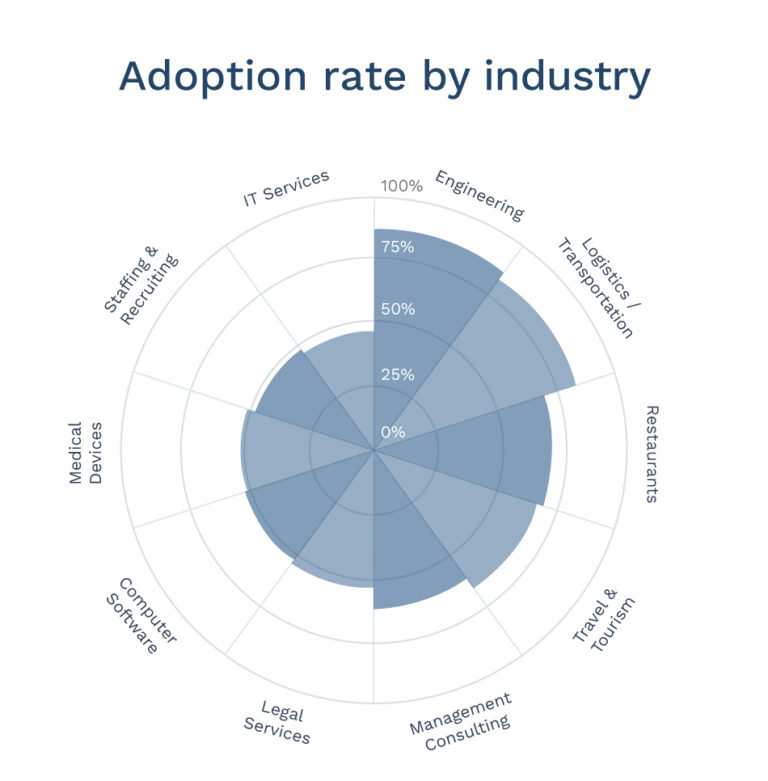 Further, enterprises have the highest adoption rates (61.02%) compared to mid-market companies (36.60%). To combat poor numbers and gain a competitive edge, your employee advocacy program strategy must be optimized frequently and evolve based on needs and relevant industry trends.
Even if an employee has content pillars set, sometimes it's necessary to be a part of the conversation.
For example — most recently, regardless of niche, professionals are sharing their opinions on ChatGPT and what it means for their role and industry.
Best Practices For A Successful Employee Advocacy Program
The employee advocacy best practices include:
Encourage participation and reward employees for their efforts
The likelihood of your employee advocacy program's success depends on participation. So, encourage participation by providing easy-to-understand instructions. You can also motivate employees to participate with rewards and incentives.
Here are some ways to create employee advocates:
Providing company swag and merch

Showing internal and social media recognition

Offering monetary incentives

Giving out corporate custom gifts for holidays

Sharing additional benefits like paid time off, sponsored courses, etc.
Regardless of your chosen medium, ensure it is a continuous effort instead of a one-off activity.
Foster a culture of trust and transparency
One of the non-negotiable employee advocacy best practices includes developing a culture of transparency and trust. Doing so ensures your employees feel confident in sharing their opinions and that management will respond to said perspective.
Employees also expect a culture of openness. So, clearly communicate the company's mission, vision, and values to foster an environment of inclusion and participation. When your employees feel attached to your goals and values, they perform better, but they also become advocates for your brand. They may do this via word of mouth or social sharing. Eventually, the word spreads about your company is an employee's delight and you garner more recognition.
Make it easy for employees to participate
Apart from encouraging your employees to participate, you must create an actionable guide for them to follow. As discussed earlier, create a library of tools and resources your employees can access easily.
You can also lower the barrier to participation by creating templates for content you'd like them to share. This will take away most of their stress related to content creation and you will get content that aligns with the brand's values and messaging.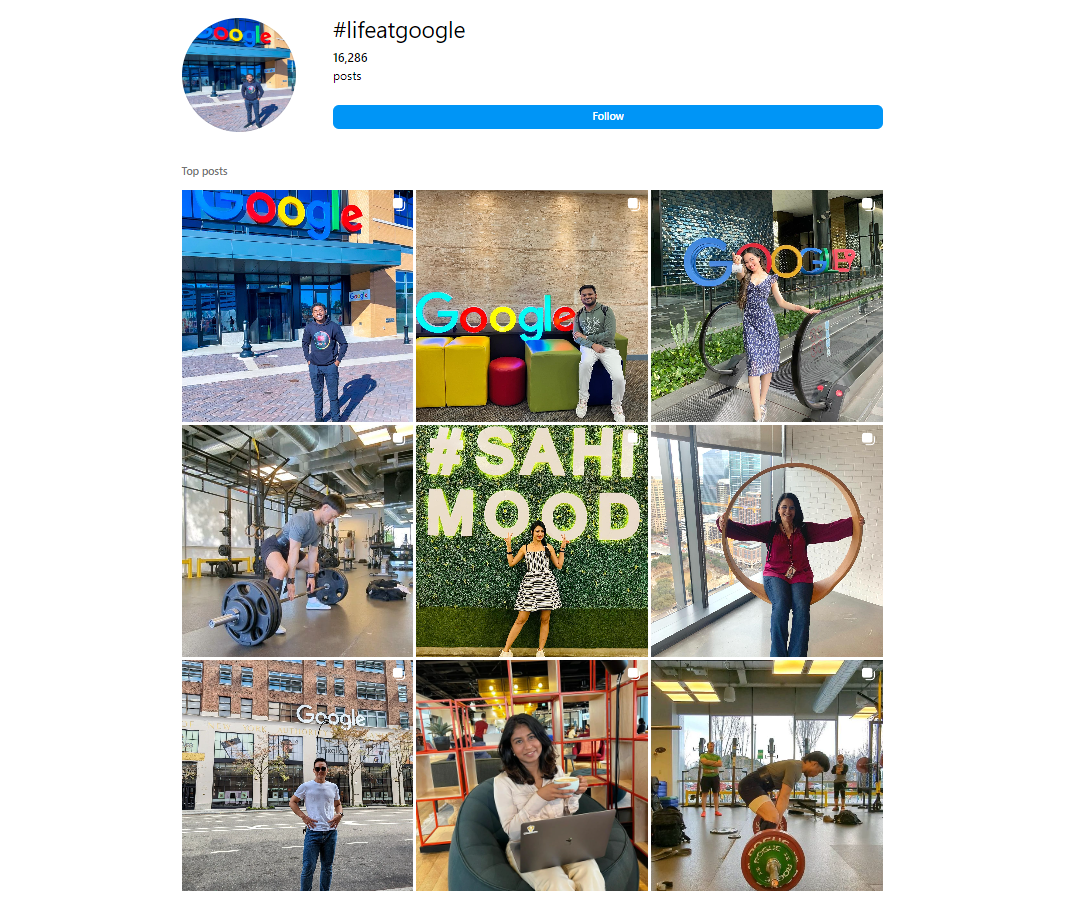 For example, Google employees share their lives with #LifeAtGoogle. They don't need manicured posts to talk about their company. They simply share a slice of their life, which makes it even more authentic.
Integrate employee advocacy into your broader marketing strategy
Lastly, don't treat your employee advocacy program as a standalone initiative. Understand how integrating it into your broader marketing strategy can benefit HR goals and sales and marketing endeavors.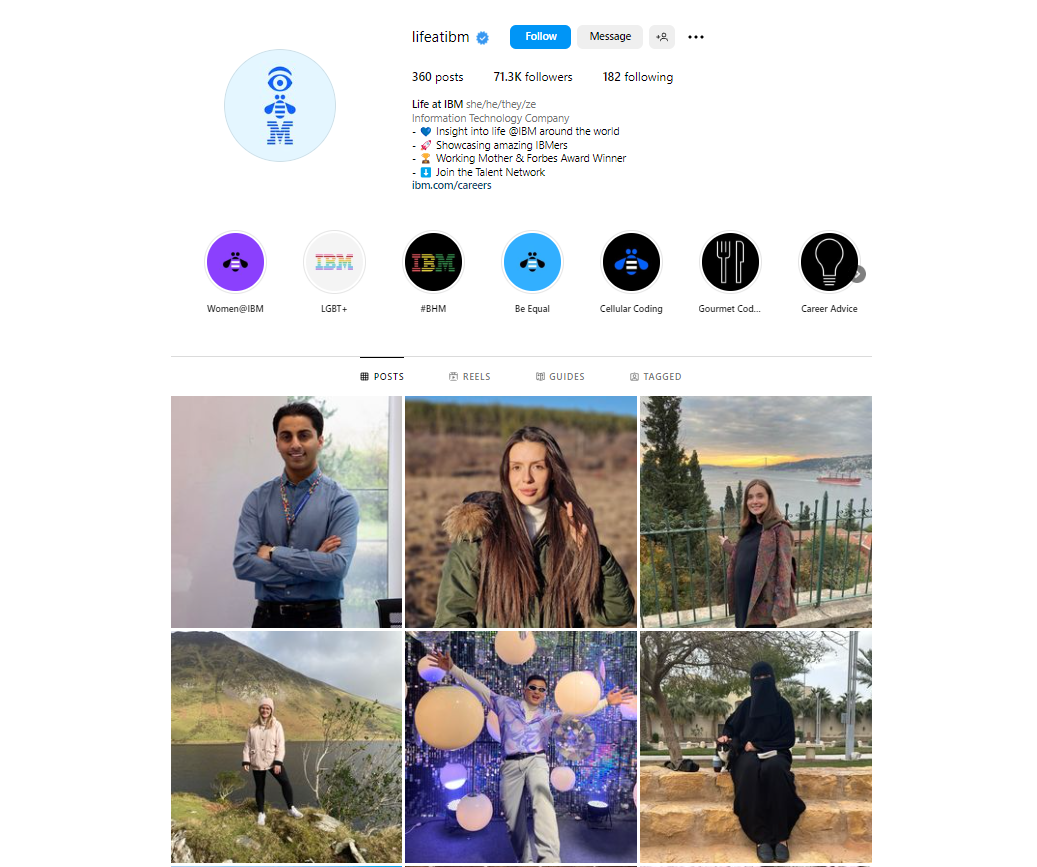 You can improve your company's social media presence by emulating top employee advocacy examples like IBM. They have an Instagram page called Life at IBM, where they have over 70,000 followers. It allows them to share what their day looks like, their fundamental values, and employees' personal journeys.
Launch your employee advocacy program
Creating a powerful employee advocacy program strategy is a worthwhile investment for any company looking to increase brand awareness, trust, and loyalty.
When you foster a culture that creates employee advocates, you elevate your company's value in more ways than one.
Remember to evaluate and adjust your strategy often based on your feedback and performance metrics. This ensures the employee advocacy program strategy stays relevant.
Join
5,369

remote workers and makers

The Remote Weekly goes out every Wednesday and brings to you original content, product tips and latest stories around remote working.