The Remote Weekly goes out every Wednesday and brings to you original content, product tips and latest stories around remote working.
5 interactive content ideas to increase engagement‍
With attention spans growing shorter and competition getting tougher most brands and content marketers are constantly looking for the answer to a similar question. How can we captivate our target audience and keep them actively involved with our content?
The answer lies in the power of interactivity.
In an era where passive consumption is no longer enough to cut through the noise, interactive content is your best bet. Interactive content is basically any digital material that conveys its message by encouraging users' active engagement.
The interactivity aspect makes the content memorable, which drives meaningful interactions amongst your audience, gradually transforming silent viewers into loyal advocates.
In this article, we'll discuss five interactive content ideas that will pique your audience's interest and keep them coming back for more, ultimately increasing your engagement rates. Let's dive right in!
1. Infographics
Infographics have been a staple in content marketing for quite some time. They are revered for their ability to condense complex data and information into visually appealing, easy-to-understand graphics.
However, to truly harness their potential in today's interactive digital landscape, it's essential to make them more engaging.
To make your infographics truly interactive, consider adding clickable elements. These can include pop-up boxes with additional information. For instance, you could design your infographic in a way that clicking on an image or icon could display details like a brief product description, pricing details, or explanation.
This live World's Biggest Data Breaches infographic below is a great example of this
You can also hyperlink certain parts of your infographic to relevant blog posts, articles, or videos. This allows your audience to explore topics in more depth, keeping them engaged longer.
For instance, in the example shared above, there's a "click to read more" link in each item which opens to a related article about the specific data breach.
Interactive infographics are not only about engagement but also about amplifying your reach. So encourage viewers to share your infographic on their social media platforms. You can also include a share link or a call to action inviting them to spread the knowledge.
2. eBooks
The traditional static eBooks are typically linear, text-heavy documents. Interactive eBooks, on the other hand, are a powerful content distribution channel that not only educates but also immerses your audience in a multimedia-rich learning experience.
One of the ways you can make your eBooks interactive is through multimedia integrations, like videos and audio clips. Additionally, you can use graphs and charts that visualize data in an interactive manner like Temenos eBook does.
Such multimedia elements can provide a dynamic and engaging learning experience. For example, a cooking eBook could include videos demonstrating cooking techniques, while a travel guide might feature interactive maps and virtual tours.
You can also implement clickable navigation elements that allow readers to easily jump to specific chapters or sections of interest.
In addition, you can embed social sharing on your eBooks by including social sharing buttons. This will enable your readers to share specific sections or insights on their social media profiles. It will also help extend the reach of your eBook and increase brand exposure.
Considering creating static eBooks is a tedious task, an interactive eBook won't be a walk in the park. Luckily, there are lots of Artificial Intelligence solutions you can use to streamline the process from the research stage to helping you write better content.
For instance, Writer is well equipped to generate long-form content that aligns with your content strategy in a short time. The generative AI solution also offers unique templates that simplify the designing tasks.
Additionally, Writer meets security compliance standards like SOC 2 Type II and PCI, which means any first-party data you may need to include in your eBook will stay safe. Check out their guide to generative AI, to understand further how you can get the most from Artificial Intelligence solutions when creating an eBook.
3. Interactive quizzes
Engaging your audience can be as fun as it is informative, and interactive quizzes are one of the interactive content types that do this well.
Visual elements are key to making quizzes engaging. Use images, videos, and animations to enhance the quiz's appearance and make it visually appealing. You can even incorporate relevant graphics or icons for each question to create a more immersive experience like this ThreadUp Quiz does.
Instead of sticking to standard multiple-choice questions, incorporate various question types to keep participants engaged, as ThreadUp does below.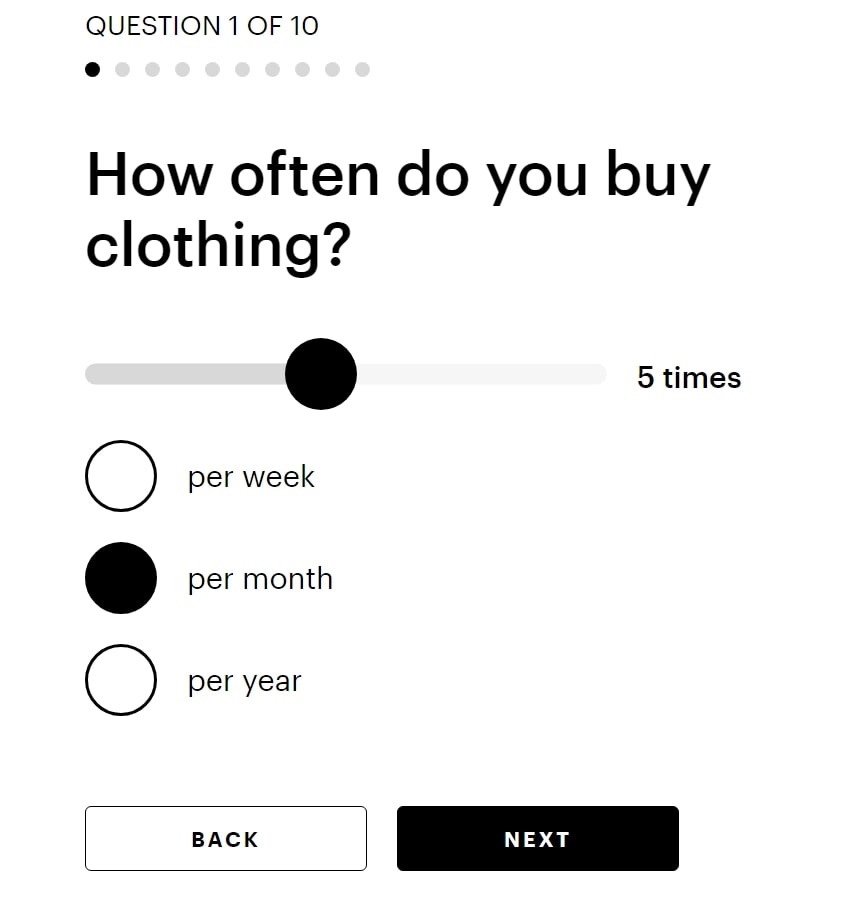 Mixing question types adds variety and prevents the quiz from being monotonous. You can ask participants to match items or concepts, or even fill-in-the-blanks questions.
Include a progress bar or indicator to show participants how far they've come and how many questions remain, as shown in the example above. This helps motivate participants to complete the quiz. Additionally, try to give an answer after each question. The instant gratification keeps participants engaged.
Your interactivity aspect in quizzes can also go beyond the quiz by having shareable results. After completing the quiz, provide participants with a shareable result that they can post on social media or share with friends and followers. This encourages virality and helps attract more participants.
For instance, the ThreadUp quiz participants get the following summary of their scores at the end.
See how ThreadUp also encourages participants to share their results on Instagram and tag them. This marketing strategy is guaranteed to increase their Instagram followers.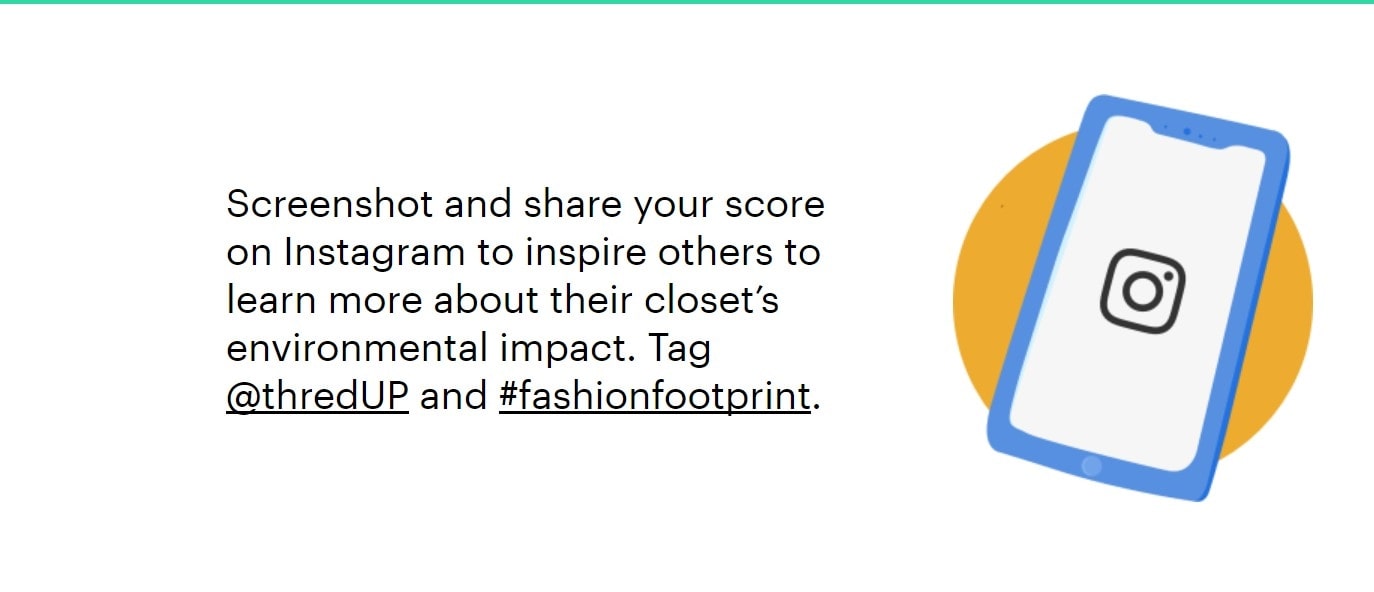 When applicable, you can introduce a competitive element by displaying a leaderboard that shows participants' scores. People enjoy comparing their performance with others, and leaderboards will motivate participants to retake the quiz and improve their ranking.
4. Videos
Videos are naturally engaging, which is why they've always been an integral asset of any interactive content marketing strategy. But, you can make the most of your visual content by making the videos more interactive.
One of the ways to do so is by integrating clickable annotations within your videos. Annotations are interactive elements that appear as text or buttons on the video player. They can link to related content, direct viewers to your website, or prompt them to take specific actions.
For instance, if you're showcasing a product in your video, you can include clickable links to purchase that product, as shown below.
You can also use video cards. Cards can include links to other videos, playlists, merchandise, or websites. YouTube and many video platforms already allow users to add interactive cards to their videos.
Additionally, use interactive tools and features like polls. Have the typical Yes/No or This/That options, like in this interactive video by Lifesaver.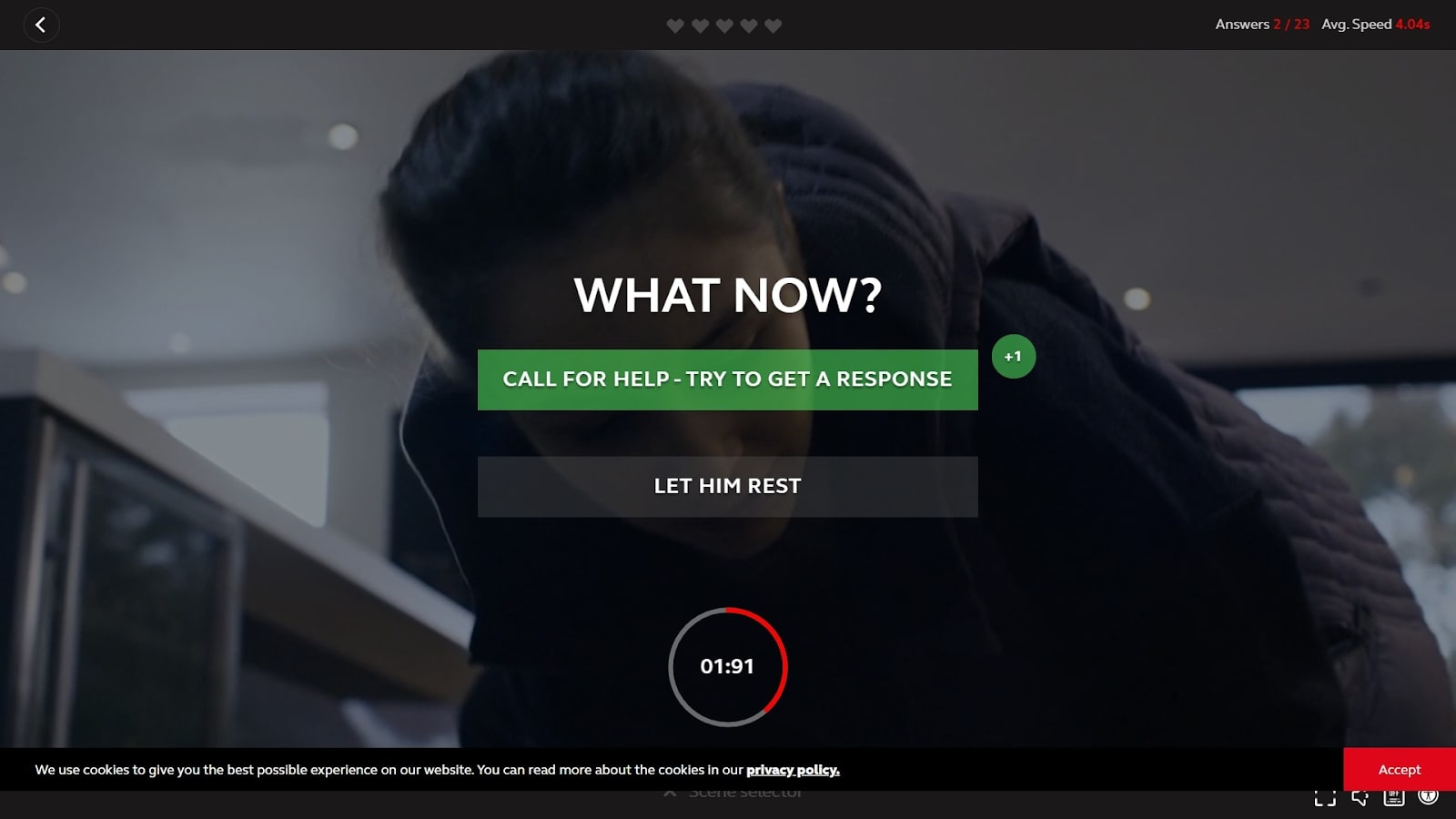 An app like Instagram also supports this feature in their stories. You just have to add the sticker to your Instagram story, customize and then post it.
In addition, include clear and compelling calls to action within your videos. Whether it's asking viewers to like, share, subscribe, comment, or visit your website, make sure the CTAs are visually appealing and well-timed. CTAs like these are most popular on video-sharing platforms like YouTube.
5. Calculators
Calculators are also great interactive content ideas. To leverage this, you can create calculators that help your users in a specific way that is relevant to your industry.
For instance, Hootsuite has created a social media ROI calculator, which is valuable to its users since it is a social media management platform.
Interactive calculators work best when integrated with other types of content, especially text-based content. So embed calculators within other interactive content types like blog posts. You're more likely to engage more readers this way, compared to if you only include a formula.
Always go for a simple calculator design with an intuitive and user-friendly interface to ensure an exceptional user experience.
In closing
Considering how dependent the digital landscape has become on customer engagement, if you're looking to stay ahead of the curve and retain your potential customers, you have to do better than static content.
The five interactive content ideas discussed above offer your business diverse ways to captivate your audience and keep them actively involved with your brand or message. Just to recap, they include infographics, eBooks, interactive quizzes, videos, and calculators.
Now that you understand their value, put these interactive content ideas and the valuable tips we've shared into action to boost user engagement to new levels. All the best!
James Westfield is the Marketing Manager for Writer, an AI writing platform designed for teams. He has over 10 years of experience in the industry. When James isn't in the office, you can find him on the golf course.
Join
5,369

remote workers and makers

The Remote Weekly goes out every Wednesday and brings to you original content, product tips and latest stories around remote working.