Best Free ISO Creator - Top 10 ISO Makers on the Internet‍
Written by: Hrishikesh Pardeshi, Founder at Flexiple, buildd & Remote Tools.
Last updated: Jan 19, 2023
The best free ISO creator software are tools that create ISO files that are essentially replicas of the content transcribed on a compact optical disc that is stored digitally on your hard drive. These files are used as backup and are created so the contents of a physical DVD or software originally stored in a disc can be distributed on the internet easily. 
ISO Creators efficiently handle all ISO files and can open, burn, create, edit, compress, encrypt, mount, and extract them. This disc image utility not only contains all the files and folders of a CD/DVD but also includes the disc's file system information. Hence, it is an exact copy of your optical disc. 
These tools also help users to share multiple software installation files in a single folder, as to do so requires you to first convert these files into ISO files before you share them. 
Naturally, there are a number of different ISO creators available freely in the market. So we have listed down the top 10 ISO creators for you with all the specific information you will need to choose the best free ISO creator without much hassle or research from your end. 
---
TABLE OF CONTENTS
---
Best Free ISO Creators - The Ultimate List
1. ISO Workshop
ISO Workshop is free software available to use on your Windows desktop and is one of the best free ISO creators. The application helps with ISO image management and conversion. The program has a very user-friendly interface and allows you to create, copy and burn ISO files.
Here are some salient features of the ISO Workshop tool
Salient Features
The program enables you to create ISO images, extract files, burn disc images, create backup files, make exact replicas of CD/DVD/Blu-ray.
The program is very lightweight as the installation file is only 4 MB. 
It is compatible with the Windows OS and supports Windows XP, Vista, 7, 8, 8.1, 10 both 32 and 64 bits.
You can create ISO images from the local files and folders on your computer.
It helps you make bootable ISO files with the various file systems. The supported files list includes PDI, MDF, BSI, BIN, B6i, DMG, GI, B5I, and NRG. 
Disc types supported by the ISO Workshop include CD/DVD, CD-R/RW, DVD-R/RW, BD-R/RE, DVD+R/RW, and DVD+R DL.
This application also allows you to easily burn disc images to your CD, DVD, or Blu-ray Disc. With ISO Workshop you can erase, rewrite inscribed data on CD, DVD, and Blu-ray discs.
Extract Function -  The ISO Workshops extraction function quite simply extracts content from an ISO file in only a few steps. Here's how you do it.
You need to first load the content of the ISO file in the software. 
So firstly, locate the ISO file on your PC and select it. It will be automatically loaded into the software.
Here, you can select the objects of the files and right-click to find the "Extract" option. 
Select the option to extract the content of the file.
To burn an ISO file to the disc, you'll first have to locate the said file. You can do this by clicking on the top-right button on the home dashboard to find the ISO file. Select the optical disc and start the process of copying the content to the disc.
This tool is one of the best free ISO creators because of its clean and appealing interface as its clean and easy to use.
2. Ultimate ISO Maker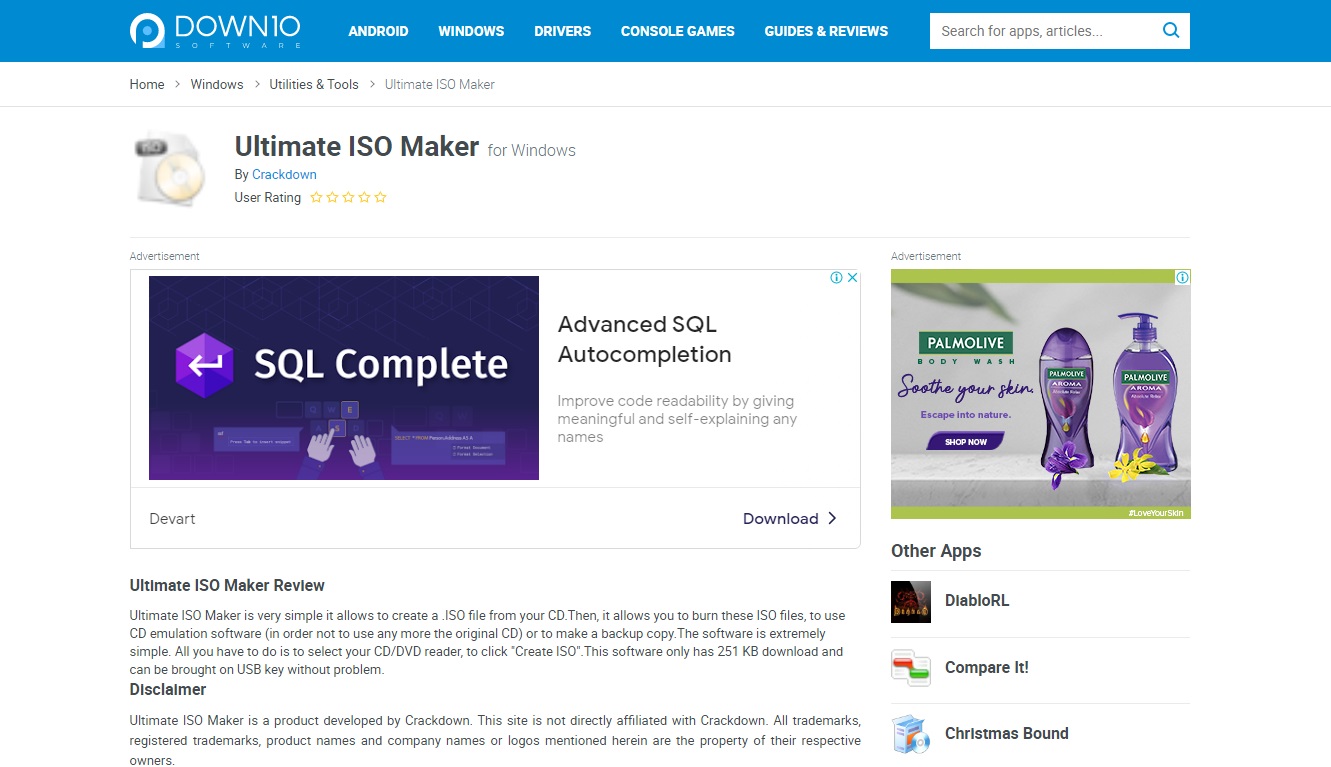 The Ultimate ISO Maker is another ISO creator that helps create ISO files from CD/DVDs and Blu-Ray discs. It is easy to use and essentially works as an emulsion software that allows users to burn files to discs.
This tool is meant to create disc backups and is extremely lightweight with a file size of only 73.32 KB. 
Salient Features:
This software is compatible with Windows 10, Windows 8/8.1, Windows 7, and Windows Vista. 
What's unique about this tool is that it is extremely portable as it allows you to transport the software using a USB key. 
You can burn your ISO files on different types of discs like DVD-RW, CD-RW, DVD+R, CD-R, DVD-R, Blu-ray, DL, DVD+RW, and HD DVD.
It comes with many advanced features like the underrun protection and test write.
This tool is ideal for beginners and is available for free on its website.
3. PowerISO Maker
The PowerISO Maker allows you to create ISO files from CD, DVD, Blu-ray discs. It is a very comprehensive software that includes all the features required to deal with and manage ISO files.
Salient Features:
It is one of the best free ISO creators that allows you to compress, convert, extract, edit, encrypt and burn ISO files. 
It is naturally one of the best ISO tools in the market because of all the advanced features available.
It has a free and a premium version.
You can not only create ISO files on your hard disk but also burn these files on CDs, DVDs, and Blu-ray discs.
All these ISO files are editable and can be converted to different file formats. 
It also supports bootable ISO files.
The toll has a multilingual interface and works best for both beginners and advanced users.
4. ISO Desk
ISO Desk is a free ISO creator that allows you to create ISO disc images and create virtual CD/DVD drivers for up to 20 drivers. It is a very versatile software and is best suitable for beginners. 
The program comes with a user-friendly interface and is ideal for creating ISO image files from CD/DVD/Blu-ray discs. It is quite convenient to use this software as you don't have to install any other drivers. All you have to do is simply map the archive to a virtual drive to view all the contents on Windows Explorer.  
We have also listed down the salient features of this best free ISO creator.
Salient Features
You can easily mount ISO image files to an internal virtual CD/DVD device. 
You can quickly extract files from your CD/DVD with only a few steps.
This program is compatible with Windows XP/2003/Vista OS. 
The application is available for free and is extremely versatile which makes it one of the best free ISO creators.
Since the installation comes with all the necessary drivers, it works as standalone software. 
The user-friendly home dashboard of this program includes all the necessary features.
Note: The mounting feature that the ISODisk provides might not work on Windows 7 PCs. Here for mounting files you can use the free tool from the Microsoft - Virtual CD-ROM control panel. 
5. ImgBurn
The ImgBurn software is another lightweight CD burner application and comes in the fifth position in our best free ISO creators list. This program features a comprehensive toolkit to burn ISO files to disc.
You can read a disc to an image file, create ISO image files from the files and folders on your computer, write the image files to discs, verify the readability of a disc and also test your drive and media content. 
Salient Features:
The ImgBurn software supports the following file formats: ISO, IMG, NRG, PDI, CCD, DVD, BIN, CUE, and GI.
It also supports various audio file formats like MP3, MP4, MPC, OGG, PCM, WAV, WV, and M4A.
It allows users to create audio CDs from digital files.
The program comes with an analyzer and verifies the content and type of burns obtained.
It has many complex features that help you build video discs in different formats.
It is compatible with all Windows operating systems. With Wine, you can also run this software on Linux.
With this tool, you can also test the quality of your hard drive files to ensure good quality burned DVD versions. 
The software is overall quite flexible and is uniquely designed to support more advanced features. 
It is also completely free for use.
6. Free DVD ISO Maker
Another best free ISO creator tool is the free DVD to ISO Maker. This software essentially converts DVDs to ISO images. This tool works best for both beginners and experts. 
Convert CD/DVD content to ISO Files:
Firstly, choose the CD/DVD disc you need to backup as an ISO file.
Select the Output Folder to save the ISO file once its created. 
The program will process the contents on the disc and prepares them for conversion.
Once ready, you need to click on the Conver button to start the process. 
After the conversion is done you will find the ISO file in the output directory you initially selected.
Salient Features:
The software is very lightweight and takes up only 1.64 MB of storage space.
It is compatible with all the windows versions. 
For advanced users, you can use complex features on the software dashboard by navigating to the configuration tab.
7. CD Burner XP
The CD Burner XP as the name suggests is a free ISO maker that is compatible with Windows PCs. With this tool, you can burn CDs, DVDs, Blu-Rays, and HD DVDs. It allows you to easily manage and create ISO files to backup your CD content.
Salient Features:
With this software, you can burn ISO files to CDDs.
You can convert NRG and BIN files to ISO files.
The application includes a data verification after the burning process to check the content.
Has a user-friendly multi-language interface.
You can create ISO files from a group of folders and files.
The CD Burner Xp software is available for free for both companies and individual users to use.
It is compatible with most Windows OS versions. But it works better on older versions.
The installation file is only 6.11 MB, hence it is a very lightweight software to use. 
You don't need to install the program, you can use a separate portable version.
8. Magic ISO Maker
The Image ISO Maker is one of the best free ISO creators in the market. The application comes with a number of unique features and has a separate premium version for more advanced users. 
It essentially created ISO files and allows users to manage, add, edit, rename, and delete these files.
Salient Features:
This software allows users to create ISO files of up to 10 GB from the hard disk or CD/DVD ROM. 
It also comes with an extraction tool to generate ISO files that replicate the optical disc content.
You can process the boot information of any ISO file, and easily remove, edit and extract the boot images.
As it supports bootable disk files you can combine data from different installations and burn them to a single CD/DVD.
It is compatible with all Windows operating systems but works best on a 64-bit computer.
The Magic ISO Maker has a free version but for advanced users, you can install the premium version as well.
9. Folder2ISO
The Folder2ISO is another great ISO maker that is lightweight, versatile, and easy to use with a user-friendly interface. You can create ISO files using this tool.
Salient Features:
This tool is compatible with both Windows and Linux operating systems.
It functions on 32-bit and 64-bit systems.
The software is portable so you only have to launch it to use it without the hassle of installing the program.
It allows you to create subfolders inside your main ISO folder.
The software's dashboard also displays the job status, subfolders, file and file sizes. 
Note: Unlike the other tools mentioned in this listicle, Folder2ISO only supports ISO files. 
10. DoISO
The DoISO tool allows you to generate and burn ISO files. Similar to the other ISO makers listed in this article it has all the same features.   
Salient Features:
The unique feature of this particular tool is that you can create ISO files of any size.
The application comes with a very user-friendly interface. 
The software is very intuitive. 
You can merge duplicate data automatically using this tool which helps save space. 
You can burn ISO files on CDs and DVDs using this tool.