How to block Snapchat on iPhone?‍
Written by: Hrishikesh Pardeshi, Founder at Flexiple, buildd & Remote Tools.
Last updated: Apr 27, 2023
TLDR
Here is how to block Snapchat on iPhone:
Limit Snapchat's screen time

Try scheduling downtime

Restrict Snapchat from downloading through app purchases
The instant messaging app, Snapchat offers several exciting features for the younger generation. People enjoy using Snapchat because of trends, creating streaks, and sending quick snaps. As a result, Snapchat is a widely popular and accepted social media app.
Even after all its safety features, the Snapchat app can be harmful or addictive for minors using iPhones. No worries, because parents will now learn to block Snapchat on iPhones with the methods mentioned in this article.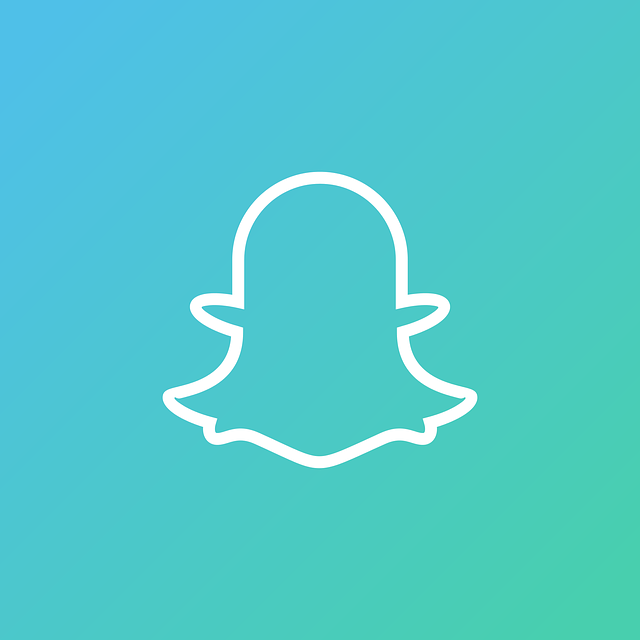 Why block the Snapchat app?
Snapchatters consider the app one of the safest social media apps on the internet due to its unique privacy settings and features.
For example, Snapchat's secure feature enables users' uploaded stories to disappear after 24 hours. Also, users can prefer to turn on the messages disappear mode that removes the messages after one day. Learn how to delete messages on Snapchat.
It is a remarkable idea for parents to allow their kids to be on the internet and learn several knowledgeable things. Also, children understand how digital media works and other helpful factors associated with it better. Unfortunately, there is some cringeworthy or unfiltered adult content on the internet that a child's phone should avoid having at all costs. Such content restrictions for minors are necessary.
Similarly, the Snapchat app is a platform where most adults post 18+ content on stories, snaps, or messaging. This stuff is often not age appropriate. People also share GIFs, send photos, and stickers via messages. In addition, you cannot block an account sharing offensive things unless it goes against Snapchat's Terms of Service. As a child spends time on Snapchat they are exposed to inappropriate behavior and explicit content online.
So, you can block Snapchat to prevent your kids from coming in contact with inappropriate content on Snapchat. It is best for your children if you prefer blocking Snapchat. Let's understand a few different ways that can help you restrict Snapchat on your iPhone home screen.
Limit the Snapchat app's screen time
The screen limit option is most suitable if you want to block Snapchat on your iPhone to prevent your kids from getting its complete exposure. The feature enables restrictions and closes or blocks the app after one minute. Also, parents can choose a period to disable Snapchat through screen time and set a separate Apple ID for it. For example, Snapchat on a child's iPhone will automatically disable in-app purchases if you set one minute period.
As a result, kids won't do much or consume inappropriate content in such a short screen time limit. Now, we'll look at the steps to enable screen time on iPhone for Snapchat.
Step 1: Open the settings app on your iPhone.
Step 2: Now scroll down the iPhone settings until you find the "Screen Time" option.
Step 3: Click on "Screen Time."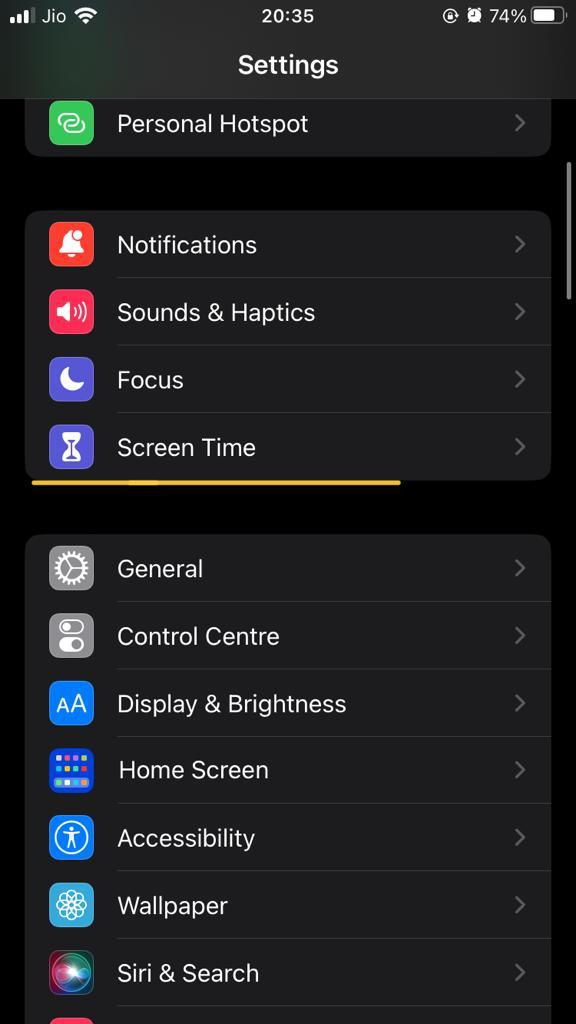 Step 4: Tap on "App Limits."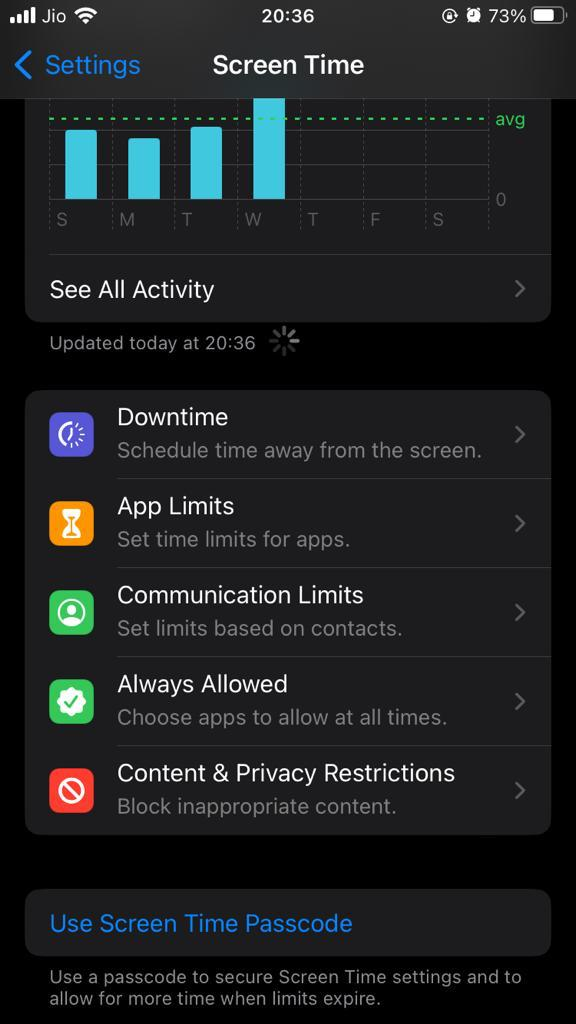 Step 5: Select "Add Limit" and pick the "Social" category from the apps list.
Step 6: Click on "Snapchat" and then on "Next."
Step 7: Finally, click on "Add" and save changes.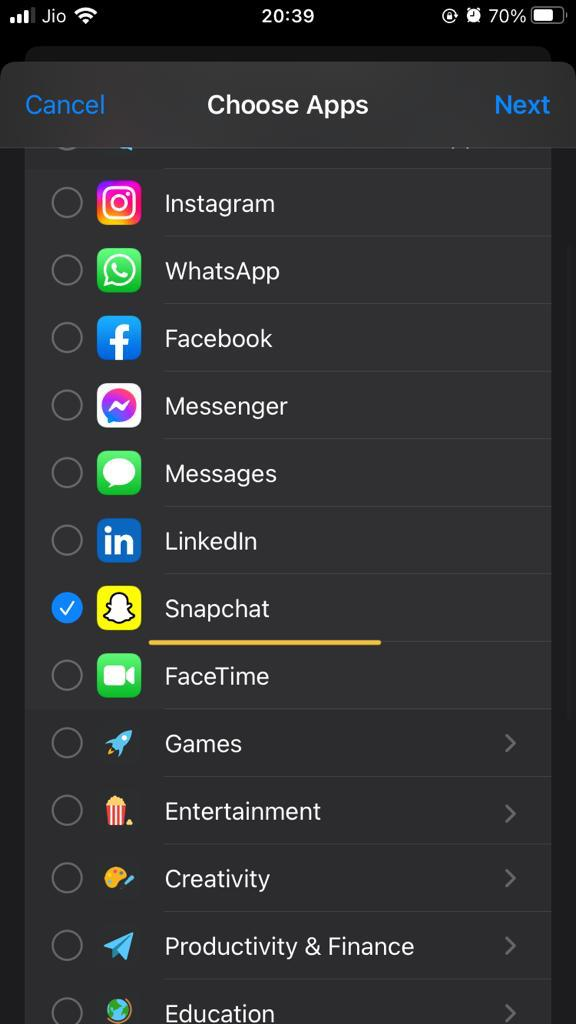 Scheduling downtime in settings app
Another efficient way to block Snapchat is scheduling downtime. It works well on iOS devices. You can block social media apps having ranging hours on an iOS device. All you need to do is open the iPhone settings app and enable the "always allowed" option for downtime assignment. Furthermore, click on the red minus sign to exclude the downtime from the list.
Finally, provide downtime according to your desirable hours, i.e., one day. Let's glance at the detailed steps for a better understanding.
Step 1: Go to the phone's settings app.
Step 2: Click on "Screen Time."
Step 3: Select "Downtime" from the list.
Step 4: Now, enable the toggle button that says "Scheduled."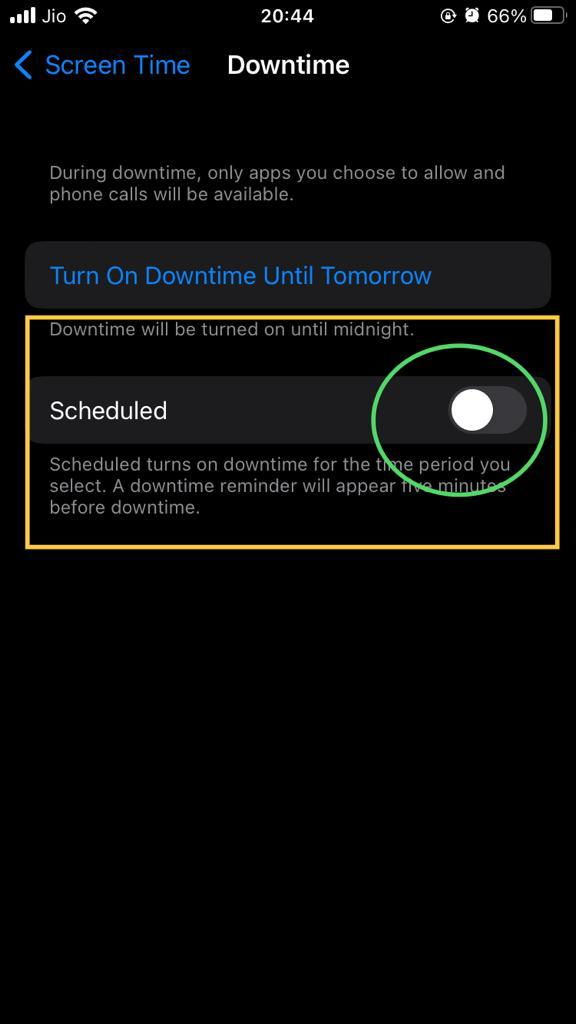 Step 5: Create a schedule. This schedule for specific apps determines the number of hours you want them to be blocked.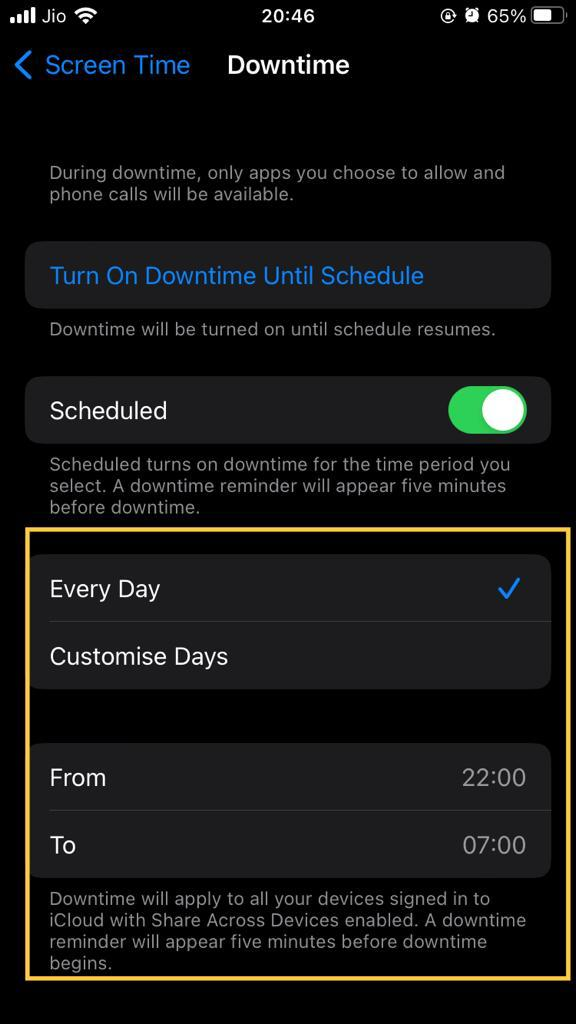 Step 6: In the final step, click "Turn on Downtime until Schedule." It enables downtime in the settings app.
Note
Setting up the downtime to a time limit when kids are around and have the highest possibility to check the iPhone is ideal. So, you can set the downtime from 6 PM to 8 PM.
Restrict Snapchat from downloading to your iPhone in App Store
Restricting the Snapchat download can do wonders. Your kids cannot download the app at all costs on the iPhone when you restrict it from the root, i.e., app store purchases. Users can prefer to keep the app installed or restrict its download as iOS allows you to remotely block apps. So, read further to learn how to block Snapchat on iPhone's home screen using this method.
Step 1: Open "Settings" on your iPhone.
Step 2: Scroll down till you find the "Screen Time" option.
Step 3: Click on the "Use Screen Time Passcode" option. It allows you to set a password.
Step 4: Provide your Apple ID to initiate password recovery.
Step 5: Enable "Content and Privacy Restrictions."
Step 6: Click on the "iTunes and In-App Purchases" option.
Step 7: Lastly, click on " Content Restrictions" and select Snapchat. You block any other app using similar steps.
Consequently, this method restricts your children to download certain apps on the iPhone. However, kids will find a way to install Snapchat on their phones. So, it's parents' responsibility to pay attention to their children's activities if they have separate Apple phones.
Noteworthy point
Content restriction is the most effective method discussed in this article. Therefore, it's advisable to use this feature for blocking Snapchat installation on the iPhone.
Install parental control app
A parental control app ensures parents monitor their children's activities on Snapchat to restrict the user with a certain age limit. Such app limits and block apps that show harmful content. As a result, they can also report offensive content when they catch their children watching such stuff.
You can download the FemiSafe Jr Blocksite app on your child's iPhone. The app functions effectively and allows you to monitor the apps installed. You can download it on an Android phone as well. Let's look at the steps to use this app.
Open the FemiSafe Jr Blocksite app on your and your child's iPhone.

Now, connect both devices by tapping on '+ Connect A New Device.'

Apply pair code.

Disable Snapchat in-app purchases using the app.
Installing a parental control app can help you block Snapchat from your iPhone.
How to delete Snapchat from a child's phone?
Below mentioned steps will allow you to delete Snapchat from your child's phone
Press the Snapchat messaging app until all apps start shaking.

Click on the minus button in the top left corner.

Finally, tap "Delete App."
Another method
At the top right corner, click Settings.

Go to General.

Tap on iPhone Storage

Click on Snapchat

Finally, select "Delete App."
Get rid of Snapchat on iPhone
So, trying any of the methods discussed in the article will let you know how to block Snapchat on your iPhone. You can complete most of these techniques in your iPhone's settings app. Moreover, other users can install a third-party app for extra precaution. Such apps also allow parents to track their child's location.
Parents must always check what their kids are up to on the apps.
FAQs
Do parental controls block specific apps permanently?
Parental controls don't block the apps permanently. So, parents can choose to add an app and remove it accordingly.
How to use the screen time app?
Launch iPhone's settings.
Go to Screen Time

Create a Screen time passcode

Click on Continue

Set a time limit on the child's phone
How do I track my children's Snapchat?
Parents can track their children's Snapchat activities by downloading the Family Center app. Snapchat owns the app and gives control to the parents to track their child's activities on social media apps.
Is Snapchat safe to use for teenagers?
Instant message and story-sharing app Snapchat is safe for teenagers above 16 years old. However, parents must monitor their children's Snapchat activities if they are below 16 years old. It is a necessary step because children can come across harmful or inappropriate content.