Top 15 Sites to Hire Freelance Developers‍
Online platforms are a reliable and easy way to find and hire freelance developers. The vast selection of online platforms ensures that varying customer needs and budgets are met, but it can be hard to choose the right one.
So, we've curated a list of the best 15 sites that you should consider - and why you should consider them - while hiring freelance developers.
Before we get to the list, it is important to understand that freelance platforms are typically of five types:
1. Vetted tech talent networks: These are networks that screen and curate freelancers, testing them on various aspects like their quality of skills and past experience. Vetted tech talent networks provide a customised and comprehensive freelancer hiring process.
2. Pure freelance marketplaces: These are vast networks of non-curated freelancers. They are more affordable, and provide a large volume of applications. However, the quality of freelancers is neither assured nor easily identifiable.
3. Freelance job boards: Freelance job boards are websites that curate job posted by companies looking to hire freelancers. They don't provide additional hiring support other than a listing page.
4. Networking sites: These include online tech forums, which are regularly used by freelancers, and professional networking sites like LinkedIn. In addition to providing a jobs listing page, they allow employers to view and engage with freelancers within the site.
5. Dev shops: Software development shops, or dev shops are firms that offer a range of services for building software products. Dev shops consist of agile product development teams, which can be hired on-demand.
So here are our picks, grouped into the 5 categories above:
Vetted Tech Talent Networks
Flexiple is a premium tech talent network that sources the best, most professional freelance developers & designers. Here, you can find the right developer and get started on your project within a week.
USPs
6-step vetting process: Freelancers go through a rigorous 6-step vetting process that tests their proficiency in multiple criteria like technical skills, depth in past work, and soft skills like communication.
Personalised recommendations: Further, Flexiple hand-picks the best-suited freelancers for a project based on requirements, ensuring they are a good technical and cultural fit for your team.
Flexible payments: Flexiple also offers a seamless hiring experience via its flexible time-based payment models, and responsive support throughout the freelance project.
Risk-free trial: Lastly, Flexiple's fast on-boarding and risk-free trial period allows you to try out a developer and assess a fit before committing to a full-fledged project.
Pricing
At $30 to $80 per hour for developers, the rates are affordable, and there are no recruiting charges.
Toptal is an established player in the premium freelance talent space. It is widely renowned for its large and high-quality talent pool. Apart from freelance developers and designers, Toptal also offers freelance financial consultants, product managers, and project managers. Here's a detailed Toptal review and the best alternatives to Toptal.
USPs
Long screening process: Toptal's stringent and long screening process for freelancers consists of code reviews, portfolio review, real-time testing, and an English language skill test.
Personalised recommendations: The company also provides personalised recommendations and a dedicated account manager for your project.
Concerns
Limited flexibility: Further, Toptal's support has been criticised time and again, and its solution is not as flexible as proclaimed - making it unviable for smaller projects.
Pricing
Toptal's unreasonably-high commission charges, which bloat its developer prices to over $80-200 per hour, can be a hard ask for startups.
Gigster was started by ex-Toptal executives, and has raised funding from prestigious investors like Y Combinator and Andreesen Horowitz.
USPs
Invite-only network: It is a small but effective network of highly-qualified ex-engineers from the top tech firms. Gigster's invite-only selection criteria ensures the quality of developers.
Full-fledged team of freelancers: Rather than providing companies the ability to hire individual freelance developers, Gigster lets clients hire an entire development team - developers, designers, and project managers.
Concerns
High-value projects: Gigster only takes on high-value projects, and its astronomical pricing is out of reach for most companies. Besides, freelancers on the platform only work part-time for Gigster, including the project managers - at times making it tough to coordinate the project.
Pricing
Pricing is project-based, and depends on the scope and scale of the project. But it can run upwards of $100k for building even reasonably basic apps.
Gun.io is similar to Toptal in the quality of developers, owing to a stringent screening process. Like the typical premium freelance networks, Gun also prices freelancer services on an hourly-rate model than project-based. However, unlike most other freelancing sites, Gun's focus has always been on freelance developers.
USPs
Expert developers: Gun's freelance developers are renowned for their high expertise levels, but most of them are from the US. Hence, though it guarantees quality, Gun hasn't been able to differentiate itself in terms of affordability.
Concerns
High prices: Much like Toptal, its steep costs are a high entry barrier for startups looking for the optimal blend of quality vs cost.
Pricing
The pricing of Gun.io is a bit opaque, but can be estimated to be upwards of $150 per hour for quality developers.
Arc.dev initially started as CodementorX, a mentoring platform for developers, where they could seek help from the community for problem-solving and skill improvement. Despite carrying the tag of "on-demand mentorship platform for developers", Arc has also launched a developer hiring solution for companies.
USPs
Strict vetting process: Similar to other premium networks, Arc has a strict vetting process to ensure quality of developers. Further, Arc's community consists of developers in some hard-to-find niche skill-sets.
Hire permanent developers: In addition to freelance developer hiring, Arc offers companies the option to hire permanent full-time remote-working developers. This service includes compliance, payroll, and benefits.
Pricing
Arc's hourly rates for freelance developers are in a similar range to that of Toptal - they start from $60 and can go to $200+.
Pure Freelance Marketplaces
Hubstaff Talent has a completely free service for hiring developers. It works as a large database of freelance developers and agencies that clients can browse through.
USPs
Transparent: Hubstaff is a transparent marketplace marketplace for clients to find freelance developer profiles and get in touch with them directly. But it lacks the necessary features required for hiring the best talent for your needs.
Concerns
Free, but no screening: However, it doesn't conduct manual vetting of the developers. Hence, a large time and effort investment is needed on your part in evaluating developers.
Pricing
Upwork is one of the world's largest freelance marketplaces, and resulted from the merger of Elance and Odesk, two popular networks. In addition to freelance developers, Upwork's vast network spans freelancers in over 50 verticals - from data entry to graphic design. Here's a detailed review on Upwork.
USPs
Bidding system: Instead of matching freelancers with projects, Upwork allows freelancers to send their lowest quotes for the completion of the project. The client can assess quotes on their own terms, but usually the freelancer who has bid the lowest gets the project. The problem with this is, the selected freelancer may not be the right fit for the job.
Concerns
Affordable, but no screening: Upwork doesn't have a vetting process, and hence, the onus would be on you to evaluate developers. As the platform focuses on affordability and volume, Upwork encourages several freelancers to apply to projects. Moreover, freelancers have to pay a fixed upfront fee for each project they apply to.
Pricing
The sheer size of the platform makes it hard to ascertain a range of costs, but they typically vary between $8/hr to $100/hr for developers.
Guru is another 'pure' freelance marketplaces and shares a lot of similarities with Upwork. After posting a job on the platform, you can invite quotes from freelancers who are ready to take up your project.
USPs
High volume of applicants: Much like Upwork, this will generate a high volume of applications but you have to spend time evaluating developers.
Suitable for small projects: The reach of the platform is substantial, and because of the network's vast size you can expect to find freelance developers of all levels of quality and cost. Like Upwork or Fiverr, this site is more suitable for small to medium work rather than long-term projects where quality is the main priority.
Concerns
Bad customer support: However, it should be noted that Guru has been criticised often due to its lack of protective policies governing the exchange of freelancing services. Its customer support has also been called out by many.
Pricing
Fiverr is a popular freelance marketplace that caters to more than 250 categories of freelance jobs – from logo design and voice-overs to website & app development. It is known for its order-based concept of engaging freelancers.
USPs
One-off tasks, not projects: In Fiverr, freelancers offer services in the form of one-off, small, specific tasks for stepped prices in the range of $5 to $995 based on the complexity of the task.
Concerns
No vetting: However, the vast network of freelancers in Fiverr is largely unorganised, as there is no vetting of developers nor jobs. It can take hours to just sift through the hundreds of freelance profiles to find the right fit for the job. Hence, Fiverr is more suited for small coding tasks that don't require much supervision or effort from the clients' side.
Pricing
Prices are project-based, and range from $5 to $995 for one-off coding tasks.
Freelance Job Boards
We Work Remotely is a specialised job board for remote-only jobs. Companies or individuals can post their freelance or full-time coding jobs on the site.
USPs
Large network: On its website, We Work Remotely claims it is the 'largest remote work community in the world' , and it reportedly gets ~2.5M visitors per month. The site lists jobs across eight categories that include freelance development, design, product management, etc.
Direct applications: However, coding jobs are the site's main focus, with around 5-10 new jobs being posted each day. The site doesn't (by default) provide any vetting of freelancers, and any visitor to the site can view jobs and apply to them directly.
US-specific: We Work Remotely is not widely popular in countries other than the US.
Pricing
The job post will cost around $400. Further, they offer a 'filter your applicants' option for an additional $199.
Remote OK is also a job site, very similar to We Work Remotely. But it lists jobs in more roles, like marketing, customer support, etc. in addition to development and design.
USPs
Easy sign-up: You can sign up and list your freelance project on the site, by providing the required details and a job description. These specialised job boards can be a good way to reach a targeted audience, as they are regularly visited by freelance developers looking for new projects.
Europe-specific: RemoteOK's target market is geared toward Europe, with EU-based companies and freelancers making up majority of the site's visitors.
Concerns
No pre-screening: However, there is no pre-screening of developers, and hence you have to be sure of your evaluation and interview process before inviting applications from developers.
Pricing
One job post will cost around $400, while they have savings packages available for multiple job posts.
Angel is well-known as the world's largest community of startups. It offers tools for the complete startup ecosystem. Community members can find information on startups they're researching, invest in them, or apply for jobs listed by startups.
Key Points
Curated job board: Like We Work Remotely, Angel has a specialised and curated job board that lists freelance as well as full-time jobs. However, Angel allows startups to list non-remote jobs as well.
Easy sign-up: The process for inviting job applications from the community is simple: you'll have to sign up by creating a profile, and also create your company's profile. Then, you can post your job linking to it. You'll have to add relevant details like the job description, skills required, location, pay offered, etc.
Better quality of applicants: Viewers can hence obtain details of the job as well as your company within Angel. Similar to hiring from other job boards, you'll need to evaluate developers on your own. However, the quality of applicants on Angel is bound to be a bit higher.
Pricing
Networking Sites
Freelance developers are typically active on online tech forums like Stack Overflow as such forums allow them to engage with a curated community focused on tech. Hence, building your presence on these forums can be a good way to reach their eyes.
USPs
Accessible insights: The user profiles of developers on these forums also store information about the projects that they've worked on before. By reviewing their profiles, you can get a fair understanding of a developer's quality and depth of expertise.
Dedicated job board: Also, tech forums typically provide a dedicated job listing page for community members, allowing you to reach out to applicants in an organised manner.
Pricing
Depends on the tech forum; Stack Overflow requires you to get in touch with them.
Professional networking site LinkedIn offers a great platform to reach out and invite job applications from a wide audience.
USPs
Free job listing: You can use LinkedIn's dedicated 'Jobs' page to list your freelance job. Listing a job is simple - you'll need to answer a few questions to categorise the type of applicants, and include a detailed job description.
Promotion: Further, you can put up a post on your personal or company account asking your connections to refer the right candidate. If you get good engagement on the post (like likes/comments), you could potentially reach thousands.
Paid 'Recruiter' version: LinkedIn also offers a paid 'Recruiter' version that includes a few essential features to help you find and reach out to the best possible candidate for your freelance job.
Lower quality of applicants: However, there is no guarantee of the quality of applicants, and several LinkedIn profiles remain too vague to draw concrete conclusions about a developer's technical proficiency. You could also end up receiving a ton of non-relevant applications , clogging up your screening process.
Pricing
LinkedIn job posts are free, but their 'Recruiter' version starts at $100/month
Dev Shops
15. Clutch
This last one is a bit unconventional; you could use a review website like Clutch to find quality dev shops or dev agencies. Then, you can reach out to them asking to hire their freelance developers on an individual basis.
USPs
Hire quality developers individually: While dev shops offer end-to-end software development solutions, also firms also allow you to hire their developers on a contract basis for smaller tasks. This way, you retain complete control of your product development, while ensuring that the quality of the developer you hire will be top-notch.
Concerns
Irregular commission rates: However, dev shops typically charge high commission rates as they have to keep developers on their payroll irrespective of project availability . Further, it might get tricky for the developer to manage work as there would be two entities requiring their time.
Pricing
Rates are not standardised, and will depend on the quality and terms of the dev shops.
FAQs
(1) Why hire quality freelance developers?
It is almost common knowledge that 9 out of 10 startups fail. But, it is a relatively lesser-known fact that 6% of the times, the failure of a startup can be attributed to 'tech' - a lack of robust technology powering the business.
Additionally, 18% of all startup failures can be attributed to the 'team'. So, the inability to form a quality team, in particular a tech team, can lead to poor tech. As a result, the chance of success of a startup deceases significantly.
Even startup gurus like Paul Graham have repeatedly pointed out that hiring bad developers can be one of the prime reasons for a startup's downfall.
Considering vetted freelance platforms
But setting up a great team isn't easy - tech hiring is plagued with challenges like intense competition for talent, unreliable candidates, and high salaries.
Therefore, hiring freelance developers from vetted platforms improves speed of hiring while ensuring you work only with the best. This helps you build robust technology for your startup with a star team.
(2) How much does it cost to hire freelance developers?
Freelance software development typically has two distinct types of payment models:
Project-based compensation, where you pay freelancers a fixed fee for the completion of the entire project. Here, the payment is based on the outcome.
Time-based compensation, where you pay freelancers for the amount of time (hours) they've worked on your project. Here, the payment is based on their effort.
Project-based freelancer engagements require very accurate and detailed estimates even before the project starts, which is very hard to achieve.
Hence, time-based compensation works best for long-term freelance engagements, as you'll have the required flexibility and ability to re-align during the course of the project.
Hourly rates are the most popular form of time-based freelance developer rates, as a high level of detail can be achieved while maintaining documentation. Hourly rates depend on several factors, such as:
Demand for the technology in the market
Expertise and a well-rounded skill-set
Past Work Experience
Geography
Here are the average hourly rates of freelance developers, categorised based on geography: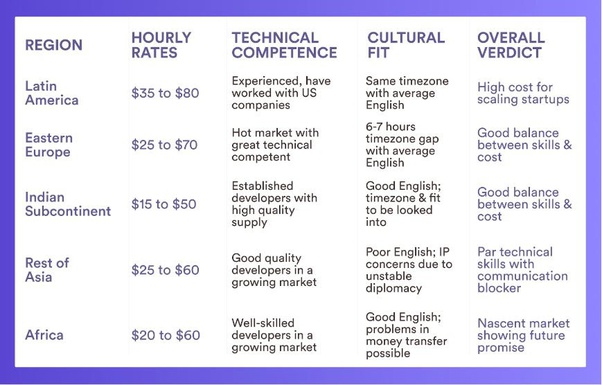 (3) How to evaluate freelance developers for hire?
It is important to have a streamlined evaluation process for developers, as it will help you:
Find the best developers for the role
Minimise the amount of time spent on evaluating developers
Decrease drop-offs during the hiring process
Freelance developers should be able to ramp up quickly, get a firm understanding of what your team is trying to achieve, and slot in seamlessly. They should also be able to communicate well, be proactive in foreseeing potential problems, and make independent decisions while working remotely.
Hence, in addition to their technical proficiency, you need to evaluate the developer's ability to excel in all of these parameters.
Here are some common qualities that all great freelance developers possess, which you should look at while evaluating developers:
Technical Proficiency
Communication skills
Ability to work independently and in a remote setting
Punctuality and reliability
Vetted talent networks follow a multi-step screening process. For example, Flexiple conducts a comprehensive 6-step screening process that evaluates developers on a multitude of factors:
Depth in past work
Good communication and motivation
Strong technical abilities
Keen problem solving and coding
Splendid reviews in a background check
Consistent exemplary performance