100+ Discord About Me Ideas That Are Perfect To Use for Discord‍
Written by: Hrishikesh Pardeshi, Founder at Flexiple, buildd & Remote Tools.
Last updated: Jan 19, 2023
You might want to impress your friends and other Discord users with cool and funny Discord about me ideas. In this current social media era, people tend to get a sense of someone's personality from their profile. This also involves checking your Discord bio. It's not bad to surf the internet for a few bio ideas you can use.
If you're a regular Discord user, you must know of the about me section in the app. The about me section is your Discord bio that other users will see and read when they click on your username. If you want to know a good Discord bio, funny discord bio, and cool bio ideas, read this full article to discover them.
TLDR
Want a good bio for Discord quickly, check out this short list of awesome ideas:
I'm the person you love to hate.

Let the games begin.

Winning the game, one snack at a time.

Too busy to update a bio.

Simplicity is the key to happiness.
How To Add the About Me Section on Discord
You can follow the steps below to add the Discord about me section regardless of if you're using your mobile device or a PC.
Using a Mobile Device
To add your Discord about me, log in to your Discord account on your phone. Click on your profile photo at the bottom-right corner of your phone screen.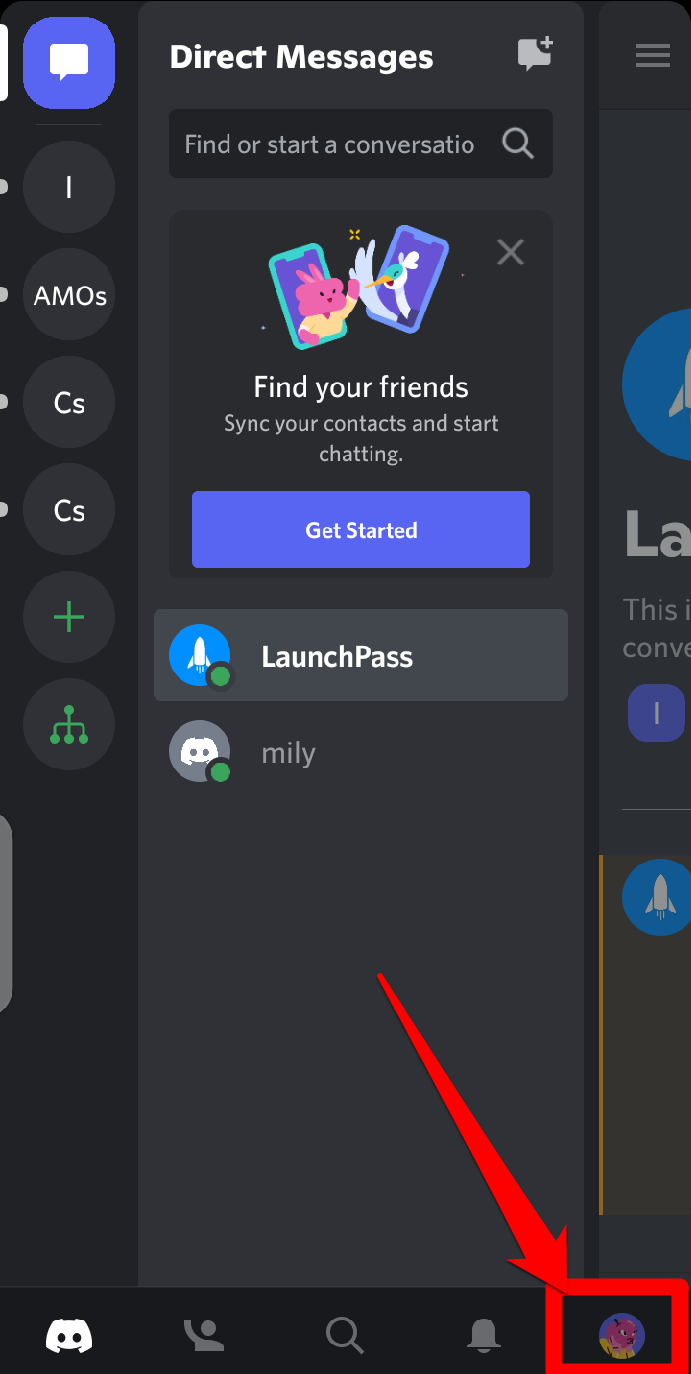 On the page that appears next, click on User Profile.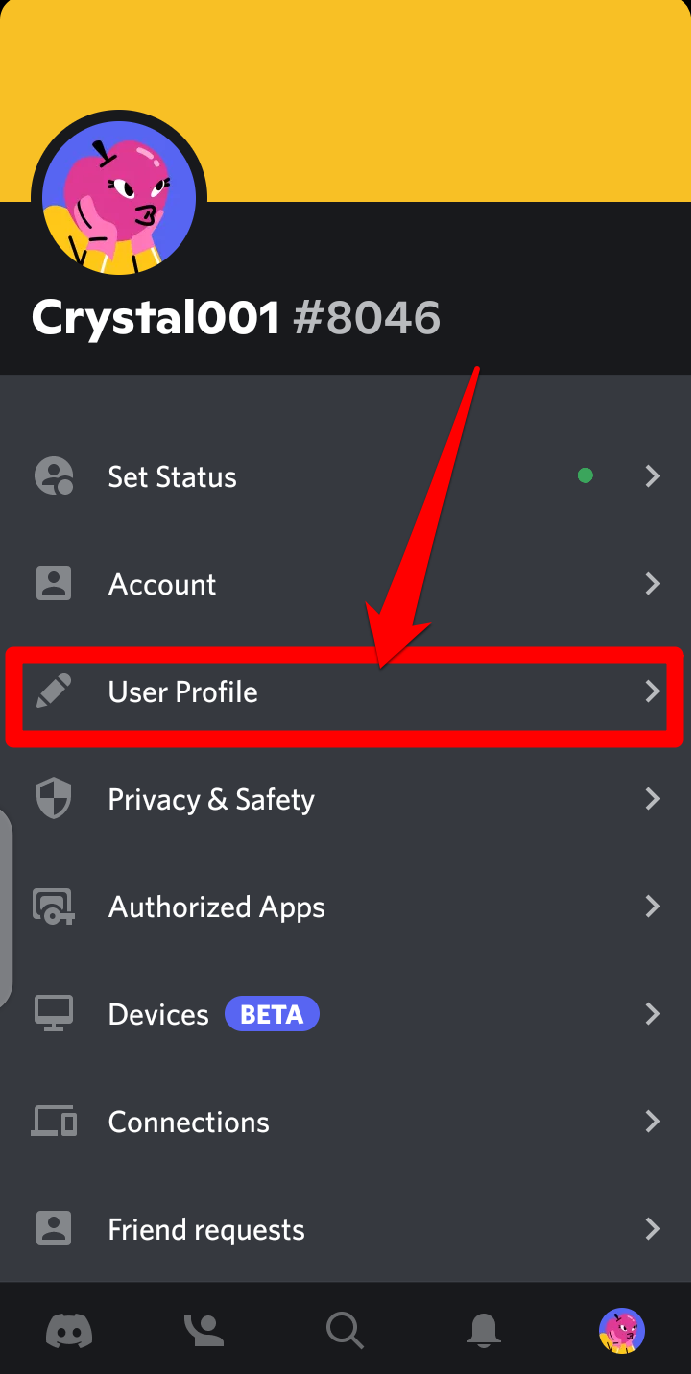 After clicking on the user profile page, you will see an about me tab. There, you will see a space where you can type your Discord about me ideas.
Click on the Save button once you're done typing.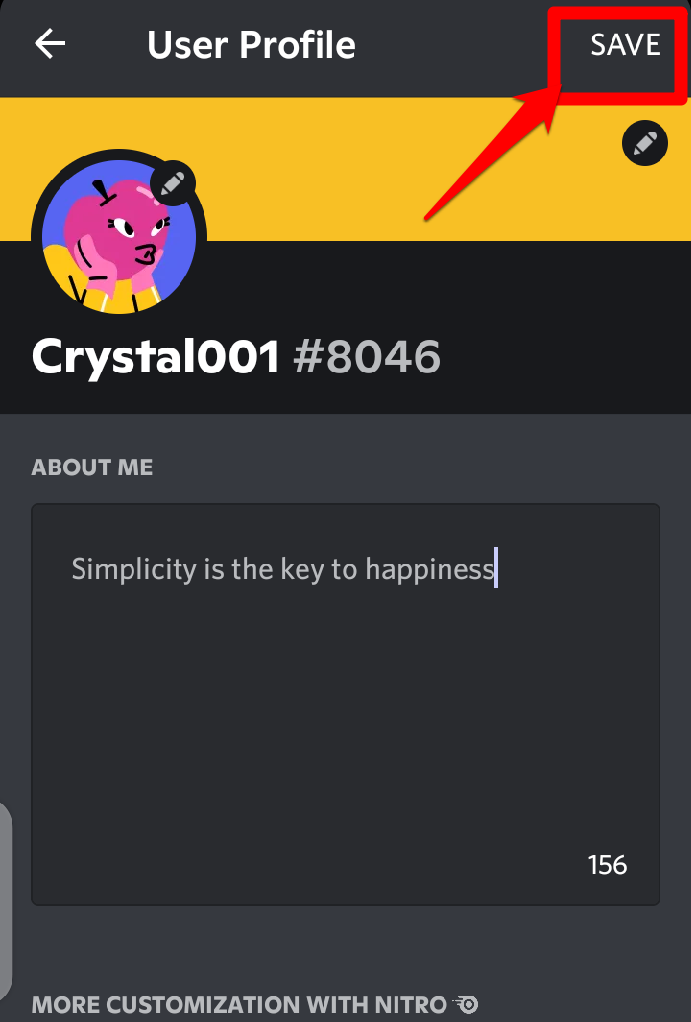 Using a PC
To add your Discord about me using a PC, go to your User Settings which is a gear icon located at the bottom-left corner of your screen.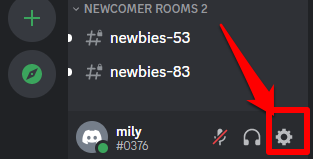 On the page that appears, click on Profile on the sidebar. Under the user profile category, locate the About Me header.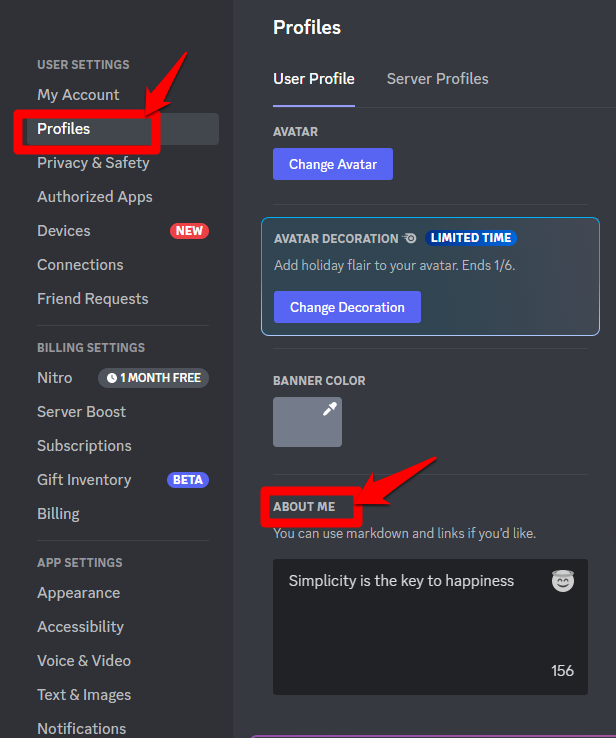 Click on Save Changes once you're done typing your bio.
Note that when you are typing your bio, you have only 190 characters to type. So try to keep your bio short and catchy.
Why Do You Need a Discord Bio?
Your Discord bio can act as a gateway for people to interact with you. It can be a medium for you to convince people to follow and chat with you. A catchy bio can help you have a social balance in a public Discord server. You can even write one that can make other players learn more about you. Consider making your Discord bio catchy and concise.
Best Discord About Me Ideas
Choose any of these best Discord about me ideas that you feel align with your personality:
When I hold you in my arms, I feel like I'm holding the whole world.

I'm not lazy, I'm in energy-saving mode.

That sad moment when you finish a game and just don't know what to do with your life anymore.

We tailgate harder than your team plays.

Today's forecast: 100 percent chance of winning.

If our lives are already written, It would take a courageous man to change the script.

Home is where the field is.

I don't have a life, I have a Discord account.

In the game I'm playing I'm either dying, or I'm about to die, or I die a million times! When I'll get sick of dying, I'll talk to you!

Creating my own sunshine.

This game is really ruining my world.

Proud Slytherin.

I have come to retrieve my power, you can't handle it – 'Dante's Awakening'.

It's easy to get ideas. I think it's silly to say that instead of talking.
Top Discord Ideas for Your Bio
Get ready to discover the top Discord ideas for your bio:
Keep calm and let the games begin

Talk football to me.

All puns are highly intended.

I have a dream that one day my mom will understand that online games cannot be paused.

Gamer zone, be careful.

I'm not alone. I think something is important to me because I feel lonely.

I make deliveries. That's all.

That Sad Moment When You Finish A Game And Just Don't Know What To Do With Your Life Anymore.

Forget your age and live your life.

I'm sexy & I know it.

Failure doesn't mean that your game is over. It just means trying again with experience.

Luck is lost and no one is responsible. I met an old enemy last night. The enemy tells me exactly whether it is.

Love is all you need.

I am a gamer, and I have lots of lives.
Cool Discord Ideas for Your Bio
Pick any of these cool Discord bio ideas to show how cool you are to other Discord users:
Life is more fun if you play games

Video game logic – everyone worse than me is a noob. Everyone better than me has no life.

I feel tail-great about this game. Pun intended.

Video games don't make us violent, lag does.

Just a gamer who's good at everything.

Tasted a good life once…needed salt. – 'League of Legends'.

I Don't Have Birthdays. I Level Up.

I didn't change, I just woke up.

Loving you was of the best decisions of my life.

You are the reason why I wake up every morning with a smile on my face.

Just a gamer who's good at everything.

The queen of my own kingdom.

Gaming is not a crime.

I wish I could turn back the clock. I'd find you sooner and love you longer.
Good Bio Ideas for Discord
Here are good Discord ideas for you to try using:
I dream of a better world where I can play video games all day long without having my sanity questioned.

You see a black cat. Is it a witch's cat?

Blessed, never stressed, and football-obsessed.

The best feeling in the world is being with someone who wants you as much as you want them.

Whenever I enter a room full of people, I always look for you first.

We are soaring, flying. There's no star in heaven we cannot reach.

Winners never quit and quitters never win.

Excellence is not a skill. It is an attitude.

Not a night goes by and you're not in my dreams.

I'm ignorant I know it's fun

I'm not immature; I just know how to have fun.

Play every single game as if it is your last one.

I'm no photographer but I can picture us together.
Popular Discord About Me Ideas
Choose from this selection of popular Discord bio ideas:
Escape reality & play games

Just in queso, you didn't know, I'm a huge football fan.

Super Bowl Sunday always steals a pizza from my heart.

There is a thin line between life and death, you will find me there – 'Apex Legends'.

You are so awesome that, my middle finger salutes you.

Before Coronavirus, I'd cough to cover a fart. Now I fart to cover a cough.

Never make the same mistake twice; there are so many new ones to make.

Life is beautiful… from Friday to Monday.

The queen of my kingdom.

Discord is my lifeblood.

Gaming is not a crime.

I am a gamer. I have lots of lives.

If I can't fight them, I'll find them.

I'm not sad about being single. Rather I'm thinking about my better half, who is single because of me.
Cute Discord About Me Ideas
Do you want to sound cute in your Discord profile? Check out these ideas:
Just one more game.

Is this the real word?

When your Dr. says, "I'll need to Google that, "… you know it's time to change the doctor.

I like playing with my cat when I'm high. Because I don't have one when I'm sober.

Parachute for sale, used once, never opened!

Math and alcohol don't mix. Please don't drink and drive.

Sorry if I changed it, but I changed it. I do not need your permission.

Just here for the memes.

I don't care what others say or think about me, at least I am attractive to mosquitoes.

It's so simple to be wise. Just think of something stupid to say and then don't say it.

I am not special; I am just a limited edition.

I didn't change, I just woke up.

Keep calm & just chill.

First, we eat the wings.

Stop checking my bio! Go get a life
Inspirational Discord About Me Ideas
You can choose from this list of inspirational ideas to look wise and smart on your Discord profile:
You learn a lot about people when you play games with them. Concentrate, play your game, and don't be afraid to win.

Break a trillion dead souls and ask the ghost if honor still matters.

The game has its ups and down, but you can never lose focus of your individual goals and you can let yourself e beaten because of lack of effort.

Play more than one game at a time. This is a painless way to learn how to do many things at once.

The right man in the wrong place can make all the difference in the world.

Steel wins battles, Gold wins wars – Davion

Never make the same mistake twice; there are so many new ones to make

Teamwork makes the dream work.

The game has its ups and down, but you can never lose focus of your individual goals and you can let yourself e beaten because of lack of effort.

We fail, we read, we read, then we stand, we succeed, and we win.

If you can't convince them, confuse them.

I plan to make the rest of my life the best of my life

Everything that kills me makes me feel alive.

Doing what's right is not always easy.
Funny and Witty Discord About Me Ideas
Everyone loves a funny and witty person. Choose from this list to show people that you have these attributes:
Just a meme machine.

I'm in a serious relation-chip.

Football: My second favorite F word.

My team's so gouda.

Don't worry, beer happy

If you liked the Super Bowl trophy, then you should have put a wing on it.

You think you can beat us? Now that's fantasy football.

Without U, the universe wouldn't exist.

My team really needs to ketchup.

Just here to procrastinate.

I live for awkwardness.

Laugh at your problems. Everybody else does.

We've seen worse.

I am not a nerd. I am just smarter than you.
Discord Status Ideas
Are you also looking for what to type on your Discord status? Your Discord status can also be another way to give people a sense of your personality. Here are a few ideas you can try using on your Discord status:
Kind lost, and no one to blame. Last night met an old foe, directing me the right way not sure if it's life or a video game.

If you hate wearing a mask, it's highly likely you're not going to enjoy the ventilator

If your Bf replies to your text while he's playing DOTA, then he truly loves you. Not so true. He's just waiting to respawn and has nothing else to do.

Having a ball this weekend with my very best friends.

We don't keep calm. It's football season.

This might sound cheesy, but I think my team is really great.

I'm not available right now, I'm in the middle of a heated argument with my mom/dad/sister/brother.

Just five minutes more…

I have 3 games open at the moment. Mario just threw a fireball toward hole 16 in the corner pocket, and you want me to chat with you!

They were all dead. The final gunshot was an exclamation mark to everything that had led to this point. I released my finger from the trigger. And then it was over.

It's time to kick ass and chew bubble gum…and I'm all outta gum.

In the game I'm playing I'm either dying, or I'm about to die, or I die a million times! When I'll get sick of dying, I'll talk to you!

Hope is what makes us strong. It is why we are here. It is what we fight with when all else is lost.

I never asked for this.

I'm in a game at the moment and I'm winning. Interrupt me and I will destroy you.
How to Create a Custom Message for Your Discord Status
To create a custom message for your Discord status, start by clicking on your profile icon located at the bottom corner of your screen.
From the pop-up menu that appears, select Set Custom Status.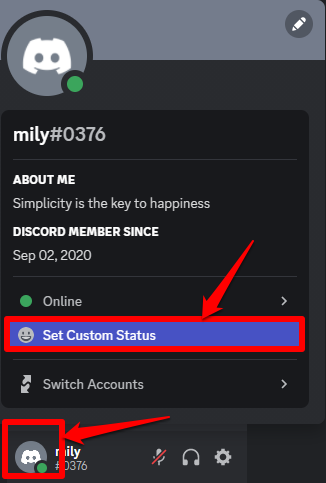 On the window that appears, you can start typing your cool and funny Discord status under the What's cookin' header. Click on Save when you're done typing your Discord status. You can follow this step again anytime you feel like changing your Discord status.