Best Discord Bots - List of 15 best bots for your server‍
Written by: Hrishikesh Pardeshi, Founder at Flexiple, buildd & Remote Tools.
Last updated: Apr 11, 2023
With Discord already having some amazing features, there's little you'd find missing. The app is easy to use and customizable. And although there's not much you'd want to add, you can make your experience even more awesome. This is where Discord bots come into play. If you are already familiar with bots, then you know you only want the best Discord bots in your server.
You may be new to Discord bots and wondering what they are. Or you may already know and wish to find the best ones for your server. Well, whichever the case is, this blog is for you. In the below sections, we've covered all you need to know about Discord bots . Find out answers to what they are, how to add and remove bots from your server, and some other doubts. Also find a collection of the best Discord bots out there to add functionality to your server.
What are Discord bots? Why should you add only the best Discord bots?
Discord bots are tools you can use to add more functionality to the server and create a fun community. They are AI bots that can perform automated tasks on your server.
You can add bots to a server like any other member, and grant it certain permissions. The functions that bots perform are countless. You can use them to message a new member to welcome them to the channel or to moderate a user's actions.
It is important to know how to use a bot and which ones to add. If used well, a bot can make the user experience amazing. But, if you add the wrong ones to your server, you could be ruining the experience altogether. This could end up driving members out of the server.
How to add the best Discord bots to a Discord server?
Adding Discord bots to a server is pretty effortless. Note that you need the permission to invite members to your server to add a bot.
You can go to the Discord bot list/ store at top.gg and pick the one you want to add. Now press 'View' to go to the bot's page. Here, press 'Invite'.
In the next steps, choose the server you want to add the bot to, authorize it and do the captcha verification. Now when you open Discord you should find the bot in your server.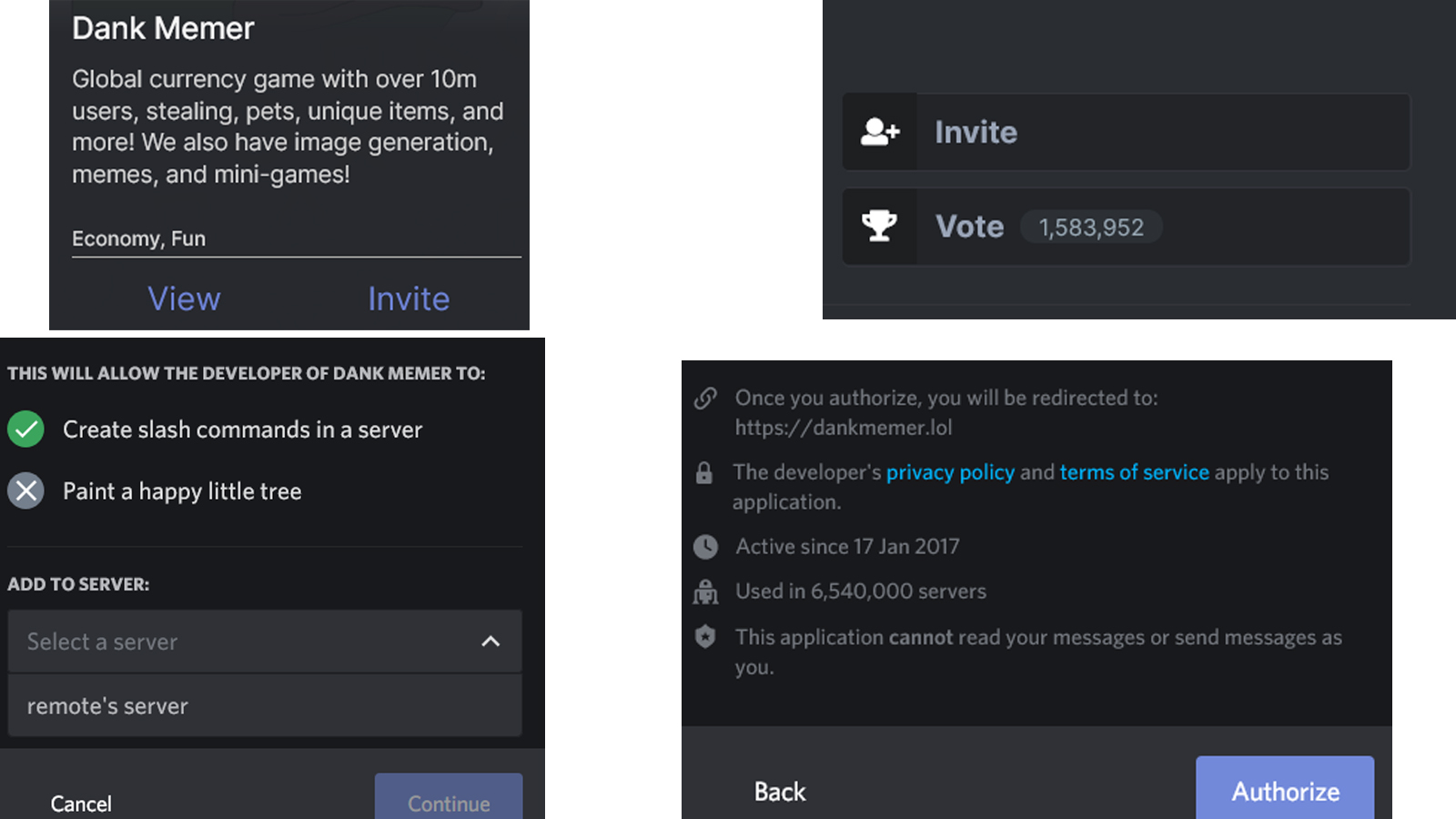 You should be able to see the 'Invite' button in the Discord bot list itself and do not need to visit the bot page in most case. For some of the most popular bots, you will only see the 'View' button in the list. Here, if you are aware of the bot's website, you can visit it instead of going to the Bot list.
Discord Bots - Actions and Controls
Bots have a certain set of commands they can perform, you can access these by going to the bot's page. There are certain rules around the syntax for giving commands that vary among bots. The correct prefix is necessary to evoke the right response. You can read more about commands on Discord on this blog. If you wish to limit the functions of the bot, you can do so by going to 'Server Settings' --> 'Roles' and changing permissions.
How to remove a bot from Discord?
In the event that you feel a bot isn't adding much value to your server, you can remove it with ease.
Go to your Discord server and locate the bot in the list of members on the right of the screen.
Here, right click on the bot's name and select 'Kick <bot name>'.
You can choose to give a reason for kicking on the next popup, it's not necessary and given it's a bot, it makes sense to omit it. Press 'Kick'.
Now the bot will no longer be a part of your server. You can choose to invite the bot to the server again, of course.
Only owners, admins and members who have the permission to kick users can remove bots from a server. Admins can choose to give this permission to other users.
Best Discord bots that you must add to your server
Below, we've given the 15 best Discord bots that you need in your server. Check them out and add the ones you like.
Servers: 4.7mn
Dyno offers complete and optimized control over your server. The bot allows admins to create new ranks with ease. It is perfect for moderating your server. Be it through notifications when someone deletes a message, or mass purges of texts. These features make your server a great place for communities to bond with no hate.
The Dyno bot has a dedicated dashboard, and you can choose what functions you wish to allow it or not with ease. The bot has features such as limited time muting, banning members and auto moderation.
Servers: 18.8mn
Add music and life to your server and make it more fun using the Rythm bot. As the name itself suggests, this bot adds music to your server. Agreed, there are many Discord bots available for music, but Rythm is simply the best in class.
Using Rythm, you can get music from YouTube, SoundCloud and also set it to get your music from Spotify. Some features that stand out are adding lyrics, custom playlists and autoplay. You can also connect to the Rythm Radio to find some amazing music from around the world.
Servers: 3.5mn
If you are already familiar with Discord bots, then it's likely that MEE6 is present on your server. It is among the best bots for moderation and can ease the task for you. Use the bot to mute, kick or ban users based on their actions on the channels.
Not only moderation, though, MEE6 does other tasks, too. It can play and manage music, control the voice settings, assign roles and many more. Make the server more fun by sending welcome messages and creating levels using MEE6.
Servers: 4.9mn
Memes are the soul of messaging app entertainment. And meme battles can be a super fun way of keeping your members active.
Dank Memer uses the Meme Face Maker API to generate memes in real-time. You can demand any meme you wish and get it in no time. The bot also modifies images to make them cool, dank memes. You can play inbuilt games such as a dice game and an image guessing game. Specialized meme commands and a depth moderation system take your meme game to a whole new level. The latter is useful in keeping your content user friendly and so that members don't abuse anyone.
Servers: 81k
If you've ever struggled with remembering a Discord event, then your server needs Sesh. Scheduling is one functionality Discord lacks, but Sesh fills that void in a great manner.
Use Sesh to create simple reminders, RSVPs, roles, and for smart parsing. It comes with Google Calendar sync so you never have to miss an event because you forgot it. The bot also sets your timezone and allows users to check the time in their local time zones. If your server hosts events often, then go ahead and invite the Discord Sesh bot right away.
Servers: 423k
Fantasy, role playing games are much loved. For the fans of RPGs, Epic RPG is definitely among the best Discord bots out there. It has features like dungeons, gambling, loot boxes, leaderboards and PVP. This makes the RPG experience on Discord surreal.
Members can level up, get swords and armors and beat dungeon bosses to unlock new commands. The bot has simple commands and also has features so you can learn. Find commands for stats, fighting, economy, working and gambling.
Servers: 293k
Pokémon fan? PokéMeow is for you. It's a fun and addicting bot game that you can play with your friends. The app has a few simple commands to allow you to catch Pokémon and show off.
You can catch Pokémon, make it your buddy, evolve, go on quests and do much more. Show off your Shinies and Legendarie to your server members. PokéMeow introduces new events monthly and makes sure you never get bored.
Servers: 3mn
As the bot's page boasts, Carl does it all and makes it on the list of best Discord bots. And it actually does it better and faster than a lot of other bots. The 'all' we're talking about is:
1. Reaction roles: You can set up messages for users to react to. They are then assigned roles based on these reactions.
2. Log: Deleted, edited and purged messages are all logged here. A great way to keep your server user friendly.
3. Moderation: The bot makes mods take action by highlighting tasks they need to do.
4. Suggestions: Users can make suggestions and have everyone vote on it.
5. Others: Features for granular permission system and automod. Also custom commands, welcome messages and user engagement features.
Servers: 13k
Although the Helper.gg bot isn't present on many servers, it's a great addition to your Discord bots. If you use Discord to build an audience, then you need this one. It's ideal for businesses.
It's a dedicated, 24/7 ticket bot created to provide instant support between you and your clients. The team at Helper.gg also provides 100% customization. Most features are free. You can unlock more ticket and translation features at a small cost.
Servers: 635k
Leveling, moderation, reaction roles and logging. Arcane is here to make these tasks easy on you. It has a reliable uptime and will not let you down.
Besides, the bot is constantly updated, and most things are free. It has an easy-to-use dashboard to make the bot even easier to use. The leveling system is a great way to make your server members take part more.
Servers: 1.3mn
If you feel it's fun to collect stuff and have a thing for pets, this bot is one of the best Discord bots to add to your server. You can play games with not only pets, but loads of other things, too.
The bot has a huge global economy system, a simple-to-use pet module, and much more. It is also very user friendly, and easy to set up. The interactive dashboard and community features add to the features.
Servers: 303k
When building a server, it's quite fun to keep a track of how things are going. Especially if you're building servers for marketing a product, member engagement is necessary. ProBot is great for this purpose.
The bot has a great interface for server details where you can see activity in intuitive graphs. It also makes welcoming new members simple and effective. You can make use of the easy automod system as well as the full embed systems to control your server better.
Servers: 700k
It might happen that a mod made some changes to your server and now it doesn't feel the same. In such a case, wouldn't a backup be amazing? The Xenon bot allows you to backup, archive, copy, clone or synchronize your Discord server. All this with simple commands.
Make use of backups to save the current state of your server. This includes roles, channels, and even more if you buy the premium version. You can also set up intervals when the state is auto backed up. Users can also make use of templates to share their server setups with others.
Servers: 878k
If you like music then you know that anything ruining your music experience will face hatred. You know how important it is to listen to uninterrupted, high-quality audio.
The Octave bot is a simple and easy to use Discord music bot. It delivers high quality audio to hundreds of thousands of servers. Add it to your server and make sure you never miss a beat. You can use it to play and pause songs, display lyrics, create and add playlists. The bot lets you integrate with YouTube or Soundcloud and jam. Get an even better experience with the premium version.
Servers: 99k
Love trivia and quizzes? You need to download TriviaBot now. This Discord trivia bot has a collection of over 100,000 questions. You can even submit some of your own and have them appear in the bot. They host events, too and a global winner each month can win a month's subscription to Discord Nitro.
Community rewards, free leaderboards add to TriviaBot's features. You can create and join teams, too, and every team gets its own customizable profile page. The bot supports multiple languages for larger access.
Table Of Contents
---
&nbsp&nbspDyno
&nbsp&nbspMEE6
&nbsp&nbspSesh
Related Articles
---
Trending Articles
---