Discord Alternatives - 15 Alternative Options to Try Now!‍
Written by: Hrishikesh Pardeshi, Founder at Flexiple, buildd & Remote Tools.
Last updated: Jan 23, 2023
Discord is one of the most popular VOIP (Voice over Internet Protocol) platforms out there that loyal users swear by. The application has so many versatile features plus it is highly customizable. 
It's highly unlikely that users will find any other platform that has all the amazing features that Discord offers. 
The platform is very easy to use, consumes very little data, is miles ahead in terms of its privacy policy, and can be downloaded for free. It has very successfully expanded from just a gaming-based audience to every niche community possible. 
But with complex features comes your own set of glitches. No doubt Discords' user experience is brilliant. Well, at least most of the time. But occasionally the app throws an unknown Discord error at you, which your disgruntled self will have to google.
A daily dose of such errors might turn you off, hoping to switch to a different communication voice and chat tool that doesn't require constant googling. 
So to help you find the best Discord alternatives, we have compiled a list of top Discord alternatives with a detailed review of their best features. 
These Discord alternatives range from simple communication tools to proper virtual team chat tools. You can choose the best solution in this list that matches your use case. 
Now without any further delay, let's get started!
---
TABLE OF CONTENTS
---
Why look for Discord Alternatives?
Like we have mentioned before, Discord is an awesome tool, but there are a number of reasons why you would want to use different Discord alternatives to facilitate communication for your team or community. 
For starters, it's probably not the right tool for your team if you are hoping to use the platform for a more professional setting. In this case, you'll probably want to use Slack or something similar.
Secondly, there are a huge number of errors that you might face while using Discord. Every time the Discord screen share stops working or the app is stuck on connecting, it can really test your patience. 
Also considering the fact that Discord was first built to host gaming communities, you might not feel at home with this app. 
In such cases, it's better to choose a team chat or communication tool that best suits your specific needs and your team's vibe. Hence we have written this blog that includes a comprehensive list of the best Discord alternatives.
What is Discord?
Discord is the easiest way to talk over voice, video, and text. Talk, chat, hang out, and stay close with your friends and communities. 
It especially works best for hosting niche communities on custom servers that can incorporate multiple channels, giving users the freedom to shape their groups and teams as they like.
On each of these servers that has a set of members and an admin - you can chat with the said member and even have audio/video calls.
But Discord surely goes beyond being a simple communication tool. You can connect your Discord application with other platforms like Spotify and Twitch to listen to music or stream games online. It is the place to hang out with your friends virtually.
Pricing
Discord is available for free.
You can get Discord Nitro for $9.99 per month as it comes with additional features.
Get Complete Pricing here.
Features
Very high upload limit
Customization options
Custom commands
Awesome live stream quality
High video quality
15 Best Discord Alternatives
Below we have listed down the top 15 best Discord alternatives out there. Continue reading to know more details about each one of them!
In the sections below listing the top Discord alternatives you'll find all the specific details about the particular tool mentioned above along with its most salient features and pricing details.
1. TeamSpeak
TeamSpeak is the first tool in our list of Disord alternatives. It is a VOIP tool that you might want to consider using. The application comes with crystal clear sound when communicating with your teams along with a high-grade security policy and lag-free performance.
What makes TeamSpeak a great tool is a fact that it allows individual users to be in complete control of their servers. There are no centralized servers that harvest your data.
Users can use TeamSpeak to communicate with their teammates in real-time with seamlessly amazing audio quality.
TeamSpeak Features
Seamless, lag-free, high-quality communication
Automatic audio optimization features like echo cancellation, background noise reduction, and microphone volume adjustment.
Admin controls to regulate and restrict members on your server.
Allows users to synchronize their servers and settings.
Multiple add-on options are available as well.
TeamSpeak Pricing
Gamer Licence pricing plans start from $55 for 64 slots/ 1 virtual server.
Packages

1 Virtual Server (64 slots) - $55
2 Virtual Servers (128 slots) - $100
2 Virtual Servers (256 slots) - $175
2 Virtual Servers (512 slots) - $300
2 Virtual Servers (1024 slots) - $500
Find complete pricing details here.
2. nTask
nTask is another awesome tool in our list that might not be very popular but works best for remote teams. 
It is an all-in-one work management and task management solution that goes beyond just benign a management tool. It caters to all your businesses needs with tools that enable collaboration with inter-team members, task management, meeting scheduling, project planning, and more.
Although this is a project management tool, it is also suitable for virtual collaboration and communication between teams.
nTask Features
nTask allows teams to share files and attachments across groups and also create virtual voice meeting links to facilitate better communication.
It has a specific meeting module that is designed to support clear meeting agendas.
The project management tools allow teams to effectively communicate through timely feedback on any task.
Members can jot down important meeting points and decisions along with specific actions.
nTask Pricing
Free Forever Account
Premium Plan at $2.99/ user per month
Business Plan at $3.99/ user per month
Custom price for Enterprise plan
3. Slack
Slack is another popular, widely used, new-age team collaboration and communication tool. 
As it goes, Slack is where work and communication flow seamlessly, very close to physical, in-person communication. 
The application has a user-friendly, simple interface where teams can talk in groups called channels or send personal messages to communicate one-on-one.
Slack has streamlined team communication so effectively that it has become essential for all remote teams.
Slack Features 
Users can get on a call directly on Slack.
Communication can take place seamlessly with an intuitive UI.
Has features like @mentions, threads, and many more.
You can also pair Slack with apps like Giphy, Airtable, Typeform or Zapier.
Slack Pricing
Slack has a free version available for teams.
A Standard plan for $6.67/month, per user
A Plus plan for $12.50/month, per user
An Enterprise grid customized according to your business
4. Telegram
Another popular application in this list is Telegram. It is an instant messaging application used for daily communication or hosting niche, specific groups.
The app is open-source along with a heavily encrypted messaging policy and is available on all devices.
Telegram Features
The app ensures the security of client-side data and even allows users to self-destruct messages.
The app is widely used with over 400 million users. 
Telegram groups can host a large number of people and can be joined with a simple request.
Can be customized to some extent.
Telegram Pricing
The application is free to use.
5. Flock
Flock is a messaging and collaboration tool that aims to bring people together, discuss ideas, share information, assign tasks, and track progress. 
It very closely mimics Slack but offers features at a lower price with smooth and robust functioning.
This app is great for remote teams as it is cost-effective and easy to use without any errors.
Flock Features 
With Flock, users can send messages to their team members and also host channels.
It allows you to get on an audio/video call and even send voice notes across to your team.
It has fewer app integrations than what Slack offers but it makes up for it with its affordable pricing model.
Allows users to send files and even has an integrated search feature.
Flock Pricing
Free version available to use
Pro plan starting from $6 per month
You can contact Flock for custom prices designed for Enterprises.
6. Chanty
Chanty is a dual-use case platform that can be used for team communication as well as task management. It works similarly to Slack in the communication space, allowing users to chat and send voice messages across.
It comes with many task management and collaboration features along with a number of app integrations.
Chanty Features
Users can send code snippets, add mentions, screen share, threads, and use emojis and gifs to make their communication more lively.
It is compatible with apps like Trello, Asana, Google Drive, Onedrive, Github, Bitbucket, and many others.
It has unlimited searchable message history compared to the free version of Slack.
Has an inbuilt Kanban Board.
Allows communication through chat and audio/video calls. 
Chanty Pricing
Free Plan available to use.
Chanty's business plan starts from $3/user/month
Find complete pricing here.
7. Wire
Wire is another team communication tool that works best for video calls and conferences. Users can share screens and conduct lag-free calls easily using Wire.
It also allows users to create groups or channels for specific tasks along with an option to create secure, encrypted groups.
Wire Features 
Allows users to conduct video conferences and calls.
Is an instant messaging application with data synchronization and file sharing features.
Wire Pricing
Packages

Wire Pro - $5.83
Wire Enterprise - $9.5
8. Rocket.Chat
Rocket.Chat is another team chat software in our list which is also open-source tool. Rocket.Chat might not closely resemble features in Discord but can be definitely used as one of Discord alternatives for team communication.
It is a customizable and scalable communication platform that helps centralize all your tools and touchpoints in one platform to keep your workflow moving.
Rocket.Chat Features 
Streamlines communication software with free video and audio conferencing features.
Allows users to share screens, share files and get on live chats.
Has robust security features with end-to-end encryption.
It also has a guest access option.
Rocket.Chat Pricing
Free version available
Pro Plan - 3 USD/user/month
Contact Rocket.Chat for custom pricing for enterprises.
Find complete pricing details here.
9. Element
Element is a secure and independent communication platform that facilitates personal messaging, enterprise collaboration and hosts vibrant communities.
Element Features 
The platform is open source
Has a web, iOS and Android version
Features that allow file sharing directly through drag and drop.
Users can join ongoing calls without needing an invite link.
Element Pricing
Free plan available for personal use.
$2 per monthly active user - Nickel
$3 per monthly active user - Silver
$4 per monthly active user - Gold
Contact Sales for  Platinum Package
10. Mumble
Mumble is an open-source, low latency, high-quality voice chat software that allows users to chat via audio while playing games.
Mumble Features 
Low Latency communication while gaming.
Highly secure with end-to-end encryption.
Most compatible while gaming
Exceptional voice quality
Free software with no licensing hassle.
Low resource cost for hosting
Custom chat commands.
Mumble Pricing
Free version available for use.
11. Microsoft Teams
Microsoft Teams is the next communication software on our Discord alternatives list. It is a unified communication and collaboration platform that combines workplace chat, video meetings, file storage and application integration.
It is ideal for hosting online classes, as it has many integrated features designed for the same purpose.
Microsoft Teams Features 
Video/audio calls without any time restrictions.
Users can create custom channels with an admin and a set of members.
The application is quite secure with end-to-end security and administration controls.
Microsoft Teams Pricing
12. Skype
Skype is used to host professional online meetings for businesses. 
The new version of Skype allows features such as instant messaging, URL sharing for meets, meeting recording, and integration with Microsoft Office apps.
Skype Features 
VOIP application that allows audio calling, chat, document sharing, and much more.
Users can share and open multimedia files easily
High Bandwidth for audio calls.
Skype Pricing
13. Viber
Viber offers free and secure instant messaging and audio/video call features for remote teams. But the application can do so much more than just send a simple message. 
Viber Feature
Has a variety of high-quality calling and messaging features.
Is highly secure
Can host huge communities that can talk about different topics at the same time.
Viber Pricing
Calls are priced at a few cents/min depending on the country you call to.
14. HeySpace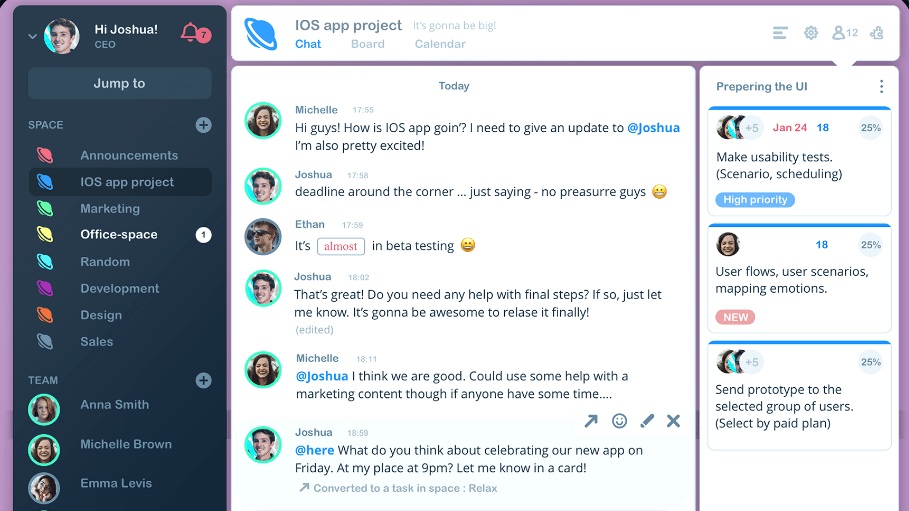 HeySpace is an enhanced team collaboration tool that combines a task management system with an advanced chat feature. 
It is based on a kanban board view with cards for tasks. Upgrades your team communication to the next level.
HeySpace Feature 
Team Collaboration in one place
Enables quick contact via chat for Google Hangouts
HeySpace has a calendar view and a kanban board view.
Intuitive UI
Real-time notifications in the application and via email
Highly affordable
HeySpace Pricing
Free account available for up to 10 users.
Premium plan - 5$/user/month
Find all the package features offered here.
15. Troop Messenger
Troop Messenger is a team chat application that keeps both the communication and collaboration within the teams at the same pace whether they work inside the office or outside i.e. work from home.
Using Troop Messenger, you can send or receive text, files, images, media, and other important data seamlessly. 
Without hassles, this tool lets you assign the work to the remote teams, track the progress, monitor and manage all your teams wherever you are.
Troop Messenger Features
Troop Messengers' latest version is a private chat system called Burnout.
Members can highlight events or other members by giving a Shout Out.
This remote working tool is accessible over the web and mobile apps (both Android and iOS).
Troop Messenger Pricing
For the SaaS software, Premium Plan - $2.25 per user/month.
For Enterprise - $5 per user/month
There you go! This was our list of top 15 best Discord alternatives. You can choose to select one of these tools for your own team to facilitate the kind of remote collaboration and communication that you desire. 
These Discord alternatives mostly have a free account option or at least offer a free trial period. So trying them out before deciding to buy a plan is the best way to go about it.
Related Articles
---
Trending Articles
---