How to unblock someone on Discord?‍
Written by: Hrishikesh Pardeshi, Founder at Flexiple, buildd & Remote Tools.
Last updated: Feb 01, 2023
There could be a million reasons why you'd want to block someone on Discord. But there are also several reasons to know how to unblock someone on Discord.
This article will serve as a guide to help you unblock a friend you had previously blocked on Discord app
When you block a user on the platform, you restrict them from sending direct messages. Plus, you won't be able to view the messages from them on the servers you share.
The process of blocking is simple and contains a few steps. And to know how to unblock someone on Discord app, make sure to keep reading.
Now, there are a couple of ways to do the needful, it's either by using a desktop or your mobile phone.
Before the unblocking comes the blocking part of it. Let's understand how to block a user first.
---
TABLE OF CONTENTS
---
How to block someone from the chat?
If you want to know how to block someone on Discord app chat, just right-click on their username and tap 'Block.'
Blocking someone from their profile:
Tap on their username in the message section of Discord
Next, click on their profile picture
Then, tap the three dots on the top right side to select "Block"
In this case, blocking is for chat only. The user cannot send you a message. However, they will be able to see your status or what you write.
How to unblock someone on Discord?
You can always unblock a Discord app user you once might've blocked. The steps involved don't need much effort and are pretty direct. As long as you remember their username and can find them. Search it from your friends' list or chat history.
Click the Friends tab from the DM list
Find the username you blocked from the "Block" list
Tap on their profile picture
Click on the three-dot on the upper right-hand corner to reveal a menu and select the "Unblock" option
When you unblock a person, they will be able to send you messages or contact you on your chat server. But, there's another step involved. You will have to send them a friend request and after they've accepted it, you can exchange messages.
How to unblock someone on Discord on Mac or PC:
By clicking on their name via desktop:
When you block someone their messages are hidden behind, "Blocked Message — Show Message." You can click "Show Message" to see the message.
Once the message is visible you can also view the username.
Right-click on the username to click "Unblock" from the menu.
By clicking on their name via mobile:
If you've blocked a username their messages are hidden behind a tab, "Blocked Message." Click to reveal the message
After the reveal you'll be able to view the username and profile picture. Click on the picture.
Tap the three dots on the right corner at the top.
Click "Unblock" from the menu
The above steps are when you share a server with the user and when you don't, or cannot find one of their messages, unblock the user directly by finding them on the "Blocked" tab.
On Desktop Mac or PC:
Click the "Home" button or the Discord app logo on the top left
Select the "Friends" tab on the top left
You will see a sidebar with the tab "Blocked"
Click on that tab to reveal a list of blocked users



Right-click and choose "Unblock" from the menu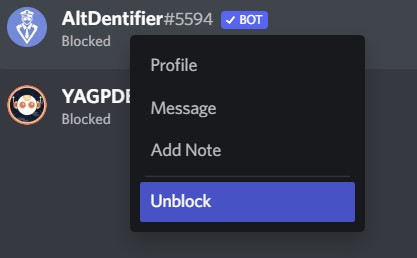 On mobile iPhone or Android:
Click the three dots on the top-left
Tap on the "Friends" tab. It will open a sidebar on the top-right.
Click the option "Blocked."
Find the list of users you want to unblock. Swipe left to reveal the "Unblock" option.
How to mute a friend on Discord?
When you mute a username on Discord, you do it for a specific amount of time. Blocking on the other hand is much more permanent. It will restrict a lot of things for the user. But you can choose a temporary solution as well.
To mute a user, right-click their name in the user list on the left and click on Mute.
Choose the number of hours you'd want to mute them for and that's it. They may constantly message you but you won't get notified. Plus, Discord doesn't let them know you have muted them.
All these and more were about blocking or muting a particular username. But what do you do when you want to block an entire server? You get two options: kick or ban the server. These tools, while useful and important, use it only when absolutely necessary
How to kick someone in Discord?
Right-click on the individual's name from the user list on the left
Pick the Kick option and enter a reason for your selection
This step is optional, however, it will let the person know why you're kicking them
How to ban someone in Discord?
The last resort kind of a thing, banning someone in Discord should be a worst-case scenario. If you are getting bothered by someone whom you've already muted, blocked, or kicked then just straight up ban this user. Unlike kicking, this is permanent.
Right-click on the username from the user list on the left side of the chat
Select the option Ban and fill in the reason for your action. It's optional, of course.
The reason will let the concerned user know the reason they are getting banned
The Discord journey!
Discord is a platform that was initially used by gamers and developed to compete against TeamSpeak. Both these platforms used VoIP (Voice over Internet Protocol).
TeamSpeak used this application for online gaming allowing users to join channels and chat with other gamers playing the same game. Although Discord used the same software, there was an option to chat via audio, video, and text messages.
Over a while, Discord grew in popularity. It's used for reasons other than gaming, like for business, hobbies, to find friends, etc.
When there is an influx of people into the platform, there are bound to be days when you may have a bad messaging experience. These users can get facetious, spammy, rude, offensive, or worse. Luckily, you can block them, mute them, kick or ban them. And if you want to connect with these users, just unblock.
It's a Wrap!
Several social media platforms have the function of block, mute or even unfollow. But, Discord is more than a social media platform and therefore works a lot more differently.
The primary reason for this is because of the nature of the app. It's a group messaging platform and hiding your messages within a mutual channel is not very sensible. Not only does Discord hide messages in the chat but it also lets you view it. All you need to do is click on them.
But when you block a username in Discord, the update fails, they are unable to slide in your DM. Plus, they can't mention you directly and you will not be visible in their "Friends" tab.
To ensure you have a happy and an efficient chat server, Discord equips you with necessary tools that offer seamless user experience