How to archive Instagram chats?‍
Written by: Hrishikesh Pardeshi, Founder at Flexiple, buildd & Remote Tools.
Last updated: Jan 19, 2023
Instagram is a popular social network that is used by millions of people to post photos, send messages as DMs to your fellow friends or consume content.
DMs (Direct Messages) are a great way to communicate with your friends on Instagram, but there may come a time when you need to archive messages or access archived chats.
There are no specific methods that allow Instagram users to archive their Instagram chats. Hence, there are no probable solutions to this problem.
Even then, we have brought you specific ways by which you will be able to archive Instagram messages or chats. So, keep reading to see how it goes.
TLDR
The best way to archive Instagram messages is through the vanish mode.
Open the Instagram application.

Log in to your Instagram handle.

Switch to the DM section and access your Instagram chats

Open the conversations of the person which you want to archive

Swipe on the chat to turn on the Vanish Mode

Now, the chats are hidden and will only be visible once you swipe up the screen again.
What does archive mean on Instagram chats?
Before moving any further, let us know what archive chats on Instagram mean.
Archive chats on Instagram mean you can still access the archived messages, but you won't be notified about any new ones.
Messages are generally archived to keep them safe from accidentally deleting them in the future. The chats get mixed up in the long list of Instagram conversations on a user's account, and thus there is a high chance of the chat getting deleted.
One of the most important reasons for archiving a message is when it was sent by someone who has since blocked you on Instagram or if they have deleted their account altogether.
How can I archive chats on Instagram?
Instagram has not yet provided any direct method to archive messages on its application. Even though there are no specific archived chat features, this guide will surely help users to archive chats on Instagram.
There are two significant ways by which one can archive their individual conversations and direct messages.
Archive conversation through Vanish Mode

Archive conversations through Professional Account
We will look into each approach individually and ensure you successfully hide conversations on your Instagram account.
Note - All these steps are trustworthy and credible. Hence all your account information is safe and well within the secure line of the Instagram app.
Archiving conversation through Vanish Mode
Open Instagram on your mobile phone or browser.
Log in to your Instagram account. (Refer here if you are facing any login error)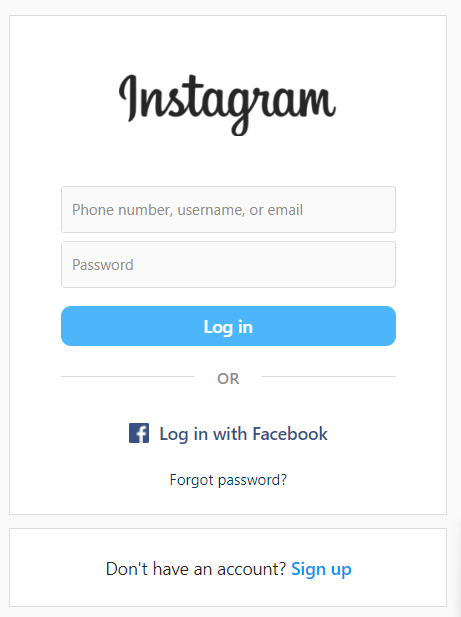 Go to the message section where you receive messages and message requests, and look for the account where you want to use the archive feature.

Open the chat and swipe up.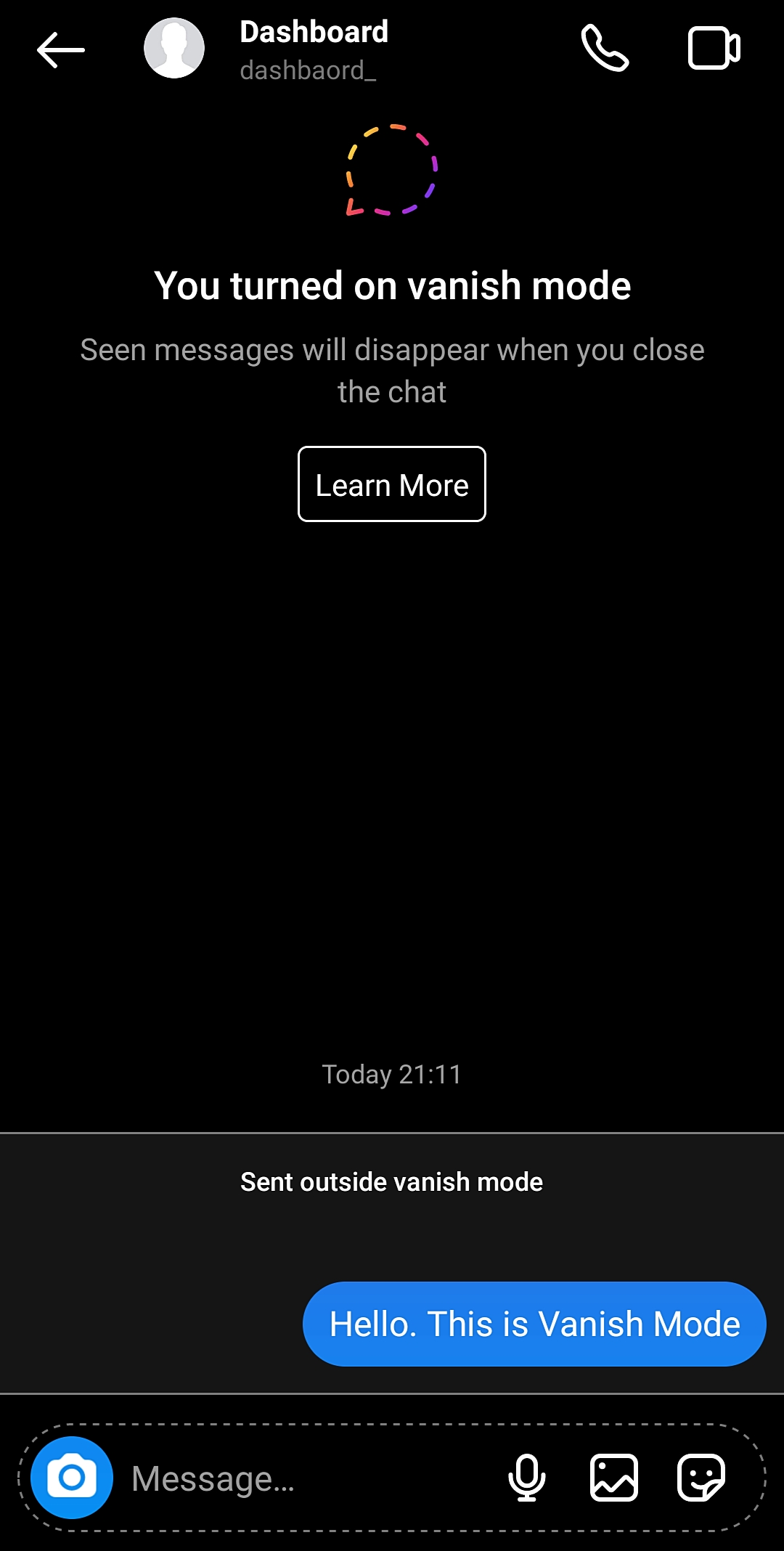 This will enable the Vanish Mode, and all your Instagram messages with the chosen person will be hidden.
To turn this mode off, swipe up again, and all your messages will be visible on your profile again.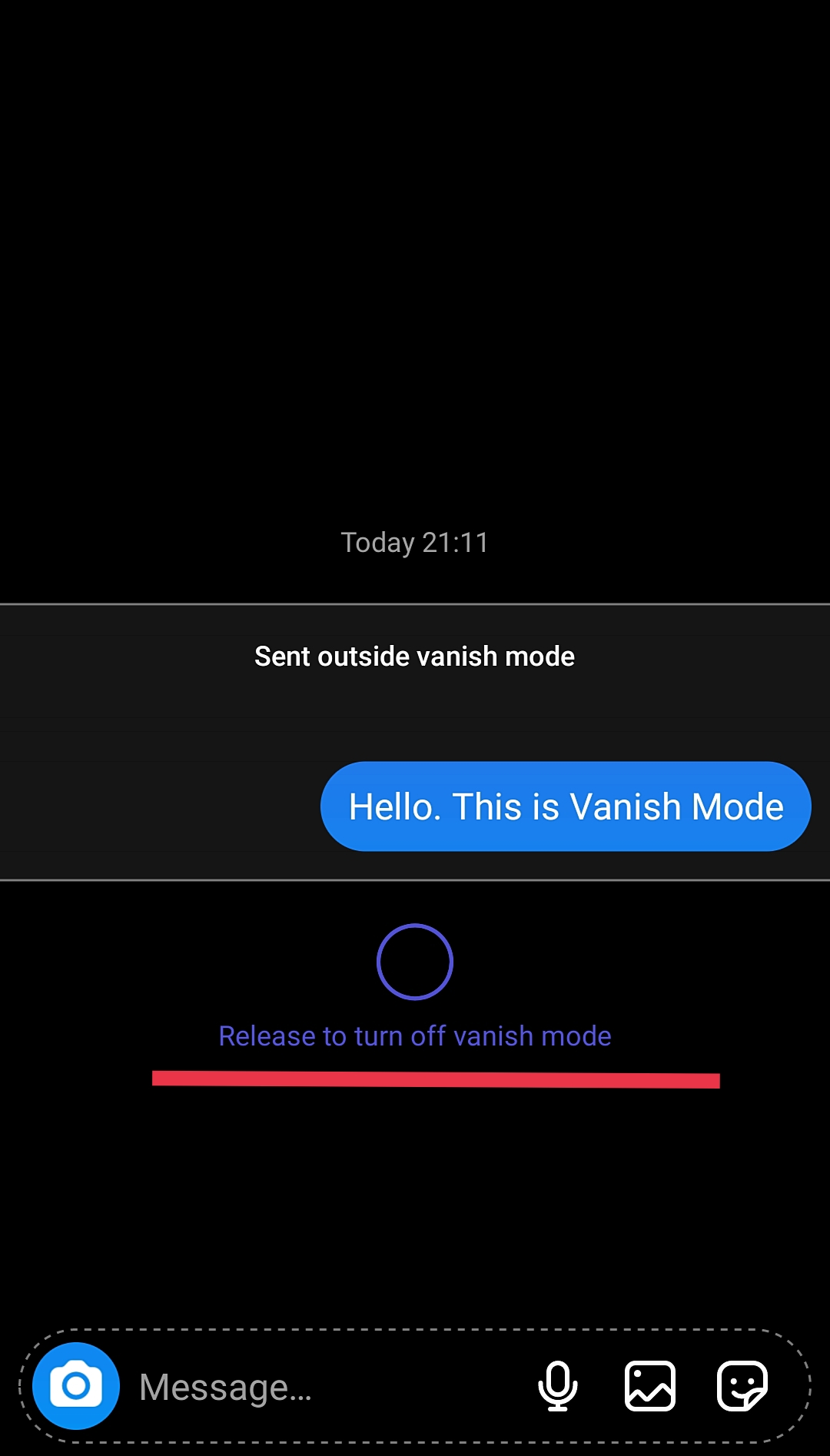 Vanish Mode is a great in-app feature that can hide Instagram messages between two persons. You can continue chatting with the person, and the messages will not be visible.
Any message you send, be it GIF, Emoticons, or Image, will disappear once the recipient sees it or is marked as seen from their end.
Hiding conversations is good practice if there is a risk of getting your phone into the wrong hands.
Note: This mode does not delete archived messages; it hides them in an exchange server until the user does not toggle them off.
Archiving Instagram messages through professional accounts
This is a hectic process as users with private accounts need to change into professional accounts.
Before moving any further, let us know what a Professional account meana on Instagram.
What is a Professional Account?
Instagram allows you to have a professional account where you can track all your chat works and information more elaborately. You can track insight, data, engagements, and interactions with the audiences, all on your Instagram handle. It lets you choose between the two categories- Creator or Business account. You must select a category that best represents your identity, business, and brand.
This was a brief introduction to a professional account. Let us now look at how it can help us archive a conversation on Instagram since there is no direct method but a lengthy and tricky method.
Steps to archive Instagram chats:
Log in to your Instagram.

Now you have to change your Personal to a professional account. In order to do this:

Click on the three bars on the top right of the main application screen





Look for the Settings button and click on it





On the search bar, type Switch to Professional Account and get the results





Set up your account based on the category you want, i.e., Business or Creator Account





Follow the prompts and finish setting up your account

Open a message page on Instagram to select an Instagram chat you want to archive. Remember, all your chats will be in the Primary Section





Select the chat to be placed in archive chats on Instagram, and move it to the General Section by clicking on the move to general option.

Once you have moved the archive chats on Instagram, it is time to switch back to your Personal account.
Switching back to Personal Account
Go to Settings by clicking on the three horizontal lines or three dots in the top right corner of the screen

On the Settings menu, search switch to a personal account and click on this option

Your handle is now retrieved back to the Personal
Now when you go to the message section on your Instagram, you will not find the conversation available anymore. It has now been archived. You can only view it from the General Section of your inbox, which is only available once you switch to a professional handle.
Downloading Instagram Data- Why is it useful?
If you wish to keep a copy of all the data on Instagram, you can do it from the settings available. But why is it needed to download data?
Downloading data will download all your Instagram post, archived chats, and archived messages alongside all the other details of your Instagram in JSON format. This downloaded data will be sent to your email, which you can download on your system. Every data is zipped in one file, and thus it becomes easy for the users to access it.
How to download data from Instagram?
Sign in on Instagram.

Once the main application screen opens up, navigate to the bottom-right corner of the screen.

Here you will find your profile thumbnail, click on it if you have several accounts linked to a main one, else, tap the little man icon.

Proceed ahead to the section dedicated to your profile.

Click on the three lines (menu icon) placed in the top-right corner of the screen.

Click on the Settings Gear icon.

Click on Security.

Click on the Download data button and enter your Instagram password to proceed further.

Enter your email address where the copy of the data will be sent.

Click on Next and then tap on the Final button.
Once everything is downloaded, you will receive a confirmation email message. Download the zipped data on your system and use the JSON viewer to view the contents.
FAQS
Can you archive Instagram messages, photos, and videos?
Yes, you can archive Instagram posts, but only post containing photos will be archived. After the new Instagram update, the videos can no longer be archived. You can not archive comments on your posts; you can just delete them.
Are archive messages deleted on Instagram?
No, archived messages are not deleted on Instagram. You have to delete archived messages from your archive section if you have to clear the information. On the other hand, deleting regular messages is relatively easy.