How to Set up Gmail Auto Reply - "Out of office" and Automated messages‍
Written by: Hrishikesh Pardeshi, Founder at Flexiple, buildd & Remote Tools.
Last updated: Jan 19, 2023
To appear professional within your team or to your clients or customers, it is critical to be highly responsive to all email messages. Being prompt and quick in responding to emails is courteous, and makes you appear more reliable. It also forces you to act and avoid procrastination, and even helps you achieve the coveted 'Inbox Zero'!
However, if you're out on vacation or out of office, it wouldn't be fair to keep people, who send you emails during that time, waiting without a response. In such a situation, it is always better to reply to them that you are unavailable, and lead them to an alternate contact. You could also choose to give them your phone number if they need immediate assistance.
Even if you are typically responsive over email, often, you might get caught up in more important work and simply forget to reply to your emails. Sometimes, you might even have no time at all to browse through common, generic emails and reply to them in a comprehensive manner.
For these types of emails, it is essential that you spend as little time as possible replying to them. Gmail auto reply is a handy tool that allows you to automate such replies.
---
Table of Contents
---
Gmail auto reply - Types
There are two types of Gmail auto reply functions provided by Google:
Out of office, or vacation reply
Automate responses to common messages
The first automation by Gmail lets you set up an auto reply to email senders when you are out of office, or on vacation.
The second type of Gmail auto reply is an incredibly powerful tool, that allows you to auto reply to common emails based on certain keywords or subjects. If you receive similar types of emails very frequently, it can get very cumbersome having to reply to each and every one manually.
Instead, you can save hours of time by automating a standard response to all these emails, so they are sent automatically when someone emails you with a common question, without your intervention.
How to set up Gmail auto reply for "out of office" or "vacation" responses
Setting up Gmail auto reply for out of office or vacation is pretty easy. Follow these steps:
Step 1. Open Gmail on web, and in the top-right corner, click on settings (the gear icon)
Step 2. Select "See all settings"
Step 3. Scroll down to the "Vacation responder" section
Step 4. Check the "Vacation responder on" option
Step 5. Enter the First day, Last day, Subject, and Message
Step 6. Click on "Save Changes"
If you have a custom-domain Gmail account, Gmail vacation responder will also show you a check-box for this if you only want those within your organisation to see your auto reply email.
Note:
Click on the corresponding check-box if you only want your contacts to see your auto reply email
Unless you end it earlier manually, the Gmail auto reply (vacation responder) starts at 12:00 AM on the start date and ends at 11:59 PM on the end date
The out of office Gmail auto reply feature only works on emails that are personally sent to you. It doesn't work on mailing list subscriptions and spam messages
Each sender will see your auto reply message only once, unless they email you again after 4 days with the auto reply still being on
Editing your vacation auto reply settings will cause it to reset, so if recipients of your first auto reply message email you again, they'll also receive your edited response again
How to set up Gmail auto reply for standard responses to common emails
You can use Gmail auto reply to create templates for standard responses to emails that you receive frequently, and then have Gmail automatically send them based on a filter. You will have to specify certain criteria present in all the common emails, like keywords or subjects.
Setting up automated responses has two parts:
Creating an email template
Specifying filter criteria and switching on automated replies
1. Creating an email template
Step 1. Open Gmail on web, and in the top-right corner, click on settings (the gear icon)
Step 2. Select "See all settings"
Step 3. In the "Advanced" tab, scroll down to "Templates" and enable it. Save changes
Step 4. Go back to your inbox and click on the "Compose" button
Step 5. Type in your template email, click on the three dots and select "Template" → "Save draft as template" → "Save as new template"
Step 6. In the pop-up dialog box, type in a name for your template (this will be your template email's subject line) and select "Save"
2. Specifying filter criteria and switching on automated replies
After you have created and saved your template, you can use the template to create an automated response to common emails. For this, you must create a filter in Gmail specifying the criteria under which your template will be sent as an auto reply.
Step 1. In the Search bar at the top, click on the down arrow
Step 2. Set your criteria, such as "Has the words", "Subject", or the other fields, for the auto reply filter, and select "Create filter"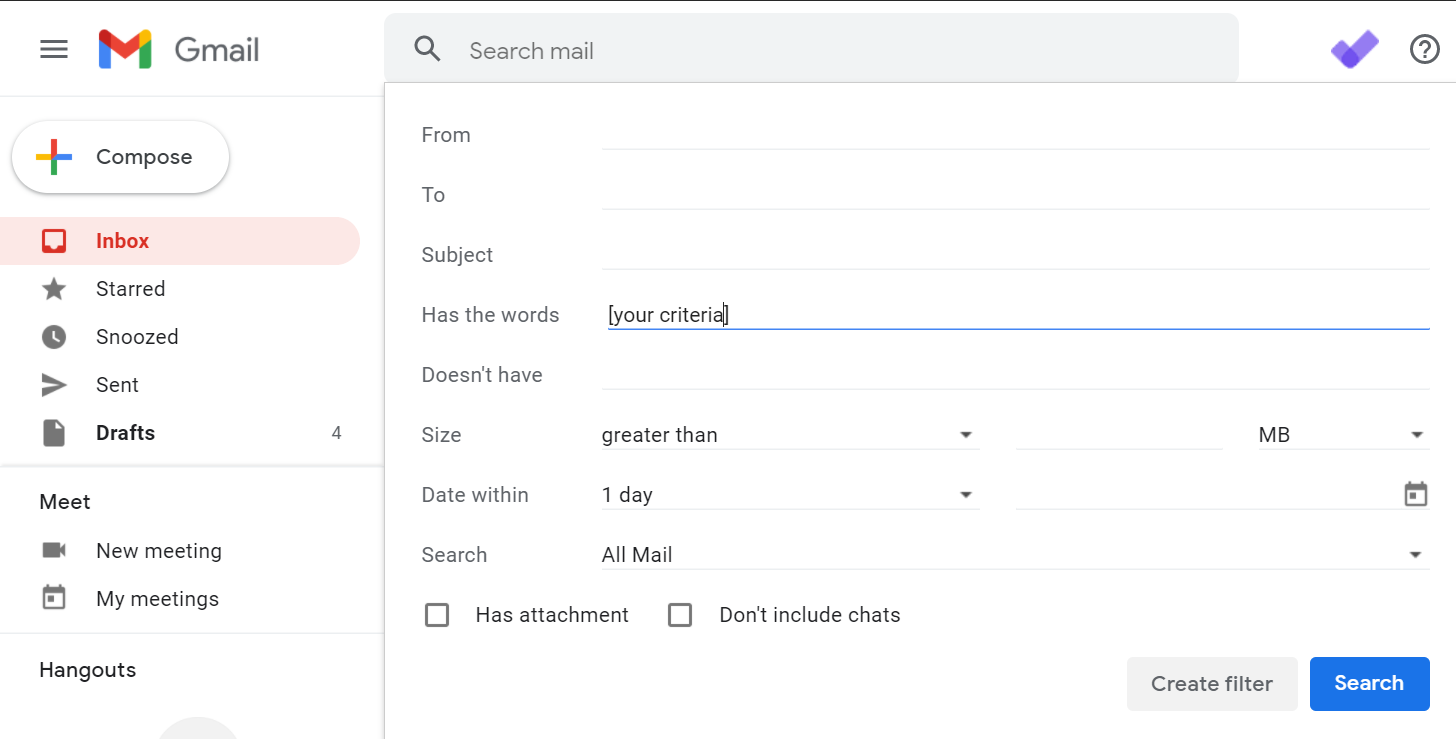 Step 3. Check the "Send template" option, and select the template that you want to send as an automated response
Step 4. Select "Create Filter"
Step 5. Go to Settings → See all settings → "Filters and Blocked Addresses" tab
Step 6. Check the "Matches:" box specifying your criteria under the heading "The following filters are applied to all incoming mail:"
This will automatically apply your filter to any email you receive that matches your criteria.