Why does Chrome take so much memory?‍
Written by: Hrishikesh Pardeshi, Founder at Flexiple, buildd & Remote Tools.
Last updated: Feb 01, 2023
---
TABLE OF CONTENTS
---
Google Chrome is one of the most widely used web browsers. It is known for its speed, performance, and easy-to-use interface. But, Chrome is also infamous for being a memory hog that ends up consuming most of a computer's resources.
You can take a look at this yourself by visiting the Task Manager and checking out the memory consumption. There is a good chance that Chrome is running on multiple processes and is consuming most of your memory. So, in this article, we will understand why does Chrome take up so much memory and the ways to solve that issue. 
Why does Chrome take so much memory?
To understand why Google Chrome takes up so much memory, you will need to take a look at how it functions. Chrome runs each tab as a separate new process. This is to make sure that you get a fast browsing experience along with high stability. So when you have multiple open tabs running in your browser, more processes need to be executed. This results in Chrome taking up a lot of memory.

In order to have faster speeds, Chrome retains much of the data across the tabs, thus requiring more memory. For example, Chrome keeps your inactive tabs running so that you can instantly have access to them as soon as you come back to the tab.

Also from a security viewpoint, since Chrome uses a separate process for each tab, any malicious attack on one tab won't affect other tabs. 

Chrome is among the best browsers around thanks to its fast browsing speed, powerful performance, and reliable security. However, the very reasons mentioned above are what causes it to take up so much memory. Next, we'll look at the steps we can take to resolve this issue.
How to stop Chrome from using too much memory? [6 Fixes]
1. Close Unused Tabs
One of the major reasons for Chrome using too much memory is that multiple Chrome tabs are left open. To speed your system memory, you should close all the unused tabs on your Chrome browser. After doing that, you will be able to notice a considerable improvement in the memory.

2. Remove unnecessary extensions
You would be surprised to know that each extension you add slows down your PC performance. Often, you may not be aware, but extensions run continually and also lead to increased memory usage. Be sure to regularly check the extensions installed on your browser and remove the unwanted ones. 

To open up your extensions page, go to the top right of your Chrome browser and select the menu icon. Next, go to 'More Tools' and then choose the 'Extensions' option. 
Here you can either toggle off the extension to temporarily disable it or select 'Remove' to completely discard the extension from your browser.
3. Regularly update Chrome
Just like any other software, Chrome also needs to be updated regularly in order to function optimally. Usually, Chrome updates happen in the background when you close and reopen your browser. But sometimes, you can also see a visual reminder when you haven't closed your browser for a long time.

Chrome notifies you that there is a new update by changing the color of the menu icon. If an update is pending, the menu icon will be colored in Green, Orange or Red based on when the update was released.

You can also manually check for new updates on Chrome by typing chrome://help into the address bar. Following this, you will be taken to the 'About Chrome' section.
Finally, Chrome starts downloading the latest update automatically if you are not on the latest version.
4. Use extensions to control your tabs
As we discussed earlier, the number of open tabs directly affects your computer's performance and memory. Ideally, you should limit your tabs to a minimum. However, if you are a heavy user of multiple tabs, you can use extensions to keep your memory consumption under control. 

Extensions such as One Tab, Tab Wrangler, The Great Suspender are particularly helpful to reduce tab clutter and to accelerate memory. 
5. Run a Malware Scan
Sometimes, the changes made by some kinds of malware or adware can also cause memory issues. Thus, it is advisable to scan your computer for viruses using antivirus software. Windows users can make use of Google Chrome's clean-up tool. It lets you scan your computer for any suspicious software including extensions and adware.

To clean up your computer, go to the menu at the top right of the browser and select 'Settings'.
Next, go to 'Advanced Settings' and choose the option to 'Reset and clean up'.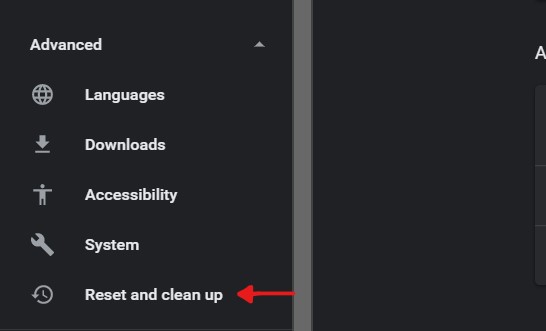 Finally, click the 'Find' button to search your computer for any harmful software. If Chrome detects any harmful software on your computer, you can then select 'Remove' to uninstall them.
6.  Enable Hardware Acceleration
Finally, Chrome also offers hardware acceleration to boost your browser performance. Usually, Chrome struggles to handle resource-heavy tasks such as watching high-definition videos or playing games. In such cases, enabling hardware acceleration allows the CPU to offload some tasks to your system's GPU.

To enable this option, go to the menu button on the top right of your browser and choose 'Settings'. 




Next, scroll down and select 'Show advanced settings'. In the System section, toggle on the 'Use acceleration when available' option.
Hopefully, the above solutions have given you an answer to 'Why does Google Chrome take so much memory' and fixes to the problem. Happy browsing!