How To Know if You Are Shadowbanned on TikTok‍
Written by: Hrishikesh Pardeshi, Founder at Flexiple, buildd & Remote Tools.
Last updated: Jan 30, 2023
TLDR
You can perform any of these actions to know if you're shadowbanned on Tiktok
Check for a reduction in your profile view history

Check your "For you" page statistics

Try to hashtag your post on a different Tiktok account
Getting engagement on your posts is no doubt crucial to your enjoyment of social media. However, the engagements you get on your posts could drastically reduce if you have been shadow-banned on any social media platform. This is especially so on TikTok when a shadow ban is placed on your TikTok account.
If you suspect a shadow ban on your account and are unsure of how to know if you're shadow-banned on TikTok, you don't have to worry. This post discusses steps you can take to find out if you are shadow-banned and provides you with useful tips you can use to get un-shadowbanned on TikTok. In addition to these, you'll also get to know why you can get shadow-banned on the TikTok app.


What's a Tiktok Shadowban?
A TikTok shadowban happens when TikTok restricts your Tiktok videos from appearing on other users' feeds. It is often referred to as " stealth banning" or "ghost banning" because you will be allowed to post videos as usual only that Tiktok's algorithm will restrict the scope of your reach.
Shadowbanning techniques are usually adopted by social media platforms to control the posting of content that is considered inappropriate. The effect of shadow banning on your account is that the videos you post will be made invisible to other users thereby drastically reducing the engagement on your posts.
Note that shadowbans are usually temporary bans and don't mean you have been permanently banned.
How to Know if You're shadowbanned on TikTok
TikTok shadow-bans are usually unofficial and done without notifying TikTok users. In fact, many social media sites deny the existence of shadow-bans making it rather difficult to know a banned TikTok account. However, by taking the following measures you'll be able to know if you have been shadow-banned on TikTok.
Step 1: Check for a reduction in your profile view history
Being shadowbanned on Tiktok makes your new videos invincible to other Tiktok users. This in turn affects your page views in the sense that there will be a drastic and sudden decline in the number of people that view your page.
Tiktok records the number of other Tiktok users that viewed your page in the last 30 days. You can access this list in your profile view history. If you notice a trend of drastic decline in your views, your account may be under a Tiktok shadowban.
Take the following steps to check for a reduction in your profile views
Open your settings and privacy menu

"Settings and Privacy" appears at the bottom of the screen after you tap the three horizontal lines in the top right corner of your profile page

Tap Privacy

Swipe to the bottom of your screen after tapping privacy

Select profile views and give permission

After you give permission other Tiktok users will also be able to see that you viewed their profiles

Go back to your profile page and tap the eye icon

The list of people who have viewed your profile will appear immediately after you tap the eye icon
Step 2: Check your "For you" page statistics
Under your "For You" page statistics, you'll be able to check for the total number of views your TikTok videos generate. For example, if your videos used to have over 2,000 views and suddenly begins to have no views, you may have good reasons to suspect your Tiktok account is under a shadow ban on TikTok. If your video gets at least a view then you are not shadowbanned.
The analytics also shows you the number of likes, comments, and profile views you've had in the last 7 days or the number of days you choose. If you notice a drastic decline in any of these, you may be under a TikTok shadowban
Do the following to access your "For you" page statistics
Select "Creator tools"

When on your profile page tap the three lines icon in the top right corner of your screen and tap creator toolsfrom the option that appears below

Click on "Analytics"

Your account analytics will appear on your screen



You can also check a video's analytics by opening the video from your profile and tapping the three dots that appear on the right side of your screen and tapping analytics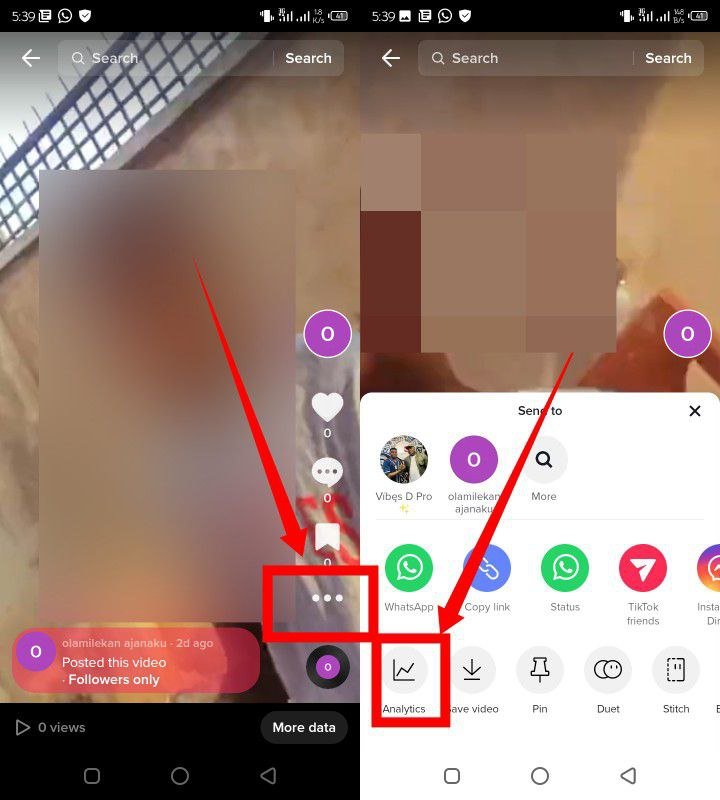 Your analytics immediately appear on your screen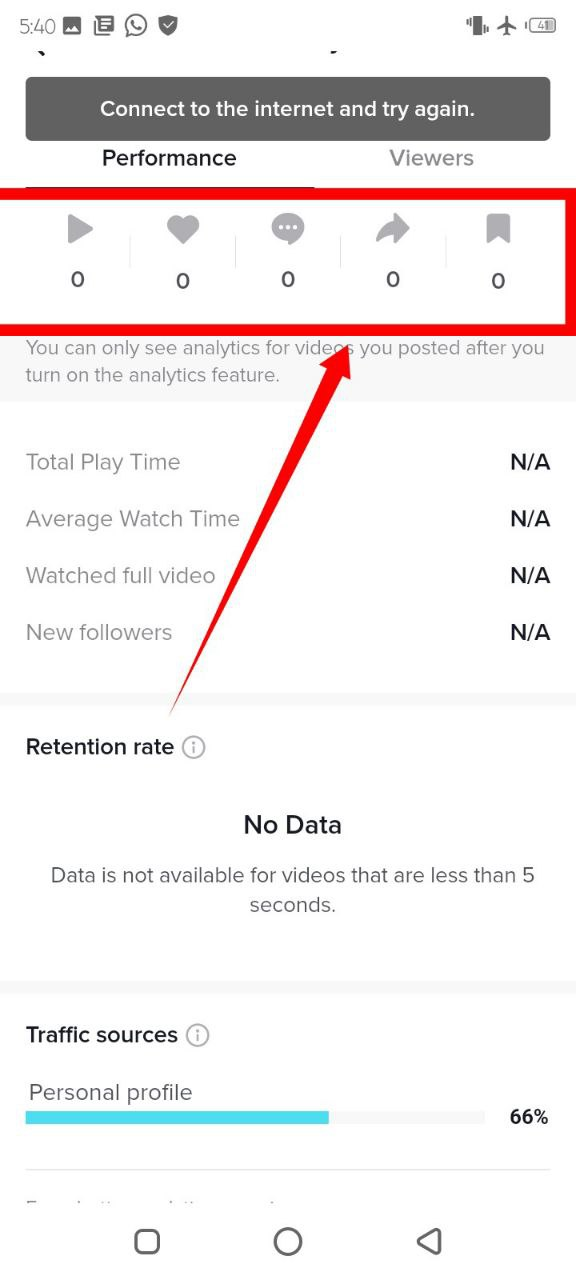 Step 3. Try to hashtag your post on a different TikTok account
Usually, when you hashtag a post on TikTok it appears immediately in the search results. However, if your account is under a shadowban on Tiktok you'll not be unable to hashtag your posts. If you hashtag your post with a new account and it appears in the search results then your account is not under a TikTok shadowban.
Why your account may be under a TikTok shadowban
Just as it is on other social media sites, your account will only be shadowbanned when you post content that violates Tiktok's community guidelines. Community guidelines are rules on social media sites that users must abide by to make the platform safe and enjoyable for other users.
No one can say for sure how long a shadowban on TikTok lasts. But ideally, a shadowban on Tiktok takes two weeks and sometimes less or more. You however could get permanently banned if you keep posting inappropriate content that violate the community guidelines of the Tiktok app.
Also, overactive activities such as following or unfollowing too many people within a short period can get you shadowbanned on Tiktok. Tiktok has a daily follow limit of 200. Exceeding this limit although seemingly harmless could make Tiktok shadowban your account on suspicions of being a bot and to prevent spamming.
If you suspect your account is under a Tiktok shadowban, it could be that you posted inappropriate content that's against Tiktok's community guidelines. Such Tiktok rules you may have violated include:
Hate speech: This includes videos that contain racial slurs, misgendering, and bullying speech
Fake news as well as harmful propaganda and misinformation

Adult content such as pornographic and sexually explicit videos

Violent graphic content that promotes self-harm

Copyrighted music or videos
How to get un-shadowbanned on TikTok
A Tiktok shadow ban could be your worst nightmare as a content creator. Your efforts begin to seem like a waste when other Tiktok users cannot view your posted content not to talk of liking or commenting on them. However, the good news is that you can get un-shadowbanned on TikTok by taking the steps below.
Step 1: Delete flagged content
The first thing you should do if you notice your account is under a shadowban on TikTok is to review your recent videos from when you think the shadowban started and delete any content you might have posted that can violate TikTok's community guidelines.
So long as any video that violates community guidelines remains on your profile, TikTok's algorithm may leave you shadowbanned for a while. To avoid future occurrences of being shadowbanned on TikTok, you should post innovative content and only videos that conform to Tiktok's community guidelines.
Step 2: Reinstall tiktok
If the shadowban persists after you've deleted the offensive content, you should try to reinstall TikTok. You may do this before or after deleting the offensive content. At times, it could be that your Tiktok app is misbehaving and not that you are under a shadow ban. This is especially so when your Tiktok is an old version.
Step 4: Upgrade to a pro account
Upgrading to a pro account doesn't guarantee that you'll get un-shadowbanned. But, with a pro account, you'll be able to access more advanced analytics that'll help you understand your viewers more and overall increase the reach of your videos.
Step 3: Reduce your activity
After you notice a shadow ban on your TikTok account, you should avoid posting any new content or liking other users' content for a while. Also, you shouldn't follow any account during the shadowban period. Ensure you get un-shadowbanned before you do any of these. Tiktok's algorithm may see any new video or excessive liking and following as spam behavior and prolong the shadowban period.
How do I go about a Tiktok shadowban?
Shadowbans could be very frustrating since the videos you expended efforts to make would be invincible to other users, therefore, making your efforts go to waste. Since shadowbans are usually subtle, you'll barely be able to know you are under a shadowban.
The first step to take to get rid of a shadowban is to notice it. You could easily find out if your account is under a shadowban by checking your page views and your account analytics and hashtagging your post on another account.
To get rid of the shadowban on your account, you should delete your posts that violate Tiktok's rules, reinstall the Tiktok app and upgrade to a Pro account. By doing these you'll be un-shadowbanned in no time.