What does "Post Unavailable" mean on Instagram?‍
Written by: Hrishikesh Pardeshi, Founder at Flexiple, buildd & Remote Tools.
Last updated: May 30, 2023
What does post unavailable message mean on Instagram? This guide will walk you through all the possible reasons that trigger Instagram post unavailable problems.
TL;DR & Summary
Of all the noteworthy features that Instagram offers, the DM has got the second most applause. Only next to Instagram stories. However, sometimes, you see a "post unavailable" message in your direct message for certain posts that your friends & family share with you.
There are several reasons behind it. Most common is that the shared post is from a private account that you don't follow. To view that post, you will need to send a follow request to the private account owner & once they accept and if that post is still available, only then you will be able to see that post.
Here are some uncommon and subjective reasons why you see "post unavailable" on Instagram:
The post is deleted/taken down for copyright infringement

The post has been reported and hence removed by the Instagram account owner or Instagram itself

The user who posted that content has deleted their Instagram account

The post contains age-restricted content that's not appropriate for you

Your profile is blocked by the admin of the page
Let's explore all the reasons in detail.
#1 The post was deleted for copyright infringement
When a post is deleted/removed for copyright infringement, that's because the post (such as an image or video) was used without the permission of the person who owns it.
That is when you post the content or use an image/video that you did not have the right to use, or if you did not give proper credit to the copyright owner.
When Instagram receives a copyright complaint against you, it will review the post and if they determine that it infringes on someone else's copyright, it will delete the post and notify the owner about it. Be aware of copyright laws and obtain permission/give proper credit when using other people's content on social media.
#2 The post is reported and removed/archived
If a post is reported and removed on Instagram, it means that the post was flagged by another user as potentially violating Instagram's community guidelines.
A reported post is reviewed by Instagram's moderation team & checked if it does indeed violate the guidelines. If the post is found to violate the guidelines, it will be removed from the platform, and the account that posted it may receive a warning or face other penalties.
The post may have contained content such as hate speech, harassment, graphic violence, or nudity, which are not allowed on Instagram.
Furthermore, posts that promote illegal or dangerous activities, or that use the platform to sell illegal or regulated goods also violate Instagram's guidelines.
If you see a post that you believe violates the guidelines, you can report it to Instagram by clicking the three dots in the top right corner of the post (or visiting the profile) and selecting the "Report" option.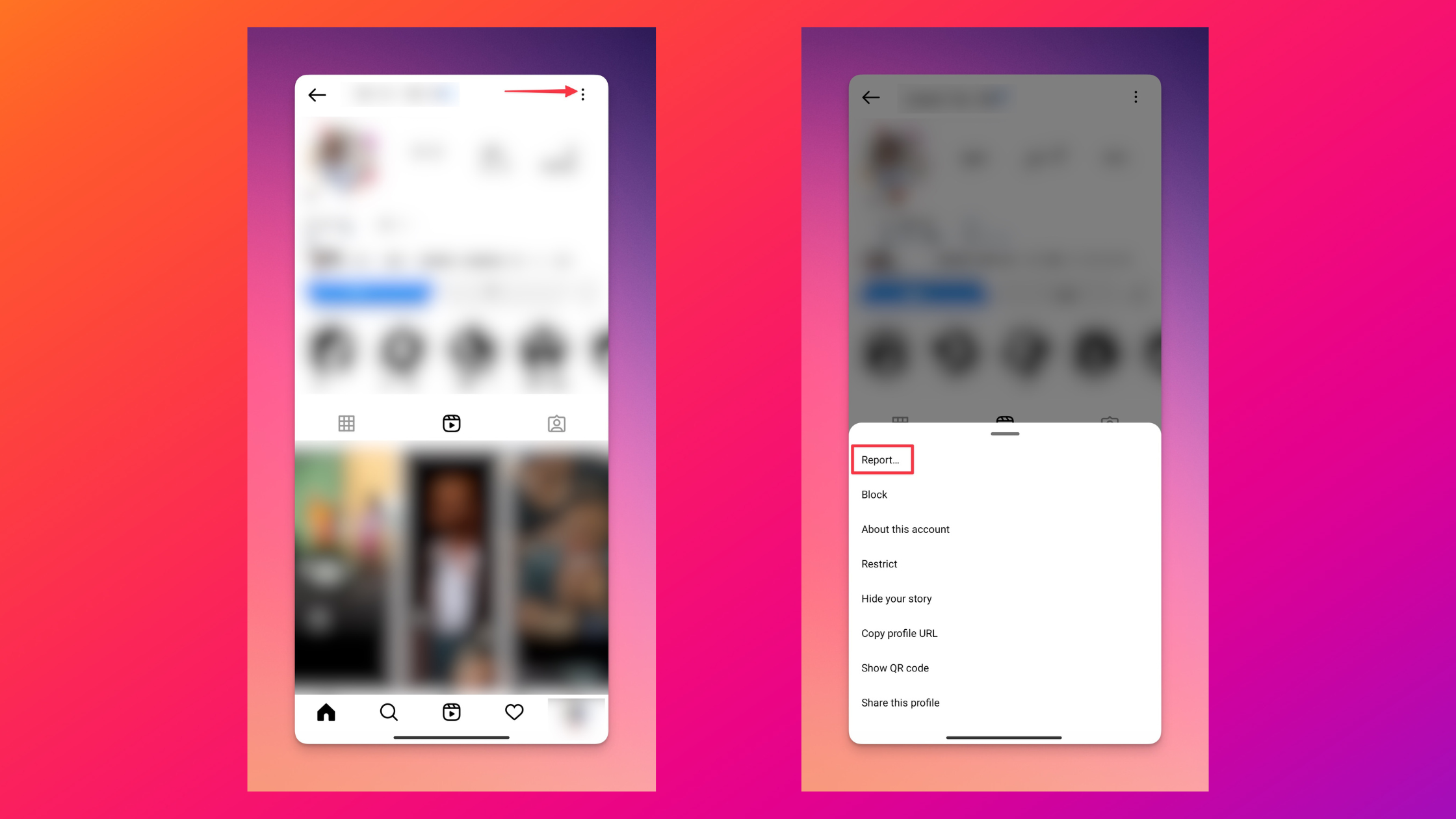 #3 The post is from a private profile
This means, only those who follow that profile can see their posts. If you see Post unavailable in your Instagram chat for any posts, that means you don't follow the profile that published that post.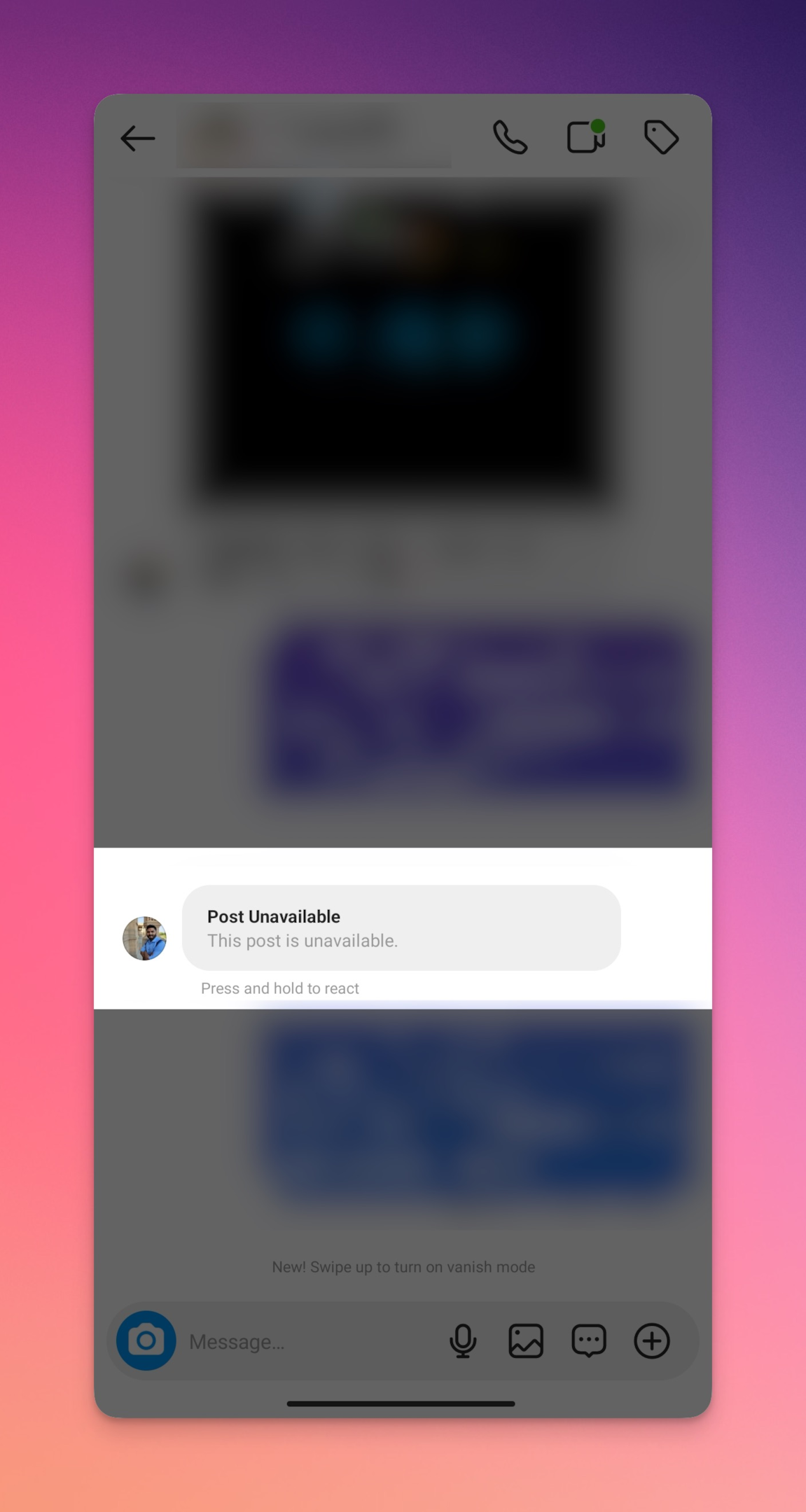 Once approved, you will be able to see their posts, be it in your direct message feature or your feed/explore section. You can interact with the posts only if you follow that private account.
#4 You're blocked by the admin
When you're blocked by the admin of an Instagram account, you will no longer be able to see their posts, stories, or interact with that account. You will also not be able to send direct messages to that account. When you try to visit the profile, you won't be able to view any posts or highlights.
Related: How to know how viewed your highlights on Instagram?
However, you will be able to see the message button, & it will seem like they've sent you a message, but the messages won't reach your Instagram inbox.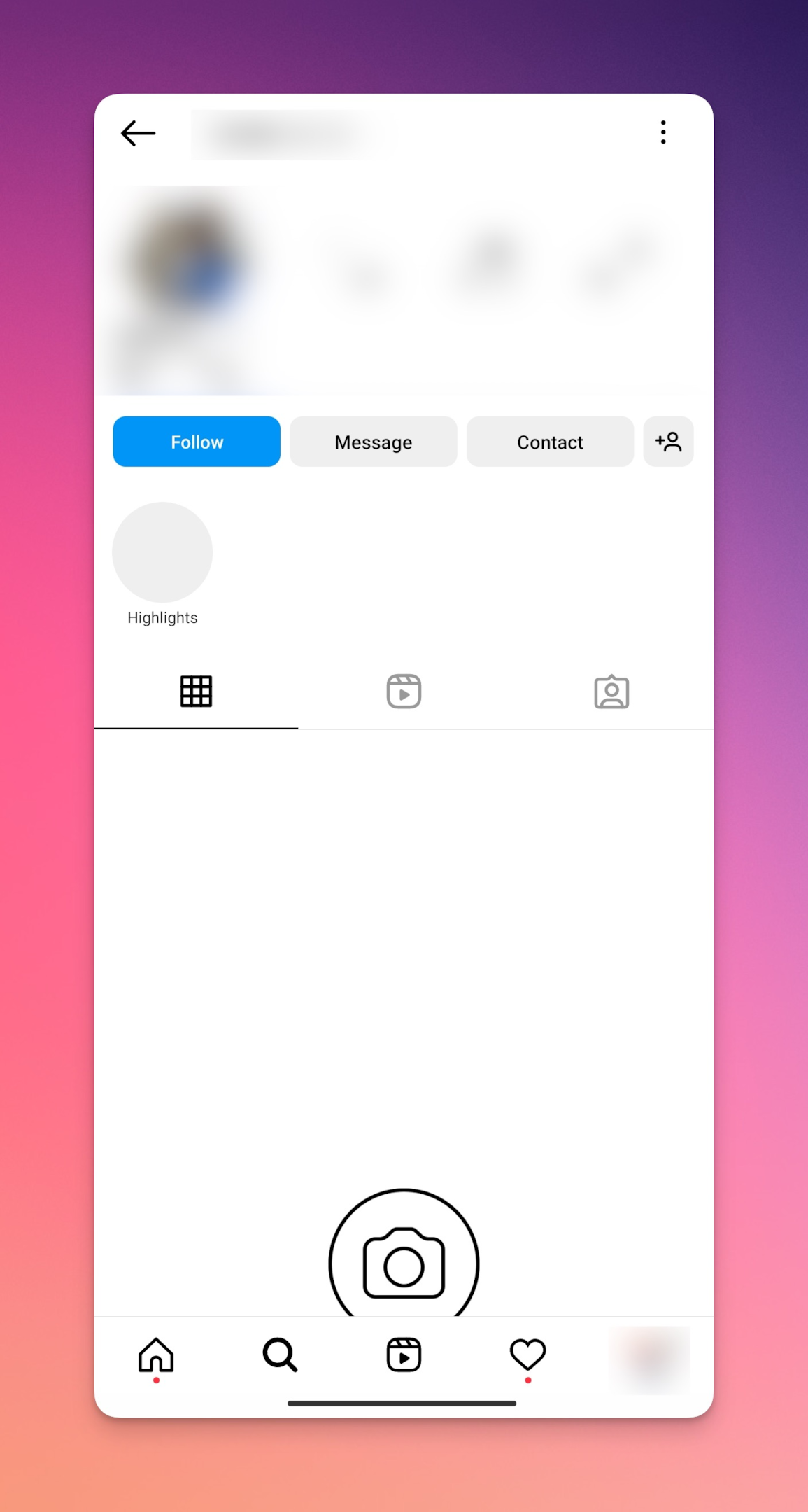 When you block an Instagram account, you also wouldn't be able to see any content on their profile.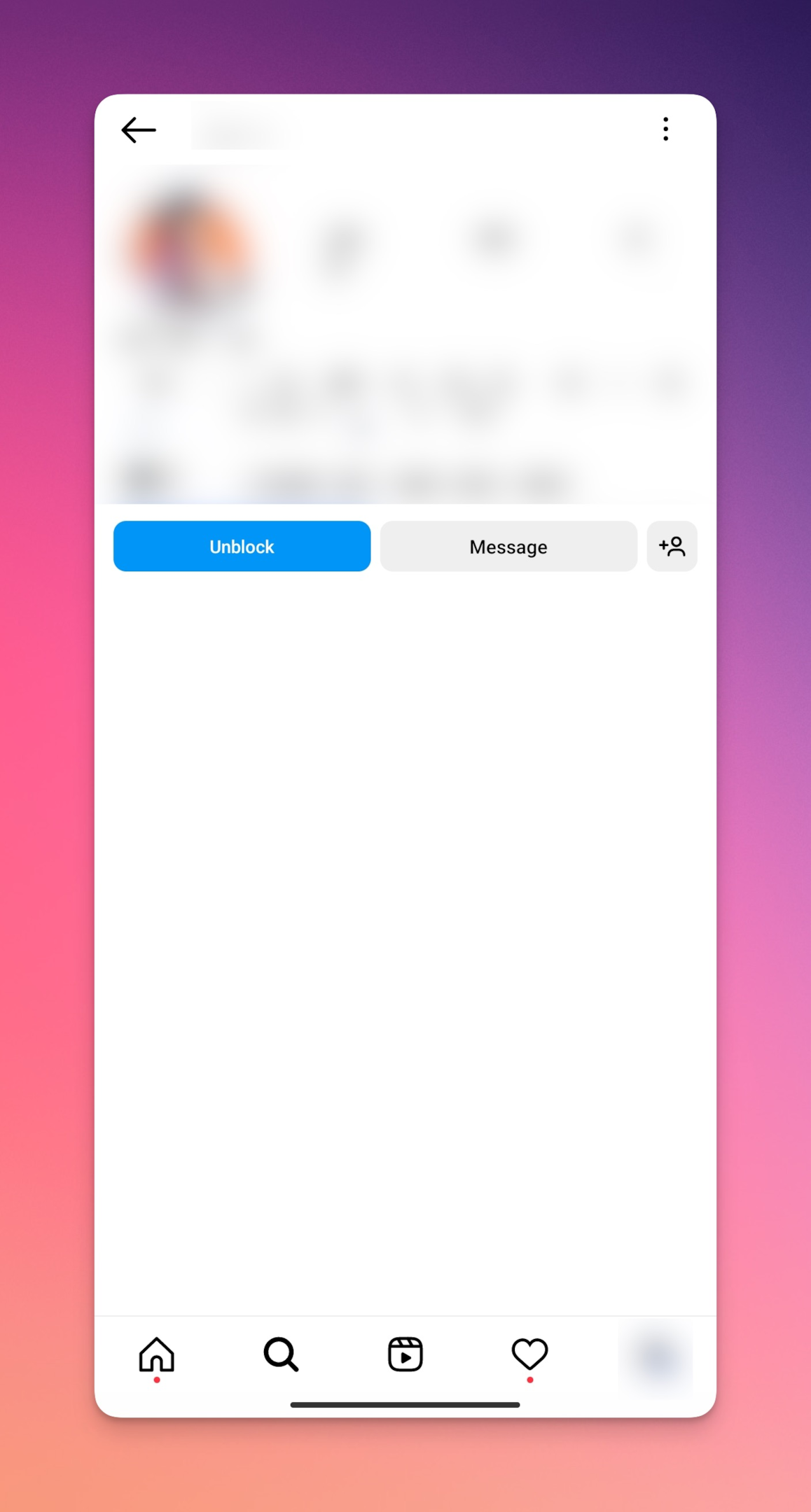 Note: It's not possible to know exactly why you were blocked by an account, it could be for a variety of reasons such as you broke the community guidelines of Instagram, you were being excessively spammy, or the account owner simply didn't want you to see their posts. If you believe that you have been blocked in error, you can try reaching out to the account owner through a mutual friend or through a different platform to inquire about the block. Read more about what happens when you block (or get blocked) on Instagram.
Related: What is challenge_required on Instagram?
#5 The post is from a deleted/deactivated account
You won't be able to see the content of a page/account that has been deleted/deactivated.
When an Instagram page/account is deleted, all its content including stories, posts & comments is removed permanently from the platform. Deactivating an account keeps everything related to the page in archives but isn't available to the public.
Deactivated accounts can be revived as these are only temporarily disabled.
Note: If you have a post from a deleted account and you want to save it, you should take a screenshot or download it before the account is deleted.
Related: Confirm your info account on Instagram
#6 Age-restricted content
Age-restricted content on Instagram refers to posts or accounts that contain material that is only suitable for viewers above a certain age. This type of content may include images or videos that depict nudity, sexual acts, or violence. To view age-restricted content, users must be logged in and verify that they are above the age of 18.
This type of content is flagged by Instagram's automated systems or reported by other users, and then reviewed by Instagram's content moderation team. If the team determines that the content is not appropriate for all audiences, it will be marked as age-restricted. Users who try to view the content will be prompted to verify their age by providing their date of birth.
How to verify your age for your Instagram account?
Here's how you can update/verify your age on Instagram:
Open the Instagram app and tap on your profile icon





Tap on the hamburger menu in the top right corner





Tap "Settings"





Tap "Account"





Tap "Personal Information"





Add your date of birth in the birthday section if not done already. If you've connected your Facebook account with Instagram, you can update on Facebook as well.




Related: Locked out of Instagram? Here's how to fix it
#7 Instagram servers are down
When Instagram servers are down, you won't see "Post unavailable" in your DM. However, when you tap and open the post to view it, the post won't load on your screen.
You can check Instagram server status on sites like Down Detector. This site shows the top reasons why the servers are down.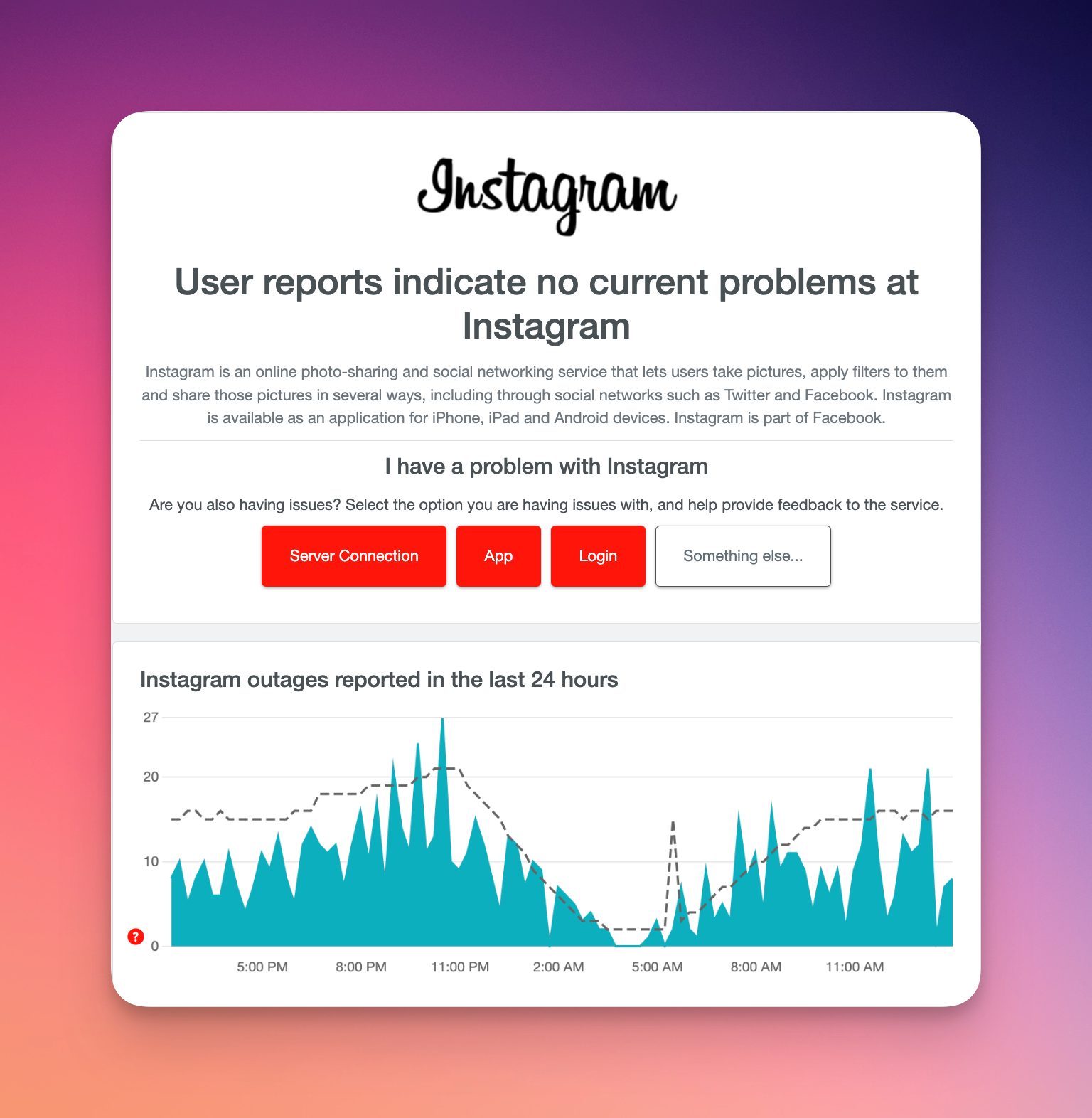 #8 You're viewing disappearing messages
In this case, as well, you won't be "post unavailable" messages in the Instagram chat. You can send a disappearing message to anyone from your following on Instagram. Simply tap the camera icon in your chat and tap "Allow replay".
How to view the unavailable Instagram post?
When you see posts unavailable on Instagram DM, you have very limited ways to see them without following that page from your primary account. You can screen record (for a video post) or take a screenshot from a fake profile/anonymous user/new account (make sure you follow that page) or ask a mutual friend who follows that page.
Frequently Asked Questions
Why does Instagram say the post is unavailable?
Instagram may say that a post is unavailable if the post has been deleted by the user who posted it if the account has been set to private if the post has been removed for violating community guidelines, if the account has been deactivated or terminated by Instagram, or if the account is blocked by you.
How do you know if someone blocked you on Instagram?
If you think someone has blocked you on Instagram, you can check by searching for their account. If their account is no longer visible to you, or if you cannot see their posts or stories, you have likely been blocked. You also can't send them direct messages or request to follow them.
Does "Instagram user" mean deactivated or blocked?
When an Instagram user's account is deactivated, the account holder can reactivate it within 7 days by logging back in. but after 7 days, the account is permanently deleted and all its content is lost. When an Instagram user's account is blocked, you can no longer see the user's posts, and stories, or interact with their account. You also cannot send them direct messages or request to follow them.
How do you know if someone has ignored your DM on Instagram?
Instagram does not notify users when a direct message is ignored, so it is not possible to know for certain if someone has ignored your DM. However, if the person you sent the message to your current account & has not responded or if you haven't seen any of your messages delivered, they have likely ignored your DM.