Does Instagram Notify When you Screenshot a Story or Post?‍
TL:DR & Summary
No! Instagram won't notify when you screenshot a story, a message, a profile or a post on any section of the platform. There's only one scenario where Instagram might notify when you take a screenshot. We shall discuss that in this post.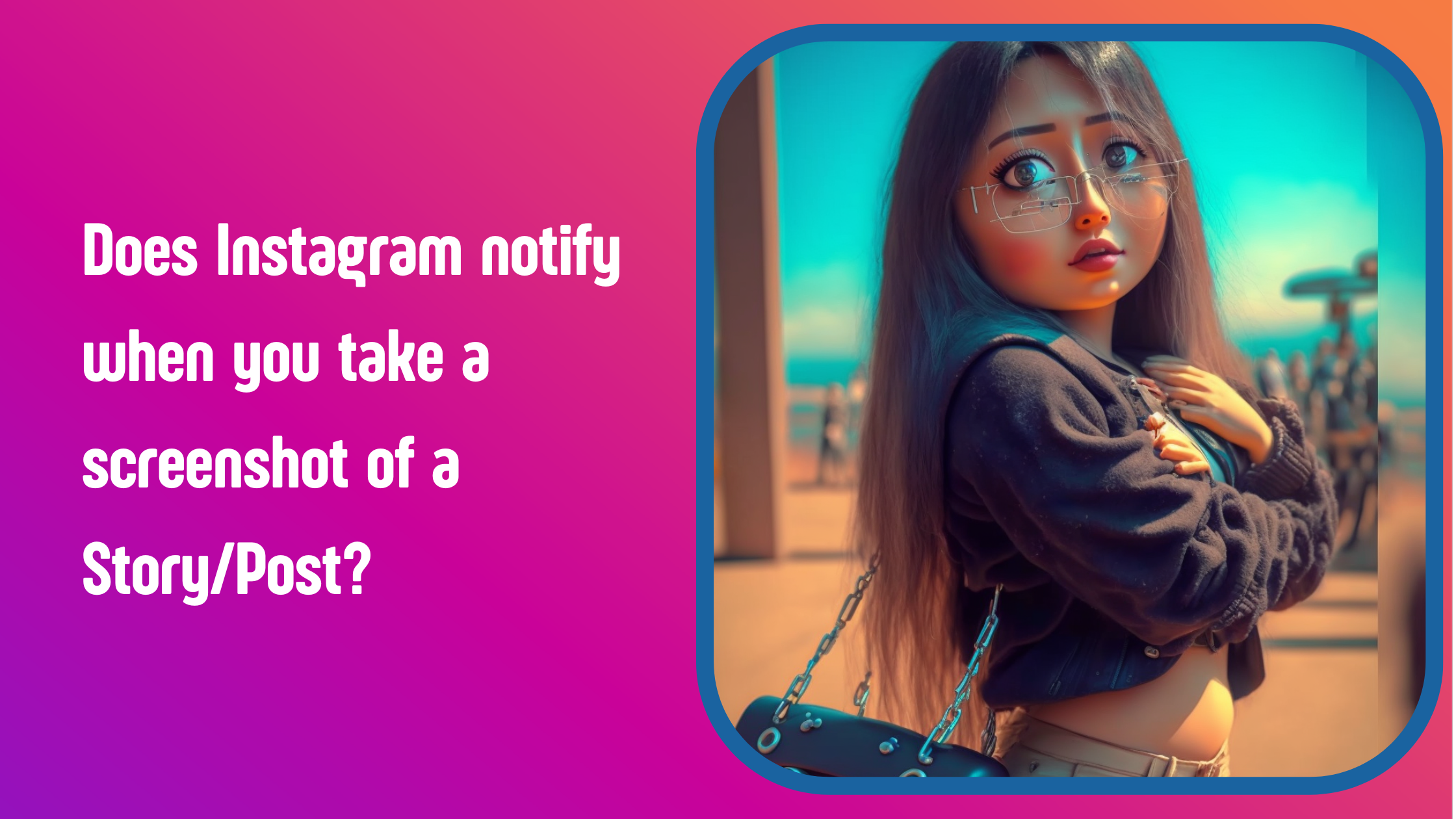 Why would someone want to take a screenshot of a story, post or profile?
Owned by Facebook, Instagram is one of the world's most popular and widely-used photo and video-sharing social media platforms. It is a great platform to keep in touch with the lives of those whom you admire, and a place to find interesting and creative visual content.
At times, you might want to screenshot a photo posted by someone else for your reference. While Instagram does let you bookmark a picture, you might want to screenshot it if you're looking to do it quickly, and want to view it when your phone's not connected to the internet.
However, one of the most common questions asked by Instagram users is, if Instagram notifies the user who posted the picture when you take a screenshot of it. In this article, you'll find the answer to this question, and more.
---
Does instagram notify when you screenshot a story?
No, Instagram doesn't notify people when you screenshot their posts or stories. However, it does notify users when you take a screenshot of disappearing photos or videos sent in their DMs (direct message chat).
However, keep in mind that back in 2018, Instagram had released an update that notified users if you took a screenshot of their stories. But the update was rolled back just a few months later. It does indicate that Instagram has definitely built the ability to notify users if their stories are screenshotted, so this is something to remember. Maybe, in the future, Instagram might re-introduce a similar feature.
Also note that Instagram doesn't send screenshot notifications when you screenshot any other part of the app - be it a user's profile, their list of followers, or other screens - including photos.
The same is true if you take a screen recording of a user's video post - Instagram doesn't notify them.
Why would you want to screenshot Instagram posts?
Instagram lets you bookmark photos and videos that you like, to keep for future reference and easy access. Here's how you can bookmark posts on Instagram:
Step 1. Go to the post that you want to bookmark, and tap on the bookmark icon, as shown below.

Step 2. The post will be saved. If you want to save it to a collection, choose the collection that you want to save the post to, or create a new one.
That's it. You can access all your saved images and videos by tapping on your profile picture, and then the three horizontal bars (menu icon) at the top-right corner > 'Saved'.
However, you'll only be able to access your saved posts if you are connected to the internet. If you want to view your bookmarked images and videos when you're offline, it makes more sense to take a quick screenshot of them.
Furthermore, as described, bookmarking a post takes time. And, if you want to share it with someone, they can only view it if they too have the Instagram app downloaded on their device.
However, if you take a screenshot of an Instagram post, you can do so within a few seconds, and you can even share it as you would any other image - via other chat applications or services. The receiver doesn't need to have the Instagram app. Also, if you take a screenshot, you won't have to worry about the original Instagram post being deleted or retracted by the user.
Does Instagram notify users when you screenshot DMs?
Yes, although there's a catch to it. Not every photo or video screenshot that you take from within a DM (direct message) chat on Instagram is notified. Instagram only notifies users when you take a screenshot of a 'disappearing' photo or video message.
A disappearing message is one that is taken from the camera directly from within the DM chat. They are only viewable for a limited time, and once the other person has seen it, they disappear soon.
Instagram doesn't notify people if you take a screenshot of a photo or video that they have shared from their gallery or camera roll. Further, screenshots of other non-disappearing content, in DMs (like posts from feeds, text messages) will also not be notified to the user.
How does Instagram notify users of DM screenshots?
Instagram will send a popup notification to a user's phone when their photos in a DM are screenshotted. In the notification, the username of the person who took a screenshot will also be mentioned.
They will also see a small indicator next to the photo in the chat, if it's been screenshotted. For instance, after a disappearing photo has been screenshotted, a small starburst icon will appear next to the photo:
Why doesn't Instagram notify why you take a screenshot of a story?
Instagram doesn't notify users when someone takes a screenshot of their post or story to protect the privacy of its users. If someone takes a screenshot of a post or story, the only way the original poster can find out is if the person who took the screenshot shares it with them directly.
However, if the person who took the screenshot shares the post or story publicly or on other social media platforms, the original poster might find out about it.
There are several possible reasons why Instagram does not notify users when someone screenshots their posts or stories:
Privacy concerns: Instagram is primarily a platform for sharing photos and videos, and many users may be uncomfortable with the idea of others saving their content without their knowledge. By not notifying users when their content is screenshotted, Instagram is respecting their privacy and giving them greater control over their content.

Platform usage: Instagram wants to encourage users to engage with each other and the platform as much as possible. If users were notified every time someone screenshotted their content, it could discourage engagement and cause users to feel hesitant about sharing content in the first place.

Technical challenges: Instagram's systems may not be capable of reliably detecting when someone takes a screenshot, particularly if the screenshot is taken using a third-party app or tool. This could make it difficult or impossible for Instagram to provide accurate notifications.

User behavior: Many Instagram users are accustomed to being able to take screenshots without consequence, and may not expect to be notified when someone screenshots their content. As such, it may be seen as unnecessary to notify users of an action that is already widely accepted as normal on the platform.
Best practices of engaging with other users & their content on Instagram
Sure, here are 10 best practices for engaging with Instagram users and their content:
Be genuine and authentic: Comment with a real message, not just an emoji. Start a conversation with the user and ask relevant questions about their content.

Respond to comments: When someone comments on your post, reply to them. This shows that you value their engagement and it can lead to building a stronger connection with that user.

Use hashtags: Use relevant hashtags to your post to help users find your content. Also, search those hashtags to find other relevant content and engage with those users.

Share user-generated content: Share user-generated content on your page to show appreciation for their content and to create a sense of community.

Tag other users: If you are sharing a post that features someone else's work, make sure to tag them in the post or the caption.

Host a contest: Host a contest on your page that encourages users to engage with your content.

Use Instagram Stories: Post interesting and engaging content on your Instagram Stories. Encourage your followers to participate in polls or ask questions to get to know them better.

Share behind-the-scenes content: Share behind-the-scenes content to create a more personal connection with your followers.

Engage with others' content: Take the time to engage with other users' content by liking and commenting on their posts. This can help you build a relationship with those users and gain more exposure for your own content.

Avoid Piracy: In most cases, people take a screenshot of some post to share it on their own profile. Whenever you do, mention the credits wherever it's due.
How to prevent others from taking screenshots of your content on Instagram?
As of now, there is no feature on Instagram that can prevent others from taking screenshots of your content. The platform has disabled the ability to see if someone has taken a screenshot of your story, post or DM. However, there are some ways you can try to limit the possibility of others taking screenshots:
Make your account private so that only approved followers can see your content

Share sensitive information through DMs rather than publicly on your profile

Use the "Close Friends" feature for more private sharing

Avoid posting sensitive or personal information on Instagram

Be cautious of who you allow to follow your account and remove any followers who make you uncomfortable
It's important to note that while these measures can help reduce the likelihood of someone taking a screenshot of your content, they do not provide foolproof protection.
FAQs
1. Does Instagram send notifications for user profile screenshots?
At times, you might want to screenshot a user's profile or bio to quickly save their website or contact information. And similar to screenshots of photo and video posts, Instagram doesn't notify users if you take screenshots of their user profile.
2. How to avoid your posts from being screenshotted on Instagram?
If you're worried about strangers taking screenshots of your profile or your photos on Instagram, it might help to make your profile private. By doing this, you'll at least be able to stop users who aren't among your followers on Instagram from taking screenshots of your posts. However, note that your followers and friends will still be able to view your profile and take screenshots.
3. Should I install 3rd-party apps that claim to notify me of Instagram screenshots?
No, you should refrain from using such 3rd-party apps and services. Instagram is strictly against the use of bots, and might ban you or block your actions, either temporarily or permanently.
4. How to avoid screenshot detection in DMs
Here's some ways you can adopt to avoid Instagram from sending a notification when you screenshot a photo in DM chats:
Use airplane mode: If you want to take a screenshot of a photo in a DM chat, but don't want the user to be notified, just switch on airplane mode to go offline. If you take a screenshot while your device is offline, Instagram will not detect it.

Use Instagram on a web browser: You can also log in to Instagram via a web browser, navigate to the DM and take a screenshot. Instagram doesn't detect screenshots taken from browser windows on a computer.
Related Articles
---
Trending Articles
---