700+ Epic Username Ideas - Best Cute, Kawaii Aesthetic Usernames To Choose From‍
Written by: Hrishikesh Pardeshi, Founder at Flexiple, buildd & Remote Tools.
Last updated: Jul 18, 2023
TL;DR & Summary
Who doesn't like having a banger username which makes the stand out? But for that, you need some username ideas. All social networking sites let their users have unique names or usernames. You need usernames for Instagram, Snapchat, Discord and what now! So, usernames are all around us.
Plus, you need an online presence in case you have a business (we have a little surprise at the end). Of course, you need it even if you simply want to interact with other people.
There are many social media platforms you'd want to be a part of. And that's why it's important to pick the right username. We of course believe that some cool usernames should represent who you are.
Worried how you'd find a great usernames? Well, as the song goes, "Don't you worry, child!". We have all the different username ideas listed here for you to pick from 😎:
Cute aesthetic
Kawaii aesthetic
Jinx cosplay
Instagram names
2000s aesthetic names
Space aesthetic names
Soft aesthetic names
Baddie usernames
You name it, we have it!
Username Ideas
Mesh Fresh
Manga.ruu
Coco_loco
Veranorooz
La Tatiana
Dorky Dweeb
Hilarious Red
Mama Huh
Oppsie Loopsy
Hum Bum Tum Tum
Daisylira
Jabbahutt
Veloto_dorito
Crispxx
Nothingxtoxsay
Hog.the.log
Fashion.gamables
Storystork
Soverinowu
Lucitabee
GamerGoals100
Infamousxwho
Dr.peeper
Mxcreeper
Arcadezwade
Zionxxzest
LoneRanger
Bronco.p
Thesleepyballot
Inferio.nat
Gameclord
Usernames Generator
Click the button to generate a name:
Usernames for Instagram
Before you set foot on Instagram and do the IG login, you need a snazzy username to be identified. We know you have to be on Instagram and be your own charming self. But you need cool usernames to level up yourself, right? So, here are some cool Instagram username ideas for you: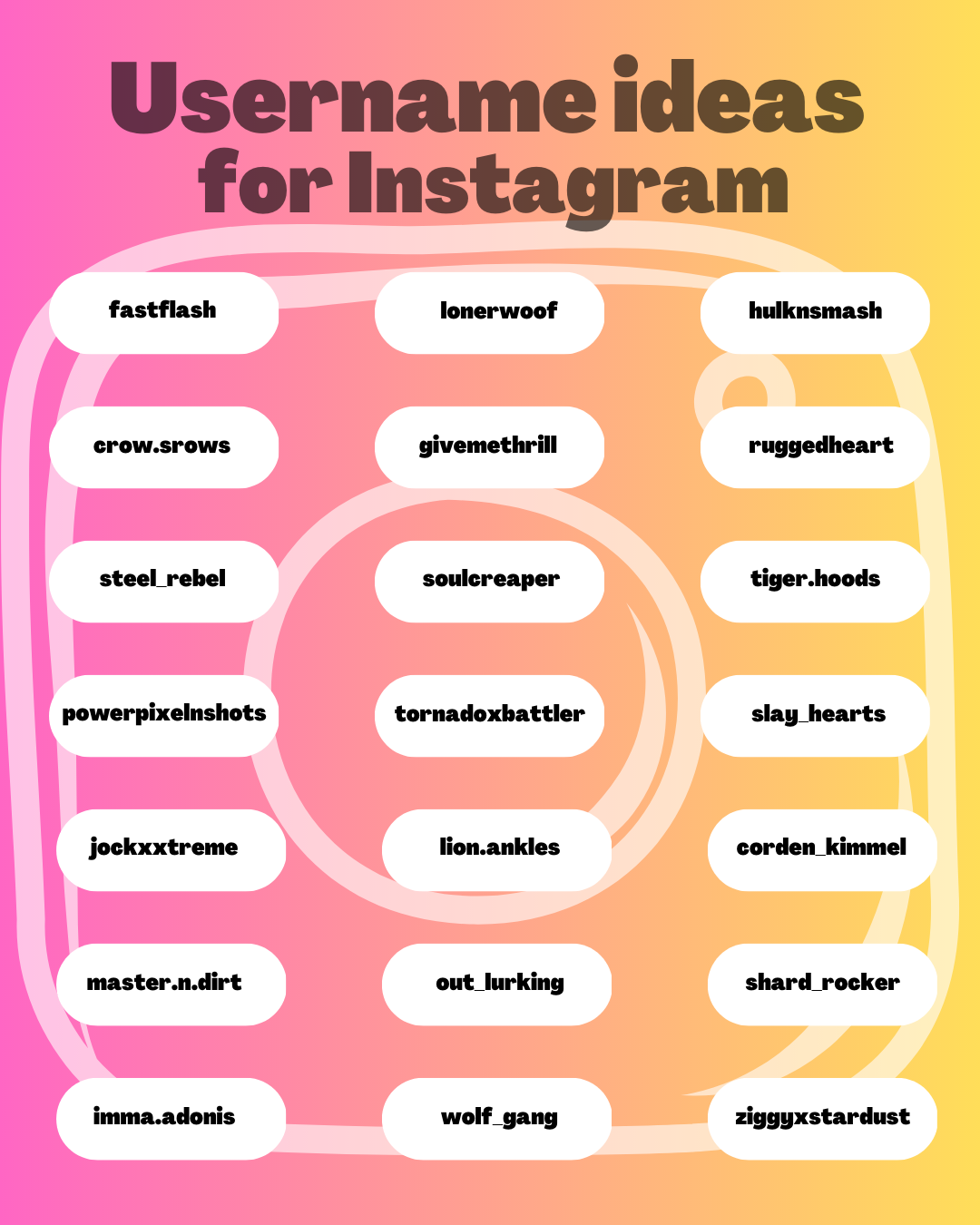 top.sluggerw.ho
givemethrill
musclehuman
ruggedhuman
lonerwoof
thunderbolt
smokeygun
hulknsmash
ruggedheart
fastflash
mindbenderxxtender
powerpixelnshots
mysterious..clover
out_lurking
charming.for.farming
tiger.hoods
imma.adonis
draco_overlord
corden_kimmel
jockxxtreme
shard_rocker
diplo.descendant
slay_hearts
lion.ankles
master.n.dirt
peez_weez
steel_rebel
heartof_savages
heart_stealer
shadow_lord
soulcreaper
tornadoxbattler
viking2striking
wolf_gang
crow.srows
ziggyxstardust
You can even use these Instagram username ideas to come up with your own unique username!
Username Ideas for Girls
We have specially curated username ideas for girls too!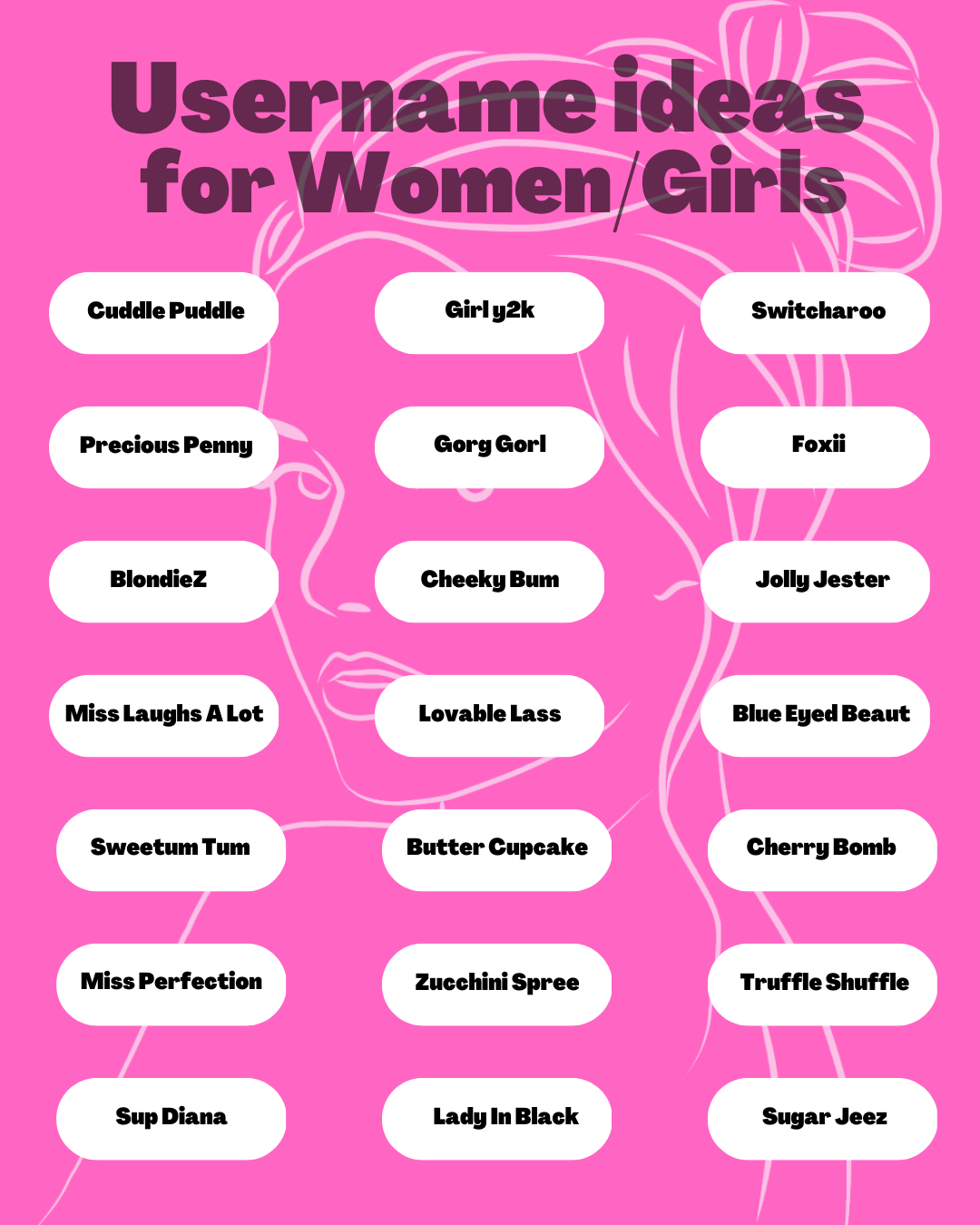 Honey Bunch Crunch
TruffleBlessed Be You
Pretty Little Thang
Precious Penny
Cuddle Puddle
Patootie Ru
The Grumpy Doll
Sugar Jeez
Zucchini Spree
Sweetum Tum
Butter Cupcake
Girl y2k
BlondieZ
Switcharoo
Blue Eyed Beaut
Cheeky Bum
Truffle Shuffle
Princess Leia Supreme
Sup Diana
Foxii
Gorg Gorl
Happy Hipster
Cherry Bomb
Dragon Breath
Crazy About Life
Jolly Jester
Red Herring Away
Lady In Black
Lovable Lass
Miss Laughs A Lot
Being Best
Magic Maker
Miss Perfection
Aesthetic Username Ideas
If you're head over heels for the 2000s aesthetic or space aesthetic, look no further. We have great aesthetic username ideas for you.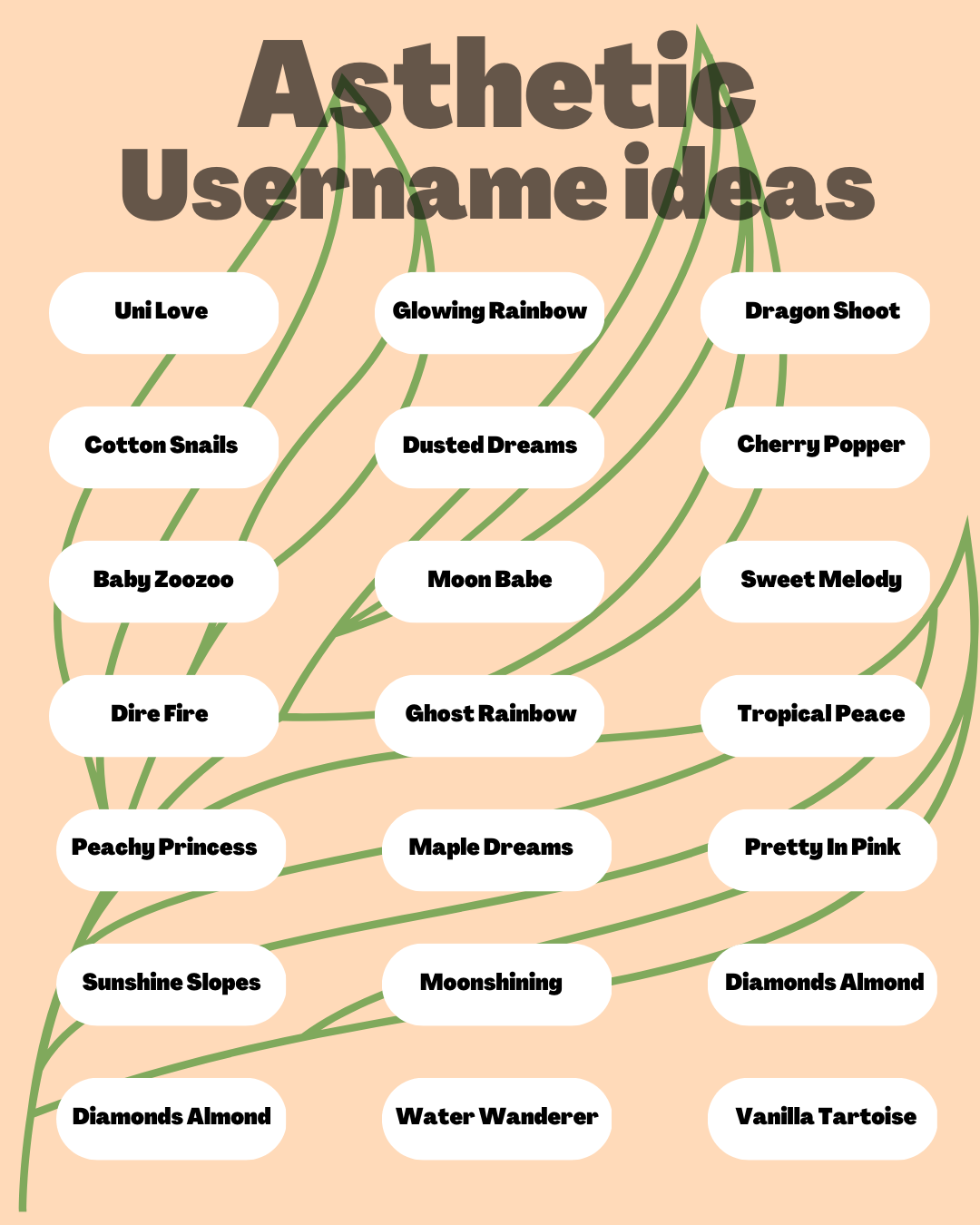 Dreamy Dreamsicle
Sparkling Queen
Butter Heart
Stardust Cruise
Sunshine Lover
Sunny Seed
Glowing Rainbow
Uni Love
Skyline Glutes
Aquamarine Marie
Cherry Blossom Bub
Dragon Shoot
Bubbles N Blossoms
Sweet Melody
Cherry Popper
Dusted Dreams
My Starry Eyes
Cotton Snails
Baby Zoozoo
Moon Babe
Ghost Rainbow
Dire Fire
Blueberry Bees
Candy Randy
Tropical Peace
Vanilla Tartoise
Peachy Cupcake
Pretty In Pink
Back In Black
Maple Dreams
Sunkissed Sue
Peachy Princess
Diamonds Almond
Water Wanderer
Sunshine Slopes
Moonshining
Cute Username Ideas
There is no better feeling than finding the perfect username. It's the first step to setting up an online identity. Therefore, it is important to choose something worth remembering. Finding a name for yourself is a tricky affair. But, once you get it right, everything else will fall into place.
There are many ways for people to find a great username that they love. Some look at their interests or hobbies and create something from them while others use words with special meaning behind them.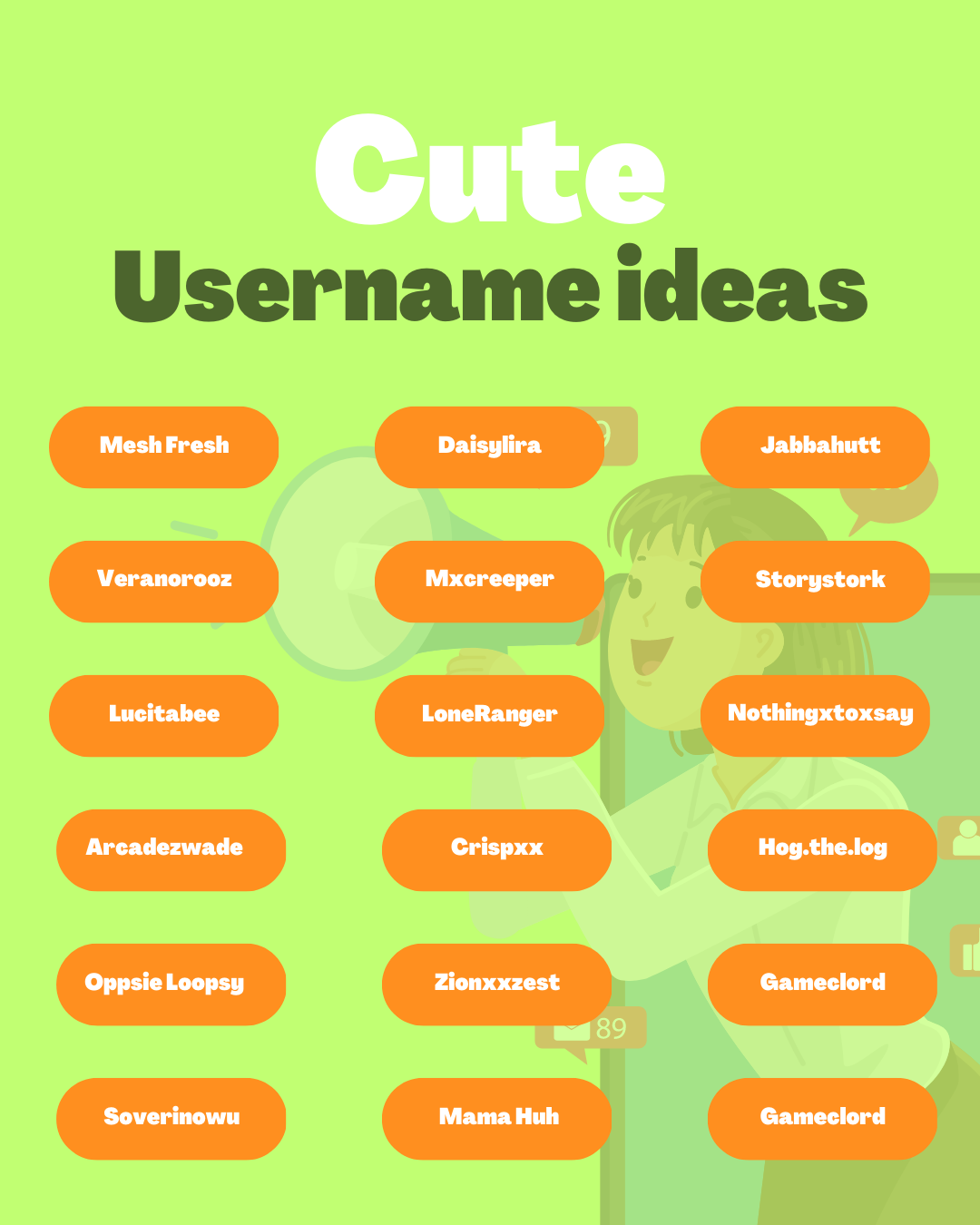 Smoothie Rudie
Sunny Maylor
Wise Wolfie
Lucky Bug
Curious Catty
Friendly Flame
Woozy Warrior
Adorable Lama
Turkey Turtle
Dusky Husky
Brave Blackheart
Penguin Peace
Sunny Horsey
Wise Snail
Silly Goose Cruise
Zappy Hippo
Beautiful Bull
Loving Love
Jolly Joyful Giraffe
Smart Heart
Sunshine Ghoul
Pudgy Panda
Sunshine Owl
Penniless Heart
Dynamic Doc
Sassy Starlet
Being Bean
Peaceful Paradise
Lovable Lily
Care Bear Scare
Foxy Fox
Playful Penguin
Dancing Dragon
King Of Hearts
Duex A Tux
Sappy Hippo
Cool Usernames
Check these cool usernames we have listed just for you: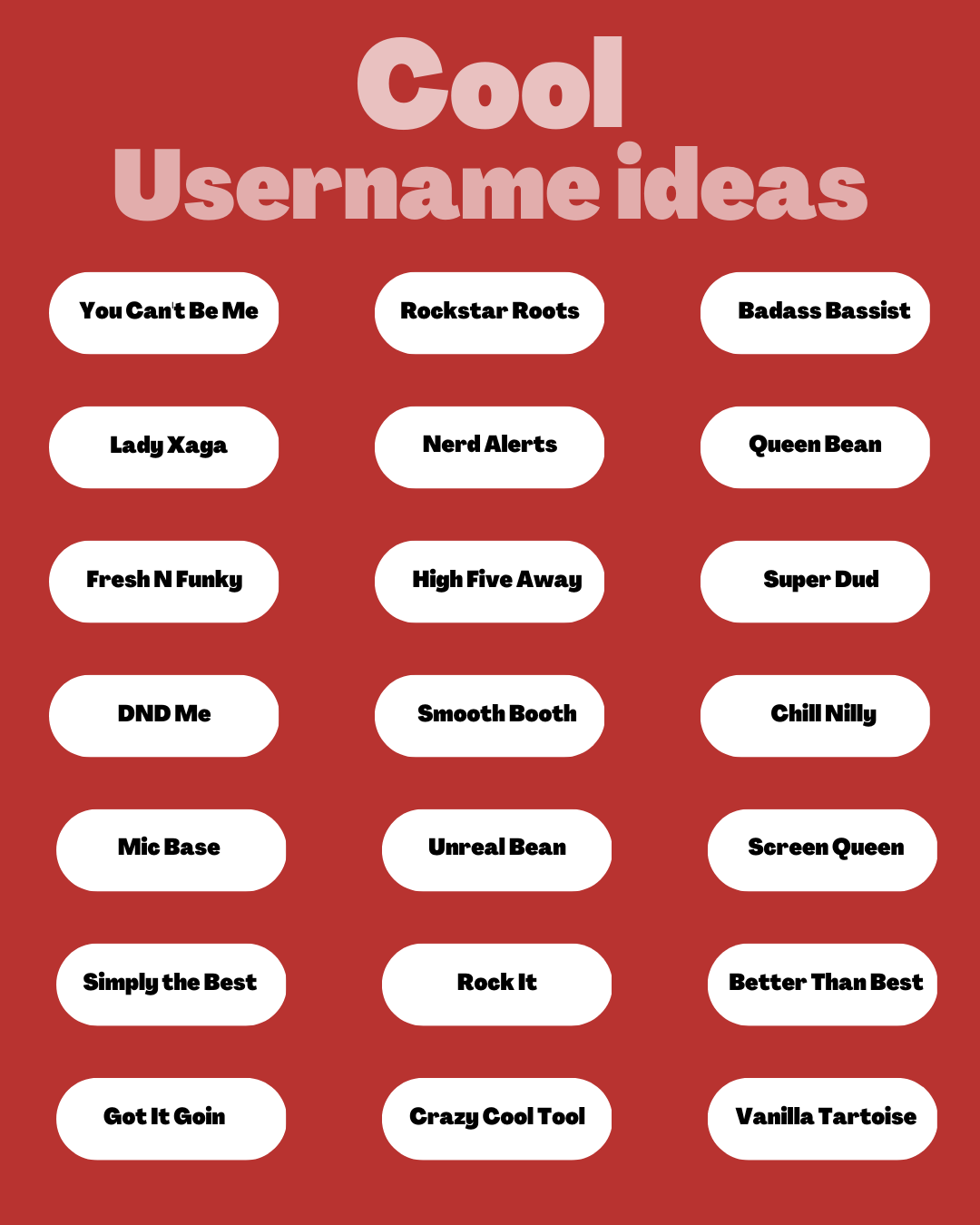 You Can't Be Me
Unbeatable Heartbeat
Super Cool Fool
High Five Away
Got It Goin
Crazy For You
Sweet And Soupy
Lugger Hugs
Rockstar Roots
Lets Get Nasty
Let Free
Free Bee
Docker Girl
Badass Bassist
Crazy Cool Tool
Super Dud
Queen Bean
Nerd Alerts
Daring Daredevil
Lady Xaga
Fresh N Funky
Chill Nilly
Flying High Riding Low
Smooth Booth
Rock It
Above Skies
DND Me
Hot And Spicy
Be You Boo
Unreal Bean
Screen Queen
Mic Base
Better Than Best
Simply the Best
Funny Usernames Ideas
Funny usernames are the best and make people giggle. They help you get noticed on social media. They are memorable and playful, giving you a way to stand out from the crowd. Check out these funny usernames ideas:
King oCheese
The Butt Whisperer
Doodie Butt
Loud Mouth
The Brick Stall
Little Rooster
Mc Poopie
Poo Face
The Sniffer
Stinky Pete
Crazy Legs
Benny Nana
Legs On Kegs
Dirty Harry
Kiss My Axe
Sour Diesel
Fatso Kid
Call Me Maybe
Deez Peez
Pooped My Pants
Lose Control
SnoopD
Dee Dawg
Dont Be A Snoop
Forever Bored
Burning Desire
Insecure Butter
Chocolate Blunder
The Ink Stained Folk
Captain Crunch
Mr. Tootsie Pop
Booger Breath
Meow De Pie
Stinky Feet
Taco Belle
Winey Woman
Beer Gut
Smelly Pants
Lazy Bum
Dirty Putter
Hairy Harry
2Old For It
Laze Craze
Saved By The Bell
Silly Duckling
Teacher Pet
Lucky Duck
Sly Goose
Doctor Nerd
Happiest Man Alive
The Cookie Monster
Snitchy Snitch
Not A Baby
CantTouchThis
DontBeAScared
On The Rocks
TacoBellDiego
Where My Pizza At
Good Usernames Ideas
Good usernames ideas can be anything you want them to be. They help people learn more about how you feel or what kind of things interest you.
Check out these good usernames ideas:
Supreme Dud
The Dude Bites
World At Feet
Price Of Crushya
Dud Goddess
Serene Beauty
Soulful Dreamer
Musical Madness
Naughty But Nice
Peaceful Passion
Playful Spirit
Quiet Confidence
Refreshing View
Rockin' Out
Sexy Beast
Simply Sweet
Smiling Sunshine
Girl Funk
Sultry Siren
Funny Guy
Sweet Little Angel
The Perfect Fit
Soulmate Travels
Tropical Delight
Wannabe Rockstar
Wonder Weirdo
We Are Wild Things
Wickedly Cool
Your Candy
Zesty Zen Master
Jinx Cosplay Usernames Ideas
Jinx is a League of Legends character people are crazy about. For those who don't know, League of Legends is a famous online team-based game. People go gaga over those who try Jinx cosplay. If you are willing to join in, here are a few username ideas:
MinxJinx
Ashemush
AnnieMannie
Amumulava
Calling Boss
Queen Spre
Hot Mess
Filterless Lad
Ready To Mingle
Can't Forget Me
Funky Fresh Prince
Baby Daddy
The Million Dollar Human
Mrs. Always Available For You
Cutie Pie
Buttery Social
One And Only
Soulmate
Goofball
Mr Right Now
Wonder Woman
Badass Bae
City Slicker
Country Girl
Gym Rat
Foodie Fatty
Book Wormy
Mellow Mermaid
Star Boy
Bear Momma
School Daze
Good Bad Girl
Loud N Proud
Sporty Cheek
Bumpkin Pumpkin
Roblox Usernames Ideas
Roblox is a multiplayer online game that allows you to create your own virtual world. In Roblox, you can be anyone you want to be and do anything you want to do. One of the best things about Roblox is the ability to have custom usernames.
So, we hope these Roblox usernames ideas will help you stand out from the crowd and make a statement:
Wininger
Play For Win
Power Gamer
Awesome Boomer
Game Master X
Roblox Master
Klepto Killer
Gamers Fever
Gamer Rush
Winning Hero
You Will Lose
Unstoppable Force
The Legend
Legendary Player
Super Gamer
Mega Man
Your Ambition
Goal Getter
Winning Team
Interrupting Cow
I am Game
Roblox Hackerman
Victorious Man
Sudoku Master
Hacker Master
Game Beast
No One Wins
Champion
King Of Gaming
Great Gamer
Game God
Super Hero XO
Game Guru
Snapchat Usernames Ideas
Snapchat is a social media platform where all of your posts and pictures disappear after 24 hours. It allows you to share images, videos, and even text messages with friends in real-time.
Finding a memorable name for Snapchat is important so you can consider these Snapchat usernames ideas:
Trouble Ahead X
Adventurous Ones
Snack Attack
Princess In Charge
Snapchat Lady
Nymph Napper
Lazy Daisy
Hell Bored
No Kids
Slimey Pics Only
No Filter Buzz
Party Lover
Legendary Stats
High On Life
Total Badass
Never Too Old
Awesome Sauceum
Giggle Queen
Dancing Queen
Big Dreamer
Better Than You
Laugh More Roo
Good Vibes Only
Sparkle Star
Fashion Lover
Beauty Queen
Diamond Girl
Imma Devil
The Chaotic Rub
Little Miss Lovely
If you want more ideas you can check this blog on Snapchat username ideas .
TikTok Usernames Ideas
TikTok is a social media app that lets you create and share short videos with your friends. It's a fun and creative way to express yourself and connect with others who have the same interests.
When it comes to choosing a username for TikTok, it's important to be creative. You want something that will help people remember you, which is why unique usernames are the way to go.
Here are some cute, good, and interesting username ideas for TikTok. These names will help you stand out from the crowd and showcase your creativity:
@Mystic_Miss
@Lilly_Queen
@MusicxLover
@Funky_Fair
@Happy_Foul
@Dreamy_Lad
@Cool_Catty
@Wacky_Bub
@Laughing_Hard
@Giggly_Gits
@Cute_Chichi
@SmileyFaze
@Sweet_Butter
@Happy_Hip
@Whimsical_Weasel
@MischievouszMonkey
@Wonderful_Woman
@Magical_Mermaid
@PreciousPixies
@Enchanted_Elvis
@Funny_Foxes
@Playful_Pupper
@Silly_Squinny
@Curious_Kitty
@Fanciful_Fairy
@Wondrous_Waterworld
@Charming_Candy
@Amazing_Aids
@GorgeousGoddess
@BrightlyBeautifulBallerina
@GlamorousGutter
Baddie Usernames Ideas
Add some flair to your social media presence using Baddie usernames. They are fun, sassy, and perfect for anyone who wants to make a statement. Finding a good Baddie name is easy. Seek no further than these baddie username ideas:
Sassy Queen
Boss Baddie
Devilish Beaut
Sultry Siren
Naughty N Nice
Nasty Girl
Wild Mutt
Untamed Ruth
Unruly Ruby
Roughneck
BadBitch
Devilish
Demoness
Hell Kitty
Baddie Queen
Sugar Badass
Baddie Boss
Queen Baddie
Pretty Devil
Badass Babe
Savage Beauty
Savage Queen
Cute Baddie
Baddie Baby
Savage Girl
Pretty Devil
Badass Chick
Naughty Lass
Bad Girl Next Door
Pretty Littke Devil
Baddie Kween
Badass Babe
Anime Usernames Ideas
Anime usernames are perfect for anyone who loves anime. They are creative, fun, and perfect for any fan of Japanese animation. When it comes to choosing an anime username, you have a lot of options.
Here are a few examples of anime usernames ideas that will help you in your quest:
Tsunade Sundae
Jiraya Ru
My Nindo
Itachi Hitch
Hatake Ru
Jeanist Neek
Might Guy Sense
Seap Kakashi
Sword Art Online
Mystic Dragon
The Frosty Prince
Soul Of The Wind
Lord Of The Sea
Phoenix Burning
Aurora Skye
Dragonheart
Shining Star
Nights Of Fire
Symphony Of The Storm
Immortal Spirit
Thunder Lord
Dragon King DOM
Sakura The Best
Goku Super Saiyan
Naruto The Shinobi
Bleach Kurosaki
Mikasa Ackerman
Sasuke Uchiha
Luffy PirateKing
Nine Tails Fury
One Piece Luffy
Neon Evangelion
Ruthless Naruto
Soul Eater Maka Albarn
FairyTailNatsuDragneel
One Piece
Dragon BallZ Ultra
Plus Ultra
Ito Chan
Ryioko San
Sentu Kun
Niko Chan
Koikoto San
Junji Ito Nee
Tanjiro Kamodo
Kamodo San
Aizawa Sensei
Attack On Titanx
KillLaKill
FairyTail
Discord Usernames Ideas
We have the best suggestions if you are looking for a username. Trust me this will help you stand out from the crowd on Discord. Come up with awesome discord username ideas with this list:
SunnyXpeach
Shorty_penguin
Tangy_sushi
Lost_cause
Mr_mean
Saving_the_day
Queen_of_the_night
Sunshine_and_rainbows
Dragonborn
Master_of-spacecraft
The_Government
Ninja_cat
Spicy_taco
Icecream_lover
Dinosaur_kingdom
Cloudy_days
I_am_the_Law
Mr_Moon
Blaze_the_ninja
Battle_angel
Teapartypants
Fiery_dragon
Sr_Unicorn
Fishyfish32
Manlypesto
Foxofwar
Space_cowboy
Taco_cat
Orangeboy
Cherryboy
Unicorn__princess
The_future
Kitty_cat_meow
The_past
Awesome_sauce
Rainbow_unicorn
Moody_mooch
Pizza_loverz
Doodle_duck
NoodlerStrut
The_unknown
Fishy_business
Crazy_chicken
Silly_bunny
Doodler
Strawberry.shake
Rattling_beast
Rustyxwrestler
Loopwhole
ScoopyDoo
We have more clever Discord names for you in the stash.
Minecraft Usernames Ideas
Minecraft is a sandbox game that allows players to build anything they can imagine. IIf you want to start playing this game you can use our Minecraft username ideas:
Build Blaster
Build Miner
Ender Miner
Pokemon Craft
Mc Legendz
Pig Grieferz
BuildWarz
PixelMonsterz
PixelHunterz
MCBattleGroundz
MarioCraftz
MinecraftMyLife
MinedriftFever
BrickHerobrine
SkellyCraft
MinetimeDine
TreeHouseC
MinersCoverr
PixelQuestz
DirtRaiderz
LegacyCraftx
PwnedLands
PixelPartayy
PixelmonTrainerr
PixelmonGymLeaderO
PixelmonElite4
MinersLeaguez
McLegendz
MCBattleGroundu
PixelCrateX
PixelStormzz
PixelFoxz
PixelFighterz
LegendsOfMines
DineMine
Kawaii Aesthetic Usernames Ideas
Kawaii is the Japanese word for "cute." When it comes to kawaii usernames, there's no end. You can choose anything that you want, as long as it is cute and adorable.
If you're looking for a username that is both sweet and stylish, then be sure to check out our Kawaii aesthetic username ideas:
Cuddle Bunnies
Baby Rice
Pretty Little Heart
Sweet Pea09
Smitten Kitten
Cuddly Buddly
Edibbeam
paper.hearts
Slasharco
Kurokuro
Beep Boop
winterluv
Magazinewa
KidBad
Reportanda
theaphroditest
Hexapithw
ChattyWasabi
Cytecrons
Greyners
gawlaxsy
SkyKnight
axrmyin.luv
VividPositive
WeeklyTalk
thehomiest
Lawnerde
sxnflxwer
ShatDev
pwettythings
Candy Flossy
Labsewar
Rosayl
Vscoxbish
Peep Oop
We have more aesthetic usernames in case you didn't find the one here.
Fanpage Username Ideas
Fanpage is a great place to connect with your favourite fictional characters or celebrities. It's important that you have a cool username for this page.
Here are some of our favourite fan page usernames ideas. These usernames are perfect for any fan-girl/boy out there who wants to share their passion with the world:
SameAsItEverWaz
XMenFanaticss
AvengersAssembleX
GuardiansOfTheGalaxy
ThorLoverz
IronManFanaticz
CaptainAmerica.loverz
SpidermanFanatixx
WolverineLovez
BlackWidowFanx
HulkSmashz
AntManFanaticz
DoctorStrangefanz
DaredevilLoverxx
HawkeyeLoverx
ScarletWitchFanz
QuicksilverLoverz
VisionLoverz
WinterSoldierFanatix
FalconFanatix
BlackPantherLoverz
CaptainMarvelFanatix
WaspLover
NickFuryfann
PeggyCarterFanatic
MockingbirdsLover
SpiderWomansFanatix
WhiteTigerLoverz
PowerManFanatix
IronFistLoverz
BladeTheVamzpireSlayerfan
GhostRiderFanxatic
MoonKnightFancatic
DazzlerLoverc
DravenPleasaxnt
LysergicDreamcer
LuminousWandzerer
GentleWarriorz
TheRealMrNicexzGuy
PeacefulPioneerx
HeartfeltHikerz
AffectionatezAdventurer
OptimisticOzlympian
SunnySailorz
GeminiGeniuzs
CreativeCatalyzst
GrandioseGalaxzyGirl
SereneSkydiverz
DreamyDayDwelzler
PeacefulPathfindezr
InnocentInfinitez
TrustingTravellerz
DynamicDaredevizl
PeacefulPilotz
PreciousPathfiznder
WiseWaterWalkerz
LovableLakeLoverz
TenderTravellerz
CaringCosmonazut
EnthusiasticExplorer
MisterDoll
DonaldDuck
Chromatic
SunsetShimmer
LightsOnAgain
LilacFrost
BearCubz
BabyWolf
TheresaGreen
TomatoJuice
RosePetals
AuroraSkye
DawningLight
SummerDays
CottonCandy
NataliePortmanRule
LunaStarW
MorningSunshine
MidnightMoon
DanielRadcliffex
DestinyHopeA
FaithfulOne1
GlimmeringLight
NumberJacks
Pikachu
PokemonGoGooey
Snoopy
SpongeBob
TonyTheTiger
WinnieThePooh
PrincessLeiaaa
LukeSkywalkerrr
DarthVaderrr
FrodoBagginsss
HanSolooo
Chewbaccaaa
Stormtrooperz
Dying_to_Meeet_You
Can't_Waittt
ObsessedXXL
MyFavX
MyWishz
I'mReadyForYou
SoExcited
I_Love_You
CantWaitForThis
ImScared2ShowU
I'mImpatient
Can'tHoldBackAnymore
DieToMeetYouz
LoveAtFirstbight
I'mObsessebdWithYou
TheReasontsILoveYou
ImHere4Uh
ReadyOrNotHereICum
SoHapppyyyy
MyFavoriteStarOfAllTime
YourNumber1Fan
I'mScaredTooMewetYou
YoureTheReadwsonImHappy
Can'tStopDasreamingOfYou
IWannaBzseWithU
TheReazsonsILoveYouSoMuch
MyLifeIzCompleteNow
IzzaBigDeal
Twitter Username Ideas
In order to use Twitter, you need to create a username. This is your identity on the network and it's how other users will know who you are.
If you're looking for great Twitter username ideas that will make people want to talk to you, check out these names!
Flaming_Phoenixx
DungeonDevilz
Master_of_the_Universe
TheOneTrueGod
Lordofthecosmos
Kingofallkingz
TheInfiniteSource
born_to_flirt
steelersfan
EternalLifebringer
Goddessofcreation
darkness_shadows
GloryBringer
VegasQueen
sweet_funny
StarOfTheShow
Charmed_Beauty
GiftedMuses
LucidDreamer
Irish_Lass
sassygirl
NaughtyButNice
BadAssBabe
SouthernBelle
QueenOfHearts
WipxxLipsxx
CitySlickerx
countrygirlz
TheOneandonly
fabulously_yourz
dreamer_believerz
SimplyIrresistiblex
How To Choose A Unique Username?
Some websites have different rules for registering new usernames than others. What you use on one site might be taken on another. These online usernames often represent our digital identity or persona. Based on this, people recognize us.
We've created a small but helpful template to help you come up with usernames for your personal/business social handles.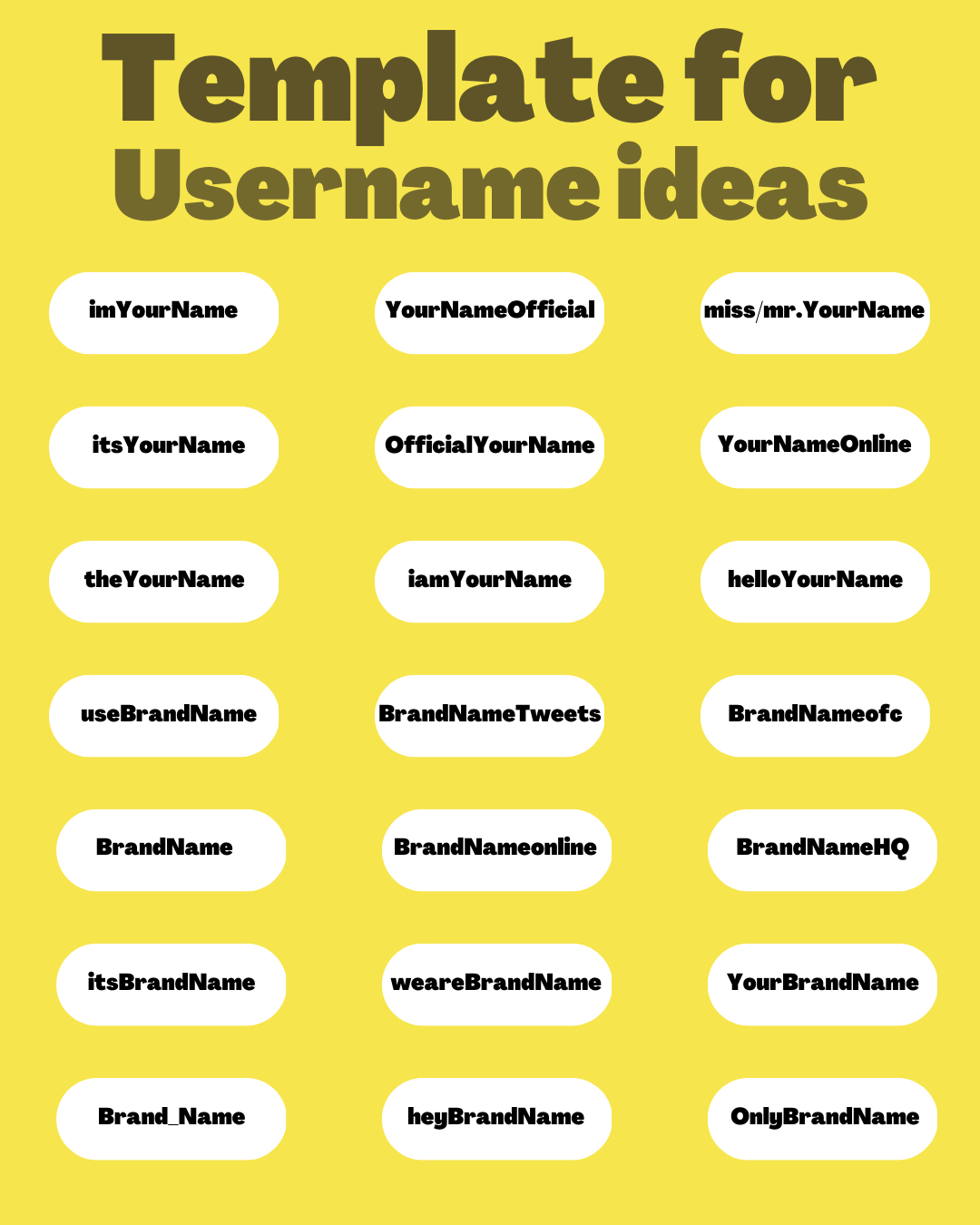 Note: Just replace YourName/BrandName with actual names.
Why Is It Important To Choose A Unique Online Username?
It depends on the website you use. Some usernames represent your brand, while others actually hide your identity. This is why you should pick your username wisely:
1. Anonymity
On some websites, you might not use your own name. For instance, gamers often use random usernames for themselves. They create a new online persona or stay invisible in the virtual space.
2. Security
Secure usernames give an extra layer of protection to your information. Make sure you use a secure username on banking sites, stock exchanges, and governmental portals that are hard to guess.
How To Choose An Online Username?
The days when your social media handle needed to be your own name are gone. Today, you can make up any name for yourself and create your own online persona.
For some people, it's a tool to break away from their everyday identity and explore a new way they can express themselves.
Other people consciously build up an online brand around the message they advocate or their expertise.
Whatever is your motive, you might find that many of your best ideas are already taken by other users.
Perhaps, even your own name or nickname. Luckily, there are two great solutions to go around this.
1. Use Variations Of Your Name
If you just want to use your own name as your online username, or you want to stick to an existing brand name, you can explore some variations.
Just make sure you avoid misspelt names that make it hard to find your profile or look like a mistake.
2. Reinvent Yourself
Perhaps, this could be an opportunity for you to come up with a brand new name for your digital identity. Make a list of words you associate with yourself or your brand.
Then enter them in the free username generator to find creative ideas. Last but not least, pick your favourite ones and try to come up with word combinations matching two of these ideas together.
With our built-in availability checker, you can be sure that these names will still be available on major social media platforms.
How To Choose A Secure Username?
Make sure that your username can't be guessed easily. This will help you protect your sensitive information. This is especially important for banking and investment websites, and visa portals. For such platforms where you enter your personal data, or any websites where you store confidential information use safe usernames.
A data leak could cause losing your assets so don't take this lightly. Fun usernames might be easy to guess by others, but you can always generate usernames first by using username generators.
You can make your username ideas safe too. You can do this by capitalizing some letters or adding numbers. Even adding special characters to the original word works. If you do this with both your username and password, you can be sure that your information remains safe.
How to check if your username is already taken?
Anyone can create a social media account. This makes it very hard to find available usernames. The chances are that the great username you created is already taken. But how do you know for sure? Try these three ways to check:
1. You can manually check the availability on all social networks that you want to join. The main downside of this approach is that it's time-consuming.
2. You can use the username generators too. The generator will automatically show you if the usernames it created have available handles on YouTube, Twitter, Twitch, TikTok, and Facebook. On top of that, it might also show you which domains are available. You can get everything you need in a single package.
3. You can use social media availability tools online. These come in handy if you want to register on platforms other than our username generator already checks. You can use:
Namecheckr
Namechk
Knowem
CheckUsernames
These tools all do the same thing. They help you search for availability on most social networking sites.
4. The last thing you could do is check if the username is trademarked. You can use WIPO to check international trademarks.
Tips for Creating an Aesthetic Username
The ideal username should be simple, memorable, and convey the right meaning. Finding the perfect username isn't easy. Here are my best tips for finding the right username.
1. Do a Competitor Analysis
Doing a competitor analysis is a crucial step that will save you a lot of time. You have to understand what types of words and styles perform best in your niche.
Try to understand why and how your competitors create and use their usernames. Look for trends and patterns. When analyzing competitors ask:
What values are they conveying with the usernames? How does that work for them?
Who has the best usernames? Why do these usernames work?
How can I produce a better name?
2. Focus on Brandable Usernames
A typical mistake most people make is they go with usernames that are too literal or descriptive. They use variations of their personal name, surname, or birthday. It's more effective if your username conveys a deeper meaning and captures the right interests. Think of your username as your brand, not your name.
3. Create Punchy and Memorable Usernames
A memorable username is the first thing your viewers/followers see. It's the thing that defines who you are and what your brand stands for. But remember creating a memorable username isn't easy.
4. Focus On the Flow and Pronunciation
Brandable usernames are names that aren't descriptive but are easy to spell and pronounce. Brandable names are also very memorable.
They often use letter patterns of Vowel/Consonant/Vowel as these word structures are typically short, catchy, and easy to say and remember.
How to Come Up with a Unique Username?
You can follow a simple four-step process to create a username.
1. Brainstorm Your Username Ideas
Use combinations of words and phrases that are appealing to the eye and interesting to others. Make sure these are easy to remember. Create a list of words or names that come to mind when thinking about your desired username.
2. Shortlist Your Ideas
Once you've developed a list of possible names, do an analysis of your ideas. Remove any names that could be hard to remember, spell or speak aloud. Keep names that communicate your brand values to your target audience. Refer to this checklist you can run your ideas through to help shorten your list of names:
Does the name convey a relevant meaning?
Does the name avoid overused words or cliches?
Is the name simple and easy to remember?
Is the name easy to read and say aloud?
Is the name different from competitors?
3. Get Some Feedback
You should now have a list of 3-6 great usernames. Next, you can start gathering feedback. Ask potential customers or people working in the industry for feedback. Be sure to ask questions like:
What first comes to mind when you hear the name?
How would you spell it?
With you're customer feedback, you can start objectively analyzing the usernames you picked. Ask -
Are these ideas still relevant?
Do they still represent me?
4. Check If It's Available
At this point, it's good to have at least three great usernames on your list. Be sure to check all the social media platforms you intend to join. Start with the biggest ones like Facebook or Instagram. Make sure you also check domain availability for your username.