Prefer bite-sized content? You can follow my updates on Twitter
State of Remote Work in 2021‍
Covid-19 is a definitive landmark in the history of remote working and it permanently changed our ways of working. And just like me, you would be curious to know what others think & feel.
So to understand:
Motivation
Work patterns
Impact on personal life
Support received & desired from companies
We reached out to 728 individuals from companies such as GitLab, Doist, SafetyWing, Slite, as well as independent professionals and dug deep into the data.
Here's presenting the top insights from the data we received this year. See for yourself the trends in the remote work landscape and where we are headed in the years to come!
Join
4,369
remote workers and makers
Remote Weekly brings you original content, product tips and latest stories around remote working.
# Insights
1) Almost everyone enjoys working remotely, however, majority say that it's a matter of personal choice and won't recommend it unequivocally.

This is a stat that's remained constant over the years. Most people who have worked remotely have enjoyed doing so. This year, 98% people said that they love working remotely and would continue to do so in some form.
However, when asked if they would recommend it to others, majority said that they won't do it unequivocally.
This clearly shows that remote workers realise that there are some downsides to working remotely and you need to be disciplined & prepared to succeed at it.
2) Flexibility in work schedule is the best part about remote working although other benefits also rank closely.

Want to make time for a jog or a quick nap during the day? Remote working enables you to structure your day as you like and people seem to love this the most. The best part about remote working is that it can accommodate early-risers as well as nocturnal beings and it lets you work when you're at your best.
However, not just flexibility, people love the other benefits of working remotely too - getting to spend more time with family or working out of anywhere: home, co-working space or even a beach.
3) Most work out of a dedicated home office and naturally, switching off from work remains the top struggle.

Although co-working spaces have become popular in recent years, a vast majority of remote workers still prefer working out of their home and have a dedicated home office. Coffee shops etc. is also not a regular place to work out of.
Naturally, the boundary between work and life gets thin when you have your work right there at home. Hence, majority of remote workers continue to struggle with switching off from work and battling other challenges like distractions at home & loneliness.
4) Remote working is a boon for people who can't work out of an office regularly because of their situation.

We asked people who have a chronic illness, disability or who are the primary care-giver for someone in the family about their reason to choose remote working. More than half of those with a chronic illness/disability and one-third of care-givers cited their current situation as the major reason to choose to work remotely.
Clearly, remote work presents a significant advantage for individuals who can't work out of an office daily helping them build an amazing career despite their situation.
5) WFH due to Covid-19 hasn't affected the work hours or # of meetings for most. Moreover, most people are taking multiple scheduled breaks daily. However, one-third still feel an adverse effect on their mental health.

Large majority of people (>70%) said that the work-from-home situation due to Covid-19 hasn't increased their daily work hours or the average # of meetings.
Additionally, >40% individuals are taking multiple scheduled breaks daily while only <2% take no breaks at all.
Put together, this is a great relief since most companies have been trying to reduce burnout in employees.
However, one-third of people said that the current situation has had an adverse effect on their mental health and hence, companies must continue their effort towards reducing the workload of their employees. Extended weekends or forced vacations could be simple, practical solutions. Additionally, as countries tackle the Covid-19 situation better, the individual situation around work stress & load should also improve naturally.
6) More than half of respondents have >6 months of remote work experience before Covid-19, however, only a quarter of people have ever claimed tax relief.

One of the most surprising stats this year was the # of people claiming tax relief for their remote working expenses. Only one-quarter of individuals said that they have ever claimed tax exemptions whereas most people have been working remotely for a long time before Covid-19.
We have been hearing news & announcements from countries & local governments around additional tax exemptions related to remote working. However, if people don't claim these benefits, the efforts are quite unuseful.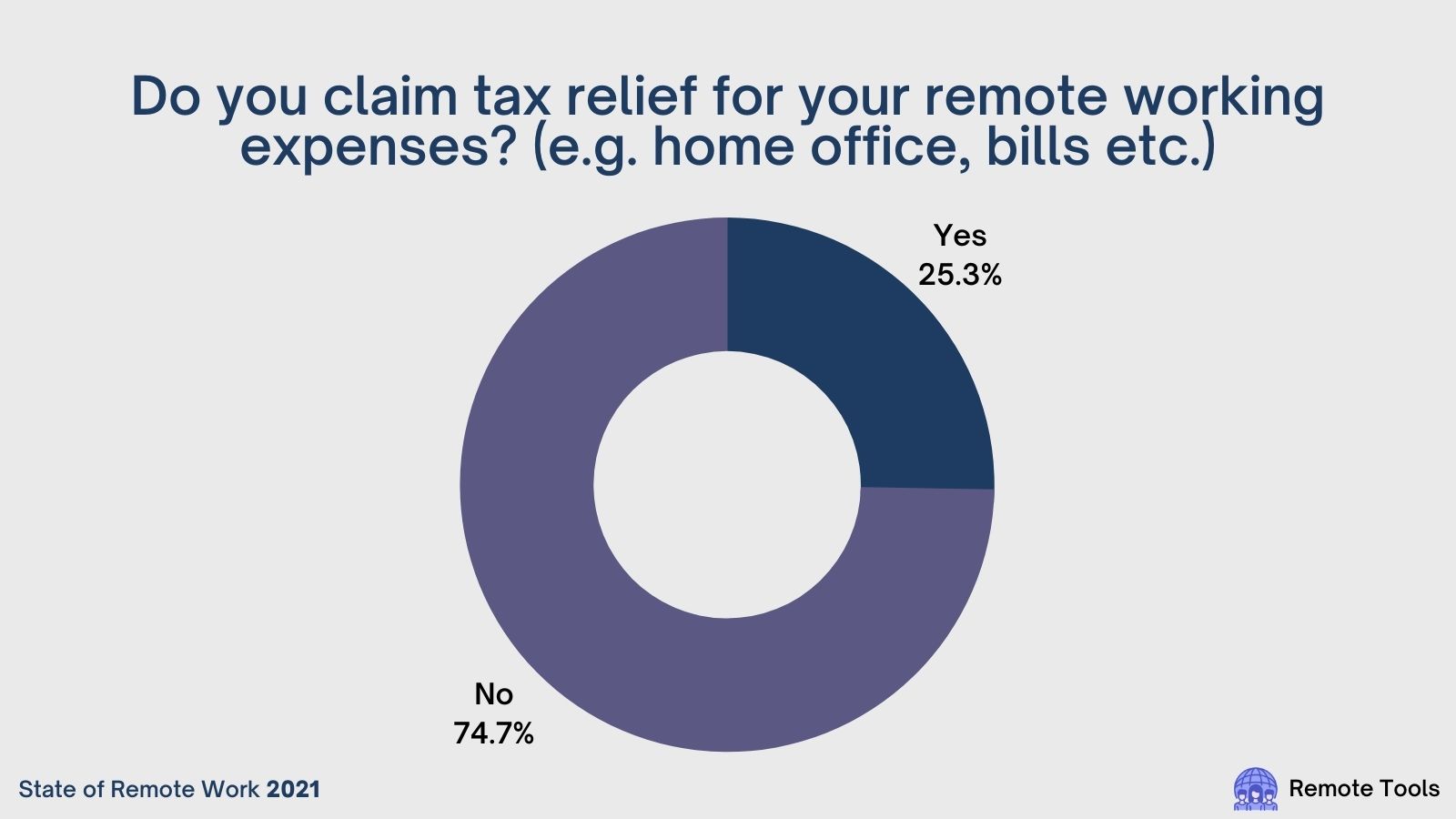 7) Dedicated Slack channels is the topmost choice to stay in touch with colleagues.

Even though conversations on non-work Slack channels may be unstructured/unstaged, they continue to be the best choice for people to bond. So remote teams need to be intentional in creating/providing such channels or outlets for everyone to interact with each other. The rest i.e. actual interactions can be left to the people to figure out.
8) Almost half of the remote workers would love to have home-office stipends, however, only one-third of companies currently pay for it.

When asked about the remote work perk that people would like to have, majority responded by saying reimbursements for home office. Naturally since most prefer working out of home and have a dedicated home office, this becomes a great perk.
However, only one-third companies currently offer home office stipend. Maybe companies should pay more attention to what their employees actually want 😛
9) Concerning yet not surprising - 27% of companies use time-tracking tools. Fortunately, only 5% have cut their employees' pay for working remotely.

The most concerning part in the analysis that I came across was that a significant chunk of companies track their employees' working hours.
This isn't totally surprising since other stats also pointed out the same story earlier. However, it pains to see that many companies don't realise that successful remote teams are purely built on trust - tracking of any sort is unproductive, harmful and simply unethical.
Sadly, the demand for employee monitoring software has surged during the pandemic period.

Searches for "How to monitor employees working from home" were up by 1700% in April & 600% in May.@dhh's been advocating against this for years & yet we're in this sorry state. pic.twitter.com/7ze9HhRwYv

— Hrishikesh Pardeshi (@hrishiptweets) December 10, 2020
Thankfully, a vast majority of companies aren't cutting pay for working remotely. However, there's still a tiny section that believes remote working is a privilege and offers lower pay.
10) Everyone wants to work remotely at least for a few days every week and only 1% would like to go back to office every day.

Finally, when asked whether people would like to go to office every single day the unanimous response was a NO. People want to be working remotely in some form, in fact for major portion of the time. Many would still like to work out of the office occasionally but not every day.
This clearly shows that the Covid-19 pandemic has permanently changed our ways of working and for the better.
# Who took the survey?
728 people took part in the survey.
Location by region: Majority of the respondents were from North America (34%), Asia (32%), and Europe (24%). Remote workers from other geographic regions such as South America (5%), Middle East (2%), Pacific (2%) & Africa (1%) also took part in the survey.
Industry breakdown: As expected, a large number of respondents were from the IT & Services (60%) industry. Followed by Education (5%), Financial Services (5%), Healthcare (5%), Non-profits (4%), Media (4%), Travel & Tourism (1%), Government (1%) and the remaining in other industries (15%).
Company size: Respondents were almost equally distributed with 39% working in startups (<50 employees), 32% working in small companies (51- 500 employees) and 29% working in large companies (& 500 employees).
Function in company: When asked about their function in the company, 30% selected Engineering. Other functions include: Management (15%), Marketing (11%), Product (10%), Design (9%), HR (6%), Sales (3%), Finance (2%) and the remaining in other functions (14%).
Remote work experience: 48% have very little experience working remotely (<6 months) before the pandemic. 34% have some remote work experience (6 months - 4 years) and 18% are quite experienced in remote working ( >5 years).
PARTNERS
---